Classical Conferences and Meetings in 2017

The 52nd International Congress on Medieval Studies
May 11–14, 2017
Western Michgan University
Kalamazoo, MI
Representatives: Adam Velez and Laurel Draper
ACL—American Classical League
70th Annual Institute
June 29–July 1, 2017
Grand Valley State University
Grand Rapids, MI
Representatives: Allan Bolchazy, Laurel Draper, and Donald Sprague
Presentations:
Thursday, June 29, 2017
2:45 pm–3:45 pm
"Classics on the Camino"
Thomas Sienkewicz (Monmouth College), coauthor: Vergil: A LEGAMUS Transitional Reader; editor: World Dictionary of Foreign Expressions: A Resource for Readers and Writers

4:15 pm–5:15 pm
"The Perfect Latin Textbook"
David Pellegrino (Pittsford Mendon High School, NY), coauthor: Caesar & Vergil AP* Vocabulary Cards

Friday, June 30, 2017

1:00 pm–2:00 pm
" 'Backward Design' and Publication: Preparing your work for Publication in the Classical
Outlook"
Ronnie Ancona (Hunter College, CUNY, NYC), author: Writing Passion: A Catullus Reader, Writing Passion Plus: A Catullus Reader Supplement, Horace: Selected Odes and Satire 1.9; coauthor: Horace: A LEGAMUS Transitional Reader and A Horace Workbook

2:30 pm–4:00 pm
"Mythology Role-Playing (RPG) in the Latin Classroom"
Jocelyn Demuth (Marlborough Public Schools, Marlborough, MA), author: Mendax: A Latin Card Game

"Inter Versiculos: De Novis Latinis Versibus Scribendis et Scriptis"
Marianthe Colakis (Townsend Harris High School, Flushing, NY), author: Lectiones Memorabiles: Volume I: Selections from Catullus, Cicero, Livy, Ovid, Propertius, Tibullus, and Vergil; coauthor: Classical Mythology & More: A Reader Workbook and Excelability in Advanced Latin: A Workbook for Students

Saturday, July 1, 2017

10:45 am–11:45 am
"Status Quaestionis : the Seal of Biliteracy for Classical Languages"
Copresenter: Tom Sienkewicz (Monmouth College) coauthor: Vergil: A LEGAMUS Transitional Reader; editor: World Dictionary of Foreign Expressions: A Resource for Readers and Writers

1:00 pm–2:00 pm
"The Overlooked Romans"
Rose Williams (McMurry University, Abilene, TX), author: Latin of New Spain; A Beginning Latin Christian Reader: De Bonis Cogitationibus, I am Reading Latin Stories: Set of Four Books, and many other

NJCL - National Junior Classical League
July 24–29, 2017
Troy University
Troy, AL
Representatives: Connor Hart and Donald Sprague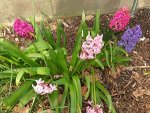 The beautiful hyacinths bring to mind the simile in the Odyssey when Athena makes Odysseus look even spiffier for Nausicaa (6.229–231) after his bath and does the same again for Penelope (23.157–158). This simile is twice nested within the larger simile of Athena laying gold upon silver. Such a mine of metaphor for students to unravel! However, my students at the City of Colleges of Chicago seldom knew what a hyacinth was. Hence, I would take a photo each spring for them.
---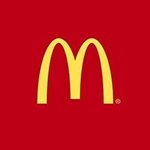 McDonald's preserves Roman road beneath its restaurant in Marino, Italy.
---
Value of Latin Study
This report from British prisons corroborates findings for Australian school children.


All proceeds from the sale of this engaging set of essays benefit the Classical Association of the Middle West and South.

---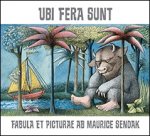 Congratulations to the Wild Rumpus Bookstore named Publishers Weekly bookstore of the year! Maurice Sendak fans will note the bookstore's name is taken from Where the Wild Things Are. For Latinists, of course, that's Ubi Fera Sunt.


We mourn the death of Rev. John P. Murphy, S.J., formerly of Loyola University Chicago. Fr. Murphy served as one of the editors of Bolchazy-Carducci's Jesuit Latin Poets of the 17th and 18th Centuries: An Anthology of Neo-Latin Poetry. This special text provided materials for Latin for the New Millennium, Level 3 and for Latin for the New Millennium Latin 3: Select Latin Enrichment Readings.
Tuesday, April 25, 6–7:00 pm ET
How to Maximize Your Latin eBook
Presenter: Bridget Dean, PhD, Managing Editor, Bolchazy-Carducci Publishers


Learn how to use your Latin eBook to fully benefit both you and your students. Discover the eBook's student-friendly and teacher-friendly features. eBooks provide some terrific tools that help students master their Latin studies. Dr. Dean will unravel the "mysteries" of the eBook and will allot ample time to address questions raised by webinar participants.

Tuesday, May 2, 6–7:00 pm ET

Teaching the Ancient Mediterranean Environment
Presenter: Angela Commito, PhD, Union College

Professor Commito's richly-illustrated webinar provides insight into contemporary studies of the ancient world. Recent developments in archaeology and palaeo-environmental science have unleashed entirely new ways to study the ancient Mediterranean environment and to understand how people in antiquity interacted with the natural world around them. This webinar will
present a series of real, up-to-date archaeological case studies that explore how the Mediterranean environment shaped, and was shaped by, communities of the Greek and Roman world. This material is ideally suited to the classroom because it integrates humanities
with natural sciences and provides opportunities for students to make connections to today as they reflect on the causes and consequences of modern resource exploitation and climate change.

Tuesday, May 16, 6–7:00 pm ET
Refugees in Classical Texts and the Modern World
Presenter: Keely Lake, PhD, Wayland Academy, Beaver Dam, WI


This webinar will present a semester-long project undertaken by an Advanced Latin class to connect the ancient world to the modern one. The students researched exile and refugees in Greek and Roman literature and secondary scholarship of the Classics. The students also looked at the current refugee crisis in Europe through news media, political commentary, and governmental reports. The students synthesized their ancient findings as a group though an electronic portfolio and presentation. They compared the ancient and modern situations in an individual paper in English. Finally, they created a Latin composition summarizing the humanitarian issues raised by their explorations. By focusing on world language readiness standards through project-based learning, the assignment was intended to develop student abilities in communication, collaboration, critical thinking, and creativity. Student language skills, cultural knowledge, and digital literacy all improved over the course of the semester.


If you have suggestions for webinar speakers or topics, please let us know! Contact don@bolchazy.com.
---
What Equipment Do I Need for B-C Webinars?

To participate in Bolchazy-Carducci Publisher sponsored webinars you will need high-speed internet access, computer speakers/headphones, current web browser, and the link to the webinar virtual meeting space, which is provided in your webinar invitation.
Webinars Make for User-Friendly Professional Development

Participation is free. All webinars provide opportunity for participants to ask questions. Learn lots—attend as many presentations as you can. Bolchazy-Carducci Publishers provides documentation for your participation. You can share this with your supervisors. Many webinar presenters provide handouts, etc.
Bolchazy-Carducci Publishers provides eTextbooks on a variety of eBook platforms. Bolchazy-Carducci textbooks are available through VitalSource,

GooglePlay

,

Chegg

, Copia, RedShelf, Adams Book, Follett,

MBSDirect Digital

, and ESCO. Each eBook platform offers a variety of tools to enhance the learning process. eBooks have the same content as our traditional books in print.
eBooks are purchased from the eBook provider. For direct links to purchase Bolchazy-Carducci eTextbooks, visit the title's product page on Bolchazy.com. Just above the product description there is a list of the eTextbook providers and a direct link to purchase the eTextbook. Some eBook providers sell directly to schools—check with your school to make these purchases.
You can read eBooks on a Mac, PC, iPhone, iPad, Android, or a variety of eReaders. Review the eBook providers specifications.
The eyeVocab software leverages human memory for distinctive affective images* presented in isolation to radically improve the speed, depth, and permanence of second language vocabulary acquisition. Images are drawn from classical art, both western and eastern, from photojournalism and historical photography, great book illustration, and other sources.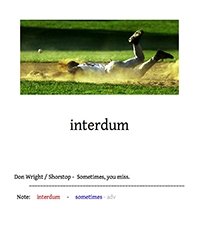 *Learn how images are chosen.

Far more than a set of electronic flashcards, the multimodal vocabulary program facilitates a significantly deeper learning and retention. Students will readily master the frequent Vergil and Caesar vocabulary for the AP® Latin Exam and thereby devote far more of their study time and energy to reading and discussing De Bello Gallico and the Aeneid.

eyeVocab programs correspond to the following B-C books.

Caesar: Selections from his Commentarii De Bello Gallico
(Mueller) (218 words)

Vergil's Aeneid: Selected Readings from Books 1, 2, 4, and 6
(Boyd) (162 words)



Vergil's Aeneid: Books I–VI


(Pharr) (292 words)

Latin for the New Millennium Level 1

(423 words)





Introductory rate for each of the AP® Latin programs is $14.95. The LNM 1 and LNM 2 introductory rate is $24.95 per program. For site licenses, contact Miles Becker at sales@eyeVocab.com.




Click on each title to learn more.
The Pompeiiana Newsletter created and edited by Bernard Barcio ran from 1974 through 2003. The newsletter offered a place for Latin students to publish comics, stories, games, and articles, and was a beloved resource for Latin teachers. In 2008, Barcio granted Bolchazy-Carducci Publishers the rights for all of the Pompeiiana Newsletter. B-C is proud to serve as curator for this archive and has made the issues available for teachers, students, and friends of the classics. Check out http://pompeiiana.blogspot.com/
Each fall, Bolchazy-Carducci mails its Roman Calendar to Latin teachers across the nation. If you're not on that mailing list, send a note TODAY to info@bolchazy.com. Put Roman Calendar in the subject line and provide us the USPS address to which you wish the calendar to be sent. The calendar is also available in a digital format.
Preview Bolchazy-Carducci Titles

Preview Bolchazy-Carducci titles before you purchase using Google Preview.
---

Downloadable Products
iPodius - Bolchazy-Carducci Publishers online shop for: audio, software, video, and a treasure trove of teacher-created materials in the Agora.
---
BCP Facebook Fan Page
Become a FAN of Bolchazy-Carducci Publishers, visit our Facebook Fan page for the latest news from BCP.
---
BCP Blog
Visit the BCPublishers Blog for B-C news and information.
Follow the B-C blog to learn about the changes in Latin for the New Millennium, Levels 1 and 2.
For instance, learn about the enhanced derivative coverage in the Second Edition.
---
BCPublishers on Twitter
Follow us on Twitter

---
AP® is a trademark registered and/or owned by the College Board, which was not involved in the production of, and does not endorse, this site.
These products have been developed independently from and are not endorsed by the International Baccalaureate (IB).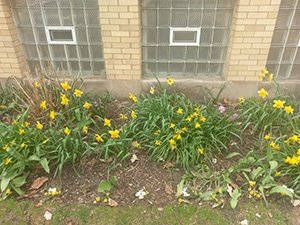 Spring seems to have finally settled into the Chicago area after multiple false starts. Our Chicago weather the past couple months is similar to that referenced in the remarks of Douglas Peers, Dean of the Faculty of Arts at the University of Waterloo, when he delivered the welcome at the Classical Association of the Middle West and South (CAMWS) annual meeting banquet. Peers told the dinner guests that "you will have experienced all three of our seasons during your four days here." Indeed, Chicagoland has experienced multiple seasons!
May the spirit of spring make for stimulating classes and students eager to end the year with much success!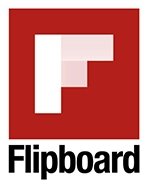 Flipboard is a magazine app that pulls together content from around the web and showcases it in a clean visual design. The user identifies topics of interest and Flipboard does the rest. For the last couple of years, Flipboard has been my preferred tool for reading all the wonderful stories on the web. Rather than needing to go to various websites, I can visit Flipboard and see it all.
A few weeks back, I discovered that Flipboard users can create custom magazines from their favorite articles in only a few clicks. When reading through Flipboard articles it is easy to quickly send the best ones to a custom magazine. With the addition of a browser tool, it is also simple to send other web articles to these magazines. The user can invite others to contribute content to the magazine too.
I think that this has some great applications in the classroom. Students can set up Flipboard accounts and curate their own magazine related to their Latin class. I love the idea of creating a shared magazine for each class that every student can contribute to. When the user adds a story to the shared magazine, there's an optional field called "What's interesting about this?" This feature is great for teachers as it can be used for students to offer a summary or quick reflection on the article. To give it a try, check out www.flipboard.com.
Lynne West
Bellarmine Jesuit College Prep
San Jose, CA
Martia Dementia 2017 Results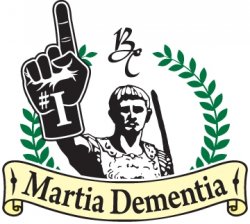 Hades got the victory over Athena and just like that, about half of the participants ripped their brackets in half. Cicero felled last year's champion Homer in the second round and finalist Augustus exited in the third. The door seemed wide open at this point but Zeus, ruler of the skies, and Caesar, ruler of everything on earth, proved most determined to advance to the finals. Advance they did, but in the end, there could only be one, and that one was Caesar, who, with a 431–54 victory, made history by becoming the third winner of Martia Dementia! Much like previous years, many narratives came out of the bracket as voting created conflict between these authors, philosophers, political figures, and gods, and there was plenty of opportunity for others. Who could have predicted Mark Antony and Caesar would meet once again? These narratives and the success of Martia Dementia happened all thanks to our participants.

This was the third and by far the most successful year of Martia Dementia. I would like to thank all the teachers, professors, friends, students, and anyone I may have left out for their participation. I would also like to acknowledge and congratulate Ian Lobos, a student at the Brophy College Preparatory School in Phoenix, AZ. Ian not only managed to correctly pick both finalists and the winner of Martia Dementia but he also managed, somehow, to make only fifteen incorrect picks in the process. This secured him the first place in our contest. Congratulations, Ian!

Still disappointed in how your brackets turned out? Want to prepare for a better outing next year? Ian shared with us what it took to make his bracket a winning one.

Well, I wouldn't call my picks much of a strategy but more like educated guesses. My main way of choosing was who is more known by the people entering this contest, because I felt as if people would choose who they knew the most, as well as if the person they chose was good or bad. For the ones I didn't know of, like Hesiod, a quick Google search provided me with the answer. As to whether my strategy changed, not really but I just asked friends to pick Caesar only because he needs to win!
Looking forward to next year's Martia Dementia? Already counting down the days? Want to see an author, politician, philosopher, or deity who did not make it into this year's bracket? Tweet @BCPublishers what and who you would like to see and include the hashtag #MartiaDementia. Do you have questions or comments about how this year's competition went? Were you able to find ways to incorporate Martia Dementia into the classroom, or do you have ideas of how you might next year? Let me know—I would love to hear from you!

Connor Hart
Social Media and Editorial Assistant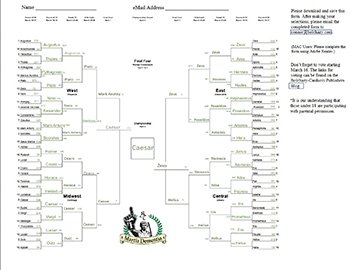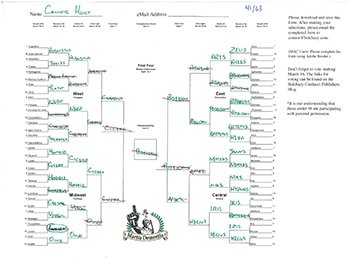 Classical Association of New England 2017 Meeting


Despite a recent snowstorm, the Classical Association of New England's annual meeting drew almost 200 classicists from throughout New England to its annual meeting graciously and energetically hosted by Paul Langford and the Classics Faculty at Phillips Exeter Academy (PEA) in Exeter, New Hampshire. Sessions took place in Assembly Hall, the heart of the Academy Building where the school community gathers several times a week for notable speakers, special programs, and campus-wide celebrations.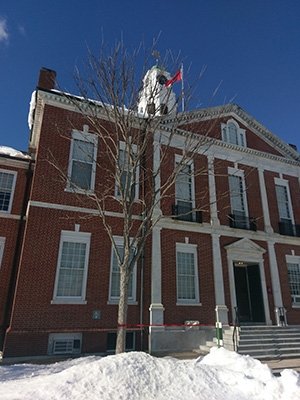 The PEA maintenance crew worked extra hard during "spring break" to remove the snow for the CANE meeting.
Exhibits were located in classrooms on the second floor to either side of Assembly Hall. Bolchazy-Carducci Publishers set up its display in Paul Langford's classroom with its impressive array of classics-related realia. Teachers, graduate students, and professors made their way to Room 228 to page through texts, enter the book drawing, and check out the new titles and the second edition of Latin for the New Millennium. Both Marie Bolchazy's I Am Reading Latin books and the I Am Reading Latin Stories by Rose Williams sold out quickly. Folks were also eager to get their copies of native New Englander and former UMass Amherst faculty Ken Kitchell's The Other Middle Ages. Special thanks to CANE treasurer Ruth Breindel, who encouraged attendees to check out the B-C exhibit.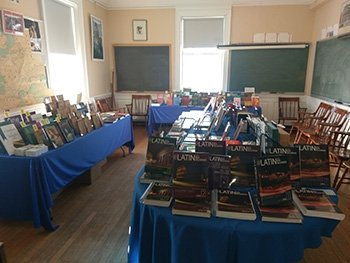 The long table to the right provided lots of space for displaying books. The table demonstrates Exeter's Harkness method, established in 1930 with a gift from Edward Harkness, a man who believed learning should be a democratic affair. The Harkness method is a simple concept: Twelve students and one teacher sit around an oval table and discuss the subject at hand.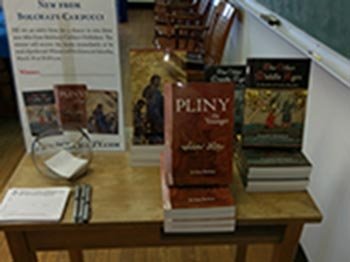 The CANE book drawing featured B-C's three newest titles.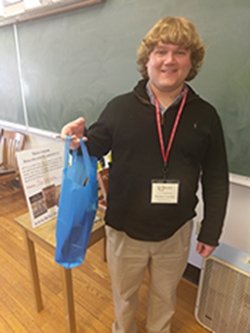 Tim Lesinksi, who teaches for the Newton, MA, public schools, brandishes the blue B-C bag holding the three books.
The Academy's Elm Street Dining Hall hosted the annual banquet. The gracious staff served a delicious meal at just the right temperature and level of moistness—no mean feat when serving such a large group. Bolchazy-Carducci sponsored the wine at table. Dinner afforded me the opportunity to catch up with former student Tim Joseph, who presently serves as chair of the classics department at the College of the Holy Cross and as director of the CANE Summer Institute. The banquet traditionally features the presentation of awards. I especially relish the presentation of the Matthew I. Wiencke Award that recognizes excellence in teaching in the primary, middle, and secondary school levels. Little did I know that one of my dinner mates, Mark Pearsall, would be the deserving recipient!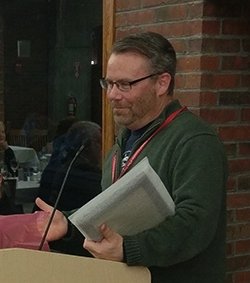 Glastonbury, CT, high school Latin and Greek teacher Mark Pearsall expresses appreciation for his colleagues' recognizing him with the Wiencke Award.
The CANE annual meeting is always a delightful experience. I am consistently impressed with the camaraderie that makes no distinction between high school teacher and college professor.

Donald Sprague
Editor and Liaison to the High School Community

Editor's Note: What about those two Phillips Academies? Dr. John Phillips founded Phillips Academy in Exeter in 1781. Three years prior he had lent financial support to his nephews who established Phillips Academy in Andover, Massachusetts. The two schools, among the top secondary schools in the nation, maintain a vigorous but healthy rivalry. Back in the day, the visiting rival arrived in town via train and then paraded to the respective host academy.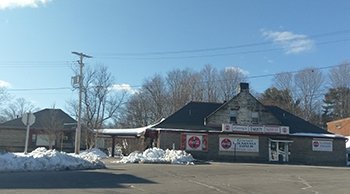 Amtrak with its revived route from Boston to Portland, ME, still stops in Exeter. The old train station, however, has for many years served as a grocery store.
Phillips Exeter Academy exudes history. For the CANE classicists, the program included a two-page self-guided tour of Latin and Greek at PEA. As it's fully illustrated, you might enjoy checking it out.
Resources & Teaching Tips

√ Carpe Diem!


What better time than spring to share Horace's famous Ode 1.11 addressed to Leuconoe. The reading can be a prompt to discuss Epicureanism. One can have the students read Marvel's "To His Coy Mistress" and Herrick's "To the Virgins, to make much of Time" and then discuss the similarities and differences.

For classroom distribution and use only, please find two presentations of the poem. One taken from Horace: A LEGAMUS Transitional Reader by Ronnie Ancona and David J. Murphy is designed for students who are just beginning to work with unadapted Latin poetry. The second, taken from Ancona's Horace: Selected Odes and Satire 1.9, is geared to a student more confident with unadapted Latin poetry and therefore does not provide the same amount of aids as does the Legamus version.

For teachers, the two selections provide a good insight into the pedagogy of the Legamus series (Caesar, Catullus, Cicero, Horace, Ovid, and Vergil) and the differences between those texts and ones like Horace: Selected Odes and Satire 1.9 for a student with greater experience with unadapted Latin.
√
A Father and Son's Final Odyssey
Bard College classicist Daniel Mendelsohn writes about his special father and son experience. "In the last year of my dad's life, we retraced Odysseus' voyage and learned what Homer teaches about life's journeys and what it means to yearn for home."
√
Professional Development Opportunities

• Registration is now open for the 2017 CANE Summer Institute, which has the theme "The View from a Distance: Perspectives on the Greeks & Romans from across Space and Time." The institute will take place July 10–15 at Brown University in Providence, Rhode Island. For details about this summer's lectures, mini-courses, and workshops, as well as instructions for registration, click here!
• 14th International Congress of the Academia Latinitati Fovendae Conventiculum Lexintoniense: 20–26 July 2017 Conventus XIV Academiae Latinitati Fovendae: 27–31 July 2017. The 14th International Congress of the Academia Latinitati Fovendae, along with the Conventiculum Lexintoniense will take place at the University of Kentucky, Lexington, in July, 2017. Journeys is the theme for the Congress. This is the first time the ALF international conference will be celebrated in America. The conference will be conducted entirely in the Latin language. It will include a full range of academic sessions, plenary lectures, and social events related to the theme. A draft program will be published in June 2017.

The Conventiculum Lexintoniense is an immersion seminar designed to foster ex-tempore expression in Latin through conversations on topics as varied as art, literature, and daily life. While no previous experience in speaking Latin is necessary, all participants should be able to read unadapted Latin texts. Through the use of active Latin, attendees find that they acquire a more instinctive command of the language and, as a result, a more intimate relationship with Latin writings. A non-refundable entrance fee of $120, which covers both conferences, must be received by May 1, 2017. Those interested in participating in these two Latin language conferences should contact Prof. Terence Tunberg at terence.tunberg@gmail.com. For more information, visit: (English Version) (Latin Version).

eLitterae Subscribers Special Discount

eLitterae Subscribers Special Discount
Special 40% Discount


This offer is valid for up to five (5) copies of each title,
prepaid, no returns.
Discount is not available to distributors or
on products distributed by Bolchazy-Carducci Publishers.
This offer expires 05/19/17.
(Please note that there will be no adjustments on previous purchases.
Offer is non-transferable and subject to change without notice.)
Enter coupon code eLit0417
on the payment page. The special

offer pricing will be charged at checkout.