Classical Conferences and Meetings in 2017

ACL—American Classical League
70th Annual Institute
June 29–July 1, 2017
Grand Valley State University
Grand Rapids, MI
Representatives: Allan Bolchazy, Laurel Draper, and Donald Sprague
Presentations:
Thursday, June 29, 2017
2:45 pm–3:45 pm
"Classics on the Camino"
Thomas Sienkewicz (Monmouth College), coauthor: Vergil: A LEGAMUS Transitional Reader; editor: World Dictionary of Foreign Expressions: A Resource for Readers and Writers

4:15 pm–5:15 pm
"The Perfect Latin Textbook"
David Pellegrino (Pittsford Mendon High School, NY), coauthor: Caesar & Vergil AP* Vocabulary Cards

Friday, June 30, 2017

1:00 pm–2:00 pm
" 'Backward Design' and Publication: Preparing your work for Publication in the Classical Outlook"
Ronnie Ancona (Hunter College, CUNY, NYC), author: Writing Passion: A Catullus Reader, Writing Passion Plus: A Catullus Reader Supplement, Horace: Selected Odes and Satire 1.9; coauthor: Horace: A LEGAMUS Transitional Reader and A Horace Workbook

2:30 pm–4:00 pm
"Mythology Role-Playing (RPG) in the Latin Classroom"
Jocelyn Demuth (Marlborough Public Schools, Marlborough, MA), author: Mendax: A Latin Card Game

"Inter Versiculos: De Novis Latinis Versibus Scribendis et Scriptis"
Marianthe Colakis (Townsend Harris High School, Flushing, NY), author: Lectiones Memorabiles: Volume I: Selections from Catullus, Cicero, Livy, Ovid, Propertius, Tibullus, and Vergil; coauthor: Classical Mythology & More: A Reader Workbook and Excelability in Advanced Latin: A Workbook for Students

Saturday, July 1, 2017

10:45 am–11:45 am
"Status Quaestionis : the Seal of Biliteracy for Classical Languages"
Copresenter: Tom Sienkewicz (Monmouth College) coauthor: Vergil: A LEGAMUS Transitional Reader; editor: World Dictionary of Foreign Expressions: A Resource for Readers and Writers

1:00 pm–2:00 pm
"The Overlooked Romans"
Rose Williams (McMurry University, Abilene, TX), author: Latin of New Spain; A Beginning Latin Christian Reader: De Bonis Cogitationibus, I am Reading Latin Stories: Set of Four Books, and many other

NJCL - National Junior Classical League
July 24–29, 2017
Troy University
Troy, AL
Representatives: Connor Hart and Donald Sprague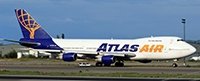 Photo courtesy of Frank Kovalchek, Creative Commons 2.0.




Athene: driven to do more™
Challenge your students to explain the connection between Athene and this company's work.

---
Echoes of Latona
Chicago's Buckingham Fountain erected ninety years ago was one of several city planning developments that reflected an interest in things Parisian. The famous Latona Fountain at Versailles with its triple basins inspired the creation of Buckingham Fountain. Check out this video about the Buckingham's opening for the 2017 season.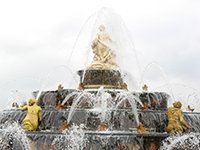 The Latona Fountain at Versailles. Photo courtesy of Creative Commons 3.0.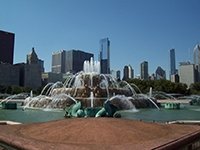 The Buckingham Fountain in Chicago's Grant Park. Photo courtesy of Creative Commons 4.0.
---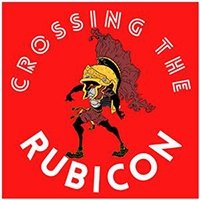 When you're in Glasgow, check out this restaurant. In the meantime, the "about" link on the webpage explains the choice of name. Thanks to Connor Hart, B-C Social Media and Editorial Assistant, for sharing this.

Bolchazy-Carducci Publishers takes great pride in celebrating Kenneth F. Kitchell, Jr. whose The Other Middle Ages was awarded the 2017 CAMWS Ladislaus J. Bolchazy Pedagogy Book Prize.
Learn more about the book prize. Read committee chair Helena Dettmer's report delivered at the business meeting of the 113th Annual Meeting of the Classical Association of the Middle West and South at Kitchener, Ontario.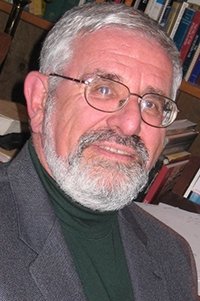 Kenneth F. Kitchell, Jr.



Kenneth F. Kitchell Jr. is professor of classics and former Director of the MAT Program at University of Massachusetts. He received a PhD from Loyola University of Chicago. Kitchell has won several teaching awards and has presented over hundred scholarly talks. He has been active in promoting the study of classics for such groups as the Classical Association of the Middle West and South, where he served as president, and the American Philological Association, as Vice-President for Education, and as the president of the American Classical League. Kitchell is the coeditor with Thomas J. Sienkewicz of the LEGAMUS series. Kitchell is coauthor with Sean Smith of Catullus: A LEGAMUS Transitional Reader (Bolchazy-Carducci Publishers, 2006), author of Animals in the Ancient World from A to Z (Routledge, 2014) and The Other Middle Ages (Bolchazy-Carducci Publishers, 2016), and author of numerous articles and book chapters.




Our spring semester webinars have concluded. We are grateful to this past year's webinar presenters.

• Keely Lake of Wayland Academy (WI): Refugees in Classical Texts and the Modern World

• Angela Commito of Union College (NY): Teaching the Ancient Mediterranean Environment

• Bridget Dean, Managing Editor at Bolchazy-Carducci Publishers: How to Maximize Your Latin eBook

• Thomas J. Howell of Belchertown High School (MA) and Edward Zarrow of Westwood High School (MA): Using Roman Coins in the Active Latin Classroom

• Robert Cape of Austin College (TX): The Art of Translating Latin

• Donald Sprague, Editor, Bolchazy-Carducci Publishers: Introducing the NEW Second Edition of Latin for the Millennium Levels One and Two

• Kenneth F. Kitchell, Jr.: Exploring the Delights of Medieval Latin

• Hans-Friedrich Mueller: From Salius to Augur: Julius Caesarls Priestly Career

• Dale A. Grote: Ease the Transition to Reading Unadapted Latin with the Latin of the New Testament

• Terence Tunberg: Latin for the New Millennium: Using the Aural/Oral Component

• Catherine Martin, Canterbury School, (IN): Playing Around with Plautus

We look forward to providing pedagogical and other professional development webinars for you in Fall 2017. The schedule for Fall 2017 webinars will be published in the August issue of eLitterae. If you have suggestions, please contact Don Sprague.




---
What Equipment Do I Need for B-C Webinars?

To participate in Bolchazy-Carducci Publisher sponsored webinars you will need high-speed internet access, computer speakers/headphones, current web browser, and the link to the webinar virtual meeting space, which is provided in your webinar invitation.
Webinars Make for User-Friendly Professional Development

Participation is free. All webinars provide opportunity for participants to ask questions. Learn lots—attend as many presentations as you can. Bolchazy-Carducci Publishers provides documentation for your participation. You can share this with your supervisors. Many webinar presenters provide handouts, etc.
Bolchazy-Carducci Publishers provides eTextbooks on a variety of eBook platforms. Bolchazy-Carducci textbooks are available through VitalSource,

GooglePlay

,

Chegg

, Copia, RedShelf, Adams Book, Follett,

MBSDirect Digital

, and ESCO. Each eBook platform offers a variety of tools to enhance the learning process. eBooks have the same content as our traditional books in print.
eBooks are purchased from the eBook provider. For direct links to purchase Bolchazy-Carducci eTextbooks, visit the title's product page on Bolchazy.com. Just above the product description there is a list of the eTextbook providers and a direct link to purchase the eTextbook. Some eBook providers sell directly to schools—check with your school to make these purchases.
You can read eBooks on a Mac, PC, iPhone, iPad, Android, or a variety of eReaders. Review the eBook providers specifications.
The eyeVocab software leverages human memory for distinctive affective images* presented in isolation to radically improve the speed, depth, and permanence of second language vocabulary acquisition. Images are drawn from classical art, both western and eastern, from photojournalism and historical photography, great book illustration, and other sources.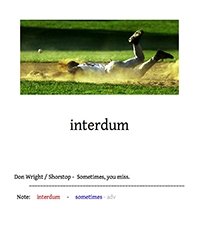 *Learn how images are chosen.

Far more than a set of electronic flashcards, the multimodal vocabulary program facilitates a significantly deeper learning and retention. Students will readily master the frequent Vergil and Caesar vocabulary for the AP® Latin Exam and thereby devote far more of their study time and energy to reading and discussing De Bello Gallico and the Aeneid.

eyeVocab programs correspond to the following B-C books.

Caesar: Selections from his Commentarii De Bello Gallico
(Mueller) (218 words)

Vergil's Aeneid: Selected Readings from Books 1, 2, 4, and 6
(Boyd) (162 words)



Vergil's Aeneid: Books I–VI


(Pharr) (292 words)

Latin for the New Millennium Level 1

(423 words)





Introductory rate for each of the AP® Latin programs is $14.95. The LNM 1 and LNM 2 introductory rate is $24.95 per program. For site licenses, contact Miles Becker at sales@eyeVocab.com.




Click on each title to learn more.
The Pompeiiana Newsletter created and edited by Bernard Barcio ran from 1974 through 2003. The newsletter offered a place for Latin students to publish comics, stories, games, and articles, and was a beloved resource for Latin teachers. In 2008, Barcio granted Bolchazy-Carducci Publishers the rights for all of the Pompeiiana Newsletter. B-C is proud to serve as curator for this archive and has made the issues available for teachers, students, and friends of the classics. Check out http://pompeiiana.blogspot.com/
Each fall, Bolchazy-Carducci mails its Roman Calendar to Latin teachers across the nation. If you're not on that mailing list, send a note TODAY to info@bolchazy.com. Put Roman Calendar in the subject line and provide us the USPS address to which you wish the calendar to be sent. The calendar is also available in a digital format.
Preview Bolchazy-Carducci Titles

Preview Bolchazy-Carducci titles before you purchase using Google Preview.
---

Downloadable Products
iPodius - Bolchazy-Carducci Publishers online shop for: audio, software, video, and a treasure trove of teacher-created materials in the Agora.
---
BCP Facebook Fan Page
Become a FAN of Bolchazy-Carducci Publishers, visit our Facebook Fan page for the latest news from BCP.
---
BCP Blog
Visit the BCPublishers Blog for B-C news and information.
Follow the B-C blog to learn about the changes in Latin for the New Millennium, Levels 1 and 2.
For instance, learn about the enhanced derivative coverage in the Second Edition.
---
BCPublishers on Twitter
Follow us on Twitter

---
AP® is a trademark registered and/or owned by the College Board, which was not involved in the production of, and does not endorse, this site.
These products have been developed independently from and are not endorsed by the International Baccalaureate (IB).
Congratulations to all those Latin students and their dedicated teachers who conquered the AP Latin exam!
Congratulations to Kenneth Kitchell, whose The Other Middle Ages is the 2017 winner of the CAMWS Ladislaus J. Bolchazy Pedagogy Book Prize. See below in the CAMWS annual meeting report and the Kudos section.

Best wishes to all those who are finishing up the spring semester and to those who are already attacking their post-semester to-do lists!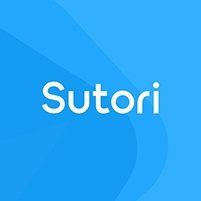 I recently learned about Sutori, an online interactive timeline creator. I was excited to give it a try because timelines and sequencing of events seem to come up frequently in my classes. I often find myself looking for new ways to present this type of information. Sutori's user interface is simple, streamlined, and very clear.

To create a timeline, called a "story" in Sutori lingo, the user begins the process by clicking the plus button and continues to do so to add each new piece of information. The plus button brings up the option to add several different types of content: text, image, video, audio, a discussion forum, and multiple choice, matching or "did you know?" quizzes. The user simply selects which type of content to add and then follows the required steps. It is all really straightforward and works smoothly.


It is equally simple to share the timeline with students via a link or by embedding the timeline in a website. I think that this would be a great way for AP students to keep track of important events in the texts by adding text, images, and even audio readings to a timeline.


Because Sutori allows for collaboration, it doesn't have to be an individual assignment.


Several years ago, my level 3 and 4 students were responsible for creating a portfolio of their language growth and reflecting on it at the end of the school year. Next year, my students will use Sutori to create a digital portfolio as I think it will yield a product that is more easily shareable with parents, teachers, and peers. To start playing with Sutori, visit their website.
Lynne West
Bellarmine Jesuit College Prep
San Jose, CA
A Latin Picture Dictionary for Everyone

Author

Interview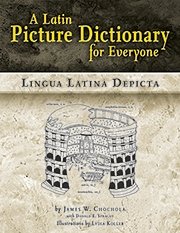 Editor's Note: Designed for Latin students, A Latin Picture Dictionary for Everyone asks the learner to make a ready connection between an image and its corresponding Latin word label. Illustrated exercises provide an opportunity for students to practice with and internalize the Latin vocabulary. Fifteen chapters cover such topics from everyday Roman and contemporary life as the home, transportation, shopping, and the arts.

DES: Please share with us how A Latin Picture Dictionary for Everyone came about.

JWC: I remember browsing the language section at a Barnes & Noble and I saw a whole series of picture dictionaries with exercises from Oxford for everything from the "usual" Spanish, French, Italian, and German to Chinese, Russian, and Arabic—but none for Latin!

DES: Discuss how your Latin teaching experience influenced the development of A Latin Picture Dictionary for Everyone.

JWC: When I taught, there seemed to be less and less time to fit ancillary activities into my daily lessons, especially student requests to learn some vocabulary their modern language counterparts were learning. A Latin Picture Dictionary for Everyone (LPD) exercises are geared toward the Latin student and so it allows teachers to easily incorporate them into their existing lessons to reinforce the grammar and vocabulary already being taught rather than adding more to their already-full curricula.

DES: How is A Latin Picture Dictionary for Everyone structured? Which chapter(s) is/are your favorites? Why?

JWC: The major distinguishing features of the LPD are providing Latin labels for the objects that are depicted so that students make the direct connection between the image and the Latin word and the set of exercises that accompany each chapter. The LPD is structured by general, modern-day topic (e.g., "preparing food" or "pastimes") but with an ancient equivalent, ideally so that students can utilize vocabulary from previous chapters as they advance through the LPD. My favorite chapters are the Buildings, Home, and Kinds of Food and Shopping chapters. Readers can immediately use the vocabulary since they are encountering these items on a daily basis and they can reinforce the vocabulary in several cases depending on their level of Latin (simply nominative with est . . . ; accusative with videō . . . ; ablative with ūtor).

DES: In what classes or levels do you envision the A Latin Picture Dictionary for Everyone being used?

JWC: What's great about the LPD is that with just a little creativity on the teacher's part, any chapter can be used to reinforce the current grammar of any Latin classroom. As mentioned previously, the vocabulary can fit into any level Latin as some of the exercises show. In one chapter we have simple sentences using the very form readers see in the illustration; in another, we use purpose clauses.

DES: How did you come to study the classics?

JWC: I had two years of Spanish in junior high and started Latin in high school because I had planned to go into medicine. But, once I saw the connections between Spanish and Latin, I was hooked on languages. The more I studied Latin, the more profound a connection I felt with the language and the culture so I stuck with Latin but studying more languages all the while (primarily Romance languages, but others as well).

DES: What do you enjoy most in pursuing your interest in Latin and things Roman?

JWC: Making connections between Latin and other languages as well as seeing connections between the ancient Romans and other cultures—ancient or modern.

DES: What advice would you give someone starting out as a new Latin and/or Greek teacher?

JWC: I offer two pieces of advice. First, make sure to show the lessons and examples the Romans provide which are pertinent to modern-day life. The ancient Romans are a perfect source for examples on how to live, govern, and think. Second, ensure your students gain the meta-awareness of their own language through Latin. True eloquence right down to basic spelling ability is lacking in today's world. Although students may not be able to speak Latin years from now, they should have gained an insight into their own language that helps them compose thoughts and sentences in a clearer, more cogent way than their non-Latin counterparts.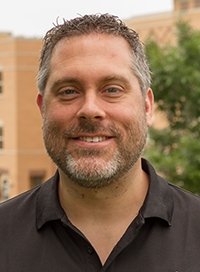 Editor's Note: James W. Chochola taught Latin at Lane Tech College Preparatory High School in Chicago and at Oak Park-River Forest High School. He received a BA in Latin language and literature from Oberlin College, an MAT in Latin and classical humanities from the University of Massachusetts at Amherst, and an MA in school leadership from Concordia University Chicago. Chochola is the narrator of I Am Reading Latin Series CD (Bolchazy-Carducci Publishers, 2004) and Latin Everywhere, Everyday Teacher's Manual Audio CD (Bolchazy-Carducci Publishers, 2004).

NB: A sample lesson from A Latin Picture Dictionary for Everyone is provided in this issue's Resources & Teaching Tips section.

NB:
A Latin Picture Dictionary for Everyone
is scheduled to debut at the
American Classical League Institute
, June 29–July 1, 2017, Grand Valley State University, Grand Rapids, MI.
Classical Association of the Middle West and South 113th Annual Meeting Report
Editors Don Sprague and Bridget Dean flew into sunny Toronto April 5 and made their way to Kitchener, Ontario, for the four-day CAMWS meeting. They were warmly welcomed by Tom Sienkewicz and given immediate access to the book room for set-up. They readily filled five tables with B-C books and learning materials and set up a half-sized table for the button display and "check-out" area. Tom had arranged for the food and drink, available throughout the conference, to be set up in the hall/foyer just outside the book room. The exhibit was ready for the evening's opening hours from 5:00 until 8:00 pm.

While traffic in the exhibit was slow on Wednesday night, it was steady the rest of the conference. Folks showed lots of interest in the new books, The Other Middle Ages, The Vulgate of Mark with the Synoptic Parallels, and Pliny the Younger, and eagerly entered the drawing that featured those titles. People were also very interested in the later Latin books, a variety of intermediate Latin readers, and the books geared to very young readers. Indeed, we sold all the copies of the Marie Bolchazy and Rose Williams "kiddie" texts. Button sales were brisk. All but a few of the Greek buttons sold. The CAMWS gathering saw the launch of the Festschrift Ab omni parte beatus: Classical Essays in Honor of James M. May.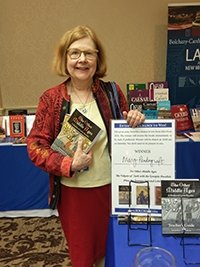 Mary Pendergraft of Wake Forest University won the CAMWS book drawing.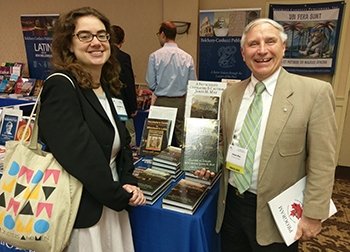 Jim May and his St. Olaf College classics faculty colleague Lisa Whitlatch check out the display for the Festschrift Ab omni parte beatus dedicated to Jim's career as a classicist.

The reception on Friday night featured Jim May's final performance as CAMWS orator. It was announced that Jim McKeown would replace Jim May as the orator next year.

Jim proclaimed Ovationes for Antony Augoustakis (University of Illinois at Urbana-Champaign), Ruth Scodel (University of Michigan), and David Schenker (University of Missouri). Kudos to these deserving awardees! Banqueters enjoyed an interesting lecture, "Cicero's Path and Vergil's Pathos," from outgoing CAMWS president Alden Smith (Baylor).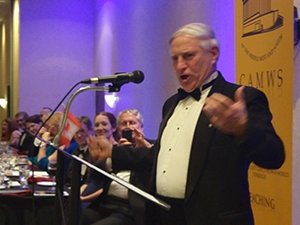 Jim May begins declamation duties by singing the Canadian national anthem in Latin. Hard to capture the action as he gestures with his left hand and waves the Canadian flag with his right. His animated recitation of this year's Ovationes followed.

At the business meeting Saturday morning, Tom Sienkewicz announced that 380 attendees had trekked to Kitchener for what was only the third time in 113 years that CAMWS has met in Canada. The business meeting included the presentation of many awards including the Ladislaus J. Bolchazy Pedagogy Book Prize. Committee chair Helena Dettmer announced that eight books had been nominated but only four were considered due to the requirement that the author be a member of CAMWS. When announcing that The Other Middle Ages by Kenneth F. Kitchell, Jr, had won, Helena mentioned Lou Bolchazy's love of later Latin and how he would have liked having "his own press publish the [winning] text." She also mentioned that the author Kenneth Kitchell, in his book, "makes medieval Latin fun." The 2017 Kraft Teaching Award winner Dawn Strauss was honored for her work with lower-income, mostly African-American students at Chicago Public Schools' Kenwood Academy.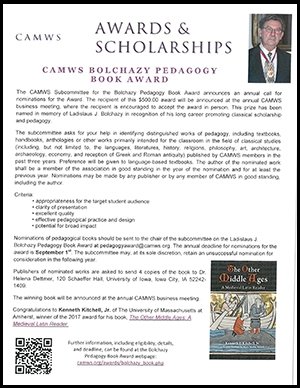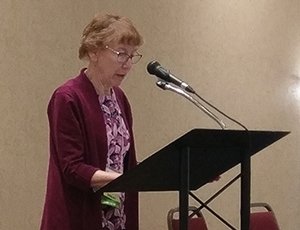 Ladislaus J. Bolchazy Pedagogy Book Prize Committee chair Helena Dettmer announces Kenneth Kitchener's The Other Middle Ages as the 2017 winning title.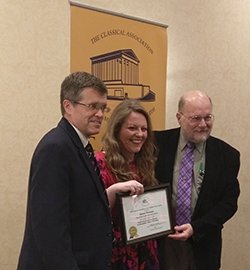 Flanked by CAMWS president Alden Smith and CAMWS secretary-treasurer Tom Sienkewicz, Dawn Strauss proudly displays her Kraft Teaching Award plaque.
Festschrift Celebrating James M. May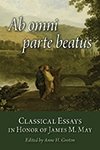 Hardbound, ISBN 978-0-86516-843-5

That the influence and interests of Classics Professor James M. May extend well beyond his chosen areas of research and publication—Cicero, classical rhetoric, and Latin pedagogy—is amply illustrated in the Festschrift his professional colleagues and former students present in his honor: eighteen essays whose subjects range from the Homeric poems of the eighth century BCE to classical allusions in present-day winner of the Man Booker Prize. Contributors include Dean M. Apel, Marquis S. Berrey, Hilary J. Bouxsein, Christopher Brunelle, Gwendolyn L. Compton-Engle, Christopher P. Craig, Jane Webb Crawford, Robert N. Gaines, Anne H. Groton, Jon Hall, John F. Miller, Rick M. Newton, Sarah A. Nix, Terry L. Papillon, Steve Reece, Jon Solomon, Jennifer S. Starkey, Matthew C. Steenberg, Ann Vasaly, and Jakob Wisse.

James M. May is retiring professor of classics and Provost and Dean of the College at St. Olaf College in Northfield, MN, where he has taught since 1977, after finishing his doctoral studies at the University of North Carolina at Chapel Hill. May received his BS Ed in Latin and English from Kent State University and his PhD in classics from the University of North Carolina at Chapel Hill. He has been the recipient of four NEH awards, the American Philological Association's Award for Excellence in the Teaching of the Classics, and The Sears-Roebuck Foundation Teaching Excellence and Campus Leadership Award. He has served as Vice-President for Education for the American Philological Association and as Director of its Campus Advisory Service and as its Vice-President for Professional Matters. He has been the President of the Classical Association of the Middle West and South and served as the Association's official orator from 2002 to 2017. He has published extensively in the fields of ancient rhetoric, pedagogy, and in particular Ciceronian oratory. He is coauthor (with Anne Groton) of Thirty-Eight Latin Stories (Bolchazy-Carducci Publishers, fifth edition, 1995), the author of Trials of Character: The Eloquence of Ciceronian Ethos (University of North Carolina Press, 1988) and A Cicero Reader: Selections from Five Essays and Four Speeches, with Five Letters (Bolchazy-Carducci Publishers, 2012), coauthor (with Jakob Wisse) of Cicero: On the Ideal Orator (Oxford University Press, 2001), and editor of Brill's Companion to Cicero: Rhetoric and Oratory (Brill, 2002).

All proceeds from sales of the Festschrift go directly to the Classical Association of the Midwest and South to help fund the endowment for the CAMWS Ladislaus J. Bolchazy Pedagogy Book Award.

Resources & Teaching Tips

√ Domus Recens



For one-time classroom use, we are pleased to provide this

excerpt

from Chapter 6 of

A Latin Picture Dictionary for Everyone

. Each chapter of this forthcoming book begins with a modern composite image or set of images followed by exercises and then the complementary image of the Roman equivalents and another set of exercises. What sets

A Latin Picture Dictionary for Everyone

apart is twofold: the labels placed directly on /beside the image and sets of exercises that require using the Latin vocabulary.




The New Yorker

presents "How to Decode an Ancient Roman's Handwriting."

This video presents a fascinating look at Rome as it would have looked in 320 CE.




√ Underground Rome

Rome unveils a new "museum" as part of the San Giovanni metro station.

√ Egyptomania in Pompeii

Frescoes reveal the Romans' interest in Egyptian culture.

eLitterae Subscribers Special Discount

eLitterae Subscribers Special Discount
Special 40% Discount

The Other Middle Ages
Author: Kenneth F. Kitchell, Jr.
Paperback, 440 pages, ISBN: 978-0-86516-837-4
$29.00 $17.40
This offer is valid for up to five (5) copies,
prepaid, no returns.
Discount is not available to distributors or
on products distributed by Bolchazy-Carducci Publishers.
This offer expires 06/20/17.
(Please note that there will be no adjustments on previous purchases.
Offer is non-transferable and subject to change without notice.)
Enter coupon code eLit0517
on the payment page. The special

offer pricing will be charged at checkout.