Classical Conferences and Meetings in 2017 and 2018

NJCL - National Junior Classical League
July 24–29, 2017
Troy University
Troy, AL
Representatives: Laurel Draper and Donald Sprague
TFLA—The Texas Foreign Language Association
Fall Conference
October 12–14, 2017
Sheraton Arlington Hotel /Arlington Convention Center
Arlington, TX
Representatives: Phil Neill and Joni Dodson
ACTFL—American Council on the Teaching of Foreign Language
TFLTA—Tennessee Foreign Language Teaching Association
in conjunction with ACTFL
2017 Annual Convention and World Languages Expo
November 17–19, 2017
Music City Center
Nashville, TN
Representatives: Allan Bolchazy and Donald Sprague
---
2018 Conferences
SCS/AIA—Society for Classical Studies/Archaeological Institute of America
January 4–7, 2018
Boston Marriott: Copley Place
Boston, MA
Representatives: Allan Bolchazy, Bridget Dean, and Donald Sprague
CANE—Classical Association of New England
March 16–17, 2017
University of Rhode Island
Kingston, RI
Representative:
Donald Sprague
CAMWS—Classical Association of the Middle West and South
April 11–14, 2018
Hotel Albuquerque at the invitation of the University of New Mexico
Albuquerque, NM
Representatives: Bridget Dean and Donald Sprague
The 53rd International Congress on Medieval Studies
May 10–13, 2018
Western Michigan University
Kalamazoo, MI
Representatives: Adam Velez and Laurel Draper
ACL—The American Classical League
71st Annual Institute
June 28–June 30, 2018
University of Montana
Missoula, MT
Representatives: Allan Bolchazy, Laurel Draper, and Donald Sprague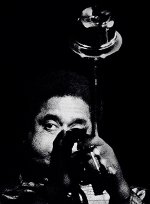 Dizzy Gillespie, Buffalo, New York, 1977. Creative Commons 2.0.
---
From the GVSU Classics Department
"Students who major or double-major in Classics have a better success rate getting into medical school than do students who concentrate solely in biology, microbiology, and other branches of science."

American Association of Medical Colleges

---
OpenTable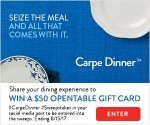 ---
ACL Sings the Beatles

Thanks to Emma Vanderpool and Tom Sienkewicz for sharing. The ACL Sing-along honors the Beatles in Latin on the 50th anniversary of Sargent Pepper.
---
Et tu Yuzu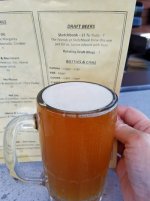 The Bolchazy-Carducci family bids a fond farewell to Connor Hart as he returns to Massachusetts and pursues further studies. Connor joined B-C as an intern following his graduation from the University of Massachusetts at Amherst where he studied classics and English. After a year as an intern, Connor joined the staff as social media and editorial assistant. Connor has done terrific work developing B-C's social media—writing blogs, creating Martia Dementia, assembling the Roman Calendar and its quiz components, posting on Facebook, and tweeting.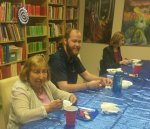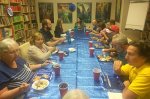 The Bolchazy-Carducci staff enjoys a farewell luncheon in Connor's honor.
National Latin Exam Gold Medal Record Winner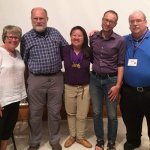 Congratulations to Emma Vanderpool, Monmouth College '17 Classics Major, who set the record for National Latin Exam success with eight consecutive gold medals. Joining her for the photo (left to right) are NLE Cochair Linda Montross, Monmouth's Tom Sienkewicz, Matt Katsenes (her Latin teacher at Lincoln Way High School, IL), and NLE Cochair Mark Keith.


We look forward to providing pedagogical and other professional development webinars for you in Fall 2017.
The schedule for Fall 2017 webinars will be published in the August issue of eLitterae.

---
What Equipment Do I Need for B-C Webinars?

To participate in Bolchazy-Carducci Publisher sponsored webinars you will need high-speed internet access, computer speakers/headphones, current web browser, and the link to the webinar virtual meeting space, which is provided in your webinar invitation.
Webinars Make for User-Friendly Professional Development

Participation is free. All webinars provide opportunity for participants to ask questions. Learn lots—attend as many presentations as you can. Bolchazy-Carducci Publishers provides documentation for your participation. You can share this with your supervisors. Many webinar presenters provide handouts, etc.
Bolchazy-Carducci Publishers provides eTextbooks on a variety of eBook platforms. Bolchazy-Carducci textbooks are available through VitalSource,

GooglePlay

,

Chegg

, Copia, RedShelf, Adams Book, Follett,

MBSDirect Digital

, and ESCO. Each eBook platform offers a variety of tools to enhance the learning process. eBooks have the same content as our traditional books in print.
eBooks are purchased from the eBook provider. For direct links to purchase Bolchazy-Carducci eTextbooks, visit the title's product page on Bolchazy.com. Just above the product description there is a list of the eTextbook providers and a direct link to purchase the eTextbook. Some eBook providers sell directly to schools—check with your school to make these purchases.
You can read eBooks on a Mac, PC, iPhone, iPad, Android, or a variety of eReaders. Review the eBook providers specifications.
The eyeVocab software leverages human memory for distinctive affective images* presented in isolation to radically improve the speed, depth, and permanence of second language vocabulary acquisition. Images are drawn from classical art, both western and eastern, from photojournalism and historical photography, great book illustration, and other sources.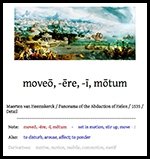 *Learn how images are chosen.

Far more than a set of electronic flashcards, the multimodal vocabulary program facilitates a significantly deeper learning and retention. Students will readily master the frequent Vergil and Caesar vocabulary for the AP® Latin Exam and thereby devote far more of their study time and energy to reading and discussing De Bello Gallico and the Aeneid.

eyeVocab programs correspond to the following B-C books.

Caesar: Selections from his Commentarii De Bello Gallico
(Mueller) (218 words)

Vergil's Aeneid: Selected Readings from Books 1, 2, 4, and 6
(Boyd) (162 words)



Vergil's Aeneid: Books I–VI


(Pharr) (292 words)

Latin for the New Millennium Level 1

(423 words)





Introductory rate for each of the AP® Latin programs is $14.95. The LNM 1 and LNM 2 introductory rate is $24.95 per program. For site licenses, contact Miles Becker at sales@eyeVocab.com.




Click on each title to learn more.
The Pompeiiana Newsletter created and edited by Bernard Barcio ran from 1974 through 2003. The newsletter offered a place for Latin students to publish comics, stories, games, and articles, and was a beloved resource for Latin teachers. In 2008, Barcio granted Bolchazy-Carducci Publishers the rights for all of the Pompeiiana Newsletter. B-C is proud to serve as curator for this archive and has made the issues available for teachers, students, and friends of the classics. Check out http://pompeiiana.blogspot.com/
Each fall, Bolchazy-Carducci mails its Roman Calendar to Latin teachers across the nation. If you're not on that mailing list, send a note TODAY to info@bolchazy.com. Put Roman Calendar in the subject line and provide us the USPS address to which you wish the calendar to be sent. The calendar is also available in a digital format.
Preview Bolchazy-Carducci Titles

Preview Bolchazy-Carducci titles before you purchase using Google Preview.
---

Downloadable Products
iPodius - Bolchazy-Carducci Publishers online shop for: audio, software, video, and a treasure trove of teacher-created materials in the Agora.
---
BCP Facebook Fan Page
Become a FAN of Bolchazy-Carducci Publishers, visit our Facebook Fan page for the latest news from BCP.
---
BCP Blog
Visit the BCPublishers Blog for B-C news and information.
Follow the B-C blog to learn about the changes in Latin for the New Millennium, Levels 1 and 2.
For instance, learn about the enhanced derivative coverage in the Second Edition.
---
BCPublishers on Twitter
Follow us on Twitter

---
AP® is a trademark registered and/or owned by the College Board, which was not involved in the production of, and does not endorse, this site.
These products have been developed independently from and are not endorsed by the International Baccalaureate (IB).
It's been an exciting summer so far, though it has whizzed past much too quickly! I'm sure our teacher colleagues feel the same!
It is my great pleasure to announce that A Latin Picture Dictionary for Everyone: Lingua Latina Depicta is now available and its Teacher's Guide is planned to arrive in September. Bravo to Jim Chochola, who proposed the text. I enjoyed working with him on this terrific resource for students learning to speak Latin.

Our president Marie Bolchazy has taken up her pen again and we share her review of Coming Out Christian in the Roman World in this issue's "Book Buzz." Before taking off for a wonderful family gathering in Sicily, Italy, and then England and Wales, Lynne West composed this issue's "Tech Tip."

Please join us in wishing Connor Hart, social media and editorial assistant, success in his next endeavors and his future studies. For more see "Ave atque Vale." It has been a rewarding experience working with Connor and serving as his conference mentor as he and I represented B-C at the San Antonio and Bloomington, Indiana, NJCL conventions.
All of us at Bolchazy-Carducci Publishers wish you well as you enjoy the last weeks of summer. Please do not hesitate to reach out as you gear up for the new school year. When you call B-C, you get a classics-trained editor to answer your questions.

EDPuzzle is an excellent (and free!) online tool for adding interactive features to videos from a variety of sources. I like the simplicity of EDPuzzle's interface. After selecting or uploading a video, the teacher can crop it, add some recorded audio notes, and finally add open-ended or multiple choice questions.
The crop function allows the teacher to focus only on the part of the video that is critical for the students to see and eliminates the need to have students fast forward to a specific part. The audio notes are great for introducing the video, adding a teacher comment to something at a specific point in the video, or providing a few concluding remarks.
Once the teacher has added the desired comments and questions, the video is ready to be assigned to students. In EDPuzzle, a teacher creates classes and assigns students to a class to watch a video. This feature allows a teacher to track the time that individual students spend with the video as well as their responses to any questions added to the video.
I am working on cropping and adding comprehension questions to some of the latintutorial.com videos to use as review with my classes next year. You can get started by visiting www.edpuzzle.com.
Lynne West
Bellarmine Jesuit College Prep
San Jose, CA
The 52nd International Congress on Medieval Studies Report

Adam Velez, senior graphic designer, and Laurel Draper, editor, represented B-C at the Medieval Congress in Kalamazoo, MI, May 10–14, 2017.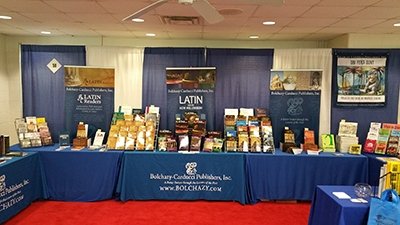 The B-C booth invites attendees to examine the company's many titles.
Traffic to the booth was especially strong this year with The Other Middle Ages and Ubi Fera Sunt receiving lots of attention and selling well. One conferee even noted that Ubi Fera Sunt was trending on the conference's Twitter hash tag! As usual, the kiddie books sold well and drew people to the booth. The conference afforded us the opportunity to debut the Second Edition of Medieval Mosaic.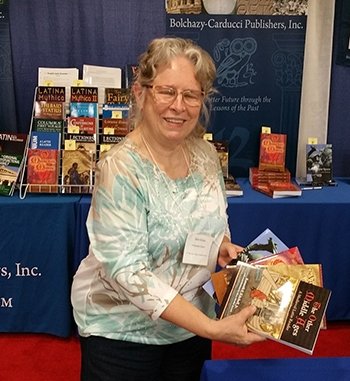 Helen Schultz of Peru, Indiana, won the fishbowl drawing for a book bundle that included The Other Middle Ages, The Vulgate of Mark with the Synoptic Parallels, Latin of New Spain, and Medieval Mosaic, Second Edition.

Several college instructors stopped by to check out the Latin for the New Millennium program. A couple colleges are reviving their Latin programs or including Latin teacher training programs. Richard Kieckhefer from the Department of Religious Studies at Northwestern stopped by to mention that he uses The Other Middle Ages as a reader in classes of mixed ability levels. He found the reader well suited to intermediate students. He gives the more advanced readings (poems of Alcuin, Hildebert of Lavardin, Adam of St-Victor, and Thomas Aquinas) to the entire class, although they're meant mainly for the advanced students. "The Kitchell book is especially good because (1) it provides excellent glosses, with explanation of grammar and vocabulary, (2) it helps students see differences between medieval and classical Latin, and (3) it gives a wide range of material that's fun for the students to work with."

A sign of the times—one of our exhibit neighbors, from Canada, was not allowed across the border and so was not able to attend. Our neighbors not only missed out on exhibiting and sales but also had to cancel two sessions that they were presenting.
American Classical League Institute Report

The B-C triumvirate of vice president Allan Bolchazy and editors Laurel Draper and Don Sprague represented the company at the 79th Institute of the American Classical League hosted by Grand Valley State University (GVSU), just outside Grand Rapids, June 28–July 1. As the trio stayed in Grand Rapids, they commuted each day to GVSU's main campus in Allendale, a 20-minute drive west.
The campus is beautifully landscaped and boasts a number of new buildings. The exhibit hall was located by the registration area and served as host for a delicious array of morning and afternoon snacks. The GVSU conference staff and the university's classics department proved to be gracious hosts.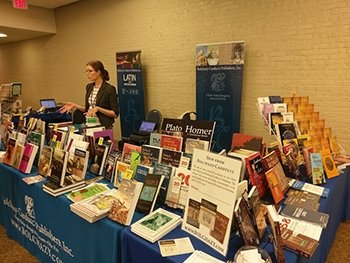 Editor Laurel Draper gestures as she discusses the forthcoming (in August!) Word Mastery through Derivatives: Designed for Students of Latin.

B-C proudly launched the brand-new A Latin Picture Dictionary for Everyone: Lingua Latina Depicta at the Institute. Brisk sales meant that the supply of copies would sell out before the conference ended. Fortunately, Jack Draper, who was joining his wife Laurel, was able to bring an additional fifteen copies to Grand Rapids. Come Saturday, all thirty copies had sold!
Thursday evening the trio attended the plenary session. Grand Valley State's Fred Antczak, Founding Dean of the College of Liberal Arts and Sciences, and Annie Bélanger, Dean of University Libraries, warmly welcomed the ACL attendees. Antczak praised the humanities and their heart—the classics—predicting a rise in their significance in the decades ahead while Bélanger discussed the essential information preserving and sharing role of the library especially in a time when the concept of "fact" is challenged. Ann Patty, author of the popular Living with a Dead Language: My Romance with Latin gave an engaging talk about Latin and its impact on her. She mentioned that she had used Latin for the New Millennium to teach Latin to a nine-year-old boy whom she named Petrus. Petrus completed levels 1 and 2 of LNM in one year for each level. Don along with Ephy and Peter Howard shared breakfast the next morning with the engaging and thoroughly charming Ms. Patty.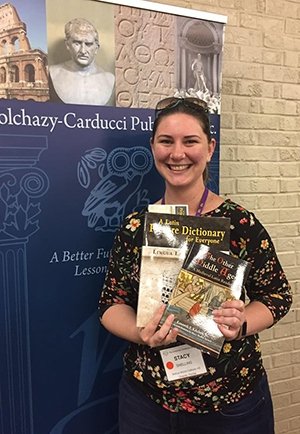 Congratulations to Stacy Snelling of Mandarin High School, Jacksonville, FL, winner of our drawing at ACL Institute. She won The Other Middle Ages, A Latin Picture Dictionary, and Pliny the Younger: Selected Letters.

Our colleague Miles Becker promoted eyeVocab, which B-C helps distribute, at the table next to ours. Miles demonstrated the Latin version of eyeVocab and the touch typing tutorial he created for under-resourced students who do not get to practice on a keyboard at home. Miles has revamped the eyeVocab website and is preparing a video version of the Latin vocabulary for distribution to schools using Latin for the New Millennium.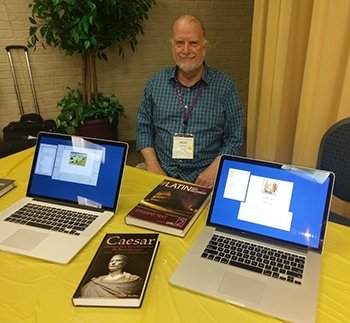 For Friday afternoon Don had arranged an "affinity group" session for Latin for the New Millennium users. Designed to celebrate the arrival of the Second Edition, the session included an overview of the changes in the Second Edition, teachers sharing their experiences, and a delicious spread of cheese and crackers, crudités and dips, and libations. As is the custom, the caterers provided more food than our fourteen teacher attendees could possibly eat. Don, however, brought along Ziploc bags that two teachers welcomed so that they could bring their husbands a little feast. If ACL continues with the "affinity group" sessions, B-C will again sponsor a session for LNM teachers. Several LNM teachers had stopped by the booth to share their regrets that they were unable to attend. Nick Young, who served as a teacher consultant for LNM, proved a boon to the discussion and sharing portion of the gathering.
The Institute is always a great opportunity for B-C folks to interact with teachers and fans of the company and also to touch base with a number of our authors. Marianthe Colakis, author of Lectiones Memorabiles Vol. I and coauthor of Classical Mythology and More, stopped by the booth to say hi. Elizabeth Heimbach was pleased to see the galleys for the student text and teacher's manual of Word Mastery through Derivatives: Designed for Students of Latin so prominently displayed. Elizabeth also authored A Roman Map Workbook and Latin Everywhere, Everyday. Tom Sienkewicz (Catullus: A LEGAMUS Transitional Reader) stopped by and Allan attended his session "Classics on the Camino." Elisa Denja (LNM 1 editor) and Judy Hayes (A Cicero Workbook) drove in from Chicago for the day on Saturday. David Pellegrino, who has authored vocabulary cards with us, made his ACL visit as well. Ronnie Ancona, whose most recent role was editor of the BC Latin Readers, paid her respects (and recharged her phone!). Don chatted with Jocelyn Demuth, who created the vocabulary game Mendax. She was promoting her Tres Fabulae Horrificae with its three stories geared to the intermediate Latin student.
Saturday evening's banquet was held at the downtown campus of GVSU that faces the Grand River. The highlight of the banquet is always the celebration of the year's Emeritus/Emerita awardees. The deserving recipients included Ephy and Peter Howard, high school and college Latin teacher team from Troy, Alabama, and Zee Ann Poerio from St. Louise de Marillac School in Pittsburgh who has served as a great promoter of Latin in the elementary school and of the use of technology in the Latin classroom.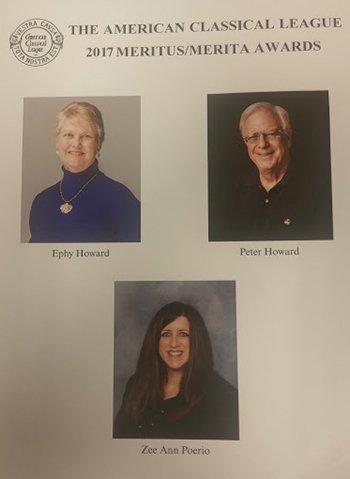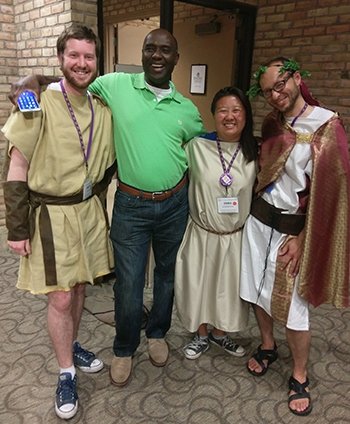 Ray Grant salutes Monmouth College alums Tim Morris, Emma Vanderpool, and Matt Katsenes.
The evening and the Institute ended with after-dinner drinks and desserts, a Latin sing-along (see "Classics Tidbits" for a video), and fireworks over the river.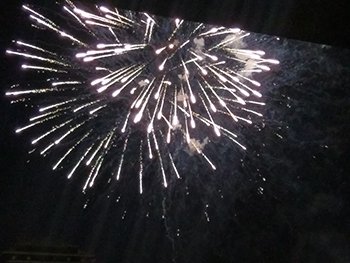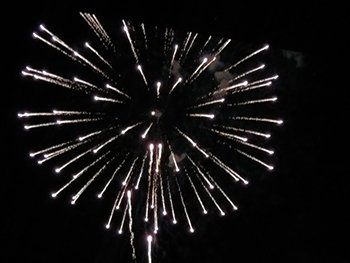 Coming Out Christian in the Roman World
by Douglas Boin
Boin presents a much more nuanced view of early Christians than do many historians. Christian connections to Pliny the Younger, Trajan, and even Catiline are discussed. Many of the histories of the rise of Christianity focus on persecution and martyrdom. However, Boin notes that Christians were not regularly persecuted until the second half of the third century CE. A number of early Christians made an effort to participate in Roman civic life and they did not refer to themselves as Christians. They honored the emperor and valued being "good Roman fathers, obedient wives, devoted children, and loyal slaves."
Boin notes that the lack of Christian artifacts among Jesus's followers most likely was not because Jesus's followers were poor and disenfranchised as many had wealth, but rather because they chose to be closeted so as to not arouse suspicion. Or the followers made choices, like wearing a laurel wreath, to blend in with their Roman peers who were aware that they were Christian.
Before Boin focuses on Constantine, he gives considerable coverage to the Jewish people and their struggles. In addition, an entire chapter is devoted to the worshipers of Isis. Boin details ways in which Jews and Isis worshippers demonstrated their civic support, e.g., Isis worshippers put a statue of Venus inside their sanctuary. He notes that this pattern of civic engagement was also paralleled in the early Christian community.
Then in 313 CE, Constantine and his coruler issued an edict that Christians were not to be harassed any further and this despite the fact that they made up just 10% of the Roman population. But then, internal differences among Christians surfaced and they had to define their identity. The time after Constantine was a crucial time for the followers of Jesus and it was not the world that's commonly envisioned. A polarizing era started: "Christian civilians," versus "Christian soldiers." Christians were struggling with unanswered questions about such issues as the divinity of Christ and the nature of sacraments.
Christians were responsible for the destruction of a synagogue in Callinicum in 388 CE. Boin speculates that the subsequent destruction of the Temple of Serapis in Alexandria (392 CE) might also have been the work of Christian militants, not the Roman military. Perhaps they were acting on the Sibyl's prediction that the temple would be in evil hands.

Nonetheless, Boin seeks to present a picture quite different from Edward Gibbons, who wrote about the "intolerant zeal" of early Christians. Boin describes how they lived in a middle ground between passing as Romans and coming out as Christians. His account is thoroughly researched and annotated drawing on archaeological and literary evidence. This groundbreaking study—Coming Out Christian in the Roman World: How the Followers of Jesus Made a Place in Caesar's Empire—deserves a careful reading.

Marie Carducci Bolchazy, EdD
President, Bolchazy-Carducci Publishers
Resources & Teaching Tips

√ Epistulae Romanae


This
video
demonstrates the lost-wax technique using a replica of the statue of Hadrian found in Tel-Shelem, Israel.
The Washington Post
article suggests
Roman concrete
might help stop the rising tides. Have your students do an internet search to find a number of new articles on the topic.
√ Sappho's Legacy
Spurred on by the annual LGBTQ Pride celebrations, the British Library blog provides an engaging discussion of
Sappho
—her poetry, the manuscript tradition, her sexuality, and her influence.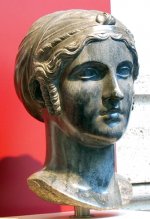 Bronze bust of Sappho displayed in the Palazzo Massimo, the National Museum in Rome. Creative Commons 4.0.
√ Nero's Narcissism
Visitors to the reopened archaeological site of Nero's
Golden House
are treated to a virtual reality 3-D reconstruction.
√ Subterranean Splendor
Excavations
for Rome's Linea C subway reveal the charred remains of an opulent third-century CE home. The collapse of the ceiling left everything carbonized.
The Smithsonian presents stunning
frescoes
from the catacombs.
√ Subway Map Inspiration
√ Bull Leaping
The Facebook page Greece High Definition offers a range of videos of Greece. Classicists will especially appreciate the ones on
Cretan bull leaping
, the Phaistos disc, and "the boxer" at rest.

Thanks to Mark Pearsall for this find!

√ Magazine Finds
A subscription to National Geographic History is a good investment as every issue contains beautifully illustrated articles about the ancient world. For example, the July/August 2017 issue includes "Octavian: Winner Takes Rome" and "The Iliad: An Epic Tale of War and Peace."


Smithsonian regularly features articles of interest to the classicist. The July/August 2017 issue offers "Hannibal! Cross the Alps in His Footsteps."

eLitterae Subscribers Special Discount

eLitterae Subscribers Special Discount
Special 20% Discount

illustrated by Lydia Koller
Paperback, viii + 205 pages, ISBN: 978-0-86516-749-0
$22.00 $18.00
This offer is valid for up to fifteen (15) copies,
prepaid, no returns.
Discount is not available to distributors or
on products distributed by Bolchazy-Carducci Publishers.
This offer expires 08/17/17.
(Please note that there will be no adjustments on previous purchases.
Offer is non-transferable and subject to change without notice.)
Enter coupon code eLit0717
on the payment page. The special

offer pricing will be charged at checkout.