Classical Conferences and Meetings in 2017 and 2018

Illinois Classical Conference
Annual Meeting
October 6–8, 2017
University of Illinois
Champaign-Urbana, IL
Representative:
Laurel Draper
Classical Association of the Atlantic States
Fall 2017 Meeting
October 5–7, 2017
New York Marriott East Side
New York City, NY
Representative:
Donald Sprague
Presentations
Friday, October 6
10:30 am – 1:00 pm
"Presentations on the Lives and Works of Grace Harriet Macurdy (1866–1946) and Barbara McManus (1942–2015)" Judith P. Hallett, coauthor: A Roman Women Reader: Selections from the Second Century BCE through Second Century CE
2:30 pm – 5:30 pm
"Heliodorus in the Harlem Renaissance" Edmund Cueva, coauthor, Longus' Daphnis & Chloe: An Annotated Edition
Saturday, October 7
10:30 am – 1:00 pm
"Doing Scholarship as a High School Teacher" David Murphy, coauthor, Horace: A LEGAMUS Transitional Reader and A Horace Workbook
TFLA—The Texas Foreign Language Association
Fall Conference
October 12–14, 2017
Sheraton Arlington Hotel /Arlington Convention Center
Arlington, TX
Representatives: Phil Neill and Joni Dodson
ACTFL—American Council on the Teaching of Foreign Language
TFLTA—Tennessee Foreign Language Teaching Association
in conjunction with ACTFL
2017 Annual Convention and World Languages Expo
November 17–19, 2017
Music City Center
Nashville, TN
Representatives: Allan Bolchazy and Donald Sprague
---
2018 Conferences
SCS/AIA—Society for Classical Studies/Archaeological Institute of America
January 4–7, 2018
Boston Marriott: Copley Place
Boston, MA
Representatives: Allan Bolchazy, Bridget Dean, and Donald Sprague
CANE—Classical Association of New England
March 16–17, 2017
University of Rhode Island
Kingston, RI
Representative:
Donald Sprague
CAMWS—Classical Association of the Middle West and South
April 11–14, 2018
Hotel Albuquerque at the invitation of the University of New Mexico
Albuquerque, NM
Representatives: Bridget Dean and Donald Sprague
The 53rd International Congress on Medieval Studies
May 10–13, 2018
Western Michigan University
Kalamazoo, MI
Representatives: Adam Velez and Laurel Draper
ACL—The American Classical League
71st Annual Institute
June 28–June 30, 2018
University of Montana
Missoula, MT
Representatives: Allan Bolchazy, Laurel Draper, and Donald Sprague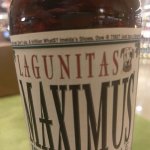 Lagunitas beer showcases a great Latin word.
---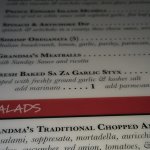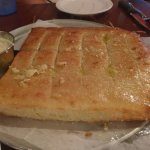 Saza in Montgomery, AL, features a delicious antipasto "Garlic Styx."
---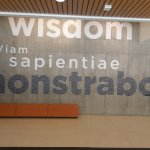 The lobby of the Theatre School at DePaul University, Chicago, displays the school motto from Proverbs 4:17 in English (only partially in photo) and in Latin.
Resources & Teaching Tips

√

Latin for the New Millennium

Teachers' Lounge



As you begin the new school year, be sure to check out the complimentary resources, including test banks, in the LNM Teachers' Lounge. If you're using LNM, be sure to join the Teachers' Lounge. Just click to join!
√ Back to School Review Activity
American Classical League Emeritus Awardee Gayle Dubose provides a clever activity for some vocabulary and grammar review. The following pages, taken from Dubose's
Farrago Latina: A Teacher Resource
, are provided for one-time duplication for your classes. (
Download Activity PDF
)
√
Archaeology Discoveries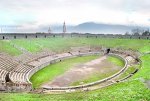 The interior of Pompeii's amphitheater. Photo courtesy of Creative Commons 3.0.
The famous brawl in Pompeii's amphitheater is known through Tacitus's account and a famous fresco. Now, a tomb depicting the event has been discovered in Pompeii.
√ Rome and America Parallels


Summer program
at Stanford's Humanities Institute attracts high schoolers interested in the connections between the United States and ancient Rome.
√ Vellum and Parchment


This blog provides an interesting history of
vellum and parchment
. For classes using
Latin for the New Millennium
, this article supplements the fresco of Roman writing instruments illustration in Review 1 of
LNM
1 and the scholarly essay "Exploring Roman Libraries" in Review 7.
√ The Enduring Legacy of Euripides


The New Yorker
provides an overview Euripides's plays, their enduring legacy, and
Colm Tóibín's novel
House of Names
. This pairs well with
LNM
2 Review 4's mythology essay.
In the May issue of eLitterae, we congratulated the Classical Association of the Middle West

Ovationes

recipients: Antony Augoustakis (University of Illinois at Urbana-Champaign), Ruth Scodel (University of Michigan), and David Schenker (University of Missouri). If you'd like to listen to CAMWS orator James May (St. Olaf College) declaim the Ovationes in stentorian classical Latin, check out the post from the CAMWS website.

Festschrift Celebrating James M. May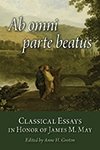 ed. Anne H. Groton

xi + 374 pp., 2 illustrations (2017) 6" x 9"

Hardbound, ISBN 978-0-86516-843-5




Click to see the full list of authors and essays.

Profits will go to the CAMWS: Ladislaus J. Bolchazy Pedagogy Book Award.

Bolchazy-Carducci Publishers provides eTextbooks on a variety of eBook platforms. Bolchazy-Carducci textbooks are available through VitalSource,

GooglePlay

,

Chegg

, RedShelf, Adams Book, Follett,

MBSDirect Digital

, and ESCO. Each eBook platform offers a variety of tools to enhance the learning process. eBooks have the same content as our traditional books in print.
eBooks are purchased from the eBook provider. For direct links to purchase Bolchazy-Carducci eTextbooks, visit the title's product page on Bolchazy.com. Just above the product description there is a list of the eTextbook providers and a direct link to purchase the eTextbook. Some eBook providers sell directly to schools—check with your school to make these purchases.
You can read eBooks on a Mac, PC, iPhone, iPad, Android, or a variety of eReaders. Review the eBook providers specifications.
The eyeVocab software leverages human memory for distinctive affective images* presented in isolation to radically improve the speed, depth, and permanence of second language vocabulary acquisition. Images are drawn from classical art, both western and eastern, from photojournalism and historical photography, great book illustration, and other sources.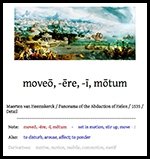 *Learn how images are chosen.

Far more than a set of electronic flashcards, the multimodal vocabulary program facilitates a significantly deeper learning and retention. Students will readily master the frequent Vergil and Caesar vocabulary for the AP® Latin Exam and thereby devote far more of their study time and energy to reading and discussing De Bello Gallico and the Aeneid.

eyeVocab programs correspond to the following B-C books.

Caesar: Selections from his Commentarii De Bello Gallico
(Mueller) (218 words)

Vergil's Aeneid: Selected Readings from Books 1, 2, 4, and 6
(Boyd) (162 words)



Vergil's Aeneid: Books I–VI


(Pharr) (292 words)

Latin for the New Millennium Level 1

(423 words)





Introductory rate for each of the AP® Latin programs is $14.95. The LNM 1 and LNM 2 introductory rate is $24.95 per program. For site licenses, contact Miles Becker at sales@eyeVocab.com.




Click on each title to learn more.
The Pompeiiana Newsletter created and edited by Bernard Barcio ran from 1974 through 2003. The newsletter offered a place for Latin students to publish comics, stories, games, and articles, and was a beloved resource for Latin teachers. In 2008, Barcio granted Bolchazy-Carducci Publishers the rights for all of the Pompeiiana Newsletter. B-C is proud to serve as curator for this archive and has made the issues available for teachers, students, and friends of the classics. Check out http://pompeiiana.blogspot.com/
Each September, Bolchazy-Carducci mails its Roman Calendar to Latin teachers across the nation. Watch for yours! If you're not on that mailing list, send a note TODAY to info@bolchazy.com. Put Roman Calendar in the subject line and provide us the USPS address to which you wish the calendar to be sent. The calendar is also available in a digital format.
Preview Bolchazy-Carducci Titles

Preview Bolchazy-Carducci titles before you purchase using Google Preview.
---

Downloadable Products
iPodius - Bolchazy-Carducci Publishers online shop for: audio, software, video, and a treasure trove of teacher-created materials in the Agora.
---
BCP Facebook Fan Page
Become a FAN of Bolchazy-Carducci Publishers, visit our Facebook Fan page for the latest news from BCP.
---
BCP Blog
Visit the BCPublishers Blog for B-C news and information.
Follow the B-C blog to learn about the changes in Latin for the New Millennium, Levels 1 and 2.
For instance, learn about the enhanced derivative coverage in the Second Edition.
---
BCPublishers on Twitter
Follow us on Twitter

---
AP® is a trademark registered and/or owned by the College Board, which was not involved in the production of, and does not endorse, this site.
These products have been developed independently from and are not endorsed by the International Baccalaureate (IB).
Dear Colleagues,



Are you scratching your heads wondering whither raced these few weeks of summer? It's mid-August already and many of the items on my summer bucket list, both personal and professional, remain undone. I certainly hope that you have been more successful with your summer bucket list!




All of us at Bolchazy-Carducci Publishers welcome you to the new school year and remind you that we are here to be of service. Call us and you'll be able to speak with a customer service specialist about your order. Orders are shipped the very day you call or the next day at the latest. Have a question about one of our texts? Feel free to email or call one of our editors, all of whom are classicists by training. Found an error, nostra culpa, in one of our texts? Let us know and we'll be sure to correct it in the next printing. If one of your students found the error, let us know his or her name and we'll send them a note of thanks.





We are especially pleased to call your attention to three new titles of which we're very proud. Word Mastery through Derivatives: Designed for Students of Latin is a great tool to help Latin students build both their active English and active Latin vocabularies. With its student-friendly price, we encourage you to have your students purchase the workbook. The Teacher's Manual contains diagnostic tests, practice quizzes, and quizzes for grading. Its spiral binding makes it easy to use. A Latin Picture Dictionary for Everyone is a terrific resource for teachers eager to expand their students's Latin vocabulary for everyday conversation as well as for conversation about the Romans and their world. Its Teacher's Guide is in its penultimate phase of production. This month's special discount is for Plotinus on Beauty and Reality: A Reader for Enneads I.6 and V.1. This new text makes the neo-Platonic work of Plotinus accessible to intermediate Greek students.





All best wishes to you and your students for a wonderful school year. May you teach well and learn well!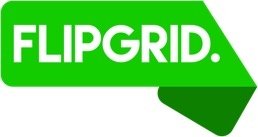 Over the last few months, I have heard a great deal of buzz about a website called Flipgrid. This summer, I had time to investigate the tool a bit more and I am excited to start using it in my classes. Flipgrid is a site that allows teachers to post discussion questions to which students respond by using their device to record a short video of themselves. Each discussion prompt is displayed as a tile that is part of the larger grid. The students click on the tile to add their recorded response and view the responses of their classmates. The recording process is very straightforward and done entirely from the website with no need to switch to a camera app or upload a file. It really couldn't be easier.

I can think of several different ways that I'd like to integrate Flipgrid in my classes. At the start of the school year, I like the idea of doing a virtual icebreaker activity for students to get to know each other to supplement what we do in class. For programs that include oral Latin, Flipgrid will be a helpful tool to increase the number of opportunities for individual oral responses. Students can respond to a prompt about a reading, an interpretation, or an image. With the free Flipgrid account, teachers can create one board with unlimited discussion prompts and unlimited student responses. I like that teachers have the option to moderate student responses before they become public. A paid account allows for the creation of unlimited boards and provides a nice range of more advanced options. To check it out, visit www.flipgrid.com.
Lynne West
Bellarmine Jesuit College Prep
San Jose, CA
On July 21, the B-C staff assembled for a special lunch to celebrate our late founder Dr. Ladislaus "Lou," a.k.a. "Laci" or "Lacko," J. Bolchazy. Director of Finance David Fiedelman organized the Founder's Day celebration and proved his culinary mettle with perfectly barbecued and marinated flank steak and Portobello mushrooms. Carolyn Bernardi, customer service professional, supervised the decorations and the staff brought sides, salads, and desserts for the lunch. The Doctors Keenan, Jim of Loyola University Chicago and Laurie, retired B-C editor, joined us for the repast. Back in 1976, Jim Keenan helped bring Dr. Lou to Chicago for a one-year teaching appointment at Loyola.
Following lunch, David divided the staff into three teams to compete in a trivia contest about Dr. Lou and his beloved B-C. Marie Bolchazy, president, and Allan Bolchazy, vice president, served as judges for the contest. Editor Don Sprague, Mike Frazier from shipping, and Jody Cull, production and eLearning manager, emerged trivia triumphant.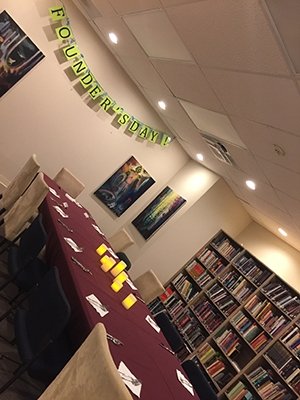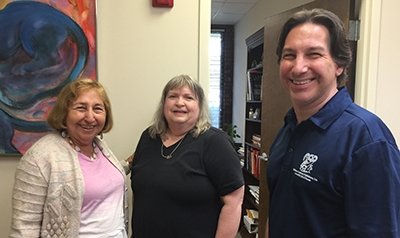 The library/conference room awaits the Founder's Day celebration. Marie and Allan flank Dr. Laurie Haight Keenan, "retired" editor whose most recent project for B-C was editing the Festschrift, Ab omni parte beatus: Classical Essays in Honor of James M. May.

National Junior Classical League 2017 Convention Report

Some 1,700 individuals, nearly 1,400 hundred students and their teachers and chaperons, descended on Troy, Alabama, to attend the 64th annual National Junior Classical League (NJCL) convention and to enjoy "a week of fun, competition, and celebration." Troy University, thanks to its beloved classicist Peter Howard, with its compact campus and evocative neoclassical architecture served as host for the convention.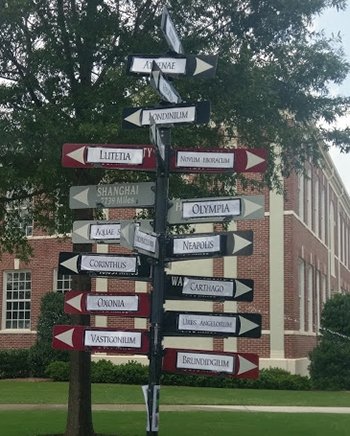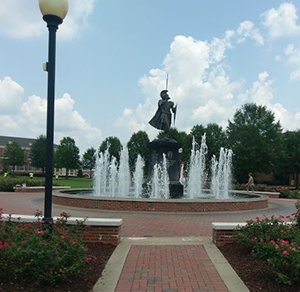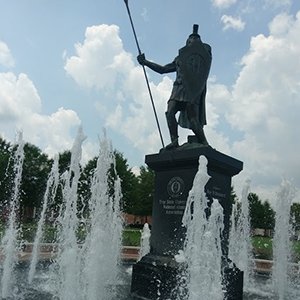 Changes to the mileage sign posts on the quad and purple banners with famous Latin literature passages marked the presence of the NJCL. How appropriate that the NJCL purple framed the purple passages! The center of the university's main quadrangle celebrates the school's mascot, a Trojan soldier, who stands atop a beautiful fountain.
As is its custom, the NJCL invites companies like Bolchazy-Carducci Publishers to come midweek and participate in the convention's Learning and Teaching Materials exhibit. Locating the exhibit in Hawkins-Adams-Long Hall, the home of the National Bandmasters' Hall of Fame, which sits next to the dining hall, made it easy for students and teachers to find the exhibit. B-C representatives, editors Laurel Draper and Don Sprague, spread their wares over six tables. Students and teachers as always enjoyed the opportunity to examine books at their leisure. They paid special attention to new titles A Latin Picture Dictionary for Everyone and Word Mastery through Derivatives: Designed for Students of Latin. Teachers were especially excited about the Teacher's Manual for the latter with its set of pre- and post-diagnostic tests and its two quizzes per chapter—one practice and one to be graded. A number of teachers purchased the Teacher's Manual and placed an order for the student workbook that has subsequently arrived at our warehouse and has been shipped, filling all back orders.
Thursday afternoon the exhibit closed and the B-C reps drove to historic Montgomery, Alabama, about an hour away. Here they experienced a very sobering visit to the Southern Poverty Law Center's Civil Rights Memorial that honors the lives and stories of forty-one people who died during the Civil Rights Movement. Don and Laurel visited several other historic sites and ended their day with an Italian dinner at Saza's. The restaurant is located in a block of buildings that served as a warehouse for Montgomery's slave traders.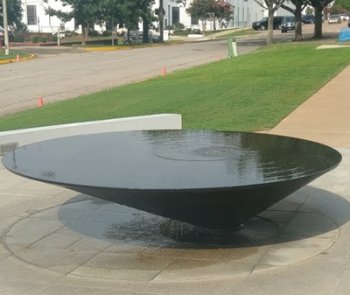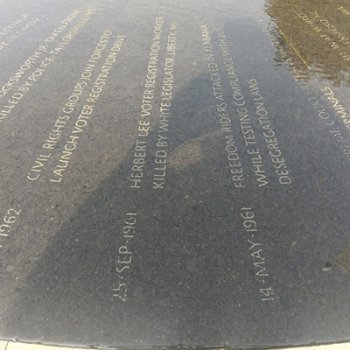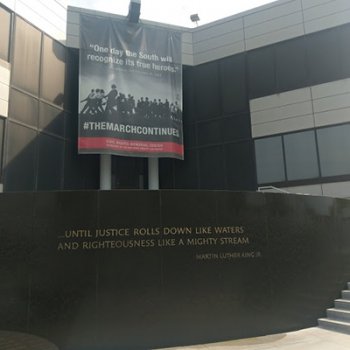 Maya Lin, the sculptor of the Vietnam Veterans Memorial in Washington, DC, who designed the Civil Rights Memorial, was inspired by Amos 2:15 that was part of Martin Luther King, Jr.'s "I Have a Dream" speech. The fountain's waters run over the names of the forty-one victims and key events in the Civil Rights Movement.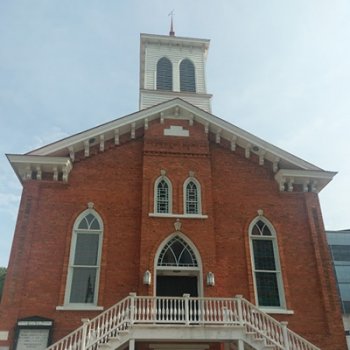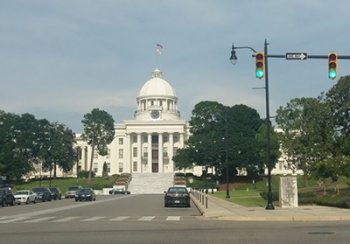 The Dexter Avenue Church stands just two blocks from the Alabama State House. The Rev. King served as pastor of the African-American congregation.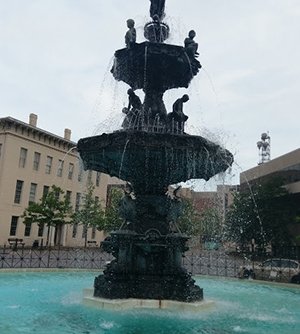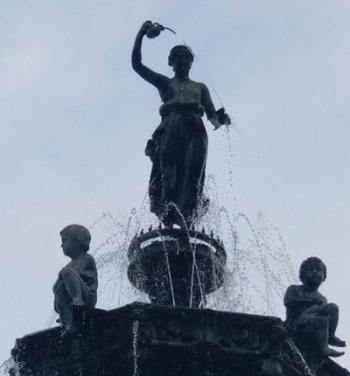 Montgomery's Court Square served as the marketplace for slaves, mules, and other livestock in the nineteenth century. In 1885, the city erected the Court Square Fountain above an artesian well, which was used by natives of Alabama long before the area was settled by whites. The Greek goddess of youth and cupbearer to the gods Hebe stands atop the cast-iron statue.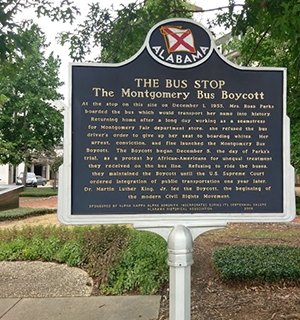 On December 1, 1955, Rosa Parks caught the bus home after work from this spot just opposite the Court Square Fountain. Her subsequent refusal to give up her seat to a white passenger on the city bus resulted in her arrest. This single act of nonviolent resistance sparked the Montgomery bus boycott, an eleven-month struggle to desegregate the city's buses. Parks had participated in nonviolence training at the Highlander Folk School, New Market, Tennessee

.
Friday saw the arrival of Rick LaFleur, a.k.a. Dr. Illa Flora, accompanied by his delightful wife Alice, herself an author, and their sweet canine Ipsa. Rick spent the day autographing copies of his translation of Where the Wild Things Are—Ubi Fera Sunt. No matter how long the line, Rick delivered a personal message to each student or teacher who asked for an autograph. Indeed, he took great delight in reading phrases from the text aloud to the students.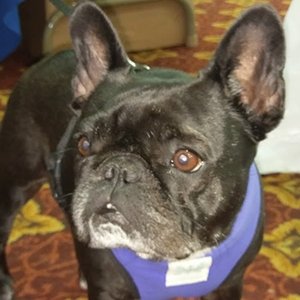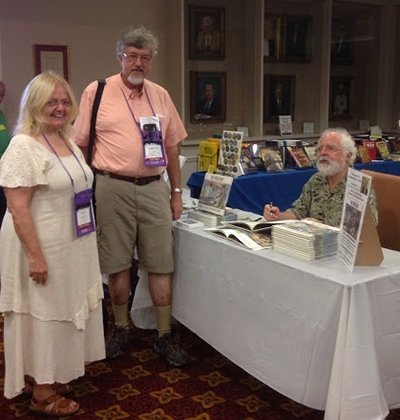 NJCL chaperons Aurelia Ogles of Leesburg, Florida, and Jim Westcot of North Carolina pose with Rick LaFleur. The LaFleurs' beloved Ipsa proved herself a very well-behaved dog!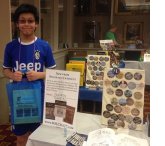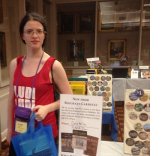 Friday afternoon saw Don and Laurel pack up the remaining books. Our gracious Troy University host, classics professor Peter Howard, made sure that UPS picked them up for delivery back to Mundelein.
NJCL 2017 participants in their Roman garb assemble in the university's main quad. Photo courtesy of NJCL.
Check out the local news report on the NJCL convention.
Webinars Fall 2017

Tuesday, September 12,
6–7:00 pm ET
Implementing Latin for the New Millennium
Presenter:
Bridget Dean, PhD, Managing Editor, Bolchazy-Carducci Publishers
Attend this webinar to ensure your familiarity with all the components and features of the Latin for the New Millennium program. This webinar will address the all the resources available including the texts themselves, their extension materials, the LNM Teachers' Lounge, and the Teacher's Manual—chock full of additional exercises, activities, and teaching tips. Dr. Dean will present this material through the lens of the LNM eBooks.
Bridget Dean, PhD, Managing Editor earned her PhD and MA from The Ohio State University and her BA from the University of Wisconsin, Madison. Bridget has taught classics at The Ohio State University and Ohio Wesleyan University. She has worked with high school students, both as a tutor to home-schooled students and as an instructor for the Johns Hopkins Center for Talented Youth.
---
Tuesday, September 19,
4–7:00 pm ET
Special Workshop: eBook
Presenter:
Bridget Dean, PhD, Managing Editor, Bolchazy-Carducci Publishers
Drop in for all or part of this 3-hour workshop to discover eBook features, ask questions, or get help trouble-shooting your own set-up. In particular, Dr. Dean will go over how to add highlights and notes, share them with your students (and vice-versa), and export them for printing.
NB: There is no continuing education documentation provided for this workshop.
Bridget Dean, PhD, Managing Editor earned her PhD and MA from The Ohio State University and her BA from the University of Wisconsin, Madison. Bridget has taught classics at The Ohio State University and Ohio Wesleyan University. She has worked with high school students, both as a tutor to home-schooled students and as an instructor for the Johns Hopkins Center for Talented Youth.
---
Tuesday, October 10,
6–7:00 pm ET
The Art of Translating Latin
Presenter:
Robert Cape, PhD, Professor of Classics, Austin College, Texas
The current AP Latin Exam expects students to "translate" using different approaches to translation. This webinar explains those different ways translation works and equips teachers with strategies to help students express their comprehension of Latin texts as specifically directed. The strategies are relevant for students in all Latin courses and help them understand how and why teachers do, indeed, sometimes require a "literal" translation.
Professor Cape is professor of classics at Austin College, Texas. He earned a BA and an MA at the University of Arizona and an MA and PhD from the University of California, Los Angeles. As instructor and researcher, Dr. Cape examines elements of Greco-Roman culture from the perspectives of language (Greek and Latin), history, material culture, theory, and reception. His primary areas of interest are Roman oratory and the negotiation of social values, gendered speech and action in Roman/Hellenic culture, Latin pedagogy, and receptions of the ancient world in science fiction. He has served as Chief Reader for the AP Latin Advanced Placement Program. He earned a Society for Classical Studies Excellence in Collegiate Teaching Award, an Ovatio for distinguished professional service from the Classical Association of the Middle West and South, and an Austin College Teaching Excellence and Campus Leadership Award. Professor Cape is presently authoring, for Bolchazy-Carducci, a text on Cicero geared to the IB Latin curriculum.
---
Tuesday, November 14,
6–7:00 pm ET
Latin for the New Millennium: Using the Aural/Oral Component
Presenter:
Terence Tunberg, Professors of Classics, University of Kentucky, Lexington, KY
Let an accomplished educator and living Latin enthusiast gently walk you through the aural/oral opportunities presented by Latin for the New Millennium, Levels 1 and 2. Coauthor, Dr. Terence Tunberg, will set you at ease as they provide various suggestions and strategies for implementing or enhancing the spoken Latin component of your classes. He will share with you the bounty of aural/oral activities and exercises in the LNM Teacher Manuals and demonstrate how teacher-friendly they are!
Terence Tunberg, coauthor of Latin for the New Millennium, Levels 1 and 2, is a world-renowned Neo-Latinist and scholar of Latin literature through the ages. He is especially esteemed for his enthusiastic promotion of active Latin. The celebrated Conventiculum Latinum Lexintoniense—the Conversational Latin Seminar held each summer at the University of Kentucky—has spawned a network of similar programs across the country.
Tunberg earned his BA and MA in classics at the University of Southern California, did postgraduate research and doctoral work in medieval studies at the University of London, England, and earned a PhD in classical philology from the University of Toronto, Canada.
---
Tuesday, November 28,
6–7:00 pm ET
Honor Among Thieves: Craftsmen, Merchants, and Associations in Roman and Late Roman Egypt
Presenter:
Phillip F. Venticinque, PhD, Associate Professor of Classics, Cornell College, Iowa
This webinar is drawn from Professor Venticinque's book of the same title. He provides an analysis of how craftsmen, merchants, and associations interacted with each other and with elite and nonelite constituencies; how they managed economic, political, social, and legal activities; and represented their concerns to the authorities. His examination of primary source material led to his insights into this demographic's acquisition and use of social capital and created status among their own ranks. Hence, the title Honor Among Thieves.
Philip F. Venticinque is an Associate Professor of Classics at Cornell College in Mt. Vernon, Iowa where he was honored with the Gaarde-Morton Junior Faculty Award in 2011. Students chose him to deliver the faculty address at commencement in 2015. Dr. Venticinque earned his PhD and his MA from the University of Chicago Department of Classics and the Program and Committee on the Ancient Mediterranean World respectively. His BA in classical languages and literature is also from the University of Chicago. He has been the recipient of fellowships from the American Council of Learned Societies, Center for Hellenic Studies, and Loeb Classical Library Foundation. He also received the Mrs. Giles Whiting Dissertation Fellowship, the Dumbarton Oaks Junior Fellowship in Byzantine Studies, and the Martin Marty Center Dissertation Fellowship from the University of Chicago Divinity School. Professor Venticinque has published and presented on various topics about Roman Egypt.
---
What Equipment Do I Need for B-C Webinars?

To participate in Bolchazy-Carducci Publisher sponsored webinars you will need high-speed internet access, computer speakers/headphones, current web browser, and the link to the webinar virtual meeting space, which is provided in your webinar invitation.
Webinars Make for User-Friendly Professional Development

Participation is free. All webinars provide opportunity for participants to ask questions. Learn lots—attend as many presentations as you can. Bolchazy-Carducci Publishers provides documentation for your participation. You can share this with your supervisors. Many webinar presenters provide handouts, etc.
eLitterae Subscribers Special Discount

eLitterae Subscribers Special Discount
Special 33% Discount
Student Text:
Paperback, li + 302 pages,
ISBN: 978-0-86516-842-8
$29.00

$20.00
Teacher's Guide:
Paperback, viii + 131 pages,
ISBN: 978-0-86516-844-2
$19.00
$13.00
This offer is valid for up to fifteen (15) copies of the student title
and one (1) copy of the TG, prepaid, no returns.
Discount is not available to distributors or
on products distributed by Bolchazy-Carducci Publishers.
This offer expires 09/17/17.
(Please note that there will be no adjustments on previous purchases.
Offer is non-transferable and subject to change without notice.)
Enter coupon code eLit0817
on the payment page. The special

offer pricing will be charged at checkout.