Happy Monday with a Solar Eclipse on Top
Eclipse question:
What about you will shine when the darkness moves out of your way?
Just asking yourself this question is enough but if an answer comes, breathe and savor the possibilities as if they were happening now if only just 5%.


The other day on a walk, a little roly-poly kid cut through the middle of someone's lawn heading straight toward me. As soon, as SOON as he saw me he held up three quarters of an old ragged Frisbee and
announced with great verve, "Look what I found!"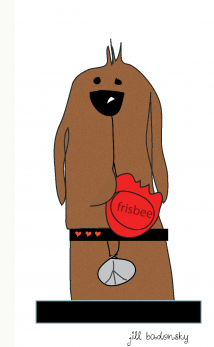 I didn't know this kid, never saw him before in my life. Without missing a beat he added, "And I have a dog!" not doubting for a minute I would k
now the connection of dog and Frisbee. He was elated about this imperfect booty, I was honored that he shared the moment with me but mostly amused.


After that I wanted to connect to my fellow humans with something similar.
I imagined myself finding a ratty old Frisbee and LOUDLY announcing at the next random person, "Look what I found!" I couldn't see myself doing that and appearing sane especially because I'm the consummate introvert.
Then I tried to apply it to a more age appropriate acquisition, "Look, I bought a new purse, ... and I have lipstick!!!" Then I realized t
here are some things kids have license to do that we really DON'T get away with as adults without seeming like we have poor boundaries, have mistaken someone for someone else, or are on drugs. But I went and bought a new purse anyway (and lipstick too!!!).
Enthusiasm is contagious. And it just feels good. We make gratitude lists that often list the obvious but leave off worlds of blessings that a little enthusiasm might turn into treasures ... you know ... it's the simple things that make life grand.
They are medicinal when my spirits sag.
I did whatever I could within my little sphere of making a difference and was still feeling down about the tumult in the world, so I made a strange little enthusiasm list. Maybe you could give it a whirl too.
I could get enthusiastic about:
1. A spatula. A spoon just doesn't perform as well, no offense, spoons.


2. The way my freezer defrosts itself, sometimes I can defrost myself too.
3. Smashed avocado with a little lime infused olive oil and salt. Instant gourmet creation.
4. Plumbing that works without a hitch as often as it does. There used to be outhouses!
5. My automatic timed drip sprinkler system for the roses. Left to me those roses would wilt.
6. A handwritten letter from a friend in my mail box. Rare these days.
7. Wearing headphones and listening to cool jazz in a noisy cafe. Cool.
8. Leaning against the washer as it vibrates during the spin cycle. A massage. :)
9. The way the sun creates a moving design on my wood floor. A sun dance.
10. A kid with a ragged old frisbee. (And he had a dog!)
Share your favorite things on your list with me by clicking on respond or on this feed if you get this on Facebook. It's a litany of diversional relief, a difference perspective, and the seeds of creative thought.
Another favorite thing as of today.
The partial eclipse creates crescent shadows when you cross hatch your fingers: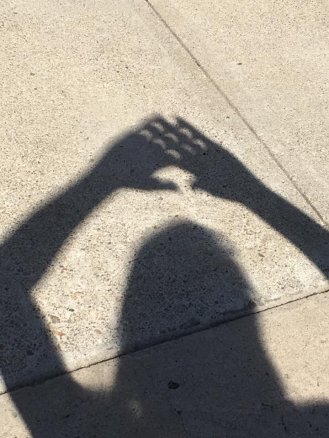 Some of you received the link to this coloring book already because I pressed SEND by mistake a few days ago, and some of you got it because you just recently subscribed.
But I didn't want my long-time readers to miss out on the free coloring book you get just by subscribing which many of you did years ago. Thank you for hanging in there with me. I wish you joy and sanity.


Workshops, Training, Retreats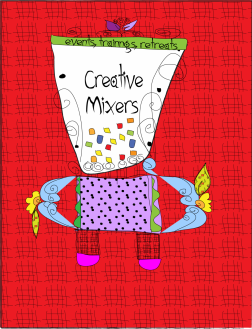 The Modern Day Muse Facilitator Training


September 12 - December 5, 2017, 12 weeks


Learn to facilitate Creativity Workshops based on The Nine Modern Day Muses (and a Bodyguard),
(Offering limited number of partial scholarships for those in need, apply at info@themuseisin.com) here
Kaizen-Muse Infused Master Minding Training
September 26, 2017, 10 weeks
KMCC Master Coaches, Mary McDowall and Kathy Kane offer an original, imaginative, pressure-free way to facilitate Master Minding Groups with Kaizen-Muse Tools: More about that here
The Muse in Winter and Camp Creative Thunder in
Taos, New Mexico!:


Every February and July

For all levels of writers and artists, or for those who don't know where to begin, those who want to begin again, or those who don't think they are creative. A different kind of retreat. Limited enrollment to keep it intimate. Every February and July. Bring a friend.


If none of these appeal to you, find something that does!
Connecting to kindred spirits is important right now. Take a class, find a community, start a movement, eat a sheet cake.


For more about classes, trainings and retreat with Jill Badonsky,