We can't escape the images of children and family groups seeking safety - from storms, fire, political unrest, and war. The realities are so overwhelming that it can be tempting to close off empathy or to offer easy solutions. But stories keep us tender. They raise hard questions and help us to see ourselves in the dilemmas of others. In this issue we introduce you to refugee stories and to authors & an illustrator who have probed the emotional landscape of refugees. A teen introduces several books and we offer some giveaways.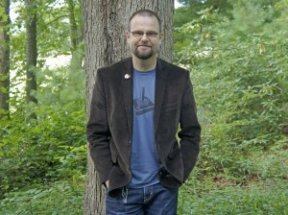 Photo by Wes Stitt

One way we can teach empathy in the classroom is through the teaching of history. We can quote statistics, but while those facts may engender empathy in some students, for many others they are antiseptic. Numbers to be learned for a test, not calls for action or concern.


For that, we have to give statistics a name. A face. And that is exactly what I sought to do when I wrote Refugee.

 Refugee is the story of three young people from different eras and different parts of the world who are connected through the decades by their desperate, perilous attempts to flee dangerous situations back home, and their dreams of a better, safer tomorrow. Josef, a young Jewish boy, escapes Nazi Germany in 1939 with his family aboard a ship bound for Cuba. Isabel, a young Cuban girl, runs away from Fidel Castro and hunger riots with her family aboard a homemade boat bound for Florida in 1994. Mahmoud, a young Muslim boy, flees the Civil War in Syria for Germany by car, boat, train, and foot with his family in 2015. None of these three children are real; they are each, instead, amalgams of the many other real children who took—and continue to take—the same harrowing journeys. But by giving those collective children a name and a face, I have turned those statistics into real people, turned numbers into characters we cry for, and care for, and root for. 


When we can turn numbers into names, and put students in the shoes of people who are not themselves, only then can we begin to build the empathy our country—and our world—needs to survive.
Alan Gratz is the bestselling author of novels for young readers, including Samurai Shortstop, The Brooklyn Nine, Prisoner B-3087, Code of Honor, Projekt 1065, The League of Seven series, and Ban This Book. His latest novel is Refugee, the story of three different refugee families struggling for freedom and safety in three different eras and different parts of the world. A Knoxville, Tennessee native, Alan is now a full-time writer living in Asheville, North Carolina with his wife and daughter.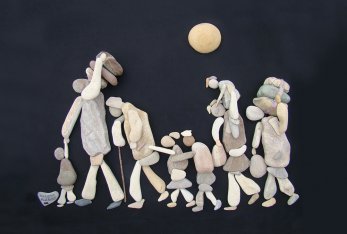 Nizar Ali Badr lives in Syria. He gathers stones and brings them home to his rooftop studio, where they become the medium
for his art.
Margriet Ruurs
was so inspired by Nizar Ali Badr's artwork (discovered on Facebook) that she tracked him down and asked if he'd share them in a children's book. The images he created and the plight of refugees in the middle east provided the inspiration for the story of one family fleeing war.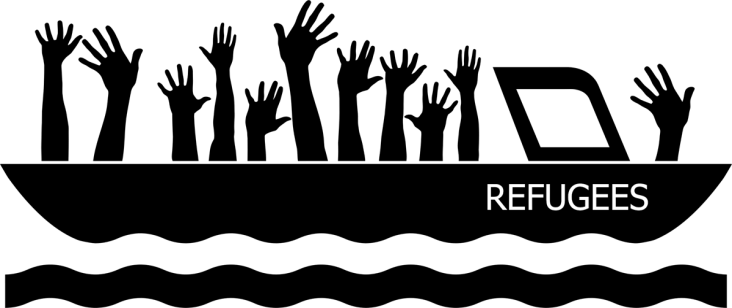 Read one or more refugee stories.
1. Discuss what kinds of things would make a person so desperate that they would risk their lives and leave forever the home they know and love?
2. Ask students to write a fictional account of being forced to leave their home. Ask them to include some of the following in their story:
a reason for fleeing

how much time they have to pack

description of the moment they leave their home

how it feels to leave their home

three things they take besides clothes


how they travel

what they will eat and drink along the way

where they are going

hardships encountered while traveling

hopes for the future

a

ny other details they can imagine about the experience.
A Teen's Take on Two books

by Olivia Rollins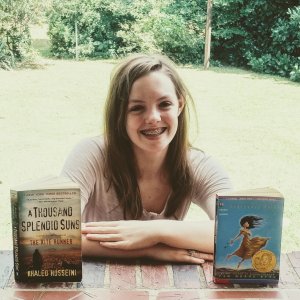 All her life Esperanza has been adored. She leads a dreamlike existence in a household of servants and a loving family, and is blessed with everything she could ever wish for.
When sudden tragedy shatters her perfect world, she and her mother are forced to flee Mexico, to make a new life for themselves in a labor camp of Great Depression era California.
Esperanza has had no experience with hardship or with humans as poor and rough as the people of the labor camps. She finds herself engulfed in squalor and dirt, moves into a shabby overflowing house with a large family, and struggles to fit in. She feels uprooted. But more than merely settling into her changed circumstances, Esperanza must grow in areas she never thought she'd have to, and draw on an inner strength to rise above her own conflicts and fears.
A Thousand Splendid Suns
by Khaled Hosseini
Mariam is a mistake. She is the illegitimate daughter of a wealthy businessman, whose neglect has made a bitter creature of her mother. She grows up on the outskirts of Herat, a small city in northwestern Afghanistan; in a hut Nana, her mother, calls a rathole.
Laila is born nineteen years after Mariam - strong-spirited, blonde, and beautiful. She belongs in a loving family and runs the dusty streets with Tariq, her friend.
As women the two are brought together, united by the same man in an unexpected twist of fate. Mutually forced to adapt to their severe Islamic culture of regulations and abuse, they form a deep bond in a short period of time.
A Thousand Splendid Suns is harsh, unsoftened life through their eyes; their existences and struggles woven into an intricate story both terrible and lovely.
Olivia is a teenage writer and sinner saved by grace, with a passion for words, autumn, and all things bookish.
We love to hear from our readers!

You can contact us through the newsletter or individually at the following addresses and websites.

We're also both available for school visits.

Joyce

Send us an

and we'll enter your name to win one of the three books below.

Each will intrigue a young reader in your life.

If you have a book preference, please mention that. We try to honor requests.

Enter by

September 28
(Or better yet, enter right now!)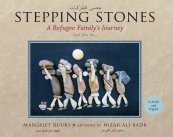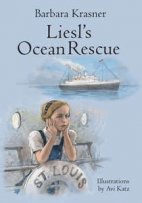 Special Note: The true story of the St. Louis is incorporated into Alan Gratz's book, REFUGEE.

by Carol Baldwin

I wouldn't be alive if the United States hadn't accepted German Jewish refugees during WWII. Both my parents escaped the Holocaust, met and married in Ohio, and raised a family in N.J. When I was a child, they spoke little about their war experiences, but were always thankful to be Americans.
Sometimes I wonder if I'll ever write about them. But even if I choose not to, my mother's simple recollections of how hard it was to move to a foreign country without knowing a word of the language, has influenced my present WIP. In Half-Truths Kate Dinsmore feels like a corn stalk in the middle of a rose garden after she moves from a North Carolina tobacco farm to her grandparent's rich neighborhood in Charlotte.
Not quite a foreign country--but my mother and I used to talk about how Kate's feelings of displacement are universal.
For now, that is one way I have used my parents' refugee experience to inform my writing.
A great list of books that will introduce younger readers to the refugee issue.
This list focuses on middle grade books about the refugee experience.
Congratulations to winners from our

Spring issue.

Michelle Wall won Fresh Delicious and also Amazing Grazing.
Myrna Strickland won Century Farm and Extra Cheese Please.
Linda Andersen won Clarabelle and Seed, Sun, and Soil.
To Alan Gratz for being our expert.

To Joanne Hunsberger for proofreading.

To Olivia Rollins for reviewing books.

To Nizar Ali Badr for his evocative illustration.

To Scholastic for REFUGEE.

To Orca Books for STEPPING STONES.
Have you noticed the "Share" button on the top of this newsletter? If you share TALKING STORY either on social media or email it to a friend, we will enter your name in our giveaway. Please
email
by September 28, tell us what you have done, and your book preference (we try to honor requests) and we will add your name to the hat!