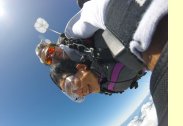 September was rich for me: I graduated my second year of 100-hour Mother Mary Restorative Teacher Trainees.
I turned a joyful 58, and sky-dove with my husband as his own Libra birthday wish!
What a thrill; falling out of the sky, I felt like a baby being born. And I think: every day we are a new baby, every moment a new person. What are we birthing, creating, today?
reSOULutions Retreat Jan 3-8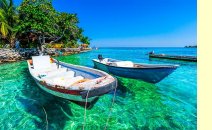 Even when and perhaps especially when world events overwhelm, we can still do our best to breathe some peace into our world.
We can seek to feel ourselves, heal ourselves, and we can still seek to rejuvenate the world, to help it to feel and heal itself. We grow ourselves, and we grow others.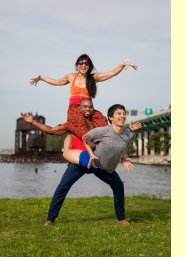 I am excited to be co-hosting reSOULutions in its 4th annual New Year's retreat, with my yoga brothers Juan Gamboa and Esco Wilson.
Juan and Esco are both powerhouse Vinyasa gurus, inspiring coaches and leaders. They are also my Restorative mentees, who deeply adore Meditation, Restorative, and Yoga Nidra.

Together, we are co-creating a retreat that reflects our vision of Yoga as a higher, all-embracing Union, inward + outward. And we are assisted by the able Bryan Winston, yogi and life coach. Welcome to: reSOULutions Part IV: the healing Jan. 3-8, 2018.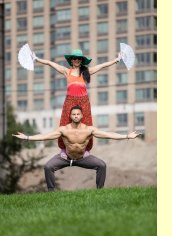 We stay in historically rich Cartagena and venture to explore beautiful Rosario Islands, in Colombia.
Combining our students, our Yoga lineages, and our heart for exploring new cultures and adventures, we will serve up a banquet of transformative yoga that will allow you to have as studious a yoga journey as you wish, or as deluxe a vacation as you desire.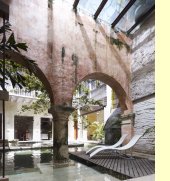 This includes absolute diversity and community. Bring your mom. Bring your bestie who doesn't do yoga but wants to adventure with you and see you "do your thing."
This is our Yoga, and our gift to you: a union of the family of humans. Come!

$2399 (double occ); $200 Friend referral discount
$2199 Early Bird ends Oct. 31st
$500 deposit reserves you a spot. Click Here
Holiday Restorative Treat 12/9

For those of you who have discovered my Restorative spa hour, and wish that they were longer: never fear!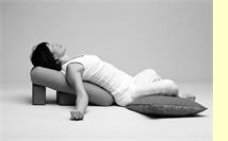 Seasonally, I offer a deluxe two-hour Restorative treat with selected aromatherapy, poses and meditations to tune each of your seven chakras.
A team of my own lovingly trained restorative assistants complete the blissful nurturance, with hands-on care to each of you. Actually, the best seasonal gift in town for your family or for your own dearly deserving self!

Pre-register anytime for Dec. 9th, to ensure a space and that I have prepared a Mother Mary aromatherapy gift for you. Click Here
Website Schedule At A Glance

For more Classes, Events, & Updates, including:
*Portland OR Divine Play AcroYoga Festival
*Australia AcroYoga Elemental Immersion
*More workshops and Immersions
*100-Hour Mother Mary Restorative Training 2018
*25-Hour Yoga Nidra Training 2018
See my web page: www.MaryAranas.com
I am eternally grateful for your sangha.
I value your privacy and do not share these email lists.
Please feel free to reply, forward subscribe or unsubscribe at any time.
Fitness, Friendship, and Fun ~ these things make my heart smile ~ and heart healthy!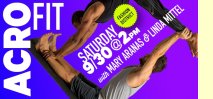 I for one, however, tend to resist Fitness ~ except when served up with Fun and Friendship!
That's why I love AcroFit ~ Turn yourself into a fitness gym for your friends! And they for you. Come ~ it's this Saturday!
No partner needed! Walk out with new friends feeling fun, fulfilled ~ and fit!
Click Here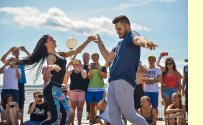 What is Zouk partner dance, and why a Zouk + Thai workshop offering, pray tell?
The magic word: Connection. If you know anything about either of the practices, you know the flow when it feels connected.
In Atlantic City this July we were struck by how these two practices deepen each other. B
y layering them, we enrich both.
That was our experience!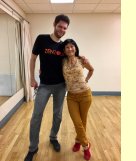 So: the brilliant Vinicious de Souza (Vinny), protege of NYC ZenZouk masters, will first teach an all-levels Zouk class with the theme of connection.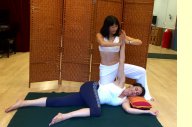 Then I will lead a healing Thai bodywork dance, which will feel sooo good on those dancing muscles. And we will all say: "Ah! I get it! Zouk N Thai!"
No partner needed. No prior experience required. Socks or clean sole dance slippers only.

Sunday Dec. 17, Om Factory Fashion District, 3-5:30pm
See ZenZouk, Click for TBA Link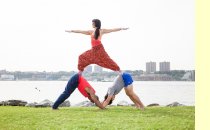 Thanks this issue for photos to:
Casa Pombo, Rosario Islands, AcroYoga, AcroFit, Skydive Long Island, Pure Yoga, Ardeana Kirckof, ZenZouk, Ioana Catalina Photography, & Lyan Lex.
Om Shanti!
Peace!
Happy Yom Kippur, Fall Equinox, and Libra Birthdays!


ary