Creativity is an age-free zone.
Come on in, ageless child, and run into the wild abandon

where you are in charge, the chaos of the world is far away,
and constant amazement of what is possible unfolds.



Hi Creative Friend,


I spent the whole morning writing an article about pissing off perfectionism (or, in other words, giving yourself permission to be kinder than the oppressive forces of always trying to be perfect). It's a pretty good article. I'll send it next month.

I realized with all the chaos, hurricanes, and weird stuff happening in the world, I'd rather send out a little love. If you're creative you're likely to be highly sensitive and you may be picking up even more of the anxiety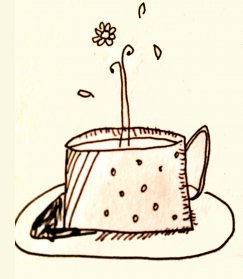 out there than the average bear. A certain

amount of anxiety comes with the creative sphere, but we don't need an ala mode on top of the extra dollops of it we get from the news and our lives. We need reverie.

Creativity provides us with the power to create an inner world that is untouched by the craziness out there, but sometimes we need to be reminded.

Since you're here, why not take this
opportunity to find that place inside that is

tethered to peace?

Breathe-in as if your breath-in opens the door to a room so beautiful and relaxing that as

you enter you feel a deep state of relaxation effortlessly fill your body. Breathe out and find yourself sinking into the most comfortable chair in the universe. In it you feel supported, safe, and taken care of. You feel inspired.

Do this breath-in and breath-out thing until you've discovered a frontier of relaxation you didn't know what possible. [Do that now or you'll get distracted]. And then allow yourself to be called to some delicious daydream of a creative endeavor that feels so relaxed and so natural, it seems like it might be effortless to find yourself inside of it. Just listen for the creative call and decide what you might love about that call. And know that call loves you.

Something like this, but replace "writing" with whatever your creative call may be if it's not writing:

For what your writing loves is intimacy. What it loves is mutuality. What it loves is the gifts you co-create to share with others. What it loves is filling the stillness, the empty places in your heart with the slow dance of words. What it loves is the joy you find in showing up. ~ Alissa Lukara