Classical Conferences and Meetings in 2017 and 2018

CAES—Classical Association of the Empire State
54th Annual Institute
October 27–28, 2017
Union College
Schenectady, NY

TCA—Texas Classical Association
Annual Fall Conference
October 27–28, 2017
University of Texas
Austin, TX
Representative: Rose Williams

Jesuit Latin Colloquium IV
November 2–4, 2017
Brophy College Preparatory, Phoenix, AZ
Representative: Donald Sprague

ACTFL—American Council on the Teaching of Foreign Language
TFLTA—Tennessee Foreign Language Teaching Association in conjunction with ACTFL


2017 Annual Convention and World Languages Expo




November 17–19, 2017




Music City Center




Nashville, TN


Representatives: Allan Bolchazy and Donald Sprague

Publisher's Presentation:
Friday, November 17, 3:30–4:20 p.m.
Music City Center, Exhibit Halls B, C & D, Workshop Room #4
E29 "Latin for the New Millennium: Editor/Teacher Perspectives"
Donald Sprague, B-C Editor; Dawn LaFon, White Station High School, Memphis, TN

---
2018 Conferences
SCS/AIA—Society for Classical Studies/Archaeological Institute of America
January 4–7, 2018
Boston Marriott: Copley Place
Boston, MA
Representatives: Allan Bolchazy, Bridget Dean, and Donald Sprague
CANE—Classical Association of New England
March 16–17, 2017
University of Rhode Island
Kingston, RI
Representative:
Donald Sprague
CAMWS—Classical Association of the Middle West and South
April 11–14, 2018
Hotel Albuquerque at the invitation of the University of New Mexico
Albuquerque, NM
Representatives: Bridget Dean and Donald Sprague
The 53rd International Congress on Medieval Studies
May 10–13, 2018
Western Michigan University
Kalamazoo, MI
Representatives: Adam Velez and Laurel Draper
ACL—The American Classical League
71st Annual Institute
June 28–June 30, 2018
University of Montana
Missoula, MT
Representatives: Allan Bolchazy, Laurel Draper, and Donald Sprague
National Classical Etymology Exam
deadline: Registration: September 6– October 27, 2017
administration: November 1–December 8, 2017

CAMWS Latin Translation Contest
(intermediate and advanced levels for high schoolers and for college students)
deadline: November 1, 2017
administration: November 27–December 8, 2017

National Greek Exam
deadline: January 20, 2018
regular* administration: February 26–March 3, 2018

National Mythology Exam
deadline: January 15, 2018
administration: February 19–March 3, 2018

National Latin Exam
deadline: January 20, 2018
regular* administration: March 12–16, 2018

National Roman Civilization Exam
deadline: February 2, 2018
administration: February 7–March 9, 2018

National Latin Vocabulary Exam
deadline: February 2, 2018
administration: February 7–March 9, 2018

Amherst College
Harry de Forest Smith Greek Translation Contest
registration: late November 2017
administration: February 9, 2018

Exploratory Latin Exam
deadline: March 1, 2018
administration: October 1, 2017–April 1, 2018

Bernice L. Fox Classics Writing Contest
deadline: March 15, 2018

p

ostmark

*check online for early administration dates.

Bolchazy-Carducci Publishers provides eTextbooks on a variety of eBook platforms. Bolchazy-Carducci textbooks are available through VitalSource,

GooglePlay

,

Chegg

, RedShelf, Adams Book, Follett,

MBSDirect Digital

, and ESCO. Each eBook platform offers a variety of tools to enhance the learning process. eBooks have the same content as our traditional books in print.
eBooks are purchased from the eBook provider. For direct links to purchase Bolchazy-Carducci eTextbooks, visit the title's product page on Bolchazy.com. Just above the product description there is a list of the eTextbook providers and a direct link to purchase the eTextbook. Some eBook providers sell directly to schools—check with your school to make these purchases.
You can read eBooks on a Mac, PC, iPhone, iPad, Android, or a variety of eReaders. Review the eBook providers specifications.
The eyeVocab software leverages human memory for distinctive affective images* presented in isolation to radically improve the speed, depth, and permanence of second language vocabulary acquisition. Images are drawn from classical art, both western and eastern, from photojournalism and historical photography, great book illustration, and other sources.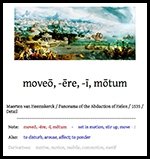 *Learn how images are chosen.

Far more than a set of electronic flashcards, the multimodal vocabulary program facilitates a significantly deeper learning and retention. Students will readily master the frequent Vergil and Caesar vocabulary for the AP® Latin Exam and thereby devote far more of their study time and energy to reading and discussing De Bello Gallico and the Aeneid.

eyeVocab programs correspond to the following B-C books.

Caesar: Selections from his Commentarii De Bello Gallico
(Mueller) (218 words)

Vergil's Aeneid: Selected Readings from Books 1, 2, 4, and 6
(Boyd) (162 words)



Vergil's Aeneid: Books I–VI


(Pharr) (292 words)

Latin for the New Millennium Level 1

(423 words)





Introductory rate for each of the AP® Latin programs is $14.95. The LNM 1 and LNM 2 introductory rate is $24.95 per program. For site licenses, contact Miles Becker at sales@eyeVocab.com.




Click on each title to learn more.
The Pompeiiana Newsletter created and edited by Bernard Barcio ran from 1974 through 2003. The newsletter offered a place for Latin students to publish comics, stories, games, and articles, and was a beloved resource for Latin teachers. In 2008, Barcio granted Bolchazy-Carducci Publishers the rights for all of the Pompeiiana Newsletter. B-C is proud to serve as curator for this archive and has made the issues available for teachers, students, and friends of the classics. Check out http://pompeiiana.blogspot.com/
Each September, Bolchazy-Carducci mails its Roman Calendar to Latin teachers across the nation. Watch for yours! If you're not on that mailing list, send a note TODAY to info@bolchazy.com. Put Roman Calendar in the subject line and provide us the USPS address to which you wish the calendar to be sent. The calendar is also available in a digital format.
Preview Bolchazy-Carducci Titles

Preview Bolchazy-Carducci titles before you purchase using Google Preview.
---

Downloadable Products
iPodius - Bolchazy-Carducci Publishers online shop for: audio, software, video, and a treasure trove of teacher-created materials in the Agora.
---
BCP Facebook Fan Page
Become a FAN of Bolchazy-Carducci Publishers, visit our Facebook Fan page for the latest news from BCP.
---
BCP Blog
Visit the BCPublishers Blog for B-C news and information.
Follow the B-C blog to learn about the changes in Latin for the New Millennium, Levels 1 and 2.
For instance, learn about the enhanced derivative coverage in the Second Edition.
---
BCPublishers on Twitter
Follow us on Twitter

---
AP® is a trademark registered and/or owned by the College Board, which was not involved in the production of, and does not endorse, this site.
These products have been developed independently from and are not endorsed by the International Baccalaureate (IB).
We're enjoying an unseasonably warm October here in Chicagoland. Let's hope that that does not mean a wicked harsh winter as so many are predicting!

Speaking of wicked, an adverb in
lingua Bostoniense
, the adjective evokes witches and the Halloween season. Remarkable is the amount of money we Americans spend on Halloween decorations! While you check out Target's
Trickus Treatus
(see this issue's Classics Tidbits), we hope you prefer Bolchazy-Carducci's
Dolus aut Dulce
and encourage your students to participate.
In this issue's Resources & Teaching Tips, we provide you a special Halloween-themed lesson—Trimalchio's "Ghost Story" excerpted from Gilbert Lawall's
Petronius: Selections from the Satyricon
. We also offer this title as this month's special discount selection.
Enjoy the season. Come see us at one of the upcoming conferences or online at a free Bolchazy-Carducci webinar. Reach out if you have questions—our editors and customer service specialists offer nothing but dulce!

Classical Association of the Atlantic States (CAAS) Annual Meeting Report

The
Classical Association of the Atlantic States
serves classicists in the states of New York, New Jersey, Pennsylvania, Delaware, and Maryland as well as those in the District of Columbia. Its annual meeting, therefore, regularly rotates among those locations. The 2017 meeting, held at the New York Marriott East Side, with over a hundred and fifty individual speakers and around two hundred and fifty attendees, by those measures alone was a great success. Once again, Mary Brown, executive director, and Judith Hallett, program chair, deserve kudos for their fine work.
Editor Don Sprague, as has been his custom, served as representative for the Bolchazy-Carducci Publishers exhibit. A location near the registration desk and serving as the site for the morning coffee breaks encouraged conference attendees to check out the exhibits. In addition to several classics organizations' displays and representatives from the online master's program at
Villanova University
and the master's program with teaching licensure at the
University of Massachusetts at Boston
, Penguin Books and Bolchazy-Carducci Publishers exhibited books. Ann Patty, author of
Living with a Dead Language
, gave a presentation at the meeting and then signed copies of her books in the exhibit room. The B-C display, five tables strong, stood directly opposite the entrance to the exhibit room.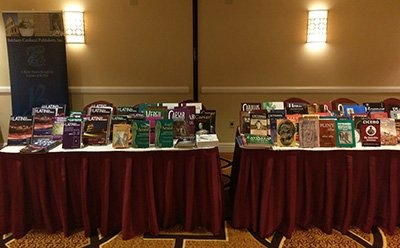 Teachers were especially pleased to see the new titles A Latin Picture Dictionary for Everyone and Word Mastery through Derivatives. Others lauded our publication of the new Plotinus title Plotinus on Beauty and Reality. Several teachers carefully perused the Latin for the New Millennium Second Edition texts in the interest of adopting a new series.

Bolchazy-Carducci Publishers thoroughly appreciates the opportunity to catch up with their colleagues from CAAS. B-C authors Henry Bender, Marianthe Colakis, Judith Hallett, Linda Fabrizio, Danny Jackson, and David Murphy connected with us at CAAS.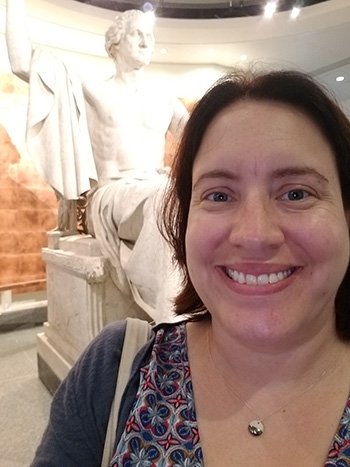 Congratulations to Darcie Hutchison of the Stevens Cooperative School in New Jersey, who won the CAAS drawing of the three new titles mentioned above. While on a school field trip to Washington, DC, Darcie poses with George Washington à la Zeus for a bit of Neo-Classicism.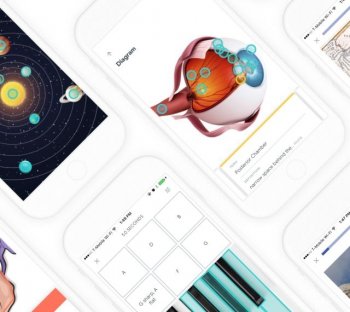 Though I have written about Quizlet before, they recently introduced a new study tool that I wanted to make sure teachers are aware of. It is called Quizlet Diagrams and has a variety of potential applications in the Latin classroom. The teacher can upload an image, drop multiple tags, and provide a term and a definition for each tag. The teacher then shares the Quizlet Diagram with students using a web-link. Students can interact with the Diagram in a variety of ways to learn and quiz themselves on the material.

I used a map of the ancient city of Rome as my starting image, then tagged the various locations that I wanted my students to learn. When I created the definitions for the tags, I entered the description of the location as the "term" and the name of the location as the "definition." In our next instructional unit, my students will be learning the parts of a
domus
. I think that a Quizlet Diagram will be a great way for the class to learn not only the vocabulary but also the general layout. By selecting an appropriate starting image, I can see introducing thematic vocabulary through a Quizlet Diagram as well as providing a review of prepositions. The more I use Quizlet, the more uses I discover. It is a great example of a tech tool that is continually evolving to make it increasingly beneficial to both students and teachers. Check it out at
www.quizlet.com
.

Lynne West
Latin Teacher and Instructional Specialist
Bellarmine Jesuit College Prep
San Jose, CA

Webinars Fall 2017

Tuesday, November 14,

6–7:00 pm ET

Latin for the New Millennium: Using the Aural/Oral Component

Presenter: Terence Tunberg, Professors of Classics, University of Kentucky, Lexington, KY


Let an accomplished educator and living Latin enthusiast gently walk you through the aural/oral opportunities presented by Latin for the New Millennium, Levels 1 and 2. Coauthor, Dr. Terence Tunberg, will set you at ease as they provide various suggestions and strategies for implementing or enhancing the spoken Latin component of your classes. He will share with you the bounty of aural/oral activities and exercises in the LNM Teacher Manuals and demonstrate how teacher-friendly they are!

Terence Tunberg, coauthor of Latin for the New Millennium, Levels 1 and 2, is a world-renowned Neo-Latinist and scholar of Latin literature through the ages. He is especially esteemed for his enthusiastic promotion of active Latin. The celebrated Conventiculum Latinum Lexintoniense—the Conversational Latin Seminar held each summer at the University of Kentucky—has spawned a network of similar programs across the country.

Tunberg earned his BA and MA in classics at the University of Southern California, did postgraduate research and doctoral work in medieval studies at the University of London, England, and earned a PhD in classical philology from the University of Toronto, Canada.
---
Tuesday, November 28,
6–7:00 pm ET
Honor Among Thieves: Craftsmen, Merchants, and Associations in Roman and Late Roman Egypt
Presenter: Phillip F. Venticinque, PhD, Associate Professor of Classics, Cornell College, Iowa


This webinar is drawn from Professor Venticinque's book of the same title. He provides an analysis of how craftsmen, merchants, and associations interacted with each other and with elite and nonelite constituencies; how they managed economic, political, social, and legal activities; and represented their concerns to the authorities. His examination of primary source material led to his insights into this demographic's acquisition and use of social capital and created status among their own ranks. Hence, the title Honor Among Thieves.

Philip F. Venticinque is an Associate Professor of Classics at Cornell College in Mt. Vernon, Iowa where he was honored with the Gaarde-Morton Junior Faculty Award in 2011. Students chose him to deliver the faculty address at commencement in 2015. Dr. Venticinque earned his PhD and his MA from the University of Chicago Department of Classics and the Program and Committee on the Ancient Mediterranean World respectively. His BA in classical languages and literature is also from the University of Chicago. He has been the recipient of fellowships from the American Council of Learned Societies, Center for Hellenic Studies, and Loeb Classical Library Foundation. He also received the Mrs. Giles Whiting Dissertation Fellowship, the Dumbarton Oaks Junior Fellowship in Byzantine Studies, and the Martin Marty Center Dissertation Fellowship from the University of Chicago Divinity School. Professor Venticinque has published and presented on various topics about Roman Egypt.
---
What Equipment Do I Need for B-C Webinars?

To participate in Bolchazy-Carducci Publisher sponsored webinars you will need high-speed internet access, computer speakers/headphones, current web browser, and the link to the webinar virtual meeting space, which is provided in your webinar invitation.
Webinars Make for User-Friendly Professional Development

Participation is free. All webinars provide opportunity for participants to ask questions. Learn lots—attend as many presentations as you can. Bolchazy-Carducci Publishers provides documentation for your participation. You can share this with your supervisors. Many webinar presenters provide handouts, etc.
Resources & Teaching Tips

√ A Roman Ghost Story



Connect your Latin students to the season. To help, we provide you a
lesson
that you can download and share with your classes. Trimalchio's ghost story, excerpted from Gilbert Lawall's
Petronius: Selections from the Satyricon
, consists of twenty-five lines of Latin accompanied by generous notes and vocabulary aids.
NB: This is a publisher-authorized complimentary download for use in your classroom only—not for any other form of distribution or sharing.

√ Dolus aut Dulce
We at Bolchazy-Carducci are happy to announce our third annual Halloween costume contest: Dolus aut Dulce? It was so nice seeing all the wonderful costumes from last year's participants, such as the snake-haired Medusa, deities and demigods, and Hannibal cosutmes from last year's winners. So if you plan on sporting a toga with some laurels, going for the whole hoplite, or fashioning your own set of wax wings, we urge you to take a picture of your classics-themed costume and send it to us.
Like last year, all we need from you is a photo of you in a classics-themed costume. Send it to us via Twitter to @BCPublishers, using the hash tag #BCPub. Do this, and you automatically make yourself eligible for one of three prizes! One photo will be accepted per Twitter account. If multiple people are in one picture all wearing classics costumes, the prize would only go to the owner of the account that tweeted the picture. If by request the contestants ask that another member of the picture stand as the contestant, one that is not the Twitter account member, or not a Twitter member at all, we will accept that as well.
Teachers, tell your students; students, tell your teachers. Tell all of your friends! No need to wait until October 31 to send a picture. We will start accepting photos this week and will continue to accept pictures until 11:59 PM CT on Tuesday, November 7th. Even if it is not your Halloween costume, so long as you have a photo featuring a classics-themed costume, we'll accept it!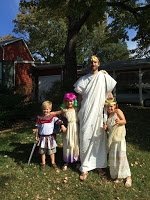 Ian Hochberg and his family dressed as deities and demigods.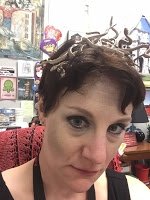 Decorating her hair up with snakes, Lindsey Morse,
completed her change into Ms. Medusa.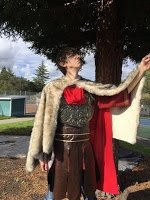 Winston Durand went all out for his Hannibal costume.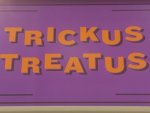 Perhaps Target is a bit off target?

---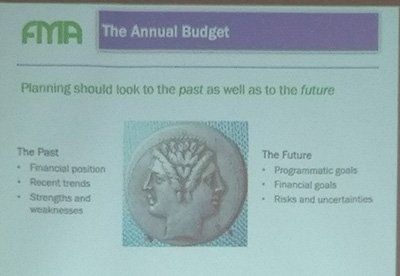 Janus appropriately appears in Financial Management Association International's presentation.

---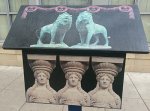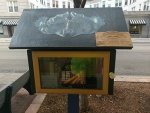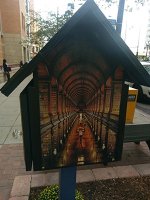 A trio of caryatids and the Art Institute of Chicago's lions grace a Little Free Library. The Edgewater neighborhood in Chicago boasts seventy-five such little free libraries. For the full picture, we've included the panel of the Trinity College Library and the front of the little free library.

eLitterae Subscribers Special Discount

eLitterae Subscribers Special Discount
Special 40% Discount

Paperback, 272 pages,
ISBN: 978-0-86516-288-4
$35.00

$21.00
This offer is valid for one (1) copy of the book, prepaid, no returns.
Discount is not available to distributors or
on products distributed by Bolchazy-Carducci Publishers.
This offer expires 11/21/17.
(Please note that there will be no adjustments on previous purchases.
Offer is non-transferable and subject to change without notice.)
Enter coupon code eLit1017
on the payment page. The special

offer pricing will be charged at checkout.