This Sunday,
November 12, 10:00 am
Two weeks ago we marked the 500th Anniversary of what we now refer to as the "Protestant Reformation." Last week we celebrated All Saints Sunday, when we take time to remember church members, family and friends who have died.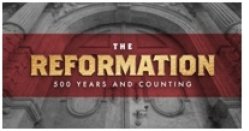 This week I (Pastor Diane) would like to return to the Reformation theme one more time. So many of the social, cultural and religious changes we are experiencing today are similar to the changes that gave birth to the Reformation 500 years ago, and much of what we are experiencing as a congregation today is part of that bigger cultural sea-change.

So this 500th anniversary is a great opportunity to pause, try to take our bearings, and ask what God is up to in our time. The scripture for the day is from Isaiah: "Behold, I am about to do a new thing; do you not perceive it?"

Welcome Our New Accompanist,
Harry Richardson
We've been so fortunate to have Keith Terhune with us since April, but he's ready to enjoy retirement without Sunday morning commitments after all his years as a church musician. And once again, our thanks to Verona Ryan for filling in as needed while we looked for a new accompanist.
Last week Marshan and Pastor Diane hired Harry Richardson. Harry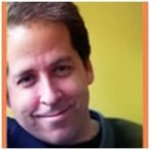 has been the worship and music leader at Seattle First Presbyterian for many years, has a private studio of 30 piano students, and accompanies the musical theater at two area high schools. He is classically trained, and at home with all kinds of church music, from traditional to gospel and contemporary. Here's a bit about him from his website:
"I've been a professional pianist for 30 years. My professional accompanying credits include national tours of Broadway productions, performances with symphony orchestras, several musical theater productions as pianist and musical director as well as accompanying for music festivals. I've also served as music director for churches in South Florida as well as Seattle, and [until this fall] served as the Director of Worship for Seattle First Presbyterian Church. I'm a certified Suzuki piano teacher, and have taught for 10 years.
I also am a composer and a member of the American Society of Composers and Performers, and my work, "A Child's Garden of Verses — Six Settings," was performed by The Northwest Boy Choir and is being published by Boosey and Hawkes. My most recent composition, "Music on Christmas Morning," based on a 19th century poem by Anne Bronte, was performed by the Northwest Boy Choir with members of the Seattle Symphony at Benaroya Hall, on December 23, 2012."
Please welcome Harry and help him feel at home!
Response to the Latest Massacre

From the Officers of the United Church of Christ
We mourn with the members of First Baptist Church in Sutherland Springs, Texas: the 26 shot dead; the 12-14 children included in that number; those injured in body and soul as they gathered to worship God. We mourn the violation of the sanctity of houses of worship. We mourn the devaluing of human life. We mourn.
This grief is not new to us. We have been in this mourning place 308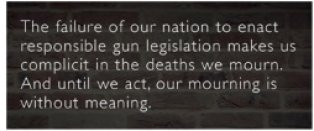 times this year. And we have mourned every time persons armed with guns have entered spaces filled with people intending to kill.
We mourn the

399 people

that have been gunned down in these acts of domestic terrorism this year alone. We mourn the 1,644 people whose gunshot wounds were not fatal but whose spirits will never fully heal.
We cannot control evil.
We can control access to guns.
The failure of our nation to enact responsible gun legislation makes us complicit in the deaths we mourn. And until we act, our mourning is without meaning.
We, the officers of the United Church of Christ, call upon our national leadership to do more than mourn. We call upon you to repent and respond to the cries of the people by denouncing this unholy alliance with the NRA and enacting gun legislation that is in the best interest of this country.
And if our current leadership continues to refuse, we call upon the people to rise up and elect leadership who will.
The Rev. John C. Dorhauer, General Minister and President
The Rev. Traci Blackmon, Executive Minister, Justice and Witness Ministries
The Rev. James Moos, Executive Minister, Wider Church Ministries
"Blues for John T. Williams" at Alki UCC Saturday November 18
to Benefit West Seattle Helpline
Jazz Saxophonist Steve Griggs leads a compelling program of stories and music
honoring the native carver and exploring the abuse of force
by the Seattle Police Department.
with
Jay Thomas
trumpet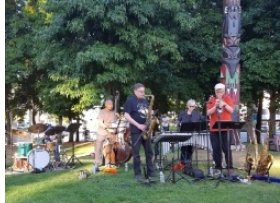 Phil Sparks
bass
Susan Pascal
vibes
Milo Petersen
percussion
Net proceeds benefit the West Seattle Helpline, a beloved nonprofit social service agency offering emergency assistance for West Seattle residents.
A free will offering of $20 is suggested.
Refreshments & treats served at intermission.
Blues for John T. Williams
Saturday, November 18 at 7:30 pm
The Sanctuary
Alki United Church of Christ
In Our Prayers:
Lisa Burke, having surgery this morning (Friday) to remove part of a brain tumor. Lisa had a seizure last Saturday and was admitted to the hospital, where an x-ray revealed the ruptured tumor. The long-term prognosis is unknown at this point, but her spirits are good and she's greatly appreciated the visits from church members. Please keep her and her family (especially her brother and guardian, Hudson, and his wife Judy) in your prayers.
Flash ... Great news! We just heard from Lisa's brother, Hudson, that the operation went well. If you plan on visiting Lisa, please check ahead of time since she will be in the ICU for recovery. There will be an update at worship on Sunday.

Elise Piraino, recovering at home after major back surgery.
Marshan Goodwin-Moultry and his husband, Darrell, in Chicago this weekend for the funeral of Darrell's uncle.
The victims of the massacre at First Baptist Church in Sutherland Springs, Texas, as well as their families, neighbors, and the survivors.
For those grieving the recent death of a loved one:
Jeff Jolly & family, Marshan & Darrell Goodwin-Moultry, Gary Gesellchen, Charley Rosenberry, Lisa Doepken and her grandson's family, t
he family of Mary Mason, Russ Thornock, Doris Colbert, Jason Huynh, Trish Dodds, Cynthia Jolly, Julia Chase, Scott Mathews, Maria Brodahl

Recent hospitalization, illness and other concerns:

Sallie Neillie and Bob Jackson, Sue Backs' husband Dick, John Kinsman, Candi Terao's father Dean Jacobson, Elise Piraino, Joe Mitter, Dan Kennedy's brother Bill, Dayle Banks, Lesa Henry,

Shelley Webster
Persons with ongoing needs: Jan Cochran, John Chowning,

Eric Erickson
For home bound members/friends of Alki UCC:
Ruth Okada, Doris Colbert
Wider World:
Victims and survivors of extremist violence in
New York City and around the world; v
ictims and survivors of the devastation in California, Mexico, Puerto Rico, Texas, Florida, the Caribbean, India and Bangladesh; prayers for fewer guns and for all victims of gun violence;
the migrants seeking refuge around the world, and for those who are trying to help and serve them. The rest of the missing schoolgirls kidnapped by Boko Haram, who remain in our hearts as long as they remain missing. The hungry and homeless, the ill and the addicted, the lost and the lonely; the unemployed; US officials and troops serving abroad.
Worship
& Church School
Sunday at 10:00 am
Choir Rehearsal
Sunday at 11:30 am
Choir Rehearsal
Tuesday at 7:00 pm
Bible Study
Wednesday at 1:00 pm
"Blues for John T.
Williams"
Benefit
for WS Helpline
Sat, Nov 18 at 7:00 pm
Alki Kids Place

This Sunday
11:30 am to 1:00 pm
Tuesday
7:00 to 8:30 pm
Next Sunday
9:00 am & 11:30 am
Charitable Christmas Shopping Opportunities!
Joe Aprile's Charity Holiday Art Show
Saturday & Sunday, December 2 & 3
10:00 am to 4:30 pm
8145 29th Ave SW
West Seattle

Works by Joseph Aprile, including original art and photography (framed and matted), photo cards, and books representing original fiction, poetry and non-fiction. All pieces are reasonably priced.
Profit from net proceeds benefits the White Center Food Bank and West Seattle Helpline.
Representations of the artist's work here.

West Seattle Alternative Giving Fair
Saturday, December 2
6:00 to 8:30 pm
Sunday, December 3
11:30 am to 2:30 pm
Fauntleroy Church Fellowship Hall
Co-sponsored by Alki, Admiral and Fauntleroy UCC Churches
& the YMCA
Make a gift to family and friends by giving in their name to proven programs that strengthen families and communities, support elders, care for creation, and respond to hunger and homelessness.
Agencies represented at the fair include: Compass Housing Alliance, Habitat for Humanity, Heifer Project, The Whale Trail, West Seattle Food Bank, Westside Baby and more!
Coffee Hour Hosts Needed Thanksgiving Sunday

Please help out if you can. Hosts needed Sunday, November 26. Contact Sandy Johnson.
Community Workshop on "Anti-Bias Education"
The Alki Coop Preschool
invites you to this important community event
"Anti-Bias Education in Challenging Times:
Responding to Children's Questions about Differences"
Wednesday, November 29
7:00 to 9:00 pm
Anderson Hall
A framework and practical tips on how to respond to children's comments and questions about differences. Speaker Debbie LeeKeenan is co-author of 'Leading Anti-bias Early Childhood Programs: A Guide for Change.'
Register at: wscoop.events@gmail.com.
Petitions to "De-Escalate Washington"
I-940 is an initiative to the Washington State Legislature to "build

bridges between communities and police to make EVERYONE safe".
Initiative Petitions are available for signatures at church. See Julia Peeler for further information.
Help put I-940 before the Legislature at the 2018 session! More information here.
Alki UCC
Board of Directors
2017-2018
Rod Peeler, Chair
Shannon Peterson,
Vice Chair
Jason Huynh,
Secretary
Susan Fairo
Sandra Johnson
Dan Kennedy
Patty Magnuson
Scott Mathews

Ex Officio:
(Voice but no vote)

Kristin Michael,
Business Manager
Diane Darling, Pastor
Supporting Alki UCC:
Online
Giving