I'm so grateful to the people who've stepped up to keep Church School running smoothly since Candi Terao's departure several weeks ago. Julia Peeler has been the teacher several weeks in a row and is helping orient our new volunteers. So far Bonita Corliss, Joe Belcher, Shiree and Jaida Nguyen have joined the new teaching team, and Julia Chase will continue teaching once a month, as she has so faithfully done for years.

A few of us met Wednesday night to go over the curriculum, plan for Advent and work on the December schedule. The logo posted here is from the curriculum we use, called "Deep Blue Kids: A Weekly Adventure Through the Bible." It's got good theology, is user-friendly for the teachers, and adaptable for any size group of kids.
We'll have another meeting in January for mutual support and some planning. Let me know if you'd like to be part of the rotation or help in some other way. As our teachers always say, time and time again, "I get far more out of it than I give."
Someday, when I graduate from being a preacher and worship leader, I want to be a Church School teacher!
Many thanks,
Pastor Diane
2018 Mardi Gras Gala
Saturday, February 10

Only 12 weeks until our next Mardi Gras Gala!
This Sunday, your event team will be hosting "A Taste of Mardi Gras"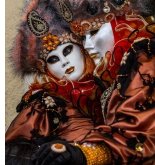 at coffee hour. We'll have special treats and a registration table. Have a bite, ask questions, and sign up all at once.
Don't wait to get tickets! You won't want to miss the festivities. And remember, tickets make great Christmas or birthday gifts.
Want to help? Auction donations are happily accepted. Volunteer opportunities are also available — just ask one of the MGG team.
Your MGG team,
Kathy Herigstad
Charlie Hinckley
Julia Peeler
Tomorrow!
"Blues for John T. Williams" at Alki UCC Saturday November 18
to Benefit West Seattle Helpline
Jazz Saxophonist Steve Griggs leads a compelling program of stories and music
honoring the native carver and exploring the abuse of force
by the Seattle Police Department.
with
Jay Thomas
trumpet/saxophone/flute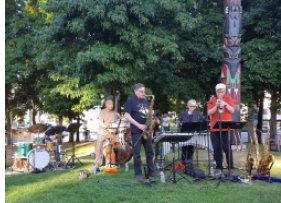 Phil Sparks
bass
Susan Pascal
vibes
Milo Petersen
percussion
Net proceeds benefit the West Seattle Helpline, a beloved nonprofit social service agency offering emergency assistance for West Seattle residents.
A free will offering of $20 is suggested.
Refreshments & treats served at intermission.
Blues for John T. Williams
Saturday, November 18 at 7:30 pm
The Sanctuary
Alki United Church of Christ
From the Financial Secretary

We've recently heard from several people who pay their church pledge automatically via credit card that, unbeknownst to them, the auto-payments had stopped last April or May and had to be set up again. They are all catching up on their pledges, and we were relieved to learn it was just an accident and not a sign of financial distress. But if you have set up auto-pay on a credit card to make regular payments to the church, you might check to make sure it's still happening. We have no idea why the other three suddenly stopped working!
Looking ahead, you'll receive a statement in December with a record of all your donations to date for 2017. In January we will send you a final statement, for income tax purposes, of all your donations for 2017. Thanks for your financial support of Alki UCC! – Sallie Neillie
Call for Volunteers!
Help with a Hot Thanksgiving Weekend Meal at Camp Second Chance/'White Center

Saturday, November 25 at 2:00 pm
Camp Second Chance, 9701 Myers Way 98108
Volunteers are needed to set up, serve, eat and enjoy, and clean up. The hot meal is being provided by Operation Sack lunch, so all we need to do is provide paper plates, cutlery, cups, drinks and garbage bags. Please contact Cinda Stenger or Shannon Peterson if you can join in.

Bring: Serving utensils, drinks, and any donations of warm clothing, sock, hats, gloves, etc



Tiny House News Flash! We're close to finalizing details with the Low Income Housing Institute to start building Tiny Houses at Camp Second Chance in January — more details soon!


— Cinda

In Our Prayers:
Joe Aprile, recovering from a mild heart attack and double bypass surgery last Saturday night. He's been in Swedish Hospital Cherry Hill, and we're hoping he'll be home by this weekend. And prayers for his wife, Julia Chase, who's been at his side night and day.
Lisa Burke continues to do well after her brain surgery last Friday. We hope that by the time you read this she will have been discharged to Mt. St. Vincent for a stay in their rehab facility. Last Sunday her brother, Hudson, dropped in before worship with a bouquet of flowers for Alki UCC and a note saying "Many thanks to all of you for being so supportive. Please keep the prayers coming!"
Congratulations to Mike Delaney and Cindy Ogasawara on their

newly adopted son, Reese, who was born Tuesday, November 14, in Portland. They got "the call" that afternoon saying the birth mother had chosen them to be the adoptive family, and hightailed it down there right away. They are pictured here with Reese's biological mother, Heidi, and that's Theo with her new baby brother.
With any luck they'll be back to Seattle this weekend, or Monday at

the latest. Cindy writes, "We are reeling from the suddenness of it all… and in the midst of everything are incredibly grateful for the village which supports us and already loves our new son."
We are honored to be part of that "village," and can't wait to meet him!

Speaking of "the village," and kids we love, Karina Piraino is settling into Moonridge Academy, her new boarding school
in Utah, and sends a hand-shaped heart full of love. Please keep Karina and her family in your prayers. This is the right place for her right now, but it's so far away and the separation is so hard, especially as the holidays approach. Mike, Elise and Nicholas will be able to join her there for Christmas.
For those grieving the recent death of a loved one:
Jeff Jolly & family, Marshan & Darrell Goodwin-Moultry, Gary Gesellchen, Charley Rosenberry, Lisa Doepken and her grandson's family, t
he family of Mary Mason, Russ Thornock, Doris Colbert, Jason Huynh, Trish Dodds, Cynthia Jolly, Julia Chase, Scott Mathews, Maria Brodahl

Recent hospitalization, illness and other concerns:

Elise Piraino, Sallie Neillie, Bob Jackson, John Kinsman, Candi Terao's father Dean Jacobson, Elise Piraino, Joe Mitter, Dan Kennedy's brother Bill, Dayle Banks, Lesa Henry,

Shelley Webster
Persons with ongoing needs: Jan Cochran, John Chowning,

Eric Erickson
For home bound members/friends of Alki UCC:
Ruth Okada, Doris Colbert
Wider World:
Victims and survivors of extremist violence
around the world; v
ictims and survivors of the devastation in California, Mexico, Puerto Rico, Texas, Florida, the Caribbean, India and Bangladesh; prayers for fewer guns and for all victims of gun violence;
the migrants seeking refuge around the world, and for those who are trying to help and serve them. The rest of the missing schoolgirls kidnapped by Boko Haram, who remain in our hearts as long as they remain missing. The hungry and homeless, the ill and the addicted, the lost and the lonely; the unemployed; US officials and troops serving abroad.
Supporting Alki UCC:
Online
Giving
Blues for John T. Williams
Benefit for WS helpline
Saturday at 7:30 pm
Choir Rehearsal
Sunday at 9 & 11:30 am
Worship
& Church School
Sunday at 10:00 am
Board of Directors
Tuesday at 6:30 pm
Choir Rehearsal
Tuesday at 7:00 pm
Thanksgiving Holiday
Office Closed
Thursday & Friday
No Bible Study this week!
Alki Kids Place

This Sunday,
November 19,
10:00 am

It's the Sunday before Thanksgiving, and although our annual national feast day is not exactly a religious holiday, there are few things as fundamental to the spiritual life as giving thanks.
So that's what we'll be singing, praying, and talking about on Sunday.
Charitable Christmas Shopping Opportunities!

West Seattle Alternative Giving Fair
Saturday, December 2
6:00 to 8:30 pm
Sunday, December 3
11:30 am to 2:30 pm
Fauntleroy Church Fellowship Hall
Co-sponsored by Alki, Admiral and Fauntleroy UCC Churches
& the YMCA
Make a gift to family and friends by giving in their name to proven programs that strengthen families and communities, support elders, care for creation, and respond to hunger and homelessness.
Agencies represented at the fair include: Compass Housing Alliance, Habitat for Humanity, Heifer Project, The Whale Trail, West Seattle Food Bank, Westside Baby and more!
Second Wednesday Sacred Conversations on Race
The Second Wednesdays Sacred Conversations on Race group held its first gathering on November 8. About seven of us watched the film, Hidden Figures, and then spent some time discussing it in a supportive, brave environment.
Please join us for our next gathering, December 13, 7:00 pm, when we will discuss the first five (short!) chapters of Waking Up White by Debby Irving. So start reading!
Connie Huynh and Pastor Diane will co-lead the discussion. Location to be determined, but probably at "the parsonage," aka Mary and Diane's.
Community Workshop on "Anti-Bias Education"
The Alki Coop Preschool
invites you to this important community event
"Anti-Bias Education in Challenging Times:
Responding to Children's Questions about Differences"
Wednesday, November 29
7:00 to 9:00 pm
Anderson Hall
A framework and practical tips on how to respond to children's comments and questions about differences. Speaker Debbie LeeKeenan is co-author of 'Leading Anti-bias Early Childhood Programs: A Guide for Change.'
Register at: wscoop.events@gmail.com.
Petitions to "De-Escalate Washington"
I-940 is an initiative to the Washington State Legislature to "build

bridges between communities and police to make EVERYONE safe".
Initiative Petitions are available for signatures at church. See Julia Peeler for further information.
Help put I-940 before the Legislature at the 2018 session! More information here.
Alki UCC
Board of Directors
2017-2018
Rod Peeler, Chair
Shannon Peterson,
Vice Chair
Jason Huynh,
Secretary
Susan Fairo
Sandra Johnson
Dan Kennedy
Patty Magnuson
Scott Mathews

Ex Officio:
(Voice but no vote)

Kristin Michael,
Business Manager
Diane Darling, Pastor