Fierce Joy & Partnerships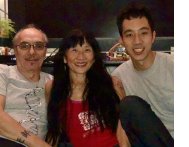 This year I celebrate ten years of thrilling AcroYoga, and 22 years of transforming Yoga. This month I celebrate 34 years of loving marriage to the father of our beloved 22-year-old.

As the New Year begins I am celebrating so many joyful partnerships, some new, some old, some surprising, all abundantly and fiercely joyful.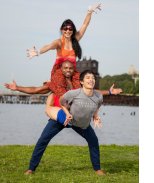 Every partnership can offer abundant joy, to the extent that I learn to listen for my own true voice, listen for the other person's true voice, and listen to the unifying One voice underneath all the noise. Then the surprise gifts are all so much better than anything we could find under any twinkling tree!



This Season, may you find moments of joyful noise, and also plentiful moments of sweet, quiet stillness in the presence of the Source that made you, loves you, and eternally sustains you.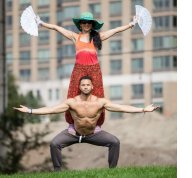 Retreats
Jan 3-8, 2018: reSOULutions retreat pt 4: the healing ~ Cartagena, Colombia, at Casa Pombo w/Juan Gamboa, Esco Wilson + Bryan Winston ~ pictured here

May 4-6: Wagging Tail Yoga weekend Retreat ~ 100-acre estate and yoga retreat center, intimate setting, multiple styles yoga, amazing hospitality!





May 26-29, 2018: AcroYoga Elemental Immersion ~ Cosmic Fit Club, NYC w/Brian Davis, AYI Certified Immersion Teacher

Mini TT Modules on Cartagena, Colombia, reSOULutions retreat:
Module #1: Chakras, Doshas, Ayurveda ~ Saturday, Jan 6, 2018
Module #2: Yoga Nidra ~ Sunday, Jan 7, 2018

100-Hour Mother Mary Restorative Teacher Training ~ Pure East
4 Levels of 25-Hour Modules, Saturday + Sunday 9AM-6PM
June 30-July 1st, July 21-22, August 18-19, Sept 8-9

25-Hour Yoga Nidra Teacher Training, Sept 22-23 ~ Pure East



Weekly Classes in New York City

Pure Yoga Eastside - 203 E.86th St. (3rd Ave)
Monday: 10:30-12:00 Slow Flow Meditation
Monday: 1:00-2:00 Yoga Nidra Meditation
Tuesday: 12:30-1:30 Restorative
Thursday: 12:30-1:30 Restorative

Pure Yoga Westside - 204 W.77th St. (Amsterdam Ave)
Friday: 11:30-12:30 Restorative



Friday: 7:30-9:15PM

AcroYoga

Flow L1-3 (Open) Fashion District

~ 265 West 37th Street (8th Ave), 17th Floor, NY NY 10018

*1st Friday/Month 9:30-11:30PM AcroYoga JAM Fashion District




Private Sessions by Appointment

Thai * Restorative * Yoga Nidra * Meditation * AcroYoga * ISHTA
AcroYoga Immersion New York

Memorial Day Weekend, May 26-29, come immerse yourself in 30 hours of deeply educational and totally transformative AcroYoga practice in all of its communication, fitness, healing, and group dynamics finesse.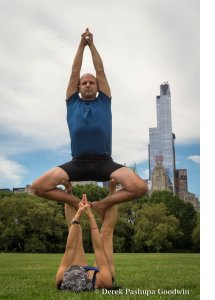 AcroYoga International Elemental Immersions are the richest level of teaching experience ~ there are only 70-some AYI certified Immersion teachers globally ~ with a curriculum that ensures you have all of the foundations for both the dynamic acrobatic partner practice and the therapeutic healing side of partner AcroYoga, in equal balance.

Plus the senior teaching team and the experienced assistant teaching team demonstrate group teaching at a level that will refine your communication skills for all usages, including your teaching skills in any modality you practice.

The Elemental Immersion is appropriate for educators, those on their own possible teaching path in AcroYoga, those enriching their own practice, and for those students new to AcroYoga, who wish a rich, powerful entry into it.

Limited numbers of 3-day, 2-day, and 1-day weekend spots are available. See the FB Event for details, special promotions, and group chats. Register: Link Here.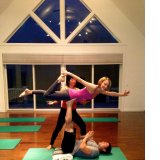 As our New Year approaches, I rejoice in releasing 2017 and envisioning 2018 on the sandy beaches of the Rosario Islands, and in the colorful walled city of Cartagena.

I will see you when I return from my Jan. 3-8 reSOULutions retreat with my playful retreat brothers Juan, Esco, and Bryan, and an amazing crew of teaching assistants!

See more 2018 retreats, including Ora Ramat's and my #11 May 4-6 Weekend in the Catskills, and a #12 September Catskills Weekend! ... Keep tuned, for perhaps another exotic winter escape from New York, in 2019 ....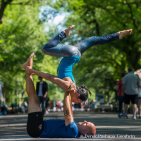 I value your email privacy and do not share email lists. Feel free to Forward, Reply, Unsubscribe or Subscribe. My schedule is always updated on maryaranas.com.

Much Peace and Joy to All!! ~

OMMMMMMMMMMary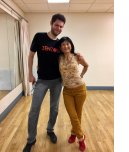 The first ever Zouk 'N' Thai Workshop on 12/17/17 was a smash hit. (check out highlighted video links).

Astoundingly sweet, as 24 students flowed to the theme "How to move your Partner" ~ first through Zouk dance embraces and then through a guided Thai bodywork dance of giving and receiving ease.



We plan on curating another Zouk 'N' Thai workshop in the Spring! So watch for updates on this ENews, and these three sites:

1)FB: FreeZouk NYC
2)Om Factory: omfactory.yoga
3)Mary Aranas: maryaranas.com

Zouk 'N' Thai workshops are all level, and designed expressly to unite and delight both seasoned and new Zoukers and bodyworkers.

No partner needed but all welcome!

Join me and Bassam Kubba on Valentine weekend for our annual Valen-THAI offering Sunday evening Feb 11th at Om Factory.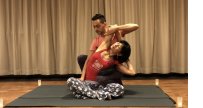 Bring a family member, partner, friend or lover, and give and receive a lovingly guided sequence of the dance of healing Thai Yoga, as you in turn receive and give this gift.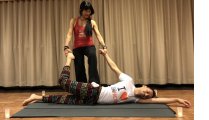 Emerge refreshed, relaxed, energized, with wonderful skills for gifting those in your life! Register to come ~ soon!

My two-hour Valentine Restorative Feast is for yourself, or you and loved ones, to realize how much you need self-love and self-care, through mine and my loving team's tender ministrations.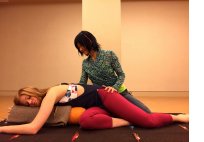 We shall balance all seven of your energy centers, chakras, with restful postures, hands-on touch, aromatherapy soft music, and meditations from me.

This workshop benefits God's Love We Deliver, a group that brings home-cooked meals to home-bound New Yorkers, with kindness and love.

Register now at Pure Yoga East.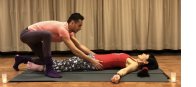 Thanks for photos this issue to:

Jonathan Sint (Base), Lex Lyan (reSOULutions pics), Derek Pashupa Goodwin (Immersion pics), Ardeana Kirckof (ZoukNThai), Vinicius de Souza (Zouk teacher), Leslie Tietjien (NYC Zouk organizer), Bassam Kubba (Valen-THAI), Megan Kelley (Restorative), Ora Ramat (Wagging Tail Yoga), Chris Martucci, Rebecca Claes-Roach, Brian Davis (Immersion co-teacher), Raul & Raphael Aranas, and ReSOULutions crew: Juan Gamboa, Esco Wilson, Bryan Winston.