January 2018 Newsletter
For 12 years this newsletter has gone to more than 20,000 Firearms
Collectors,
Enthusiasts, Historians and Professionals Worldwide. We now reprint o
ver 5500 Vintage Gun Catalogs, Books and Manuals from the 1840s to the 2000s

Back issues: you can view the newsletter on our website. For a downloadable copy of our catalog of reprints or manuals this will take you there. Also, we have Interesting downloads at our website. Please forward this letter to your friends.





Happy New Year





Bang, Pop, Fizzle?

Hmmm, I'm not sure- early projectile resistant vest, a medieval school play, a joke? Anyone know?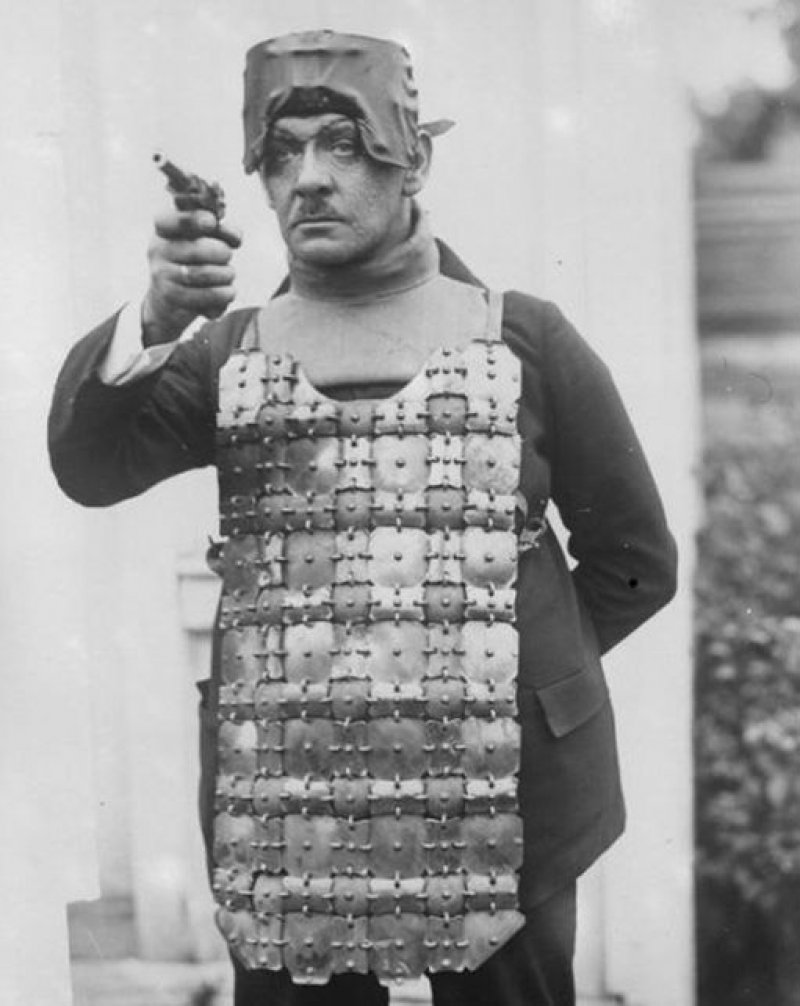 TERTIL

Last Year
I mentioned an automatic garden weeding machine. They seem to have improved on the design and are promising to bring it to market this spring. Here is the old model: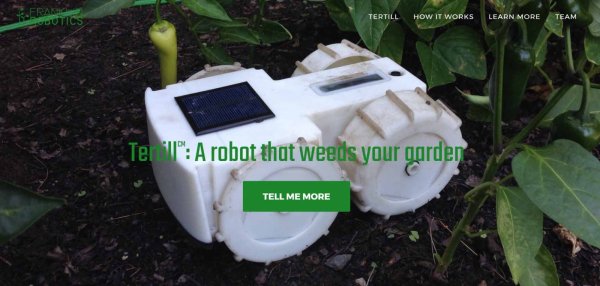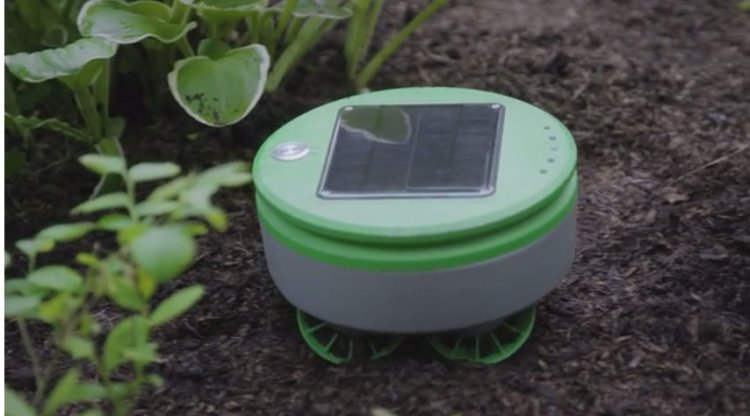 For the more discerning among us...


A Gun is a Gun

A Rifle is a Rifle

Look Down the Barrel and Get and Eyeful


Sexual Assault witnessed!

Get that man's name, call the Inquirer, call, well, all the media...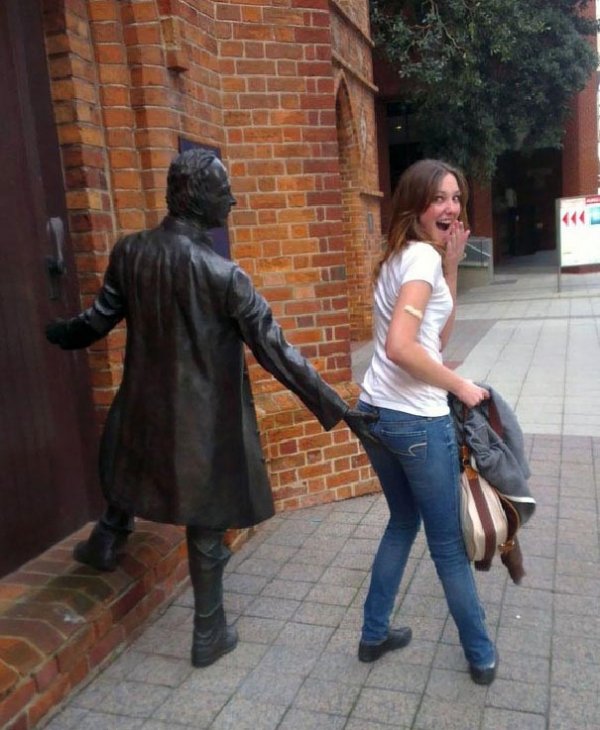 Meanwhile Congress is absorbed with pressing matters...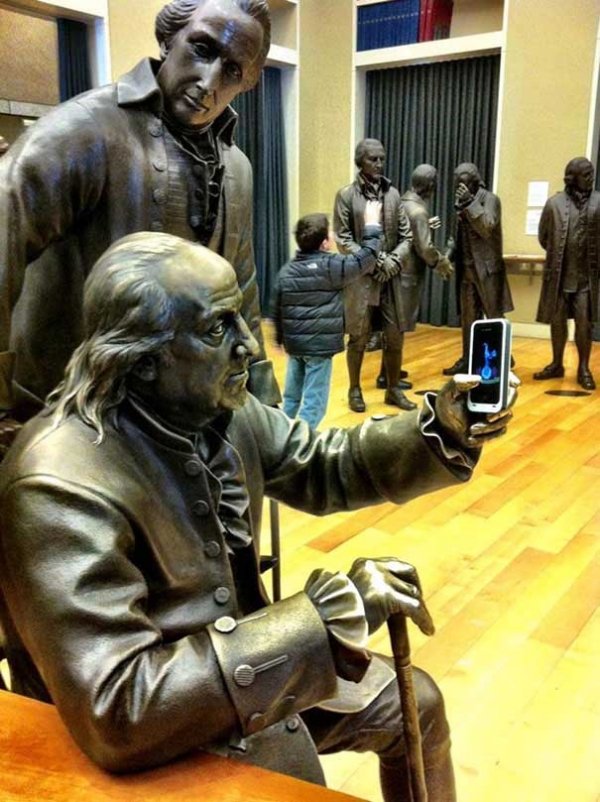 Parts of Michigan where we live are beautiful but this shot of southern Italy is breathtaking, particularly after 2 weeks of below 20 degrees (F) and several days below zero: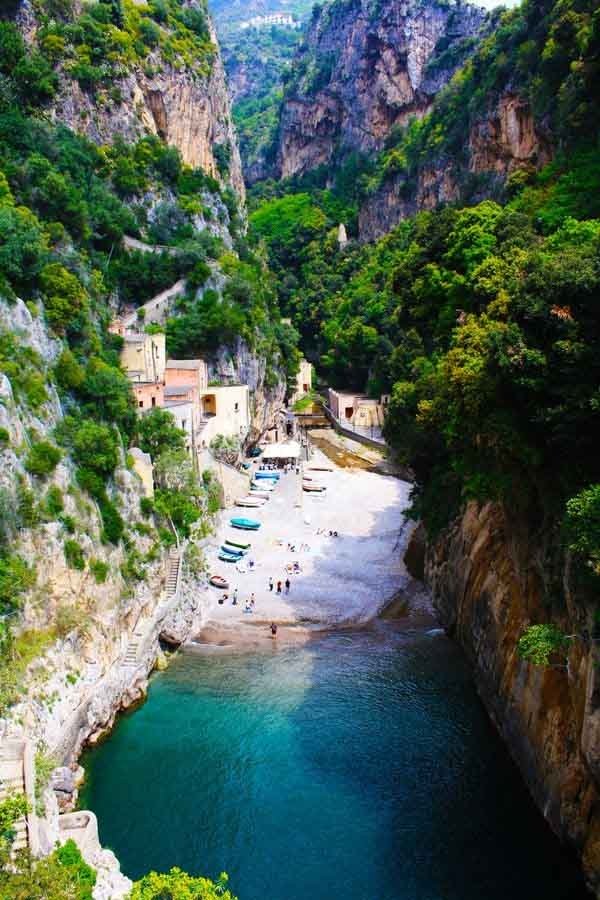 So the Uber driver didn't show up? No problem mate...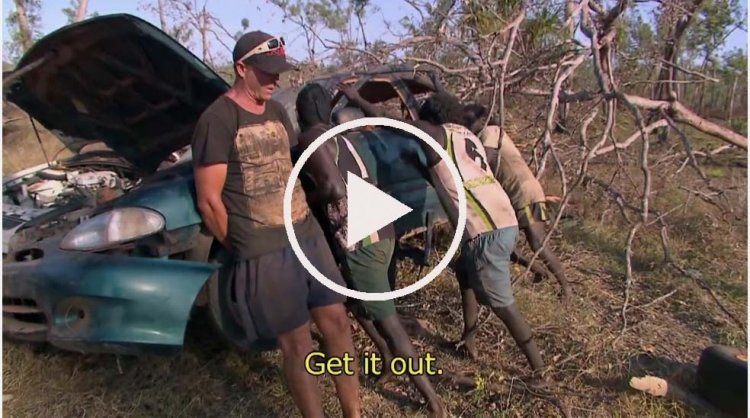 Cheap Burglar Alarm...

Put your car keys beside your bed at night. If you hear a noise outside your home or someone trying to get in your house, just press the panic button for your car. The alarm will be set off, and the horn will continue to sound until either you turn it off or the car battery dies.

The Firelands of Ohio...



We lived in Connecticut for many years and, on my mother's side, I have ancestors buried there. It is therefore, embarrassing to admit how little I know of the history of my people despite years of digging. For example, I only recently learned that when Jean Baptiste Point de Sable settled in Checagou (Chicago) in the mid-18th century he was actually living in Connecticut. "Hold the phone" you say, "that coastal state is 1000 miles from Chicago". You are right, of course, but almost a hundred years earlier than Jean Baptiste the British King Charles II was prescient enough to grant "sea to shining sea" rights to several states, including Connecticut, allowing them to make claims to "western lands" all the way to the "shining sea" of the Mississippi river or perhaps even the shining Pacific Ocean (but, of course, nobody was really sure exactly where in relation to Connecticut the Pacific was in 1662.)

The fortunes of these "Western Reserves" rocked back and forth for a hundred years without any great attention until the French and Indian War of 1754-1763 after which Britain tried, rather unsuccessfully, to discourage colonial migration to the lands west of the Appalachians with the Proclamation of 1763- http://www.u-s-history.com/pages/h639.html. This messy and largely unsuccessful document tried to appease the Indians in the west and keep settlers out but served only to antagonize the restless colonists and contributed to the American Revolution. The Proclamation is notable, however, as the first European colonial attempt to proffer the concept of Native American land titles.
Then a few years later, during the American Revolution, Britain managed to burn a number of Connecticut cities thus displacing a lots of townsfolk. After the War and as some compensation, the then State of Connecticut sought to relocate its many citizens who had been inconvenienced by British sacking and pillaging. What could be better for these poor souls than the "Firelands" or "Sufferer's Lands"- tracts of land located at the western end of the Connecticut Western Reserve (in what is now Ohio)? This is where the story becomes a bit sticky.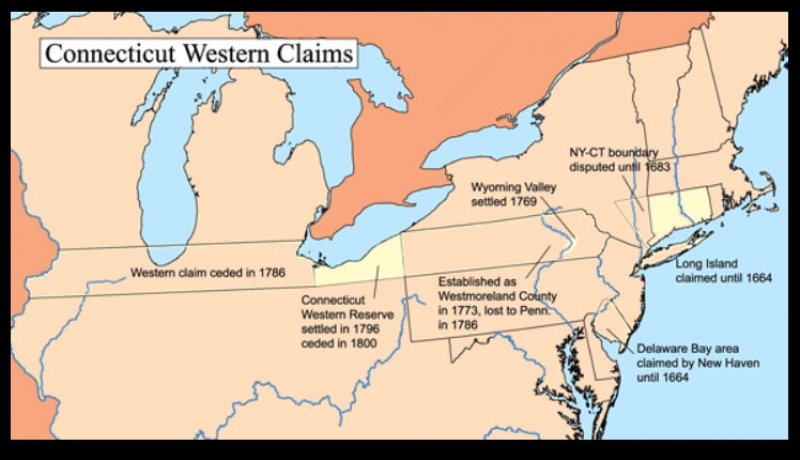 Seven of the 13 original states had claims west of the Appalachians, claims which were decided as unfair (something to do with taxes) by the new U.S. Congress. So, between 1785 and 1802 Congress persuaded the seven to give up their western lands. Connecticut ceded sovereignty of their Connecticut Western Reserve to the U.S. of A. in 1786… but they managed to retain ownership of the eastern portion of the Reserve, the land under Lake Erie in what is now Ohio, some 3,366,921 acres! Remember the poor people burned out of their homes by the Brits during the Revolution and who planned to relocate to Ohio? Well they had another hurdle to overcome. You see, most of the "Firelands" were actually sold to the Connecticut Land Company which was owned by a handful of investors from Suffield, CT, oops.

But not all was lost. The Connecticut legislature in 1792 managed to grant 500,000 acres of the western portion of New Connecticut to those citizens whose property had been burned by the Brits during the war, the Fire-Lands lived up to its name. So as you drive along I80 in Ohio and see what seems to be the Connecticut town names of Danbury, Greenwich, Groton, New Haven, New London, Norwalk, Norwich, and Ridgefield, they are not there by accident.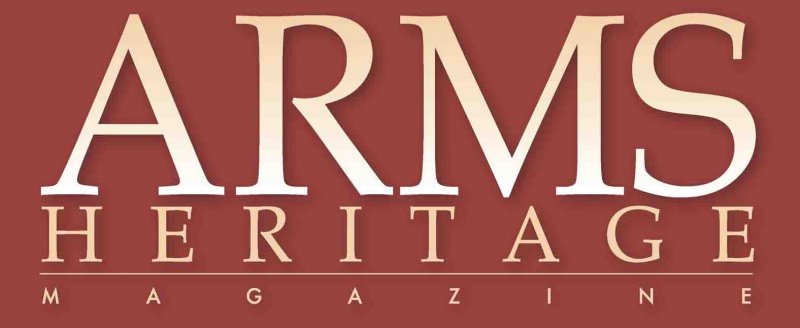 Winans Steam Machine Gun!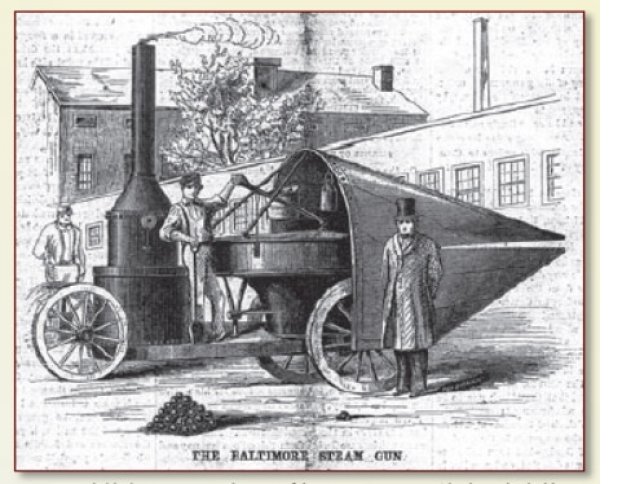 Of all the bizarre weapons of the Civil War, the Winans Steam Gun may have been the weirdest. Although the device bears Winans name, it was actually designed and built in Ohio by William Joslin and Charles Dickinson. The concept of steam-powered weapons was hardly new, numerous ideas and patents had been developed and patented in both Britain and the United States in the years preceding the Civil War. Most of these ideas utilized centrifugal force, generated by propelling a projectile around a "raceway" to gain momentum before it was ejected toward a target.

The first U.S. patent dates back to 1838, issued to Robert McCarty for a centrifugal steam-powered weapon advertised to throw "480 rounds per minute" a distance of one mile. William Joslin took out a patent on a centrifugal "machine gun" in 1859, under his own name, for a device developed by he and Dickinson jointly. The omission of Dickinson's name from the patent angered him and the partnership was abandoned. Dickinson then developed his own patent, the one that would become the basis for the Winans device. Numerous accounts of exactly how the gun worked were published in various organs of the press. One described it thus-- "The writer was present when the gun was tested and reported that its projectiles perforated a one-inch thick plank. The person demonstrating it (with a hand crank) indicated that with steam power it would send bullet after bullet with so nice an accuracy that (the enemy) would disappear in one spot". Another indicated that "it was proved at the exhibition that it would throw to a distance of one mile with precision and effect from 400 to 500 two-ounce balls per minute, with a horizontal sweep of 120 degrees"...

Read all about the Winans Gun and other fascinating weapons in Arms Heritage Magazine. A one year subscription for only $19.95 gives you immediate access to this article (from Volume 5, Issue 4) and all the others written during the last seven years as well as new issues! Watch for the print version of Volume seven coming this spring!








As you can see we are making an effort to fill the holes in our lists of the more modern catalogs and manuals. Many thanks to James Clanin, Rob Kellam and Mike Carrick for lending us these vintage publications. Please let us know what unusual items you may have that we may borrow.


************************************************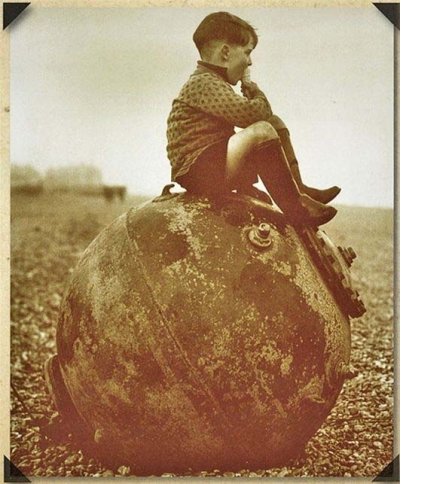 Dear Rob and Abby, Seeing the child sitting on a sea mine brought back memories of my own childhood. When I was about the same age as the child in the photo, I found an exploded sea mine casing on Hornsea Beach (Yorkshire, England) and tried to dig it out of the sand. It was much smaller than the one in the photo, but it took some digging to get all the sand from the inside. Unfortunately, before I got the outside free, the tide came in and stuck it solid again. The next day, only a tiny portion protruded from the sand, so I did not try again. I noticed that the sea mine in your photograph must have been rolling around on the sea bed for some considerable time, because all of the visible detonators had been damaged and the ends worn (or broken) off. It is even possible that (like my mine) there was a big hole in one side, so the Photographer chose to take the photo from the intact side. Best Wishes from Adrian Hanwell.

Dear Adrian, I hadn't thought of that and I certainly hope the damn thing had a hole in it not pictured. My only experience with a mine was seeing one floating some miles off Falmouth when I was aboard HMS Brearley (an inshore minesweeper!) as a naval cadet out of Dartmouth, . We, not having weapons on board, we reported the problem and it was "taken care of", or so we heard. We had all heard of disposing of mines by shooting at them with a rifle or machine gun and I suppose we were a bit disappointed if not safer. Old times! Cheers, Rob



************************************************



Rob and Abby, I've bought quite a few Winchester and several other catalog reprints from you and can only say "Keep Up the Good Work". John Sansbury



************************************************



Rob, I always enjoy Rob's stories no matter what time of the year it is. Especially I need a respite from Xmas advertising, the usurping of Xmas songs by advertisers trying to get buyer's attention. Where is the originality by these ad writers? Radio stations that go full schedule with the same music over and over. I enjoy the old songs as I can understand the words. If the stations interspersed their Xmas songs among regular programming be they pop, blues, rag time, oldies or bluegrass it would be pleasant listening. At my age I can't stand rap, screeching guitars of hard rock, this is not music. I enjoy all your news items, cartoons and most of all I have really liked all your publications that I have purchased from you and Abby. Every time I buy an older rifle I would buy one of your publications covering this rifle or revolver. Never once have I been disappointed. I cannot say this for any other seller of any merchandise that I have purchased on line or in catalogs or publications. I wish you and Abby a very Merry Christmas and a most Happy and prosperous New Year. Thank you two for being. Sincerely; Wayne Ruxton





************************************************

This particular item does not reflect or provide correct information for my Remington 11 - 48 28GA - Serial Number 4042896. The drawings and information appear to be for earlier or a different model(s). (Significant Differences) Do you offer a correct manual for my firearm? NoCents49 (Ebay)

We sent this fellow our reprint: Remington Model 11- '48 Manual and it apparently will not help him. Does anyone know the correct manual for a 28ga?





************************************************



Hello Abby, My wife ordered this(Lee Arms Co. 1879) for me, it's really a nice item and very well done! She did, however, make a mistake with which rifle she was getting it for. Do you have one of these for a Lee Navy rifle? Thank you! Cor776

Hello cor776 (Ebay), We do quite a few U.S. Lee pattern rifle publications including the 1895 and M1917 models. I'll list a few below. Ebay makes it difficult to search for things and I can't paste links to this message but is you copy and search in ebay for the names I provide they should pop up unless for some reason we don't have them on ebay. Rob


************************************************



Dear Abby, Could you please let me know the shipment price to Brazil, Sao Paulo, zipcode 05356-000 ? I am interested in the Anschutz catalogue. gmion1974

Dear gmion1974, I am sorry, we have stopped sending to Brazil, We had too many claims that the item was not delivered and we had to pay for it anyway... too much money lost. I will send a pdf with no postage if that helps. Let me know. Best Abby

Dear Abby, It is a shame for us, I am sorry. Yes I thank you in advance for the PDF. gmion1974

Dear gmion1974, Abby will send you a bill for the $14.95 and I'll prepare a pdf for you later today. Best wishes, Rob



************************************************



Hello Mike - the address on your order: Ferguson Road, location Ferguson,nearest town Dardanup Western Australia 6236 Australia will be rejected either by our postal service or customs. I am refunding your money and if you have an alternate address or friend that this could be shipped to please reorder with that address. In the past we have many shipments never delivered because of incomplete or inaccurate addresses and demands to have their money refunded. Regards, Abby

Hello Abby, Can you please tell me what is wrong with my address? I live in the locality of Ferguson, ( this is not a town ) this is in the Dardanup Shire post code 6236, ( this is a region ) and this is in turn in the state of Western Australia, Western Australia is the Western most state of Australia. Australia is a large country in the southern Hemisphere, the same size as North America. ( the western side of the Pacific Ocean ) Australia Post mail to this area passes through a place by the name of Bunbury post code 6230, but if you send the booklet via a Bunbury post code it is unlikely to arrive at my address, as I live in a neighbouring area, post code 6236. General freight also passes through Bunbury, however this is not a factor when you will be posting the booklet. I do not live in a city, and most companies do not allow for this in their sending address boxes. ( nothing I can do about their deficiencies ) The only thing I could add is my phone number 61 ( for Australia ) 8 ( for Western Australa ) then xxx, in total the number from your country would be xxxx, but please be aware that there is a 12 hour time difference between western parts of America and Western Australia, so please don't phone me in the middle of the night? Mike

Hello Mike, We have many customers in Australia. "Australia is a large country in the southern Hemisphere, the same size as North America. ( the western side of the Pacific Ocean )", yes quite so. I had some good times down under when I served in the FAA (Royal Navy, a not so large navy in a smallish European country). Packages leaving the US have to pass through our (US) postal system and perhaps that is where addresses such as your go astray. Anyway, Abby won't ship to places that might confuse the post/customs, we have lost too much money to even try. But I will send you a pdf if you wish, same price less postage. Please let me now if you would like that. Cheers, Rob Mouat

Hello Abbey, Yes please send me the PDF, I can colour print it here ( no I didn't mis-spell colour ). I still don't know what is confusing about my address? you haven't said, it would be useful to know for future reference, and to avoid any future confusion.. PS. from our media and numerous changes to our language and culture, I thought that Australia was now the last state of America. Mike

Hi Mike,It is Abby, not Abbey (the church. Abby is touchy about that). Abby went to high school at Cleremont School in Surrey, England (that small European country again) so she has a basic grasp of British spellings. Anyway, when postal/customs folks see things like "nearest large city" or "closer to", or words like that, they tend to open our packages. When they see the packages are gun related the often act with an abundance of caution and either keep them for themselves or toss the contents. We have refunded over $3000 in sales this year and that would help pay the heat bill (it is -6 degrees F = -21 C this morning)!. It was -8F here this morning (that is -22C to you folks). I'll send you a paypal bill to pay for the pdf. Some office supply shops near larger cities have binding strips they can use to bind what you print, smaller shops usually have HD staplers. Cheers, Rob

Hi Rob, I have payed the account now. Please note regarding the address , I do not live in a town or a city, and have absolutely no intention of doing so. I am greatly offended when address boxes ask for a city to be nominated for postal delivery! I will not nominate my area of Ferguson as a City as it most definitely is not! It consists of a couple hundred people and is most definitely not a town either! It is the generalising systems that are at fault and caused me to put "nearest town"! We have a postal delivery to our driveway xxx Ferguson Road in Ferguson xxxx Western Australia, in Australia. Thanks for heading off any potential problem, the terms you used are definitely an issue too due to over zealous beuracrats, I won't repeat your words, as big brother is watching, neither problem is of my making! Mike



************************************************



Hi Abby, I was just wondering if you ship to the UK and if so perhaps you could give me some idea of cost. Thank you. Regards, Richard. (Parker Hale Publication?)

Dear Richard, Shipping to UK (we send a lot over the pond) varies by weight and size and because PH catalogs do just that I can't answer directly. Easiest way is to put your order in the shopping cart at the website and follow along until you get the total. You can decide at that point if you don't want to continue. Hope this helps- link to Parker Hales: https://www.cornellpubs.com/old-guns/historic-parker-hale.php. Cheers, Rob



************************************************



(Dear Rob) Someone sent me the wrong manual. I was sent the one on the Webley .455 automatic. See attached photo. I ordered a manual on the Webley .455 Mark VI pistol. See attached photo. Honest mistake. If you have any questions, don't hesitate to ask. Michael E. Pawelek

Mike - this is our busiest time of year - just toss the one sent incorrectly and we will send the Webley .455 Mark VI Pistol No. 1 to you - sorry for our error. Abby Mouat



************************************************



Hello, Do you have the Lyman Catalog No.18? Thank you. Jim vandjj1318 (Ebay)

Hi Jim, No, but we do have a load of pre and post-war Lymans: LYMAN GUN SIGHTS and RELOADING - ALL CATALOGS Cheers, Rob



************************************************



Hi (ROB), seen you had pile of bear archery catalogs copys. Do they come as a real catalog like the originals ? Or just copyed on paper and sent Loosely stacked on top of each other ? Thanks oldfinds179 (ebay)

Hi Old... Well, neither actually. We print using a Xerox wax based transfer printer (high quality printing) in the same size paper but not double size and folded. Instead we bind the double sided printed sheets using a heat activated fabric binder strip. So, although not the same printing process as the original, they are a nice copy. If you want a number of them why not get just one to see how they shape up? That way we don't get a bunch of copies back if you don't like them. Cheers, Rob



************************************************



Hi Karl, Thanks for calling yesterday about Browning catalogs and manuals you have that you are willing to lend us and for sending the email. Looking at our files (the ones we have and have not processed) we have the three manuals and the 1990s catalogs. I don't think we have the three 1970s catalogs and those would be good to add but are certainly not worth a trip out to Brighton, we don't have an "office" anyway. Would you be willing to mail those three to us, Abby will reimburse the postage? Thanks again for thinking of us and remembering us from about 12 years ago! Cheers, Rob



************************************************



(Dear Abby) I am an old duck and goose hunter and collect OLT calls. It was great to find this Olt's 1947 Famous Game Bird Callers Catalog. Greg



************************************************





(Dear Rob) How much are shipping charges to the UK? Derek

Hi Derek, We don't know about the cost of shipping until we print and weigh the package, but if the online program charges the wrong amount Abby will adjust it for you. I see you sent pictures of originals, you do know we do reprints, right? Cheers, Rob



************************************************



(Dear Abby) I am trying to search for information concerning the above subject pistol. I came across your website, MAB (French) Automatic Pistols 1966 Gun Catalog during my search engines' investigations; however, I would like to ask a couple or few questions: 1. The picture seems to have some form of description, but I am not sure what that information is. Does that information have the parts list with the part numbers? 2. Is the information legible? 3. Is the pistol displayed a P-13 or P-15? I am unable to determine all of the model's numbers due to fuzzy characters. 4. Do you know of any firearms store that may carry parts for this pistol? Any and all further information that you are able to provide will be greatly appreciated. Please advise. Thank you. Arnaldo Rodriguez, MSgt (Retired)

Dear Arnaldo, Please see the index with the advert for the information you are seeking, I'll reprint it below. I'm afraid I don't know any part sellers but you might look at the list on our website as a starter place. Rob

MAB (French) Automatic Pistols 1966 Gun Catalog
Bayonne France
In French and English
Le Nouvelle arme Le Parabellum 9 m/m
MAB parabellum 15 and 8 cartridge
Specifications
ALL These HAVE EXPLODED PARTS VIEWS
Hello Charlie; charlehillebrand-0 (Ebay), Yes, for the Savage 1924 Component Parts Catalog the component parts of the M1912 are pictured and identified in the 1924 parts catalog. I don't know about the .22 long question, the M1912 is a .22 rifle but the specs in the 1916 catalog state that if longs or shorts or bb caps are used, the rifle will not work. The 1920 catalogs does not list the M1912 for sale so they must have stopped production by then. Cheers, Rob



************************************************



greetings;..I am a former customer going back several years..anyway, I am looking for a catalog that features Navy Arms Co. offering Cinese(?) C-96 Mauser Carbines with stock & wood forearms...somewhere in 1980-90's...Thanks, Guy R. Mundale - dustyrodes (ebay) (I sent him the correct issue- Rob)



************************************************



RWS Munitions (German) 1939 DOES THE BOOK LIST LARGER CALIBERS SUCH AS THE 20X138B? debells2 (Ebay)

Dear deb… 20mm, wow, big rifle? No, largest is 11.2 x 72 Cheers, Rob

(Dear Rob)ITS A LAHTI AT RIFLE USED BY THE FINNS MID TO LATE 1930'S SEARCH "2ND ANNUAL STONE MTN MG SHOOT DAY ONE" debells2 (Ebay)



************************************************

Rob and Abby, I just wanted to thank you again for accommodating my special request for a digital file last month. I just picked up the framed poster for my dad's Christmas present this morning (see attached). It turned out wonderfully- I can't tell you how just a simple consideration goes such a long way. Merry Christmas to you both! Blake Pettus



************************************************



Merry Christmas and a happy new year from Austria ! Willy :-)



************************************************



Dear Rob, Yesterday I received a package from you folks containing the Winchester Model 77 and Winchester Model 63 manuals I had ordered. The Winchester Model 77 manual looks fine, but the Winchester Model 63 manual only contains ten [10] printed pages [through figure 17] followed by 21 blank pages. Evidently there was a problem in printing the Winchester Model 63 manual. Please advise what I should do with the Winchester Model 63 manual that is misprinted – return it to you? I'd really appreciate a complete replacement ASAP, and maybe sending me a pdf in the meantime can be done. Please advise, Vic Lippa

Dear Vic, I guess the printers are tired after the holiday rush! I am so sorry, I'm printing you the new one now and will send you a pdf in a moment. Cheers, Rob



************************************************



(Dear Abby) Please send me the pdf catalog…….I paid yesterday. Thanks Raul (Chile)



************************************************



Dear L Smith, Thanks so much for your order and support for our efforts to preserve over 5000 old firearms and manufacturing catalogs, books and manuals. Your order has been entered in our print queue but it may take a few days to print, collate, bind and ship your order. Please see all our reprints at our website. Cheers, Rob and Abby Mouat, Cornell Publications

Shipment will come to you courtesy of the U.S.P.S. and U.S. Tracking will be available. Tracking on international packages will only go as far as Chicago, IL where the package departs the U.S.



************************************************





(Dear Abby) Hello again. I received this package today, without having to sign for it. However, the back cover is missing from one of the catalogs. And it is has a sticky caramel colored substance on it. These were supposed to be Christmas gifts.

Dear LBSmith) I'll send you another, with only two of us old folks it is hard sometimes to keep up with the holiday crush and still have a life ourselves. My mistake though so I'll fix it. Most people are reluctant to pay the extra charge for a signature receipt and we would have to stand in line to fill out the paperwork... we just don't have time unless we charge a whole lot more money than we do! Cheers, Abby

(Dear Abby)Thank you. The post office mistakenly thought a signature was required yesterday when they made their first delivery attempt.



************************************************



Hi there, I am writing a series of articles on Ross rifles for our local "New Zealand Antique and Historical Arms Association Gazette". Would you be OK with me using a couple of images from your "Ross 1909" and "1913" catalogue reprints (which I bought from you previously and you very kindly included an extra copy of a slightly different version) and from the "Lancaster 1900" catalogue which I have just bought, please? I would include Cornell in my acknowledgements. The Charles Lancaster connection was that he made up hunting rifles using the Ross 1900 action which I presume is the "Model 1900" listed in the catalogue contents. If not, there will be plenty of other interesting stuff in the catalogue. Keep up the good work. We are coming up for retirement in a couple of years and I don't know what the hell we are going to do. Nothing so interesting as what you two do I'm sure. Keith Mitchell.



************************************************



(Dear Abby) This order finally arrived and I just want to express my complete satisfaction and thanks with the product and the shipping. The packaging was fantastic as Canada Post managed to soak the box (delivered in heavy rain) but your plastic wrap saved everything. Thank you. Merry Christmas to all. John Gass



************************************************



Abby, The description says they are "bound" does that mean not stapled like originals so they won't open up flat? Just asking because most pictures of the bows go across two pages. Thanks, Rick

Hi Rick, We print Bears on 8.5" x 11" paper in color (those that were in color, some older ones weren't), both sides. The papers are then bound in a machine using a heat activated cloth-type tape. The result can be opened flat but there are white borders. So, our reprints are not forgeries of originals, a concession we have made to manufacturers and ephemera collectors to distinguish reprints from the originals. Cheers, Rob



************************************************


email Rob or Abby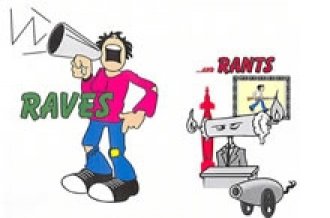 This jerk: eBay - jesh.us.6v0fxfju0s gave us a negative feedback at Ebay but not because he didn't like what we sent him, that was fine. Rather, he didn't like that w
e asked buyers to contact us before giving a negative
if they were disappointed. He felt it necessary to protect Ebay from our policies by giving us a negative.
I wrote:

Dear jesh.us.6v0fxfju0s,

Perhaps the wording of our note was not clear. The note was purposely brief, people rarely read more than a few words.

We have learned in 14 years on eBay that there are some people who thrive on the anonymity of the internet and enjoy being nasty. Those folks will give a negative feedback just for the sense of power it gives them irrespective of the object they purchased. We were trying to redirect those people to focus on the problem at hand- if they are unhappy with their purchase we will give them their money back, no questions asked, and they get to keep the publication for free. And, so far, it has worked; you can see we have perfect feedback from almost 20,000 customers.

I gather from your note that you are happy with what we sent you and the purpose of your negative feedback was to teach us a lesson. Consider us taught, we will change the wording on the paper we send to buyers to make clear that even if they get a refund and keep the publication for free they are not obliged to leave positive feedback. Is that satisfactory? May I please send you a feedback revision request for positive feedback?

Merry Christmas,
Rob Mouat

After several attempts to contact him he wrote this in return:


Hello to you.

These correspondences between us is (sic) of an intense nature. My primary concern is to preserve and to protect Ebay and its interests (policies, sellers, buyers and so on). Within this transaction, you are a seller ad I am a buyer. There is a simple abstract to be observed here. Either there is a policy inconsistancy (sic) or there is not. None of this has anything to do with yours nor my emotional opinions regarding how hard we work, feeling threatened , and so on. Please keep your personal opinions, especially speaking for anothers (sic) emotional state etc, out of these communications.

I am n o t trying to teach you any lesson.
I was otherwise occupied by the Holiday, and therefore not immediately available to address these concerns.
There is no emergency here. The pressures you appear to be going through regarding the timliness (sic) of resolving this issue is inconsistant (sic) with any reasonable process.
Your explanation as to why you worded your refund process is understandable in the sense of dealing with the rash and inconsiderate reactions from some buyers. Your stating your intention to reword the procedure to a more proper process etc, is very encouraging.

Stay cool and chin up! All will be settled.
Again, thank you for being a part of Ebay and all it has to offer, and thank you for your courtesy and civility. I am advised by Ebay to take no further action within this concern. Ebay has further advised me that they will be contacting you to resolve this issue.

I hope you had a very good Holiday.
People like this guy are a pain in the, well, you know. Ebay seems to know that and I've not heard from them and don't expect to. Meanwhile, we have to live with the bozo's negative soiling our near perfect feedback for en entire year. Enough. Rob