What a year it has been since the historic Women's March last January! Memories of that day — the unprecedented numbers, the energy, the clever signs and slogans, the bald eagle circling over our heads for blocks, the huge contingent from Alki and other UCC congregations — have sustained me all year.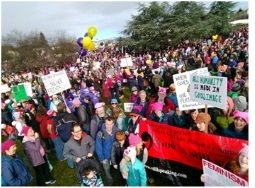 The majority of Americans really do value the ideas and principles that make our nation great. I don't expect to see the same turn-out this Saturday, and I'm not even sure I'll make it myself. But that's okay. Showing up to be counted is important, but most important is our continued commitment to protect the rights and dignity of immigrants and refugees, women, people of color, Muslims, "dreamers," the Affordable Care Act and a free press.
I appreciate that this year the march is followed by a day of action, with a variety of opportunities throughout the city. One of those is hosted by the Muslim Association of Puget Sound, with a tour, discussion and meal at the Redmond mosque, and I'm thrilled that so many of us are participating in that on Sunday afternoon.
But as important as the big moments and grand gestures are, the world is healed and sustained by the simple, daily acts of compassion. I was so moved last week reading the articles in the newsletter about all the good ministry our church members have been doing with and for homeless individuals and families at Camp Second Chance and through the DESC Estelle apartment project. I'm also so glad to see the ways our church and Kol HaNeshamah have started working together in these outreach ministries.
Thank you, dearly beloved, for all the ways you live lives of love and service. —
Pastor Diane
It's true – Lent is just around the corner. And for the ninth year running (and second year at Alki UCC) people of faith are gearing up for Lent Madness."
And what, pray tell, is that?," some of you may be asking.
Lent Madness began in 2010 as the brainchild of the Rev. Tim Schenck, an Episcopal priest with a great sense of humor, who combined his love of sports with his passion for the lives of the saints. Since then it has been mentioned in such respected publications as USA Today, the Washington Post and even Sports Illustrated.

With its unique blend of competition, learning and humor, Lent Madness allows participants to be inspired by the ways in which God has worked through the lives of saintly souls across generations and cultures. Throughout Lent, thirty-two saints will do battle to win the coveted Golden Halo. Based loosely on the NCAA basketball tournament of a similar name, this online devotion pits saints against one another in a bracket as voters choose their favorites throughout the Lenten season.
Here's how to participate: on the weekdays of Lent, information is posted at http://www.lentmadness.org about two different saints. Each pairing remains open for 24 hours as participants read about and then vote to determine which saint moves on to the next round. Sixteen saints make it to the Round of the Saintly Sixteen; eight advance to the Round of the Elate Eight; four make it to the Faithful Four; two to the Championship; and the winner is awarded the coveted Golden Halo.
The first round consists of basic biographical information about each of the 32 saints. Things get a bit more interesting in the subsequent rounds as we offer quotes and quirks, explore legends, and even move into the area of saintly kitsch.
This year Lent Madness features an intriguing slate of saints ancient and modern, Biblical and ecclesiastical. 2018 heavyweights include John the Evangelist, Margaret of Scotland, Richard Hooker, Katharina von Bora, and the apostles Peter and Paul.
The full bracket is online at the Lent Madness website and, while not necessary to participate, you can order The Saintly Scorecard: The Definitive Guide to Lent Madness 2018 here. This companion guide includes biographies of all 32 saints, a full-color bracket, information about how to fully participate, and a series of Pocket Lent trading cards.
If you're looking for a Lenten discipline that is fun, educational, occasionally goofy, and always joyful, join the Lent Madness journey. Participation is entirely free. You can simply download a bracket
and vote during the weekdays of Lent. If you want even more fun info you can order a copy of The Saintly Scorecard: The Definitive Guide to Lent Madness 2018, but it's not necessary since all the pertinent info will be emailed to you each day during Lent.
Look for the big colored bracket poster at church beginning February 11!
The end is near!!!
We're begging you, sign up now before it's too late.

Registration closes on January 31

.
You won't want to miss out on this wonderful event. Meet friends, have a great dinner, dance like it's 2018, and raise money for our church while you do it.
Get on the joy train to the amazing MARDI GRAS GALA!!
Register at alkiucc.org or contact one of us:
Kathy Herigstad
Charlie Hinckley
Julia Peeler
(206) 769-4165 (206) 718-2574 (206) 595-2059

Mardi Gras Gala
A Benefit for Alki UCC

Saturday, February 10 at 5:30 pm
The Hall at Fauntleroy
Join the Party!

Meetup Plans for Mosque Tour and Dinner
this Sunday, January 21

Wow! We have 31 adults and two children from Alki UCC attending this event on Sunday, and most of us want to carpool to Redmond.

Please be at Alki UCC by 2:00 pm so we can figure out drivers and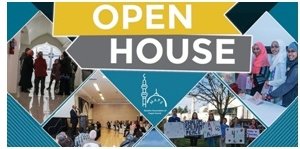 riders and be on our way by 2:15 pm sharp. Any questions? Contact Pastor Diane.

If you're going on your own, meet at the Mosque by 3:00 pm:
17550 NE 67th Ct, Redmond, WA 98052

Seattle Women's March 2.0

This Saturday, January 20 • 10:00 am
Cal Anderson Park
1635 – 11th Avenue, Seattle

Pastor Tom Wert of the German UCC Church is offering hospitality for "Marchers"
* starting at 9:30am
* just across the street on the east side of Cal Anderson Park
* with toilet access, shelter from cold and/or rain, and light refreshments

Put on those pink hats again! Some of us will definitely be marching,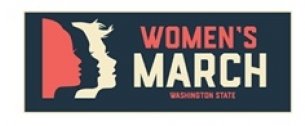 and some of us are not sure yet, but we learned from last year that trying to find each other in the crowd is crazy, so we've made no effort to coordinate an Alki UCC contingent. We're just so glad that this powerful resistance movement continues, and we are part of it in all sorts of ways through the good work you do!

The weekend of January 20-21, marchers will gather again in Seattle and in cities and towns across the country. Because the resistance is stronger than ever. Join us!

Saturday's March will be followed by a Day of Action with workshops and presentations throughout the Seattle area. More info here.

Susan Fairo's Ordination
Sunday, March 11 at 5:00 pm
We're thrilled to announce that Susan Fairo has been called to serve as the Interim Minister for Spirit of Peace UCC, a small but healthy and committed congregation on the Sammamish The bad news is that we won't have Susan in worship with us after January 28.

The good news is this means she will finally be ordained by the Pacific Northwest Conference of the UCC, and as her home church, we get to host the Service of Ordination. It's scheduled for Sunday, March 11, at 5:00 pm.

More details to follow, but if you want to help with the reception after the service, please let Pastor Diane know.

On a related note, because of this new call, Susan submitted her resignation to the Board of Directors last Tuesday night. We are very grateful that Charlie Hinckley has accepted the invitation to join the Board and complete Susan's term through June, 2020.

And Speaking of Saints ...
Please hold these people in your Prayers:

Jeff Jolly, whose mother died peacefully last Saturday morning. Fortunately, Jeff was able to get there (Ohio) in time to say goodbye.

Sallie Neillie is doing well after skin graft surgery on Tuesday.

Reese Hiroji Delaney Ogasawara, who was baptized in the worship service last Sunday morning on this 2-month birthday. Blessings to him and his parents, Cindy and Mike, and big sister Theo.

Many thanks to Dav'ne Stahley for tending to our Facebook page the last two years. She is stepping away to do other things and can't wait for someone else to pick it up! The next step is getting together an internet-presence team to work with Larisa on maintaining our Facebook page and upgrading our very old and outdated website.

For those grieving the recent death of a loved one:
Don Peterson, Jeff Jolly & family, Marshan & Darrell Goodwin-Moultry, Gary Gesellchen, Charley Rosenberry, Lisa Doepken and her grandson's family, t

he family of Mary Mason, Russ Thornock, Doris Colbert, Jason Huynh, Trish Dodds, Cynthia Jolly, Julia Chase, Scott Mathews, Maria Brodahl





Recent hospitalization, illness and other concerns:


Sue Morris, Mike Crowley, Linda Pillo, Sallie Neillie, Patty Magnuson's brother, Joe Aprile, Lisa Burke, Elise Piraino, Sallie Neillie, Joe Mitter, Dan Kennedy's brother, Dayle Banks, Lesa Henry,

Shelley Webster

Persons with ongoing needs: Jan Cochran, John Chowning,

Eric Erickson


For home bound members/friends of Alki UCC:

Ruth Okada, Doris Colbert



Wider World: A

ll those affected by the devastating California mudslides and wildfires; victims and survivors of extremist violence

around the world; v

ictims and survivors of the devastation in Mexico, Puerto Rico, Texas, Florida, the Caribbean, India and Bangladesh; prayers for fewer guns and for all victims of gun violence;

the migrants seeking refuge around the world, and for those who are trying to help and serve them. The rest of the missing schoolgirls kidnapped by Boko Haram, who remain in our hearts as long as they remain missing. The hungry and homeless, the ill and the addicted, the lost and the lonely; the unemployed; US officials and troops serving abroad.



Supporting Alki UCC:
Online
Giving
We're still following the lectionary this week, and we've got two great texts. The first is a few verses from the book of Jonah, and the second is Mark's version of the call of the disciples.

Jonah is told to go to Ninevah and preach, and he tries to get out of it. Jesus finds a few fishermen and says, "Follow me," and they do.
Here's your assignment: read the whole book of Jonah before Sunday morning. Don't freak out — it's only four chapters long! But it's way more than a "man swallowed by whale" story, and reading it through beforehand will help you understand why.
Choir Rehearsal
Sunday at 9:00 am
Worship
& Church School
Sunday at 10:00 am
Redmond Mosque
Tour & Dinner
Sunday at 3:00 pm
Carpool leaves church
at 2:15 pm sharp
Choir Rehearsal
Tuesday at 7:00 pm
"Honoring Choices NW"
Class on Advance Care Planning at Alki UCC
Sunday, January 28
11:30 am
Amy Hitchens and Emily Hitchens, RN, MN, EdD will lead an informative session on advanced directives, advance care planning and thinking ahead about what your wishes are if some unexpected health event or accident occurs.
Class attendance is limited to 12, so please RSVP with Emily Hitchens or the Church Office.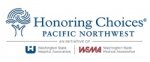 Both Amy and Emily are trained facilitators for Honoring Choices, which is sponsored by the Washington State Hospital Association and the Washington State Medical Association.
The session offers you increased knowledge about healthcare decision making, an opportunity to review or update your advanced directive, and definitions on who is qualified to be your health care power of attorney in the event you cannot make decisions for yourself.
The cost is $5.00 for newly updated materials/forms.
Coffee Hour Hosts: Please Read
If there is leftover (perishable) food, half 'n half or juice after Coffee Hour, please don't put those items away in the Church refrigerator. They probably won't be used and will just get thrown out. You are welcome to take leftovers home or give them away. Thank you!
Dan Kennedy is a new marketing partner with H&R Block Advisors and he can give you a certificate that will give you 10% off the cost of your personal or business tax prep if you haven't used them in the past year.
The offer is valid through April 10 of this year. Contact Dan for more information.
Get the Facts!
Joe Aprile Leads Two-Part Class on Climate Change
Sundays, February 18 & 25 after worship
"Climate Change, in my estimation, is the most serious threat that humanity faces — far overshadowing all other concerns. This class seeks to counter the alarming cultural inclination to discount the value of science and scientific enquiry and to regard real data as suspect. Understanding the gravity of the issue is a necessary first step towards coming up with meaningful solutions."
— Joe Aprile
Part I: Sunday, Feb 18
A valuable overview of the science behind the climate changes that are occurring and that are expected to occur as a direct result of the accumulation of greenhouse gases generated from human activity.
Part II: Sunday, Feb 25
Current and extensive evidence for the reality of a changing climate — an accessible introduction to the body of scientific climate change evidence and the likely consequences of an unabated release of greenhouse gases into the atmosphere.
You can sign up beginning Sunday after worship ... or contact Joe Aprile directly.
Call for Volunteers!
DESC "Adopt an Apartment Day" Saturday, Feb 17
Thanks to your generosity, the Outreach team has funds to "adopt" three apartments in the Estelle, a newly-built 91-unit affordable housing complex on Rainier Avenue in Southeast Seattle. The Estelle is a project of DESC, the Downtown Emergency Service Center, a Settle nonprofit providing emergency shelter and survival services for people living in a state of chronic homelessness.

Now we need shoppers to purchase household goods and furnishings in time for the first Estelle residents to move in on "Adopt an Apartment Day," set for Saturday, February 17. Volunteers are also needed that day to help set up basic furniture/furnishings and then celebrate as this wonderful new facility becomes HOME for 91 vulnerable, formerly homeless adults!
Contact Cinda Stenger for further information or to sign up.
The Estelle project epitomizes DESC's reputation as a national leader in implementing innovative, cost-effective strategies that end homelessness.
Alki UCC
Board of Directors
2017-2018
Rod Peeler, Chair
Shannon Peterson,
Vice Chair
Jason Huynh,
Secretary
Charlie Hinckley
Emily Hitchens
Sandra Johnson
Dan Kennedy
Patty Magnuson
Scott Mathews

Ex Officio:
(Voice but no vote)

Kristin Michael,
Business Manager
Diane Darling, Pastor