Carpe Hampton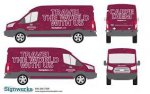 Hampton Inn joins companies seizing on the public's familiarity with the phrase carpe diem. The van slipped by too quickly at Logan International Airport for a photo but a Google search yielded this image.

We'd love for you to share, of course, we'd give you appropriate credit, the classical tidbits you come across. Zap them to editor Don Sprague.

Classical Conferences and Meetings in 2018

2018 Conferences

CANE—Classical Association of New England


March 16–17, 2017




University of Rhode Island




Kingston, RI


Representative: Donald Sprague

CAMWS—Classical Association of the Middle West and South


April 11–14, 2018




Hotel Albuquerque at the invitation of the University of New Mexico




Albuquerque, NM


Representatives: Allan Bolchazy, Bridget Dean, and Donald Sprague



B–C Author Presentations




Thursday, April 12, 2018





8:00–9:45 am


"The Roots of the STEMS," Anthony Hollingsworth, Roger Williams University, developer, Cicero's First Catilinarian Oration: A Digital Tutor



10:00–11:45 am


"The Battle Between History and Myth: A New Look at Livy's Oppian Law Debate," T. Davina McClain, Northwestern State University, author, Graphic Greek Grammar Cards

"Internal Synkrisis in Plutarch's Aratus," W. Jeffrey Tatum, Victoria University of Wellington, author, A Caesar Reader: Selections from Bellum Gallicum and Bellum Civile, and from Caesar's Letters, Speeches, and Poetry



"Ovidian Scenes on 18th–century Chinese Porcelain," Thomas Sienkewicz, Monmouth College,


coauthor, Vergil: A LEGAMUS Transitional Reader

"Catullus and the Swansong," Philip V. Barnes, John Burroughs School, conductor, Rome's Golden Poets



12:15 – 1:00 pm




Round Table Topics and Moderators


"The AP Latin Exam: A Conversation," T. Davina McClain, Northwestern State University, author, Graphic Greek Grammar Cards

"CAMWSCorps: Recording the Past, Imagining the Future," Anne Groton, St. Olaf College, coauthor, Thirty-eight Latin Stories



1:15–3:00 pm


"War Is Women's Business: Women and War Trauma in Greco–Roman Epic and Tragedy," respondent, Alison Keith, University of Toronto, A Latin Epic Reader: Selections from Ten Epics

"The Passion of Cleopatra (2017): Anne Rice's Sequel to The Mummy (1989)", Gregory Daugherty, Randolph Macon College, coauthor: To Be a Roman



Friday, April 13, 2018





1:30–3:00 pm




"Terror in a Turnus Town: Vergil's Wild West, and Ours," Robert T. White, Beaumont School,


coauthor, (forthcoming) Lectiones Memorabiles Volume III: Selections from Caesar, Catullus, Horace, Livy, Ovid, and Vergil

"Age and Aging in Roman New Comedy," respondent, Anne Groton, St. Olaf College, coauthor, Thirty-eight Latin Stories



3:15–4:45 pm




"Caesar, the Geographoi and Lewis and Clark: The Use of Animals in Describing New Lands,"


Kenneth Kitchell, University of Massachusetts Amherst, author, The Other Middle Ages, coauthor, Catullus: A LEGAMUS Transitional Reader



Saturday, April 14, 2018





11:00–12:30


"The History of Elegy and Ovid's Rustication Cure (Remedia amoris 169–98)," Barbara Weiden Boyd, Bowdoin College, author, Vergil's Aeneid: Selected Readings from Books 1, 2, 4, and 6, Vergil's Aeneid: Expanded Collection, Vergil's Aeneid 8 & 11: Italy and Rome, Vergil's Aeneid 10 & 12: Pallas & Turnus, coauthor, A Vergil Workbook

The 53rd International Congress on Medieval Studies


May 10–13, 2018




Western Michigan University




Kalamazoo, MI


Representatives: Adam Velez and Laurel Draper

ACL—The American Classical League


71st Annual Institute




June 28–June 30, 2018




University of Montana




Missoula, MT


Representatives: Laurel Draper and Donald Sprague


NJCL—National Junior Classical League
July 23–28, 2018
Miami University
Oxford, OH

2018 Winter/Spring Webinars



We are yet in the process of finalizing the roster of webinars for the winter/spring. We look forward to welcoming you to another round of FREE professional development webinars. Attendees receive a certificate acknowledging their professional development participation.

We will be launching the Winter/Spring Webinars with the return of a webinar presenter all-time favorite, Kelly Northrup of The Webb School. We are working out dates with TJ Howell and Ted Zarrow who gave a very popular active Latin webinar last year and with Columbia University's Caitlin Gillespie who will share her insights on Boudica. We'll have the full schedule wrapped up soon. In the meantime, join us for Kelly Northrup's webinar.

Tuesday, February 6, 6–7:00 pm ET
"No Time for a Project: Four Quick Cross-cultural Activities for Latin" Kelly Northrup, The Webb School

Cultural projects, which often rely on translated texts, take too long and don't focus enough on language skills. In this webinar, four 30–45 minute cross-cultural discussions/projects will be shared. Each begins with a Latin text and culminates in a single night's homework using Latin and tied to a relevant grammar point. The projects can complement any beginning Latin program.

Following a brief stint as a visiting instructor at Knox College, Kelly Northrup has taught Latin
at all levels from seventh grade to AP at the Webb School, Bell Buckle, Tennessee, since 2007.
In 2006 she was awarded one of the five Student Teacher of the Year Awards at Indiana University, and in 2007 she received the Amy High Scholarship to study at Papal Latinist Fr. Reginald Foster's Aestiva Romae Latinitas (Summer Latin in Rome) program. At Ursinus College, she was valedictorian and inducted into Phi Beta Kappa. She is a frequent contributor to the LNM Teachers' Lounge and a favorite LNM webinar presenter.

If you have suggestions for Fall 2018, please contact Don Sprague.

---
What Equipment Do I Need for B-C Webinars?

To participate in Bolchazy-Carducci Publisher sponsored webinars you will need high-speed internet access, computer speakers/headphones, current web browser, and the link to the webinar virtual meeting space, which is provided in your webinar invitation.
Webinars Make for User-Friendly Professional Development

Participation is free. All webinars provide opportunity for participants to ask questions. Learn lots—attend as many presentations as you can. Bolchazy-Carducci Publishers provides documentation for your participation. You can share this with your supervisors. Many webinar presenters provide handouts, etc.
National Greek Exam
deadline: January 20, 2018
regular* administration: February 26–March 3, 2018

National Mythology Exam
deadline: January 15, 2018 EXTENDED to the 20th!
administration: February 19-March 3, 2018

National Latin Exam
deadline: January 20, 2018
regular* administration: March 12–16, 2018

National Roman Civilization Exam
deadline: February 2, 2018
administration: February 7–March 9, 2018

National Latin Vocabulary Exam
deadline: February 2, 2018
administration: February 7–March 9, 2018


Exploratory Latin Exam
deadline: March 1, 2018
administration: October 1, 2017–April 1, 2018

Bernice L. Fox Classics Writing Contest
deadline: March 15, 2018

p

ostmark

*check online for early administration dates.

Bolchazy-Carducci Publishers provides eTextbooks on a variety of eBook platforms. Bolchazy-Carducci textbooks are available through VitalSource,

GooglePlay

,

Chegg

, RedShelf, Adams Book, Follett,

MBSDirect Digital

, and ESCO. Each eBook platform offers a variety of tools to enhance the learning process. eBooks have the same content as our traditional books in print.
eBooks are purchased from the eBook provider. For direct links to purchase Bolchazy-Carducci eTextbooks, visit the title's product page on Bolchazy.com. Just above the product description there is a list of the eTextbook providers and a direct link to purchase the eTextbook. Some eBook providers sell directly to schools—check with your school to make these purchases.
You can read eBooks on a Mac, PC, iPhone, iPad, Android, or a variety of eReaders. Review the eBook providers specifications.
The eyeVocab software leverages human memory for distinctive affective images* presented in isolation to radically improve the speed, depth, and permanence of second language vocabulary acquisition. Images are drawn from classical art, both western and eastern, from photojournalism and historical photography, great book illustration, and other sources.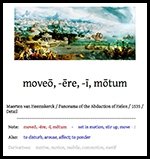 *Learn how images are chosen.

Far more than a set of electronic flashcards, the multimodal vocabulary program facilitates a significantly deeper learning and retention. Students will readily master the frequent Vergil and Caesar vocabulary for the AP® Latin Exam and thereby devote far more of their study time and energy to reading and discussing De Bello Gallico and the Aeneid.

eyeVocab programs correspond to the following B-C books.

Caesar: Selections from his Commentarii De Bello Gallico
(Mueller) (218 words)

Vergil's Aeneid: Selected Readings from Books 1, 2, 4, and 6
(Boyd) (162 words)



Vergil's Aeneid: Books I–VI


(Pharr) (292 words)

Latin for the New Millennium Level 1

(423 words)





Introductory rate for each of the AP® Latin programs is $14.95. The LNM 1 and LNM 2 introductory rate is $24.95 per program. For site licenses, contact Miles Becker at sales@eyeVocab.com.




Click on each title to learn more.
The Pompeiiana Newsletter created and edited by Bernard Barcio ran from 1974 through 2003. The newsletter offered a place for Latin students to publish comics, stories, games, and articles, and was a beloved resource for Latin teachers. In 2008, Barcio granted Bolchazy-Carducci Publishers the rights for all of the Pompeiiana Newsletter. B-C is proud to serve as curator for this archive and has made the issues available for teachers, students, and friends of the classics. Check out http://pompeiiana.blogspot.com/
Each September, Bolchazy-Carducci mails its Roman Calendar to Latin teachers across the nation. Watch for yours! If you're not on that mailing list, send a note TODAY to info@bolchazy.com. Put Roman Calendar in the subject line and provide us the USPS address to which you wish the calendar to be sent. The calendar is also available in a digital format.
Preview Bolchazy-Carducci Titles

Preview Bolchazy-Carducci titles before you purchase using Google Preview.
---

Downloadable Products
iPodius - Bolchazy-Carducci Publishers online shop for: audio, software, video, and a treasure trove of teacher-created materials in the Agora.
---
BCP Facebook Fan Page
Become a FAN of Bolchazy-Carducci Publishers, visit our Facebook Fan page for the latest news from BCP.
---
BCP Blog
Visit the BCPublishers Blog for B-C news and information.
Follow the B-C blog to learn about the changes in Latin for the New Millennium, Levels 1 and 2.
For instance, learn about the enhanced derivative coverage in the Second Edition.
---
BCPublishers on Twitter
Follow us on Twitter

---
AP® is a trademark registered and/or owned by the College Board, which was not involved in the production of, and does not endorse, this site.
These products have been developed independently from and are not endorsed by the International Baccalaureate (IB).
Editor's Note



All of us at Bolchazy-Carducci Publishers wish you, your families, your colleagues, and your students a happy and productive New Year. May the New Year hold many an "ah ha" moment for your teaching and for your students' learning. May your students enjoy their Latin studies and take delight in making connections between those studies, their own life experience, and their other studies.




Here at Bolchazy-Carducci Publishers, it's a new era for the company as Marie Carducci Bolchazy has retired and passed the company's presidency on to Bridget Dean, PhD. Bridget worked as Editor and Managing Editor at Bolchazy-Carducci before being named President. She has coordinated the company's editorial projects as well as its promotion and marketing activities. Bridget holds her PhD and MA in Classics from The Ohio State University and her BA in Classics from the University of Wisconsin, Madison. Her special interests in teaching and research were ancient religions and mythology. Bridget has an editing certificate from The University of Chicago, Graham School. She has taught at The Ohio State University and Ohio Wesleyan University. Bridget has also worked with high school students, both as a tutor to public school and home-schooled students and as an instructor for the Johns Hopkins Center for Talented Youth. Please join us in congratulating Bridget on this appointment. Dux femina facta! Please join us in welcoming and congratulating President Bridget Dean!





We look forward to continuing to provide you with the personalized and attentive customer service for which Bolchazy-Carducci is known and to serving the classics community and its classroom needs. The legacy of Lou and Marie Bolchazy inspires each member of the Bolchazy-Carducci team.




All best,



2018 Joint Meeting of the Archaeological Institute of America and the Society for Classical Studies Report

Mother Nature wreaked havoc across the eastern United States just as classicists were packing their bags to attend the annual meeting of the AIA and the SCS. Some 2,400 classicists had preregistered for the annual meeting and had made travel plans to arrive in Boston by Thursday, January 4. At least a third of those individuals were unable to make it to cold, blizzardy Boston. Our own Bridget Dean arrived at O'Hare International Airport in Chicago late Wednesday afternoon to be given a boarding pass for a flight to Cleveland, Ohio! And, that was without the promise of a timely flight to Boston. Needless to say, she was both disappointed and frustrated, and after consultation, decided to remain in Chicago. Vice President Allan Bolchazy and editor Don Sprague had earlier flights on Wednesday and, thus, arrived in Boston before the predictions of a major snowstorm resulted in a massive flurry of flight cancellations.
Allan and Don spent Thursday morning assembling the Bolchazy-Carducci book display in the exhibit room at the Marriott Copley Square Hotel that served as headquarters for the joint annual meeting. Normally, Thursday afternoon in the exhibit hall is pretty quiet but thanks to the impending storm and a number of attendees having been able to fly out earlier than planned for the conference, a steady stream of attendees checked out the various exhibits. As the weather outside was frightful, folks chose to stay inside!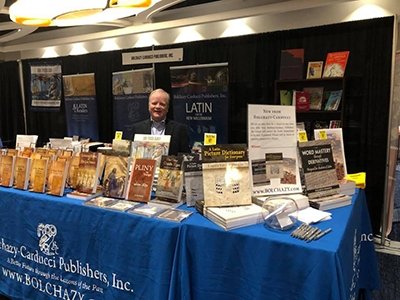 Editor Don Sprague at the Bolchazy-Carducci booth at AIA-SCS. The high top table in the front featured new titles and the nineteen BC Latin Readers designed for college Latin courses.
Thursday morning saw the temperature plunge while snow and winds combined for what was called a "bomb cyclone" that worked its way from the southeast up the Atlantic coast to New England. Fortunately, the conference headquarters, the Marriott Copley Square, was connected via covered walkways to the Westin Hotel that also hosted presentations and attendees. In addition, a skywalk from the Marriott led to the Prudential Center with a variety of shops and restaurants. For Thursday and Friday dinner, thanks to the skywalks, Allan and Don were able to limit their exposure to the elements to a 100-yard and a 50-yard dash respectively to seafood restaurants near the Prudential Center!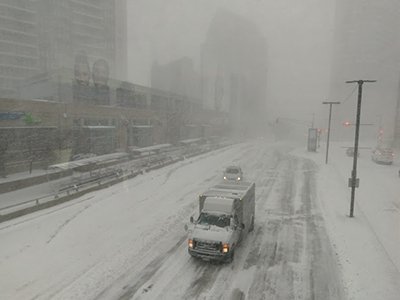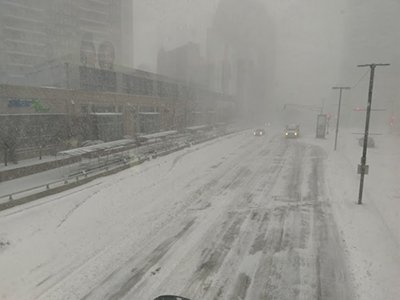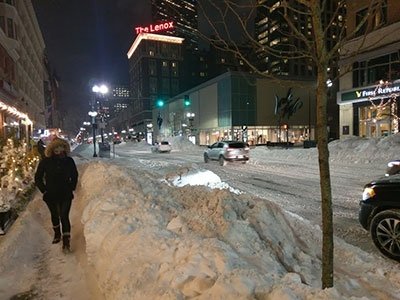 Some fourteen inches of snow fell on Boston. The hurricane level winds left drifts near the Marriott and caused flooding along the harbor. The City of Boston Department of Public Works did a great job in clearing the streets. As the locals would say "wicked bad weather," indeed!
Though attendance was lighter than desired, the conference provided Bolchazy-Carducci an opportunity to introduce its texts to some instructors less familiar with our materials, to hear from instructors how much they appreciate and how they use the BC Latin Readers and combinations thereof in their courses, and to connect with some of our authors as well as with former students.
If you had registered for the conference and were unable to attend and would like to take advantage of the conference discount (good until February 6) on a book order, do contact us.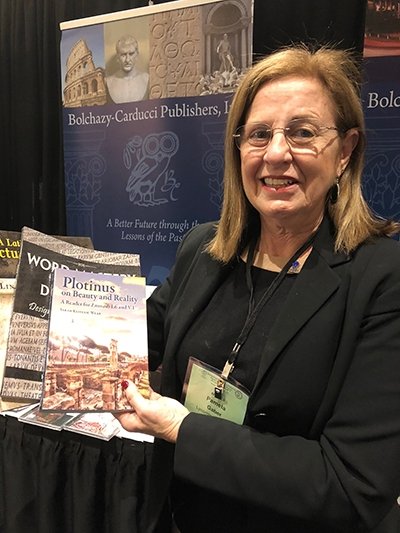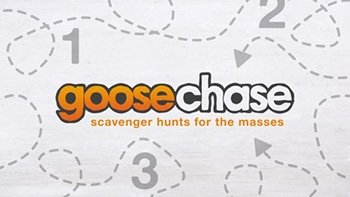 At Bellarmine College Prep, our students take their semester final exams in December before the holiday break. I wanted to find some fun and creative ways for the students to review in preparation for the exam. I had read about an app called GooseChase that would allow me to leverage technology to run a scavenger hunt. So, I decided to try it out. On the GooseChase web platform, the teacher creates tasks, called "missions," for the students to complete. To participate in the scavenger hunt, students need the GooseChase iOS app downloaded to an iPhone or iPad.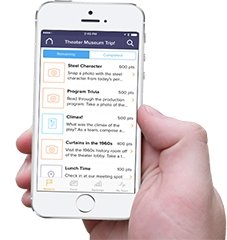 I found it fairly simple to input my "missions" into the online platform. There are four different types of missions to choose from: photo missions, video missions, text-based missions, and GPS missions. I used a combination of all four types to keep interest high. I had students submit pictures of items around campus that illustrate vocabulary we had studied. Some missions required students to translate a clue and "check in" from the location indicated by the clue. Other missions instructed students to create a video explaining or demonstrating a grammatical concept. For each mission, I assigned a point value. Some missions were quick and easy and, therefore, earned fewer points than more complex tasks.
On the day that we played, I made sure that the students had downloaded the app and created a free account. I assigned students to teams, told the teams that they had fifteen minutes to earn as many points as possible, and hit the start button on the GooseChase online platform. My students had a very fun and active review session using GooseChase. To learn more, visit www.goosechase.com/edu.

Lynne West
Latin Teacher and Instructional Specialist
Bellarmine Jesuit College Prep
San Jose, CA

---
Editor's Note:
This summer Lynne West will again be offering a workshop called "Simple Strategies for Technology Integration" at the Taft School's Education Center in Watertown, Connecticut. The workshop runs from July 23 to July 27 and will provide lots of opportunities to both learn about great tools and practice using them. For more information, visit the
website
; in the disciplines window, choose "Technology" and place a check in the E-week box.
Bolchazy-Carducci Publishers extends its deepest congratulations to the following classics professors honored by the Society for Classical Studies with the 2017 Awards for Excellence in Teaching at the College Level.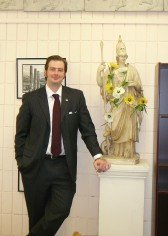 E. Del Chrol of Marshall University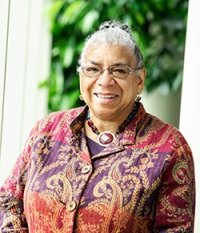 Shelley Haley of Hamilton College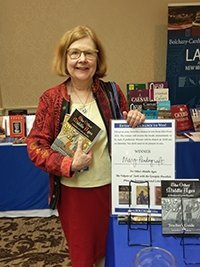 Mary Pendergraft of Wake Forest University
Resources & Teaching Tips

√ Martin Luther King, Jr. and the Classics


Timothy Joseph, Associate Professor of Classics and Classics Chair at the College of the Holy Cross, offers some reflections on Martin Luther King, Jr.'s connection to the ancient Greeks. Teachers can share this with classes during February, African-American history month.
Students who have learned about Roman oratory and can recognize the use of figures of speech can individually or in small groups analyze one of King's famous speeches and the author's use of figures of speech. They can analyze the "I Have a Dream" speech or the "I've Been to the Mountaintop" speech.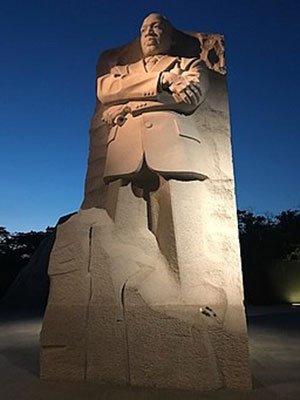 The Martin Luther King, Jr. Memorial in Washington, DC. Photo courtesy of Korengel1/Creative Commons 4.0.

√ The Nexus between the Literary and the Archaeological Records
Looking for something a little different to do with your Latin 3 or 4 class? Check out this ethnographical selection from José de Acosta's Natural and Moral History of the Indies. In the selection, Acosta references the quipu. Sometimes called "talking knots," they were recording devices used in the Andean region of South America. A quipu usually consisted of threads or strings of llama or alpaca hair or of cotton cords. The cords contained numerical and other values encoded by knots in a positional system based on ten. The Inca used the system to collect data and keep records such as tax collection, census records, dates and calendars, and military organization. A quipu could have only a few cords, or as many as 2,000 cords.

For classroom distribution and use only, please use the following pdf of the Latin selection from Rose Williams's Latin of New Spain referenced above. For your convenience, we include a copy of the translation and answers from the Latin of New Spain Teacher's Manual. For a thumbnail sketch about Acosta, the following is also taken from Latin of New Spain.
A Harvard University undergraduate recently cracked the code of the quipu—the pre-Columbian equivalent of the Excel spreadsheet.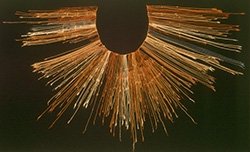 An Incan quipu from the Larco Museum in Lima, Peru. Photo courtesy of Claus Ableiter/Creative Commons 3.0.





√ Nihil novum sub sole!


How did the Greeks prove that the earth was round?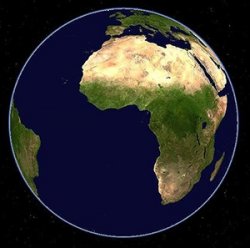 NASA's World Wind software provides an aerial view of Earth. Photo courtesy of Wikimedia Commons.





√

Just for Fun




Speculation about a Roman board game, discovery of a Roman practical joke, and some Neo-Latin alternatives for American state mottoes.

√ Summer Study Opportunity for K–12 Teachers



Applications due March 1, 2018 for participation in Gustavus Adolphus College NEH summer seminar on Roman daily life for K–12 teachers.
eLitterae Subscribers Special Discount

eLitterae Subscribers
Special 40% Discount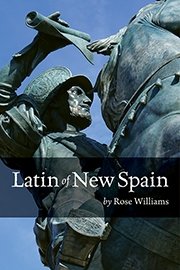 Paperback, xx + 280 pp., ISBN: 978-0-86516-833-6

$19.00

$11.50
This offer is valid for up to ten (10)
copies, prepaid, no returns.
Discount is not available to distributors or
on products distributed by Bolchazy-Carducci Publishers.
This offer expires 02/19/18.
(Please note that there will be no adjustments on previous purchases.
Offer is non-transferable and subject to change without notice.)
Enter coupon code eLit0118
on the payment page. The special

offer pricing will be charged at checkout.