Co-hosting reSOULutions retreat pt 4 ~ the healing with Juan & Esco & our crew in Colombia gave me so much joy and growth in so many ways, I am still beaming ear to ear. See the links in this article for video clip from Grant Henry Media.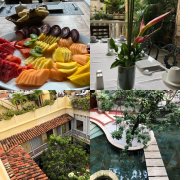 One great lesson I learned in the holidays leading up to the retreat was taking family time the entire holiday week, to relax and prepare for leading my retreat. I realized that it was the first whole holiday week off that my relentless boss has given me in the sixteen years I've been a self-employed yogi.
This was bright and endearing to me, and much appreciated. I enjoyed being Bob Cratchit even as I recognized my own rueful Scrooge. I hope they are on better terms henceforth!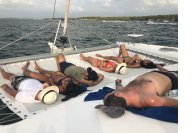 So many reSOULutions gifts I take away ~ I so enjoyed teaching daily, exploring new people and experiences, the fresh fruit, the delicious local meals. And
I really enjoyed taking class 2x daily with my talented team.
Magically I awoke daily ready, eager, and refreshed, on far fewer hours of sleep than I need in New York.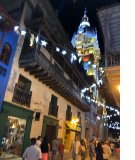 There was a self-regenerating energy on this retreat that I have not experienced on many trips.
I intend to recreate the magic formula in my day-to-day life ~ constant new experiences, loving people all around me, teamwork, and lots more enjoying of taking classes, along with teaching.
And the tropical climate? Ah,
I do long to recreate that! But besides doing more hot yoga, much of that may need to be interior!
Feb. 10 Valentine Restorative
Feast yourself to a Saturday afternoon of Valentine restorative February 10th, in deluxe restorative postures supported on bolsters and blankets, soothed by lulling music and selected aromatherapy to balance each of your seven chakras.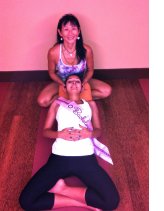 My angelic team of trained Restorative Teacher assistants and I will attend to your comfort and ease, through reassuring adjusts and loving assists. My voice guides you in healing meditations for each chakra, and in mantra - sound therapy - which you can vocalize or activate wholly silently.
Members and non-members equally welcome. No yoga experience is necessary to enjoy the profound practice of Restorative trance yoga meditation. Think of it as a Spa Yoga treat for your own beloved self! Give yourself ~ and perhaps a grateful friend ~ an afternoon treat!
2-4PM Saturday Feb 10th at Pure Yoga East. Pre-registration strongly advised as space is limited, and it helps Mary prepare her aromatherapy take-home gifts for the exact number of guests. 10% of my proceeds for this event will go to God's Love We Deliver, bringing meals and cheer to homebound ill New Yorkers.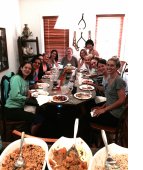 Ora Ramat, owner of Wagging Tail Yoga Studio and Retreat Center and I invite you to join us for our #11 Wagging Tail Yoga weekend retreat this May 4-6, in Swan Lake in the town of Bethel, NY, the Catskills.
We begin Friday evening with a lovely dinner and a Restorative class, then settle into our beautiful historic renovated farmhouse on the 100-acre estate.
All meals are catered on-site (dietary needs accommodated) and all classes take place in the gorgeous yoga studio built directly across from our retreat house.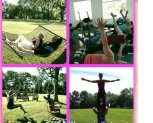 We typically have a group of half repeat and half new students, ranging joyfully from yoga newbies to yoga teachers, of all yoga lineages, age 16 to 76. With a maximum of 14 participants, we customize each cozy, welcoming retreat to each wonderful group, and our classes reflect our students' needs.
See the Retreat page and reach out with questions; spaces fill up!
May 26-29 AcroYoga Elemental Immersion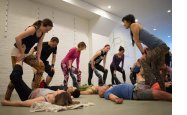 This Memorial Day weekend, May 26-29, join Brian Davis and myself for a 4-day NYC Elemental AcroYoga Immersion, a 30-hour deep dive into the art of AcroYoga from the school that grew it to global prominence, California based AcroYoga International.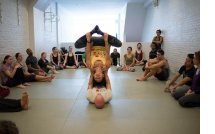 Designed for experienced AcroYogis bent on the path to teacher training, for beginners with a dedication to intensive training, and all those in between, t
he Elemental is a mini Solar and Lunar (acrobatic and therapeutic) Immersion, all in one.

You will learn: a 40-minute solar asana and a 20-minute lunar asana you can use in your own personal practice, step by step inversion building blocks and spotting techniques, acrobatic flying flow, therapeutic flying flows, and Thai bodywork flows. You will also saturate deeply in training techniques, observe first-hand group dynamics and room management, and self-knowledge skills.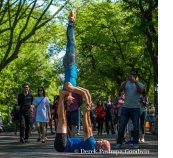 The AcroYoga Immersion curriculum was honed over many years and only teachers who have invested extensive years and hours are certified Immersion Teachers. Come and experience this life-changing and practice-enhancing 30 hours.
Yoga Alliance CEUs applicable.
Limited 3-day, 2-day, and 1-day weekend options are available. Pre-register here.
Questions? Email me!
Valentines weekend, join us Sunday Feb 11th with a loved one as you both learn to give and receive a delicious 45-minute Thai bodywork sequence, expertly guided by myself and my teacher friend Bassam Kubba.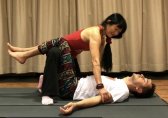 We've created a sequence that is accessible even if you've never given Thai before, and is deep and rich and satisfying even if you are quite experienced.

Thai Yoga bodywork is done on a mat on the floor, fully clothed, moving the receiver through gentle body shapes and applying gentle pressure on the energy lines, to ease sore muscles and enliven circulation and rebalance the body's systems.

5:30-7:30 Sunday February 11th at Om Factory Fashion District. Limited space! Pre-register to ensure a spot.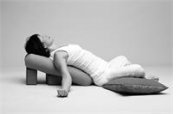 Whether you are a yoga teacher, fitness instructor, healer, caretaker, or student desiring to deepen your practice, you are welcome to my 100-Hour Mother Mary Restorative Teacher Training, and my 25-Hour Yoga Nidra Teacher Training.

The 100-Hour Restorative may apply to the Pure Yoga RYS 300-hour Advanced Teacher Training.

Any 4 of the Levels of the 100-hour Restorative Training may be taken individually, with teacher approval, for Yoga Alliance Continuing Education credits (CEUs). They are in June, July, August, and September.

The 25-hour Yoga Nidra Training is also fully applicable for CEUs. The dates are Sept. 22-23.

Contact Angela Leigh for registration questions, and me for content questions.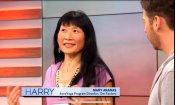 Immediately back from my Cartagena retreat, I led a team of AcroYoga assistants in a fun, 5-minute appearance on Harry Connick Jr's The Harry Show.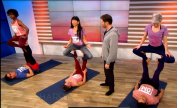 The entire production team could not have been more welcoming and excellent at their jobs! We also enjoyed doing our job tremendously, and made many new friends, including new backstage flying friends!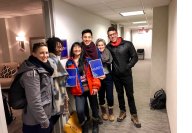 The 5-minute segment aired twice, and a 30-second snippet is available on Instagram and YouTube.

Grab me in person to see the whole clip which I taped on my phone!


I respect your email privacy and do not share lists. Please feel free at any time to Reply, Forward, Subscribe, or Unsubscribe!

We live very breathing 3D lives ~ but we can cyber holler, cyber wave, cyber connect, so that we can connect live with one another when opportunities permit!

And I hope they will permit ~ on a retreat or festival or just at a cultural or social event in this our wonderful world in 2018!

Love, love, & many Ommmms,

Mary