It's the Sunday before Lent begins, and on the liturgical calendar that always means the gospel story is about the "Transfiguration" of Jesus — when he went up to a mountain with several disciples and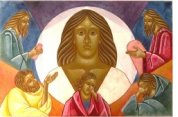 suddenly they saw him all bright and shiny ("transfigured"), and speaking with Elijah and Moses.
But this time I'm focusing on the Old Testament passage for the day, about Elijah being taken up into heaven in a chariot of fire. You may have some recollection of the story, mainly about the fiery chariot and whirlwind, but let's dig in deeper. Just as the Jonah story is about a lot more than "man swallowed by whale," this is about a lot more than "prophet takes off to heaven in fiery chariot."
But First ... The Mardi Gras Gala!
Carnival! Party Time!

Pastoral Notes on Why Saturday's Gala is a Very Sacred, Important and Christian Event
(besides being great fun for a great cause).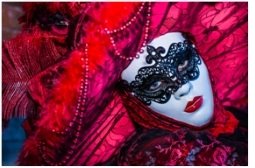 "Throughout history, in every part of the world, civilized societies have recognized the need to return for a brief moment to chaos. For every step into light and consciousness that a society is able to make, it must remember and honor what is dark, messy, disorganized and iconoclastic just the other side of our human consciousness. The unacceptable impulses in our human nature insist on being admitted into our awareness. It is only when those impulses remain unconscious that disaster follows."
So writes Gertrud Mueller Nelson about the Christian celebrations of Carnival and Mardi Gras. (Dancing With God: Family Ritual and Community Celebration.) The ancient Romans celebrated Lupercalia, a circus-like festival in mid-February similar to pre-Lenten celebrations we are familiar with today. When Christianity became the legal religion of the Roman Empire, the early Church leaders decided it was better to incorporate certain aspects of pagan rituals into the new faith rather than attempt to abolish them altogether.
Thus "Carnival" was created as a period of merriment that would serve as a prelude to the penitential season of Lent. Carnival was derived from the Latin word carnelevamen which translates as farewell to flesh because Lent is a time for fasting. In France it was known as Mardi Gras, because of the tradition of cleansing the home of rich food items that would be given up for the Lenten fast. The rowdy celebration was a way to enjoy all the food to excess by before Lent began on Wednesday, hence the name Mardi Gras, which means "Fat Tuesday/"
The festival flourished during the Middle Ages, primarily in Roman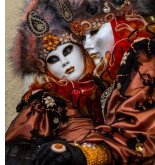 Catholic countries. Lenten Carnivals are still celebrated in Europe and the Americas today, most notably in Nice, France; Cologne, Germany; Venice, Italy; and Rio de Janeiro, Brazil. New Orleans holds the most famous celebration in the United States.
As Gertrud Nelson explains, for all their look of madness and possible danger, Carnival and Mardi Gras celebrations provides a safe, ritualized time for expressing our irrational and unacceptable aspects, especially since they go hand in hand with Ash Wednesday and the season of Lent. They are about the darkness within us and the light within us; the rhythms of fasting and feasting; the unconscious and the conscious; our denial of death and the recognition of our mortality. Mardi Gras without Ash Wednesday is frivolous; Ash Wednesday without Mardi Gras is depressing. But together they create a time and space to celebrate what it is to be fully human.
So let's party like crazy on Saturday night, to the glory of God!
— Pastor Di
And Then ...
Ash Wednesday on February 14
Yes, this year it is also known as Valentine's Day. So we promise you chocolates along with the ashes — unless you've decided to give up chocolate for Lent, in which case far be it from us to lead you into temptation on day one! But seriously, we have a simple but lovely open-house kind of day planned for Ash Wednesday.
From 8:00 am to 8:00 pm our beautiful canvas labyrinth will be laid out in the back of the sanctuary all day for those who want to walk it, with gentle music in the background. If you've never walked a labyrinth before, fear not. Printed material will be available, and it's pretty intuitive. It's not a maze, with dead ends, but a clearly marked circular path in toward the center and back out again.
You might begin your walk with a simple prayer such as, "God, help
me to hear your still, small voice in my life" or "God, lead me in the paths of love."
At 12:00 Noon & 7:00 pm Pastor Diane will be in the sanctuary to lead you — whether it's only you or many — in a very brief service of silent prayer, scripture reading, reflection and imposition of ashes. Feel free to come early or stay late to walk the labyrinth before or after.
It's a quiet launch of our Lenten Series, "Listen: Hearing that Still Small Voice and Finding Your Own." More about that in next week's newsletter.
Last Call for Volunteers!
DESC "Adopt an Apartment Day"
Next Saturday, February 17
Thanks to your generosity, the Outreach team has funds to "adopt" three apartments in the Estelle, a newly-built 91-unit affordable housing complex on Rainier Avenue in Southeast Seattle. The Estelle is a project of DESC, the Downtown Emergency Service Center, a Settle nonprofit providing emergency shelter and survival services for people living in a state of chronic homelessness.


More hands are needed to make this place a warm and inviting home for its new tenants! It's easy work: you'll unpack shipping cartons, fold towels, hang shower curtains, make beds, stock the kitchen, set the table.

Bring your love and enthusiasm, everything else is provided. Just show up, it's only a couple of hours! We're helping to create a safe and secure place for people who have never had one before.

We've signed up for the afternoon time slot,



DESC "Adopt an Apartment" Day


Saturday, February 17


1:00 to 3:00 pm.



We can carpool from church to Rainier Valley.

Contact Cinda Stenger for further information or to sign up.

Calling all Tiny House Volunteers!
Join the Building Team at Camp Second Chance

If we can provide at least 10 volunteers per day, we have an

opportunity to build a Tiny House at Camp Second Chance/White Center the weekend of February 23-25.
We're looking for builders, people with carpentry skills and/or tools (saws/hammers, etc) to use. We also could use folks to provide food for the workers or just be willing to show up and do various tasks as they arise.
Sign up for one or more days: Friday, February 23, Saturday, February 25, Sunday, February 26.
It would be helpful if someone can recommend a construction person who can serve as lead on the project.
Please contact Kathy asap so we know what day(s) to book.
In Our Prayers:



We just learned that Mike Crowley died this morning from a heart attack. We'll pass along more information as it comes in.

Bob Jackson who has been in Swedish Hospital this week. He is on the mend and should be home this weekend, but is very disappointed to miss the Mardi Gras Gala.

It was great to have Dayle Banks back in worship last Sunday and doing so well after the final surgery on her foot.

For those grieving the recent death of a loved one:
Jeff Jolly & family, Gary Gesellchen, Charley Rosenberry,

Russ Thornock, Jason Huynh, Trish Dodds, Cynthia Jolly, Julia Chase



Recent hospitalization, illness and other concerns:


Dayle Banks, Don Peterson, Sue Morris, Linda Pillo, Sallie Neillie, Patty Magnuson's brother,

Shelley Webster, Jan Cochran

For home bound members/friends of Alki UCC:

Ruth Okada, Doris Colbert


Wider World: A

ll those affected by the devastating California mudslides and wildfires; victims and survivors of extremist violence

around the world; v

ictims and survivors of the devastation in Mexico, Puerto Rico, Texas, Florida, the Caribbean, India and Bangladesh; prayers for fewer guns and for all victims of gun violence;

the migrants seeking refuge around the world, and for those who are trying to help and serve them. The rest of the missing schoolgirls kidnapped by Boko Haram, who remain in our hearts as long as they remain missing. The hungry and homeless, the ill and the addicted, the lost and the lonely; the unemployed; US officials and troops serving abroad.



Supporting Alki UCC:
Online
Giving
Mardi Gras Gala
Saturday at 5:30 pm
Choir Rehearsal
Sunday at 9:00 am
Worship
& Church School
Sunday at 10:00 am
Choir Rehearsal
Tuesday at 7:00 pm
Ash Wednesday
8:00 am to 8:00 pm
Parlor/Sanctuary open
for Labyrinth Walks/
Meditation
Noon
& 7:00 pm
Short services with ashes
Get the Facts!
Joe Aprile Leads Two-Part Class on Climate Change
Sundays,
February 18 & 25
after worship

Part I: Sunday, Feb 18
A valuable overview of the science behind the climate changes that are occurring and that are expected to occur as a direct result of the accumulation of greenhouse gases generated from human activity.
Part II: Sunday, Feb 25
Current and extensive evidence for the reality of a changing climate — an accessible introduction to the body of scientific climate change evidence and the likely consequences of an unabated release of greenhouse gases into the atmosphere.
Contact Joe to sign up.
Interfaith Advocacy Day in Olympia
Tuesday, February 20,
9:00 am to 3:00 pm
Meet at the United Churches of Olympia
Register now to have a better chance of FAN staff securing an appointment with your legislators.
RSVP here. This event is $15.00 per person, payable with a credit card online through the RSVP link, over the phone at 206.625.9790, with check mailed to FAN at 3720 Airport Way S, Seattle, WA 98134, or by bringing $20.00 to the door.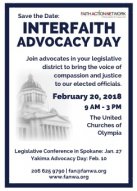 Lance Lu Jazz Quartet
Headlines Next Benefit Concert
for WS Helpline
Saturday, March 10 at 7:30 pm
"Music with a Heart"
presents
The Lance Lu Quartet
Latin, Modern, Swing,
Be Bop & Beyond!

Berea Circle
St. Patrick's Day Dinner
Saturday, March 17
Anderson Hall
More details later.

Black Power/White Churches Film Series
Thursdays, 6:30 pm at Admiral Church
4320 SW Hill Street

In honor of Black History Month, we will concentrate on the contribution and complexity of Islam in the African/American struggle

for freedom and dignity in the United States.
February 15:
The Hate that Hate Produced (1959)
February 22:
The Black Power Mixtape 1967 - 1975 (2011)
Alki UCC
Board of Directors
2017-2018
Rod Peeler, Chair
Shannon Peterson,
Vice Chair
Jason Huynh,
Secretary
Charlie Hinckley
Emily Hitchens
Sandra Johnson
Dan Kennedy
Patty Magnuson
Scott Mathews

Ex Officio:
(Voice but no vote)

Kristin Michael,
Business Manager
Diane Darling, Pastor