In light of Pastor Diane's sermon last Sunday about climate change, here are several things that might be of interest. First, a cartoon in this week's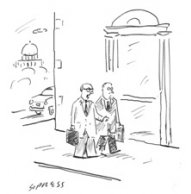 Christian Century magazine (from The New Yorker, Dec. 11, 2017) that captures the exact opposite of Sunday's sermon about the next hundred years.
"Thank goodness we finally have an Administration that speaks for those of us who don't care what happens to the planet in a hundred years because we'll be dead."
Below are some upcoming events that may be of interest, including Joe Aprile's class on climate change, and a webinar that features the UCC minister, Melanie Oommen and her son, Kiran, who Diane mentioned on Sunday
Science of Climate Change
February 18 & 25 after worship, led by Joe Aprile.
See elsewhere in this newsletter for more details, but please sign up ahead of time, either on Sunday after worship, or by contacting Joe Aprile directly.
A Mother and Son Address Climate Change
Wednesday, February 28 at 5:00 pm (PST)
The webinar features Kiran and Melanie Oommen [the friends that Diane mentioned in her sermon last week]. Kiran is one of 21 youth plaintiffs in the Our Children's Trust lawsuit, which charges that, "through the government's affirmative actions that cause climate change, it has violated the youngest generation's constitutional rights to life, liberty, and property, as well as failed to protect essential public trust resources."
Melanie is Kiran's mother and a pastor at First Congregational United Church of Christ in Eugene, Oregon. They will share about their experiences with the case and the insights they have gained, followed by a brief legal update. Register now to join this live event.
Pacific Northwest Conference
Environmental Justice Team
Our Conference has a new Environmental Justice Team. One of the team's goals is to create great communication channels — among congregations in this conference and also between our conference and the national UCC setting — about environmental justice issues.
If you are interested in being part of this conference network devoted to environmental justice issues, please contact Rev. Meighan Pritchard. New members are welcome at the team's monthly videoconference meetings via Zoom, currently at 4:30 pm on the third Tuesday of the month.
Thank you to everyone who signed up, donated, or just had good thoughts

about our fundraising gala!

As you dust off your dancing shoes and prepare your costumes for the big night, keep an eye out for an email with details about parking, checking in, and a preview of the auction items. Plan your bidding strategy: some items go fast.

Looking forward to seeing you there!

Contact any of us with questions; we're happy to help:

Kathy Herigstad Charlie Hinckley Julia Peeler
(206) 769-4165 (206) 718-2574 (206) 595-2059




Mardi Gras Gala
A Benefit for Alki UCC


Saturday, February 10 at 5:30 pm
The Hall at Fauntleroy


Berea Circle Toiletry Kit Drive
for Camp Second Chance


Donations due this Sunday!



Berea Circle is looking for personal items to make 52 toiletry kits — one for every resident of Camp Second Chance. We put 39 kits together at our last meeting and left with a wonderful feeling.

We will be meeting again on February 7 and would welcome your contributions of:
toothbrushes •
toothpaste •
shampoo •
conditioner •
soap •
lotion •
Q-tips •
Kleenex packs •
dental floss •
chapstick •
emery boards •
sterile alcohol
pads •
deodorant •
razors.
Travel sizes are preferred when available.
Look for the Berea Circle/Camp Second Chance Donations Box in the entry this Sunday. Thank you! — Vicky Smith
Sunday, February 4 at 1:00 pm
at Kol HaNeshamah/Alki UCC
Meet David Frank, a wounded soul who spends most of his days in his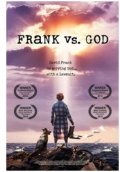 bathrobe with his dog, Brutus. After losing his home and his dog in a tragic tornado, Frank's insurance company refuses to pay the damages because the house was destroyed by an "Act of God." Frank sues God.
Kol HaNeshamah congregant, Scott Schill, is one of the producers of this film which was written and directed by his brother, Stewart. Join KHN for a matinee showing this Sunday at 1pm in the parlor and the chance to delve into age-old questions such as, "Does God exist?" and "If God is good, why do bad things happen to good people?" Get the inside scoop on the movie from film producer, Scott Schill.
And, they promise to have you out in time for the Super Bowl.
It's a fundraiser for KHN, so suggested donation is $18 for adults, $12 for seniors & students
Singing & Learning about American Music
Workshop at Admiral UCC

Honoring African American Vocal Traditions
Saturday, February 10, 1-4:30 pm
Admiral Church UCC, $10 donation

Led by Pamela Gerke, Admiral Church Choir Director
American music is deeply rooted in the musical traditions of African American culture. Through the joyful act of singing, we can embody the values embedded in these songs and gain greater understanding of how this music influences political and social struggle and creates community.

Register: officemgr@admiralchurch.org or (206) 932-2928

Call for Volunteers!
DESC "Adopt an Apartment Day" Saturday, Feb 17
Thanks to your generosity, the Outreach team has funds to "adopt" three apartments in the Estelle, a newly-built 91-unit affordable housing complex on Rainier Avenue in Southeast Seattle. The Estelle is a project of DESC, the Downtown Emergency Service Center, a Settle nonprofit providing emergency shelter and survival services for people living in a state of chronic homelessness.

Now we need shoppers to purchase household goods and furnishings in time for the first Estelle residents to move in on "Adopt an Apartment Day," set for Saturday, February 17. Volunteers are also needed that day to help set up basic furniture/furnishings and then celebrate as this wonderful new facility becomes HOME for 91 vulnerable, formerly homeless adults!
Contact Cinda Stenger for further information or to sign up.
In Our Prayers:
We've learned that Chris Lapwood Fant died last Wednesday, February 24. Chris was a longtime member of Alki UCC until she moved to Federal Way about twelve years ago. A memorial service will be held Saturday, February 17, 2:30 pm at Wayside UCC in Federal Way.
Congratulations to our former AKP Director, Cynthia Barrientos, who starts her new job next Monday as Executive Director of the Seattle Infant Development Center.
For those grieving the recent death of a loved one:
Jeff Jolly & family, Gary Gesellchen, Charley Rosenberry,
Russ Thornock, Jason Huynh, Trish Dodds, Cynthia Jolly, Julia Chase
Recent hospitalization, illness and other concerns:
Dayle Banks, Don Peterson, Sue Morris, Mike Crowley, Linda Pillo, Sallie Neillie, Patty Magnuson's brother,

Shelley Webster, Jan Cochran
For home bound members/friends of Alki UCC:
Ruth Okada, Doris Colbert
Wider World: A
ll those affected by the devastating California mudslides and wildfires; victims and survivors of extremist violence
around the world; v
ictims and survivors of the devastation in Mexico, Puerto Rico, Texas, Florida, the Caribbean, India and Bangladesh; prayers for fewer guns and for all victims of gun violence;
the migrants seeking refuge around the world, and for those who are trying to help and serve them. The rest of the missing schoolgirls kidnapped by Boko Haram, who remain in our hearts as long as they remain missing. The hungry and homeless, the ill and the addicted, the lost and the lonely; the unemployed; US officials and troops serving abroad.
We're excited to welcome one of our former pastoral interns, Tricia Gardner Lytle, to the pulpit this Sunday. She'll preach the sermon, and she and Diane will lead worship and communion together.
Tricia did an intensive, four-month internship with us in 2003, and returned the following summer to do pulpit supply while Pastor Diane was on vacation.
After many years in hospital chaplaincy, Tricia is now serving as the Minister of Congregational Life at Unity Presybterian Church in Denver, North Carolina.
Choir Rehearsal
Sunday at 9:00 am
Worship
& Church School
Sunday at 10:00 am
Choir Rehearsal
Tuesday at 7:00 pm
Pastoral Relations
Wed at 6:30 pm
Get the Facts!
Joe Aprile Leads Two-Part Class on Climate Change
Sundays,
February 18 & 25
after worship
"Climate Change, in my estimation, is the most serious threat that humanity faces — far overshadowing all other concerns. This class seeks to counter the alarming cultural inclination to discount the value of science and scientific enquiry and to regard real data as suspect. Understanding the gravity of the issue is a necessary first step towards coming up with meaningful solutions."
— Joe Aprile
Part I: Sunday, Feb 18
A valuable overview of the science behind the climate changes that are occurring and that are expected to occur as a direct result of the accumulation of greenhouse gases generated from human activity.
Part II: Sunday, Feb 25
Current and extensive evidence for the reality of a changing climate — an accessible introduction to the body of scientific climate change evidence and the likely consequences of an unabated release of greenhouse gases into the atmosphere.
Contact Joe to sign up.
Black Power/White Churches Film Series
Thursdays, 6:30 pm at Admiral Church
4320 SW Hill Street

In honor of Black History Month, we will concentrate on the contribution and complexity of Islam in the African/American struggle

for freedom and dignity in the United States.
February 8:
The Trials of Muhammad Ali (2013)
February 15:
The Hate that Hate Produced (1959)
February 22:
The Black Power Mixtape 1967 - 1975 (2011)
Berea Circle
St. Patrick's Day Dinner
Saturday, March 17
Anderson Hall
More details later.

Dan Kennedy is a new marketing partner with H&R Block Advisors and he can give you a certificate that will give you 10% off the cost of your personal or business tax prep if you haven't used them in the past year.
The offer is valid through April 10 of this year. Contact Dan for more information.
Alki UCC
Board of Directors
2017-2018
Rod Peeler, Chair
Shannon Peterson,
Vice Chair
Jason Huynh,
Secretary
Charlie Hinckley
Emily Hitchens
Sandra Johnson
Dan Kennedy
Patty Magnuson
Scott Mathews

Ex Officio:
(Voice but no vote)

Kristin Michael,
Business Manager
Diane Darling, Pastor
Supporting Alki UCC:
Online
Giving