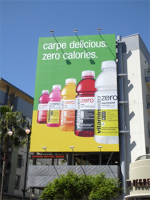 Carpe _____ iterum!

Photo of "carpe delicious" billboard in Los Angeles. Photo courtesy of Daily Billboard Blog.

Classical Conferences and Meetings in 2018

CANE—Classical Association of New England


March 16–17, 2017




University of Rhode Island




Kingston, RI


Representative: Donald Sprague

CAMWS—Classical Association of the Middle West and South


April 11–14, 2018




Hotel Albuquerque at the invitation of the University of New Mexico




Albuquerque, NM


Representatives: Allan Bolchazy, Bridget Dean, and Donald Sprague



B–C Author Presentations




Thursday, April 12, 2018





8:00–9:45 am


"The Roots of the STEMS," Anthony Hollingsworth, Roger Williams University, developer, Cicero's First Catilinarian Oration: A Digital Tutor



10:00–11:45 am


"The Battle Between History and Myth: A New Look at Livy's Oppian Law Debate," T. Davina McClain, Northwestern State University, author, Graphic Greek Grammar Cards

"Internal Synkrisis in Plutarch's Aratus," W. Jeffrey Tatum, Victoria University of Wellington, author, A Caesar Reader: Selections from Bellum Gallicum and Bellum Civile, and from Caesar's Letters, Speeches, and Poetry



"Ovidian Scenes on 18th–century Chinese Porcelain," Thomas Sienkewicz, Monmouth College,


coauthor, Vergil: A LEGAMUS Transitional Reader

"Catullus and the Swansong," Philip V. Barnes, John Burroughs School, conductor, Rome's Golden Poets



12:15 – 1:00 pm




Round Table Topics and Moderators


"The AP Latin Exam: A Conversation," T. Davina McClain, Northwestern State University, author, Graphic Greek Grammar Cards

"CAMWSCorps: Recording the Past, Imagining the Future," Anne Groton, St. Olaf College, coauthor, Thirty-eight Latin Stories



1:15–3:00 pm


"War Is Women's Business: Women and War Trauma in Greco–Roman Epic and Tragedy," respondent, Alison Keith, University of Toronto, A Latin Epic Reader: Selections from Ten Epics

"The Passion of Cleopatra (2017): Anne Rice's Sequel to The Mummy (1989)", Gregory Daugherty, Randolph Macon College, coauthor: To Be a Roman



Friday, April 13, 2018





1:30–3:00 pm




"Terror in a Turnus Town: Vergil's Wild West, and Ours," Robert T. White, Beaumont School,


coauthor, (forthcoming) Lectiones Memorabiles Volume III: Selections from Caesar, Catullus, Horace, Livy, Ovid, and Vergil

"Age and Aging in Roman New Comedy," respondent, Anne Groton, St. Olaf College, coauthor, Thirty-eight Latin Stories



3:15–4:45 pm




"Caesar, the Geographoi and Lewis and Clark: The Use of Animals in Describing New Lands,"


Kenneth Kitchell, University of Massachusetts Amherst, author, The Other Middle Ages, coauthor, Catullus: A LEGAMUS Transitional Reader



Saturday, April 14, 2018





11:00–12:30


"The History of Elegy and Ovid's Rustication Cure (Remedia amoris 169–98)," Barbara Weiden Boyd, Bowdoin College, author, Vergil's Aeneid: Selected Readings from Books 1, 2, 4, and 6, Vergil's Aeneid: Expanded Collection, Vergil's Aeneid 8 & 11: Italy and Rome, Vergil's Aeneid 10 & 12: Pallas & Turnus, coauthor, A Vergil Workbook

The 53rd International Congress on Medieval Studies


May 10–13, 2018




Western Michigan University




Kalamazoo, MI


Representatives: Adam Velez and Laurel Draper

ACL—The American Classical League


71st Annual Institute




June 28–June 30, 2018




University of Montana




Missoula, MT


Representatives: Bridget Dean, Laurel Draper, and Donald Sprague

NJCL—National Junior Classical League
July 23–28, 2018
Miami University
Oxford, OH

Bolchazy-Carducci Publishers provides eTextbooks on a variety of eBook platforms. Bolchazy-Carducci textbooks are available through VitalSource,

GooglePlay

,

Chegg

, RedShelf, Adams Book, Follett,

MBSDirect Digital

, and ESCO. Each eBook platform offers a variety of tools to enhance the learning process. eBooks have the same content as our traditional books in print.
eBooks are purchased from the eBook provider. For direct links to purchase Bolchazy-Carducci eTextbooks, visit the title's product page on Bolchazy.com. Just above the product description there is a list of the eTextbook providers and a direct link to purchase the eTextbook. Some eBook providers sell directly to schools—check with your school to make these purchases.
You can read eBooks on a Mac, PC, iPhone, iPad, Android, or a variety of eReaders. Review the eBook providers specifications.
The eyeVocab software leverages human memory for distinctive affective images* presented in isolation to radically improve the speed, depth, and permanence of second language vocabulary acquisition. Images are drawn from classical art, both western and eastern, from photojournalism and historical photography, great book illustration, and other sources.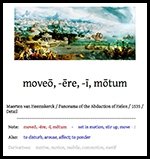 *Learn how images are chosen.

Far more than a set of electronic flashcards, the multimodal vocabulary program facilitates a significantly deeper learning and retention. Students will readily master the frequent Vergil and Caesar vocabulary for the AP® Latin Exam and thereby devote far more of their study time and energy to reading and discussing De Bello Gallico and the Aeneid.

eyeVocab programs correspond to the following B-C books.

Caesar: Selections from his Commentarii De Bello Gallico
(Mueller) (218 words)

Vergil's Aeneid: Selected Readings from Books 1, 2, 4, and 6
(Boyd) (162 words)



Vergil's Aeneid: Books I–VI


(Pharr) (292 words)

Latin for the New Millennium Level 1

(423 words)





Introductory rate for each of the AP® Latin programs is $14.95. The LNM 1 and LNM 2 introductory rate is $24.95 per program. For site licenses, contact Miles Becker at sales@eyeVocab.com.




Click on each title to learn more.
The Pompeiiana Newsletter created and edited by Bernard Barcio ran from 1974 through 2003. The newsletter offered a place for Latin students to publish comics, stories, games, and articles, and was a beloved resource for Latin teachers. In 2008, Barcio granted Bolchazy-Carducci Publishers the rights for all of the Pompeiiana Newsletter. B-C is proud to serve as curator for this archive and has made the issues available for teachers, students, and friends of the classics. Check out http://pompeiiana.blogspot.com/
Each September, Bolchazy-Carducci mails its Roman Calendar to Latin teachers across the nation. Watch for yours! If you're not on that mailing list, send a note TODAY to info@bolchazy.com. Put Roman Calendar in the subject line and provide us the USPS address to which you wish the calendar to be sent. The calendar is also available in a digital format.
Preview Bolchazy-Carducci Titles

Preview Bolchazy-Carducci titles before you purchase using Google Preview.
---

Downloadable Products
iPodius - Bolchazy-Carducci Publishers online shop for: audio, software, video, and a treasure trove of teacher-created materials in the Agora.
---
BCP Facebook Fan Page
Become a FAN of Bolchazy-Carducci Publishers, visit our Facebook Fan page for the latest news from BCP.
---
BCP Blog
Visit the BCPublishers Blog for B-C news and information.
Follow the B-C blog to learn about the changes in Latin for the New Millennium, Levels 1 and 2.
For instance, learn about the enhanced derivative coverage in the Second Edition.
---
BCPublishers on Twitter
Follow us on Twitter

---
AP® is a trademark registered and/or owned by the College Board, which was not involved in the production of, and does not endorse, this site.
These products have been developed independently from and are not endorsed by the International Baccalaureate (IB).
It's March Madness!


Here at Bolchazy-Carducci Publishers, we've been enthusiastically receiving entries in our annual Martia Dementia contest. Now, it's time to vote! The first round of voting began March 15. Follow this madness on Facebook or Twitter.

Meanwhile, Chicagoland is especially excited about the NCAA Basketball Championship Tournament because Chicago's own, Loyola University Chicago, made it to the tournament for the first time in 33 years! Loyola's 1963 squad not only won the championship, but remains the only team from Illinois to earn that distinction. And, not only did Loyola's Ramblers win but they broke
racial barriers
in doing so.
Loyola University Chicago holds a special place in the hearts of the Bolchazy-Carducci family. A one-year teaching appointment in the classics department brought our late founder Lou Bolchazy to Chicago. A shrinking need for Classics PhDs became a culpa felix for Dr. Bolchazy and, I venture to say, for the classics community, as it led to Lou's founding Bolchazy-Carducci Publishers. Retired editors LeaAnn Osburn and Laurie Haight Keenan, PhD, are Loyola graduates and your humble author earned his teaching certificate there.

Over the years, Lou taught as an adjunct at Loyola and collaborated with Loyola colleagues and PhD graduates including the likes of Jim Keenan; Raymond Schoder, SJ; Ed Cueva; Elaine Coury; and Ken Kitchell. He was especially pleased to publish two volumes of Neo-Latin with Loyola associates—Leo M. Kaiser's
Early American Latin Verse
and
Jesuit Latin Poets of the 17th and 18th Centuries: An Anthology of Neo-Latin Poetry
for which Loyola professors James J. Mertz, SJ, and John P. Murphy, SJ, joined forces with Leuven University's Josef IJsewijn. While at Loyola, Dr. Bolchazy broadcast
Myth Is Truth: A Radio Series
—B-C is delighted to offer a complimentary copy of the broadcast and its transcription.
The B-C family fondly salutes Loyola University Chicago's Ramblers.


AMDG!*

All best,
PS: The Ides of March 2018 marked the launch of Perseus 5.0! Congratulations to all who helped make this happen!
*Ad maiorem Dei gloriam.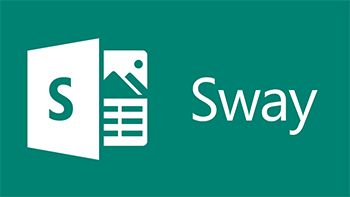 Microsoft Sway is a tool that makes it easy to create great newsletters, presentations, and reports enriched with images, video clips, links, tables, and galleries. It involves a three-step creation process.
The user can either choose to start from an already existing document or from a blank template. I have done it both ways and, while I like having the option to start from a document, I prefer to use a template as my point of departure. The library offers a variety of templates so it is wise to spend a few minutes looking through them before getting started. After selecting a template, the user adds all the desired content. This content can be headings, text, images, links, video clips, et cetera. The final step of the process allows the user to customize various elements such as font, colors, and layout. The finished "Sway" is shareable by a web link.
I like using Sway for student work. It can be a great way for students to synthesize their learning on a particular topic. My students have enjoyed the opportunity to create a newspaper focused on a particular author. They have also developed newsletters to share with the class as a way to review different grammatical structures. I particularly appreciate that students can create a rich, nicely designed, and interesting product without needing to invest too much time to this part of the process. Their focus can be on the content they are learning. To learn more and get started, visit www.sway.com.
Lynne West
Latin Teacher and Instructional Specialist
Bellarmine Jesuit College Prep
San Jose, CA

Resources & Teaching Tips


Through the centuries, dice reveal changing attitudes toward fate.



Ancient Roman dice on display in the Musée gallo-romain de Saint-Romain-en-Gal-Vienne. Photo courtesy of Wikimedia Commons/Vassil/Creative Commons 1.0 COC.





√ Restoring the Church in the Holy Sepulchre in Jerusalem


• Martin Scorsese collaborates on a Roman TV series.

• Fall of Troy cast black actors and evokes backlash about blackwashing.


eLitterae Subscribers Special Discount

eLitterae Subscribers
Special 37% Discount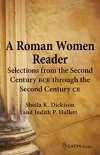 Paperback, xxii + 225 pp., 3 illustrations and timeline,
ISBN: 978-0-86516-662-2
$19.00

$13.00
This offer is valid for up to ten (10)
copies, prepaid, no returns.
Discount is not available to distributors or
on products distributed by Bolchazy-Carducci Publishers.
This offer expires 04/19/18.
(Please note that there will be no adjustments on previous purchases.
Offer is non-transferable and subject to change without notice.)
Enter coupon code eLit0318
on the payment page. The special

offer pricing will be charged at checkout.
2018 Winter/Spring Webinars

Tuesday, March 20, 2018 6:00–7:00 PM ET

Using Roman Coins and Material Culture in the Active Classroom

Presenters: Thomas "TJ" Howell, Belchertown High School, and Edward Zarrow, PhD, Westwood High School

These two seasoned high school Latin instructors enthusiastically incorporate spoken Latin in their classrooms. In this webinar, they demonstrate a lesson using a set of representative Roman coins as a stimulus for active Latin.
---
Tuesday, April 10, 2018 6:00–7:00 PM ET
Women and War in the Roman Empire
Presenter: Caitlin Gillespie, Columbia University
This webinar discusses the concept of a dux femina (commander woman) in Roman literature from Vergil's Dido onward, providing examples of both positive and negative ways in which women became leaders in the Roman world. We then focus on Boudica as an example of this literary topos and explore how Boudica's complex literary portrait illustrates the difficulties in assessing a female barbarian warrior through Roman terms.

---
Tuesday, May 1, 2018 6:00–7:00 PM ET
Some Tech Tips Useful for Review
Presenter: Lynne West, Bellarmine College Preparatory School



A wide variety of technology tools are available to help provide effective and fun review opportunities for our students. This one-hour webinar will address several tools that can enhance and enliven the Latin classroom. Participants will have the opportunity to explore web-based tools that are valuable additions to both the elementary and advanced Latin curriculum. We will especially address methods and tools for reviewing vocabulary, grammar, history, and culture with the hope that you might implement them for your end-of-year review. Participants will come away with a deeper understanding of both the role that technology can play in review and how to integrate it effectively.



If you have suggestions for Fall 2018, please contact Don Sprague.

---
What Equipment Do I Need for B-C Webinars?

To participate in Bolchazy-Carducci Publisher sponsored webinars you will need high-speed internet access, computer speakers/headphones, current web browser, and the link to the webinar virtual meeting space, which is provided in your webinar invitation.
Webinars Make for User-Friendly Professional Development

Participation is free. All webinars provide opportunity for participants to ask questions. Learn lots—attend as many presentations as you can. Bolchazy-Carducci Publishers provides documentation for your participation. You can share this with your supervisors. Many webinar presenters provide handouts, etc.