The Mayan Underworld: Caverns with perfect 77° year-round, clear waters, magic mud for skin detox, total silence, total darkness, sleeping bats, drops of crystal jewels.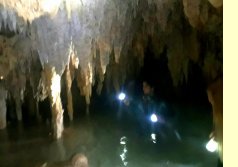 Exploring in Tulum, Mexico while guest teaching at Halle Becker and Loren Basset's Sweat and Surrender retreat this month, I have the opportunity reflect how our own underworld attracts and repels us, like the Cenote caves. Our sparkling pools of insight, our heart jewels, our magical immortal beauty, dwell equally with our mysterious dark waters, our dimly fluttering blind life forms.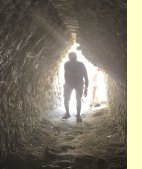 This is the joy of 3-D living, our souls within our physical forms.

On the mat we detoxify our systems: Riding the flying dragon of our breath, we slay the physical and mental demons that shackle our being's freedom.
So it is exciting when we climb pyramids or swim through caverns in a 3-D enactment of our inner practices. We enjoy our depths and heights externalized in our life journeys, just as we enjoy them in sweat and flow, in savasana and in meditation.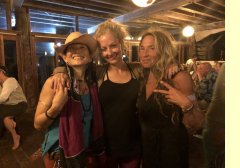 At least ~ that is my takeaway this month on life's adventurous board game.
I'd love for you to tell me yours!
Click here to see a video of my trip, including our lovely Sweat & Surrender retreat yogis singing "Lokah Samastha"!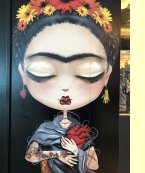 Mother's day Weekend, come get yourself

pampered in luscious, long, restful, fully supported poses, with scent, sound, gentle touch, and healing meditations, to balance all seven chakras. No mother required.





Saturday May 12 at Pure East, 3-5PM. All are welcome; no prior yoga experience needed.



Pre-registration strongly recommended; space will fill up. An aromatherapy gift for every guest! A great gift treat for a friend/family member, not to mention your beloved self!

Elemental AcroYoga Immersion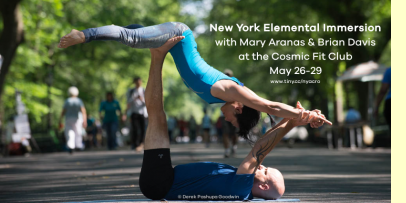 I was a yogi 9 years, full-time yoga teacher 5 years, when I discovered AcroYoga, "high union" partner yoga, in 2007.
For me, this just further "elevated" the barrier-busting, freeing essence of Yoga that I already loved so well. I became immersed in it, adding to my joy, adventure, rejuvenation, and wonderfully transformative life in every way, ever since, to this day, ongoing.

I invite you into this joyful experience of immersion and transformation in the Elemental AcroYoga Immersion, a perfectly blended solar/lunar course over 30 hours and 4 days in New York City this May over the Memorial Day Weekend.
If your heart is calling you, listen to it. Your adventure begins the moment you sign up. Early Bird ends April 26 and represents a substantial savings. Read more here.
Workshops, Immersions, Retreats, Festivals, Trainings





5/4-5/6 Wagging Tail Yoga Retreat Catskills, NY Waitlisted

5/12 Mother's Day Restorative Treat 3-5PM, Pure East, NYC

5/26-5/29 AcroYoga Elemental Immersion Cosmic Fit Club, NYC

6/30, 7/28, 8/18, 9/8 4 Weekends

100-Hour Mother Mary
Restorative Teacher Training Pure East, 4 Levels, Sat-Sun, 9-6

7/5-7/8 ~ Zouk N Play Festival ~ Atlantic City, NJ

7/19-7/22 Wanderlust Yoga Festival Squaw Valley, Lake Tahoe CA

9/14/9/16 Wagging Tail Yoga Fall Retreat ~ Bethel, Catskills, NY


with host/co-teacher Ora Ramat, owner Wagging Tail Yoga

9/22-9/23 25-Hour Yoga Nidra Teacher Training Pure East NYC



Weekly Classes in New York City:





Pure Yoga New York Weekly Yoga:
Pure Yoga Eastside - 203 E.86th St. (3rd Ave)


Monday: 10:30-12:00 Slow Flow Meditation


Monday: 1:00-2:00 Yoga Nidra Meditation


Tuesday: 12:30-1:30 Restorative


Thursday: 12:30-1:30 Restorative
Pure Yoga Westside - 204 W.77th St. (Amsterdam Ave)


Friday: 11:30-12:30 Restorative


Sunday: 6:00-7:30 PM Pure Zen Flow

*NEW



Om Factory Weekly AcroYoga:




Friday: 7:30-9:15PM AcroYoga Flow L1-3 (Open) Fashion District


~ 265 West 37th Street (8th Ave), 17th Floor, NY NY 10018
*1st Fri/Month 9:30PM AcroYoga JAM/Bodyworks & Dessert

Private Sessions by Appointment:
Thai * Restorative * Yoga Nidra * Meditation * AcroYoga * ISHTA

See my updated schedule anytime at: www.maryaranas.com

Photo thanks this issue go to:
Sarah Rebehak,
Panos Achlioptas,
John Suhar,
Derek Pashupa Goodwin,
Brian McRae Davis,
Raul Aranas,
Pure Yoga,
Loren Bassett,
Halle Homegirl Becker,
& Sweat & Surrender 2018 Yogis
Email Privacy; Reply, Forward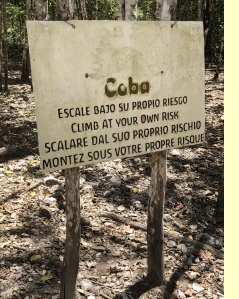 I value your email privacy and do not share email lists!
It's a privilege and honor to have an ongoing cyber sangha, community, with you.
Please feel free at any time to Reply, Forward, Subscribe or Unsubscribe.
Wishing you all of life's peaks and valleys, caverns and precipices, wondrous and mysterious.
And wishing you equally, plenty of breath, laughter, trust, growth, love, faith, sharing and self-learning, through all of it!
See you on your continuous upward climbing journey!

OMMMMMMMary
New Sunday Class:
Pure Zen Flow

I am excited to add a weekend evening class beginning April 1st: Pure Zen Flow, 6pm-7:30 at Pure Yoga West.

Inspired by Jimmy Naturaj Burgio, this juicy format is:
15 minutes of pranayama, 60 minutes of vinyasa, and 15 minutes of meditation. Yumm!
In my ISHTA, individual version of Pure Zen Flow, your closing meditation is any ratio of seated or reclined you may choose. I let you know halfway through, with a bell.

Vinyasa flow is at your ishta or personal level of challenge and ease, sukha.
Come anoint your Sunday evenings with me at Pure Yoga Westside!
Email me for a guest pass if you are not a Pure member.
Pure West hosts a Private Yoga Event Sat. April 7, open to all:
WHERE: PURE WEST
WHEN: 10:30 am to 1 pm
WHAT: 15 minute mini

yoga

lessons/consultations
Pure privates include every style of yoga our teachers offer, plus wellness modalities including:

Yoga Therapy, Thai body work, Reiki, Sound Therapy, Trigger Point Therapy, Life Coaching, Meditation.

Saturday April 7th, come sample complimentary 15-minute sessions with Pure private teachers. I will be there 10:30-12:30, offering mini sessions of Thai, Reiki, or sound healing.
First-come first-served on day of, or email Sonja Rzepski to reserve a spot with a particular teacher.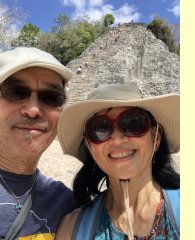 Whether with Yoga, dance, nature, meditation, relationships, all spiritual or physical quests for freedom or growth, I do believe we are all bound upon the same upward path. And it is my vision and commitment to keep seeking it and aid others in seeking theirs.
Doreen Virtue, in

Ten Messages Your Angels Want You To Know

:
"You remember unconditional love so intense that your soul yearns for the same experience of merging with others. Sometimes at night your soul travels back to your Heavenly origins....
"Mostly what you are craving is that feeling of complete acceptance and belonging you experience in the Heavenly world...
"Your overriding instinctual drive isn't for food or power, but for merging with love."