Reggae updates daily

...Follow us

RudeBwoy 3ntertainment presents: 7th Annual Island Reggae Festival
San Jose, CA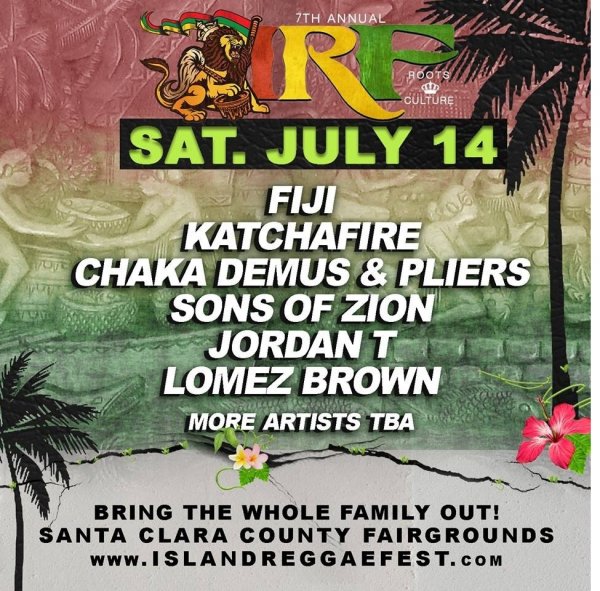 July 14, 2018
Santa Clara County Fairgrounds
344 Tully Road, San Jose, CA 95111
Festival hours: 11am-11pm
Purchase Discounted Tickets while they last
Read full article
Join the NYC Reggae Sumfest Launch Party Livestream!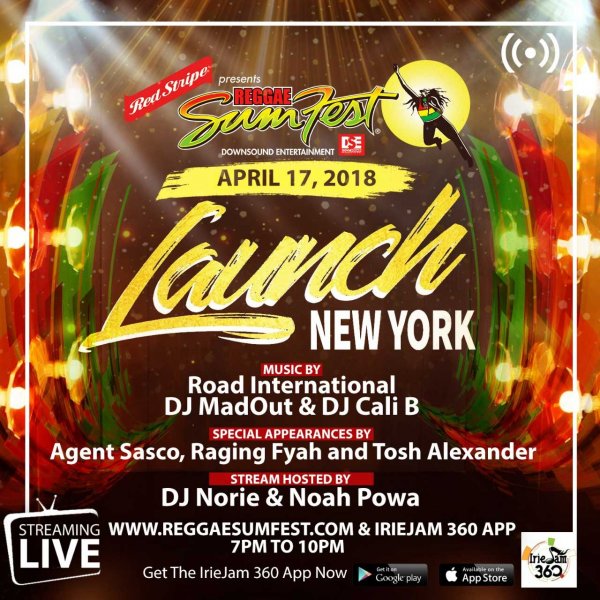 Get all the latest details about the upcoming

2018 Reggae Sumfest….Watch live

performances by Raging Fyah, Agent Sasco / Assassin, and Tosh Alexander

Spiritual Awakening Tour 2018 - Booking Now

Malayky - Now Available for Festival Booking

ReggaeFest Postponed for 2018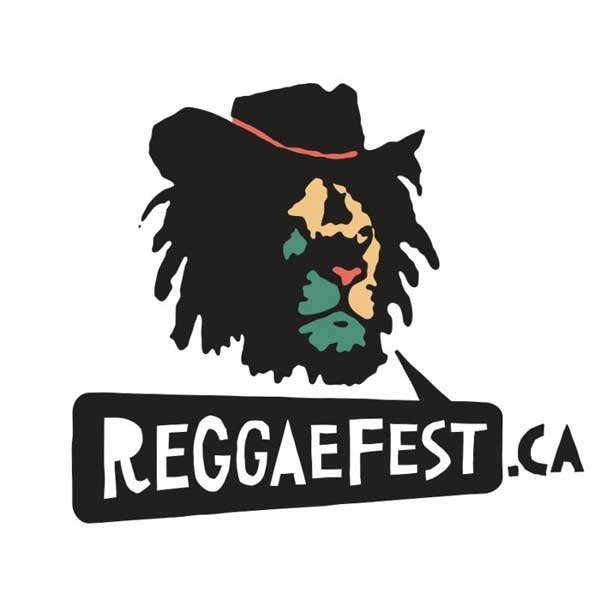 After 14 amazing years of bringing the best of Reggae to Calgary, the Board of Directors of the Calgary Reggae Festival Society has decided to postpone Calgary ReggaeFest for 2018.
Festival co-founder and producer Leo Cripps says plans are to take the next year to assess and re-imagine the event.

The festival, usually held the third weekend in August, has consistently introduced Calgarians to a very diverse collection of Reggae performers from Canada and around the world.
The festival will return in 2019.

For more information on future events, please visit website.

Sincerely,
Calgary Reggae Festival Society
Your Rastagarian Team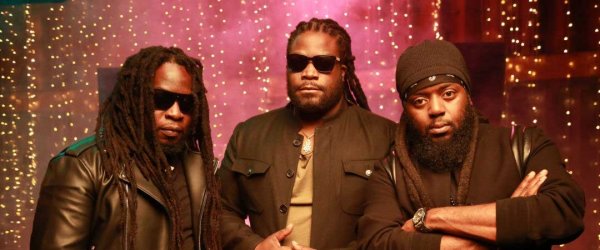 "ISLAND VIBES SPRING TOUR""

Morgan Heritage & Fiji

plus: Maoli & Nomad and Ambassador DJ's

Blu Nightclub

Montbleu Resort

55 US Highway 50

Lake Tahoe, NV

Saturday, April 21, 2018

21+ Show. Doors open at 9pm.

Advance tickets are available
for
$20 at Montbleu Box Office
Artists & Bands, Contact us to find out your Marketing Options
Kabaka Pyramid "Kontraband" Spring Tour This April & May

Don't Miss The Afro Haitian Mizik Festival On May 12th in Hollywood, California with Konshens, Davido, & many more.


Lutan Fyah will be In Costa Rica, Japan, Canada & more this year...Check Facebook for full schedule

Interview with Lutan Fyah

How does Lutan Fyah view Reggae music today?
Well for me music is life n music life is what I live asfor the industry itself, we may know or not know the inside works of the business.
For me I'm always glad to see younger talents that do the culture side of Jamaica music. Today we can see a lot of great talents emerging from a cultural background, it's building to what is should be.

Read full article

A Reason For Living a novel, is set in the creative and volatile Jamaica of the 1960s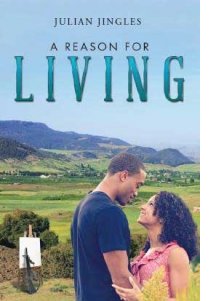 A Reason For Living, a novel.
And 2 documentaries, available
here
Overview
It is the mid-1960s in Kingston, Jamaica, and the country is steeped in social, political, and economic inequities. Howard Baxter, the heir to a real estate empire, has no interest in seeking or managing wealth. Painting and deflowering Jamaican maidens are his passions. As he combs the streets looking for greater meaning in his pathetic life, it soon becomes apparent that Howard's journey will not be easy.
Read full article
Etana Declares That It is 'Reggae Forever'

Sierra Nevada World Music Festival, Booneville, CA – June 22-25, 2018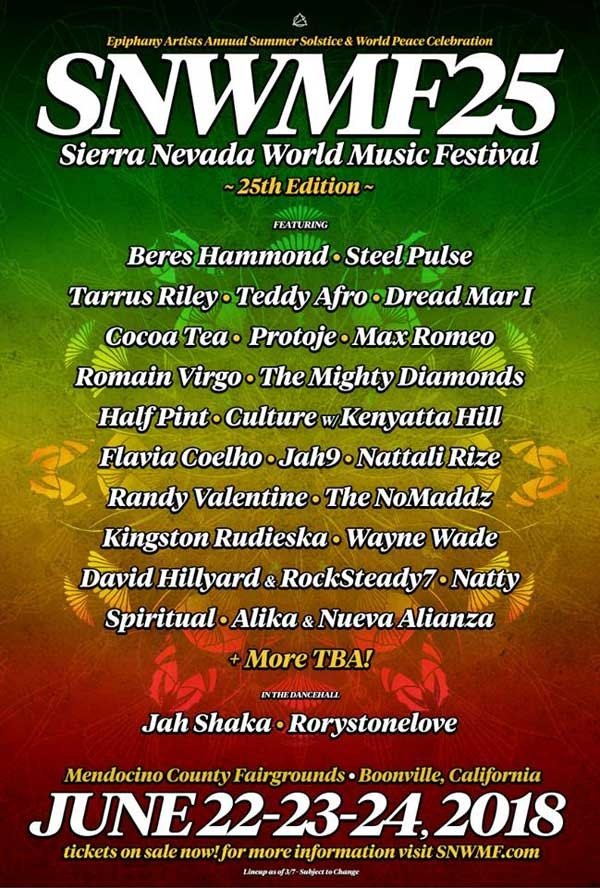 From Argentina to Australia, from Kingston to Korea, from Handsworth to Addis Ababa, the

Sierra Nevada World Music Festival

is bringing music from the four corners of the world to perform at SNWMF25 this June.


If you don't POST YOUR FESTIVAL today on our top-ranking reggae festival website, you are missing out on 40,000+ reggae fans monthly looking for festivals to attend.

Read full article

Don Carlos - April California shows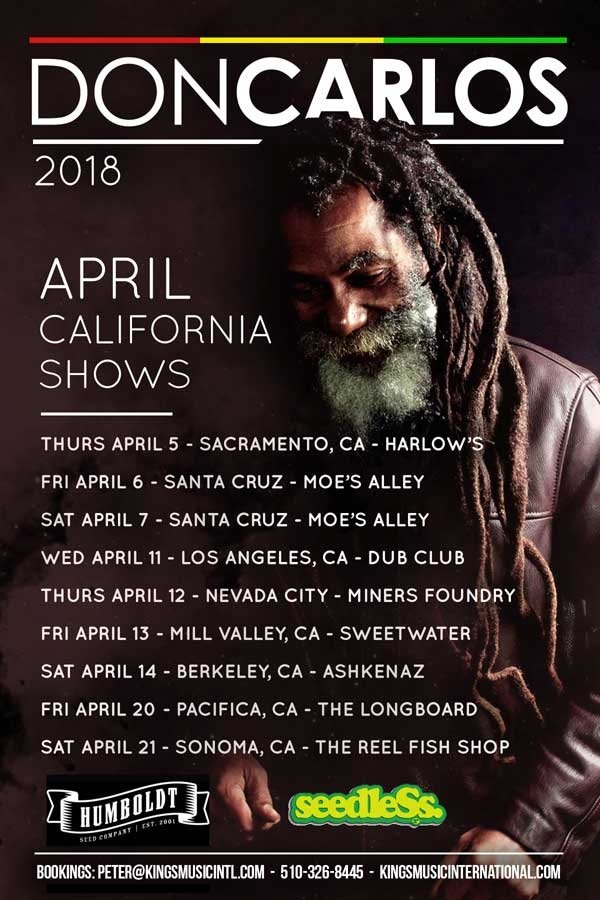 Don Carlos is a classic well loved international reggae artist with his Dub Vision band featuring a horn section and female vocals. Don Carlos's strong catalog of songs are great listening music, healthy and clean for the young and old. His music appeals to people from all walks of life. His vinyl and CD's spread out worldwide before everything went online. Don's live shows are in great demand. He and his musicians regularly tour Africa, Europe, North America and South America. He also periodically works as a special guest with Slightly Stupid. From 1989 to 1994 Don was the lead vocalist for Black Uhuru during which time he toured and sang on four Black Uhuru albums - Now, Mystical Truths, Iron Storm and Strong. Don is also very popular in Africa. His show at the Kasarani Sports Grounds in Nairobi Kenya in 2010 made history drawing an estimated 150,000 people.
Read full article
Grateful Dub: a Reggae - infused tribute to the Grateful Dead

Brand New Album from Fire Chanter Jah Rubal, "Chase Vampido"

(Higher Bound Productions) April 2018

Reggae Festival Guide/RBA Publishing & Publicity
Is your website outdated or not mobile friendly? Are your social media platforms non-existent or under-utilized? Would you like your name and music to get out there to new reggae fans?
If so, we can help. We have many years of experience in marketing reggae bands and reggae festivals and offer these services and more:

Website consulting, design and maintenance
Social media development (Facebook, Instagram, Twitter, LinkedIn
Create descriptive written content (press releases, band bios, sponsor packages, etc.)
Develop digital marketing strategies to increase your customer base.
Custom Global PR services
If you have questions about what online marketing techniques would work best for you, Give Us a Call Today for a free consultation ~ 707-630-3304 or Email



1995-

2018




Industry Leaders for

Ove

r 24 Years




Hey reggae lovers! Got FACEBOOK?

Then please drop on by and "LIKE" us to get a daily dose of what doesn't always fit here!

"My greatest wealth is the deep stillness in which I strive and grow and win what the world cannot take from me with fire or sword."

- Johann Wolfgang Von Goethe

Jamaica Music Countdown April 6-12

On This Day in Reggae - April 12th

1948: Synthia Schloss is born.

1961: Patrick "Acka T", producer of STARTONE label, is born in Kingston, Jamaica.

1965: Singer Pinchers (Delroy Thompson) is born in Kingston, Jamaica.

1993: Snow's album "12 Inches of Snow" [East West] is certified Platinum by the RIAA (Recording Industry Association of America).

Source

If you missed your latest (or any) copy of the weekly e-Guide,
you can find back issues in the Archives

Upcoming Reggae Festivals

To view our entire calendar of more than 500 festivals, click here!

| | | |
| --- | --- | --- |
| Just Post Your Festival at | | Read the 2017 Reggae Festival Guide magazine in its entirety page-by-page in Digital Format |
Wholechella Beer Garden
Apr-12-2018, Palm Desert, California, USA
Pure Grenada
Apr-13-2018 - Apr-15-2018, St. George's, Grenada
Caribbean Yacht Party
Apr-21-2018 - Apr-22-2018, Rosarito, Mexico
Spring Reggae Jam
Apr-20-2018, Lake Tahoe, California, USA
Reef Relief Benefit Concert
Apr-20-2018, Key West, Florida, USA
Rosarito Reggae Festival
Apr-15-2018, Newport Beach, California, USA
Island Vibes Tour
Apr-21-2018, Lake Tahoe, Nevada, USA
Bob Marley Remembered
Apr-21-2018, Minneapolis, Minnesota, USA
Dread Fest
Apr-21-2018 - Apr-22-2018, Port Of Spain
Raw Roots Reggae
Apr-21-2018 - Apr-22-2018, Murrieta, California, USA
CariDubai Weekender
Apr-26-2018 - Apr-29-2018, Dubai, United Arab Emirates
Canadian Reggae Music Conference
Apr-27-2018 - Apr-28-2018, Toronto, Ontario, Canada
Kaya Fest
Apr-28-2018 - Apr-29-2018, San Bernardino, California, USA
Panama Utopia Music Fest
Apr-28-2018 - Apr-29-2018, Panama, Panama
Dis Poem Wordz & Agro Festival
Apr-29-2018, Portland, Jamaica
Tmrw.Tday Culture Fest
May-01-2018 - May-06-2018, Los Angeles, California, USA
Kokopelli
May-10-2018 - May-12-2018, Gullegem, Belgium
Edo International Reggae Festival, The
May-11-2018 - May-12-2019, Benin City, Nigeria
Joshua Tree Music Festival 16th Annual Spring
May-17-2018 - May-20-2018, Joshua Tree, USA
Afro-Pfingsten / Reggae Night
May-18-2018, Winterthur, Switzerland
Island Festival PC
May-19-2018, Palm Coast, Florida, USA
Lake Tahoe's Reggae Spring Splash
May-24-2018, Lake Tahoe, Nevada, USA
Camp Reggae
May-25-2018 - May-27-2018, Turtle twn., Tennessee, USA
Sunshine Reggae Festival
May-25-2018 - May-27-2018, Lauterbourg, France
Kentucky Reggae Festival
May-25-2018 - May-27-2018, Louisville, Kentucky, USA
California Roots Music & Arts Festival
May-25-2018 - May-27-2018, Monterey, California, USA
Love 4 Music Festival
May-27-2018, Huddersfield, United Kingdom
Joe Higgs Day: Memorial & Music Awareness Tribute
Jun-02-2018, Key West, Florida, USA
Positive Vibration - Festival of Reggae 2018
Jun-08-2018 - Jun-09-2018, Liverpool, United Kingdom
Reggae in the Desert - Las Vegas
Jun-09-2018, Las Vegas, Nevada, USA
Rast'Art Festival #9
Jun-15-2018 - Jun-17-2018, Sannerville, France
ZIONTIFIC Summer Solstice Music Festival
Jun-15-2018 - Jun-18-2018, Russell, Massachusetts, USA
Durham Caribbean Festival
Jun-16-2018, AJAX, Ontario, Canada
Victoria's Ska & Reggae Festival 19th Annual
Jun-20-2018 - Jun-24-2018, Victoria , British Columbia, Canada
Sierra Nevada World Music Festival
Jun-22-2018 - Jun-24-2018, Boonville, California, USA
Ithaca Reggae Fest, 2nd Annual
Jun-22-2018 - Jun-24-2018, Ithaca, New York, USA
Kuranda Roots Festival
Jun-23-2018 - Jun-24-2018, Kuranda, Cairns, Australia
More Music Festival
Jun-24-2018, Durango, Colorado, USA
Feeling Festival
Jun-30-2018, Tenerife, Spain
International African Arts Festival, 47th Annual
Jun-30-2018 - Jul-04-2018, Brooklyn, New York, New York, USA
International Reggae Day Festival
Jul-01-2018, Kingston, Jamaica
Ostroda Reggae Festival
Jul-05-2018 - Jul-08-2018, Ostroda, Poland
African/Caribbean International Festival of Life
Jul-06-2018 - Jul-08-2018, Chicago, Illinois, USA
Summerjam Festival, The 33rd
Jul-06-2018 - Jul-08-2018, Cologne, Germany
Levitate Music & Arts Festival
Jul-07-2018 - Jul-08-2018, Marshfield, Massachusetts, USA
Peace Love & Happiness Reggae Festival
Jul-08-2018, San Jose, California, USA
Overjam International Reggae Festival
Jul-10-2018 - Jul-14-2018, Tolmin, Slovenia
Reggae Sumfest
Jul-15-2018 - Jul-21-2018, Kingston, Jamaica
Dub Camp Festival
Jul-19-2018 - Jul-22-2018, Joué-Sur-Erdre, France
Seasplash Festival
Jul-19-2018 - Jul-22-2018, Pula, Croatia
Oroville Rock Reggae Jamfest
Jul-20-2018 - Jul-22-2018, Oroville, California, USA
Battle Creek Caribbean Festival
Jul-21-2018, Battle Creek, Michigan, USA
Jerk Jam, The
Jul-21-2018 - Jul-22-2018, Fareham, United Kingdom
Bayfront Reggae & World Music Festival, 13th Annual
Jul-21-2018, DULUTH, Minnesota, USA
Iboga Summer Festival
Jul-25-2018 - Jul-29-2018, Tavernes de la Valldigna (beach), Spain
Guitarfish Festival,8th Annual
Jul-26-2018 - Jul-29-2018, Cisco Grove, California, USA
Roots & Culture Reggae Festival
Jul-26-2018 - Jul-30-2018, Latisana (UD), Italy
Summer Vibration Reggae Festival
Jul-26-2018 - Jul-28-2018, Selestat, France
Reggae in Wulf
Jul-27-2018 - Jul-29-2018, Friedberg (Bavaria), Germany
NorthWest World Reggae Festival
Jul-27-2018 - Jul-29-2018, Sandy, Oregon, USA
Uppsala Reggae Festival
Jul-27-2018 - Jul-28-2018, Uppsala, Sweden
Black Forest On Fire
Jul-28-2018 - Jul-29-2018, Berghaupten, Germany
Reggae on the Grass
Jul-29-2018, Denver, Colorado, USA
Montenegro Sun Reggae fest
Jul-27-2018 - Jul-29-2018, Budva, Montenegro
Love Peace & Reggae
Aug-04-2018 - Aug-05-2018, Whitstable, United Kingdom
Boomtown Fair
Aug-09-2018 - Aug-12-2018, Bristol, United Kingdom
One Love Festival
Aug-10-2018 - Aug-11-2018, Ladysmith, British Columbia, Canada
Rototom Sunsplash
Rototom Sunsplash Aug-16-2018 - Aug-22-2018, BENICASIM, Spain
Rastafest
Aug-18-2018 - Aug-19-2018, Toronto, Ontario, Canada
Charlemont Reggae Festival
Aug-18-2018, Charlemont, Massachusetts, USA
One Love Music Fest
Aug-18-2018, Somerset, New Jersey, USA
Surrounded by the Sound Music & Arts Festival
Aug-30-2018 - Sep-03-2018, Long Creek, South Carolina, USA
Jerk, Seafood & Vegan Fest
Sep-08-2018 - Sep-09-2018, Chicago, Illinois, USA
Soul Rebel Festival, The 17th Annual
Sep-08-2018, Boulder, Colorado, USA
Nigeria Reggae Festival
Sep-29-2018 - Oct-01-2018, Awka, Anambra State, Nigeria
Reggae Wellness
Oct-27-2018 - Oct-28-2018, Port Antonio, Jamaica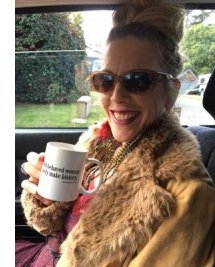 2018 marks the 24th year that Reggae Festival Guide has been the leading media company in the reggae industry.

Our parent company, RBA Publishing & Publicity, is based out of Humboldt County, CA. We produce the annual Reggae Festival Guide magazine, the top-ranking website:

www.ReggaeFestivalGuide

(32,000 unique monthly visitors), and this weekly reggae e-newsletter Reggae e-Guide (40,000 weekly subscribers). We also have 550,000 fans that follow us on Facebook (please

join us

there), and 13K that follow us on Instagram

We offer you many ways to help you get your fix of reggae music, history, lifestyle, current news, and of course, festivals, all year round.

Our publishing company keeps growing and adding elements to bring you trusted coverage of reggae happenings from around the world.

Contact us today if you have any questions or suggestions. We love what we do and look forward to input from you with your suggestions, critiques, questions, etc.

Also contact us to find out how you can promote your band/business/festival in this e-newsletter or on our website.

We also offer Publicity & Graphic Services for bands and festivals:
band bios and interview written, social media management, website consulting design and maintenance, EPKs created, graphics for advertising and social media branded videos, and more. Please contact us to find out how we can help you with your exciting projects.

One Love,
Kaati, Sean, Joana, Goran, Irene, Heather and the rest of our Crew

Information - both editorial and advertising - in the Reggae e-Guide - is believed to be correct but not guaranteed - so check it carefully before you attend any event or send money for anything. We do not write the news, just report it.


707-630-3304 or

email



For Gmail users:
By default, emails may get into the Promotions tab in Gmail.
Please check your Promotions tab for the download links and follow these instructions to make sure other important RBA Publishing info is delivered to your main inbox:

In your Promotions tab, drag any RBA Publishing/Reggae Festival Guide/Blues Festival Guide email and drop it over to the Primary tab.
2. Choose "Yes" to confirm that you never want to miss our news.

For Yahoo!, Hotmail and AOL users:
Yahoo!, Hotmail and AOL are using overly strong spam-blocking filters that are very likely to stop you from receiving our emails.
Please set up your spam filters to allow mail from the

info@BluesFestivalGuide.com

and

Info@ReggaeFestivalGuide.com

to ensure continuous delivery of our important content.

That's it! Now you can stay up-to-date.

Distribution by RBA Publishing Inc.

If you wish, and we really wish you wouldn't, like to be removed from this list, please reply with REMOVE in subject line.

It will make us very sad if you do, and perhaps your removal will be the one the makes us decide this no longer worth doing at all, and all the information we provide will go away forever and musicians will sit home alone at night and cry because they have no one to play for because no one knows about their shows.