St. Paul's Hospital
(SPHMMC)
Ethiopian Midwives Association
Click here for the
MNCH Newsletter Archives
International Day of the Midwife
5 May 2018
"Midwives leading the way with quality care."

The International Day of the Midwife is an occasion for every midwife to think about the many others in the profession, to make new contacts within and outside midwifery and to widen the knowledge of what midwives do for the world.

Join others online for the Virtual International Day of the Midwife starting May 4 at 22:00 UTC.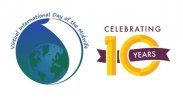 EMwA - International Day of Midwives
11 May 2018
What Women Want-Take the Survey!
What Women Want aims to hear directly from at least 1 million women and girls worldwide about how they define quality maternal and reproductive health care.

Launched on April 11, 2018 - International Day for Maternal Health and Rights - the findings will reflect the top needs along with recommendations about how to drive tangible improvements for women's and girls' health.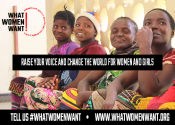 Expanding Contraceptive Choice: Intrauterine Devices (IUDs)
The Advancing Partners & Communities project, in collaboration with Family Planning 2020, the Implementing Best Practices initiative, and USAID's Office of Population and Reproductive Health, will host a webinar series about family planning methods.


Tuesday, April 24, 2018




9:00–10:00 A.M. EST





Essential Steps for Improving Newborn Survival




This course will orient participants to the latest research, technical knowledge and best practices essential to babies surviving and thriving around the world. This and other related e-Courses are available through the Global Health eLearning Centre.



Maternity Care: Building Relationships

Saves Lives




Learn how quality relationships between mothers, midwives and other health professionals transform maternity care and save lives.





Mum & Baby Academy


The Mum & Baby Academy is committed to improving the health and well-being of mothers and infants.



Improving the Health of Women, Children & Adolescents: Evidence

to Action




The latest data, priorities and debates about the health of mothers, children and adolescents.



Farewell From the ET-MNCH Project
Welcome to the Final Edition of our Mother and Child Health Newsletter
We've been on a remarkable journey this past five years. We are grateful for the partnerships we've developed, the relationships we've built and the gains we've made in maternal, newborn and child health.
We are confident the work we've done will continue support mothers, children and families in Ethiopia.
Thank you t
o the many individuals, partners and team members in Ethiopia and Canada who worked tirelessly to ensure the beneficial outcomes of the project were achieved. We hope you enjoy reading about our accomplishments.
ET-MNCH Project Milestones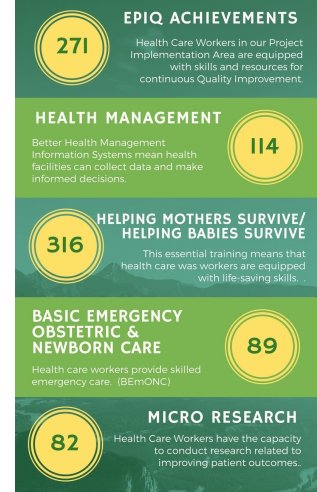 Working with key partners in Ethiopia and Canada, a team from the University of Alberta's Faculty of Medicine and Dentistry is leading a project to reduce maternal and child morbidity and mortality in Ethiopia. The project, financed by Global Affairs Canada, had two focuses: 1) increasing the teaching and clinical skills of midwifes and 2) improving health facilities' ability to respond to emergency obstetric and newborn complications.

In line with our second aim, we provided training to health care workers and professionals from St. Paul's Hospital Millennium Medical College and in the North Shoa Zone, our project implementation area. Training provided included: Health Management Information Systems, Helping Babies Breathe, Helping Mothers Survive, Helping Babies Survive and Basic Emergency Obstetric & Newborn Care. We further enhanced capacity for Ethiopian health care professionals by equipping them with skills in MicroResearch and continuous Quality Improvement using the EPIQ (Evidence-based Practice for Improving Quality) Model.

Giving Birth to Skilled Birth Attendants
Up to 25,000 Ethiopian women die during childbirth each year and nearly three times as many newborns won't survive their first 28 days. Rates in rural communities are the worst. Only 10 per cent of Ethiopian women give birth in health facilities. To address these needless deaths, the Ethiopia-Canada MNCH Project has been working since 2013 to boost the clinical and teaching skills of the country's growing population of midwifery instructors. The project provides critical training to midwifery educators so they can share their skills with new midwives.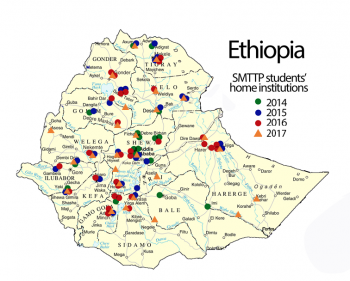 Muna H/Ibrahim, a graduate of the project's 2017 Senior Midwife Tutor Training Program (SMTTP), felt unprepared to teach prior to completing the SMTTP. She explained, "As a new instructor, I had insufficient knowledge. A lack of skill. A lack of confidence." The program provides training in effective adult education, best practices in maternal and newborn care, and clinical midwifery skills using hands-on simulation dolls and clinical placements. To round out their skills, graduates also complete courses on community assessment and research so they may continuously improve service delivery. After completing the program, Muna asserted, "I am competent enough to produce midwifery students of quality skills and knowledge—and also confidence." The program is expected to make an impact long after it ends because it builds the capacity of current midwifery educators to give birth to future generations of skilled birth attendants. As Muna explains, "It makes a big change. We are going forward; working hard; sharing all this knowledge, experience, encouragement and confidence."

Building Capacity through Communication
Ethiopia has some of the highest rates of maternal and newborn deaths in the world; with a maternal death rate of 676 per 100,000 live births, a newborn death rate of 85 per 1000 live births and an under-5 death rate of 104 per 1000 live births. The project aims to address this by increasing the availability, access to and use of skilled birth attendants across the country. In addition to rolling out a national program to increase the capacity of midwifery educators, the project has strengthened the Ethiopian Midwives Association (EMwA) by hiring a communications advisor.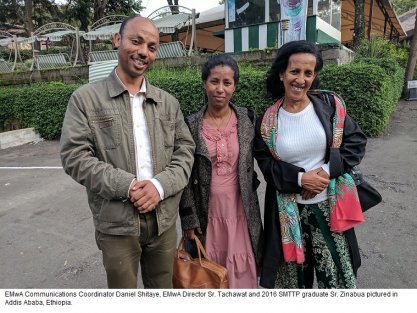 Daniel Shitaye, EMwA Communications Advisor, said the involvement has been a "transformation for the organization" allowing it to "enter a new horizon". The creation of the association's website alone has created an "information platform" for it's over 3500 members, allowing them to access research, publications, e-learning and other professional development opportunities. They've also created a massive archive of training documents to ensure smooth succession for the organization. In addition to distributing a newsletter to over 3000 subscribers, the EMwA has developed a radio program and is working to develop television programs that will reach areas of Ethiopia poorly serviced with internet, expanding their reach to a projected audience of 100 million people. The EMwA's first official radio broadcast was held on February 10, 2018 on the Radio Fana National Airwave and is expected to expand by linking to six additional regional radio stations. Undoubtedly, support from the Ethiopia-Canada MNCH project combined with the talent of the EMwA's growing membership and staff will help the association realize its vision to see that every woman, newborn and their family have access to quality midwifery care.

Saving Lives by Committing to Quality Improvement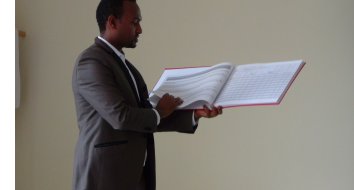 Improving outcomes for birthing mothers and infants requires interventions at many different levels. Our project staff have been building the capacity of midwives, health care workers and administrators through training such as Helping Babies Breathe and Respectful Maternity Care. Likewise, the project's financial support has been pivotal in securing an Obstetrician at Fiche Hospital and other needed resources, such as room warmers and logbooks.

In efforts to strengthen the referral health system for pregnant and delivering mothers in Fiche North Shoa Zone, the project also provides Quality Improvement (QI) training to multidisciplinary work teams. Canadian neonatal health care workers have been completing this training since 2003 because it has been shown to greatly improve their ability to deliver quality care. EPIQ training is more than just quality control. It empowers staff to identify the root cause of problems that result in reduced quality of care and make improvements.

Following EPIQ training, staff at Fiche Hospital recognized the role hypothermia was playing in poor outcomes for infants in the Neonatal Intensive Care Unit (NICU). According to Dr. Delessa, Director of the North Shoa Zonal Health Office, the impact of QI has been nothing short of a "miraculous outcome". Because of a firm commitment by staff to manage hypothermia through recording admission temperatures and using skin-to-skin care and the project's donation of critical resources, including heaters, blankets and thermometers, they have recorded a reduction in neonatal deaths from 19% to 6.7% since May 2016. With additional time and resources, the impact of QI and its effect on maternal and neonatal outcomes is potentially limitless in its application.

SPHMMC- Project Partner & Beneficiary
Our project set out to improve

outcomes for birthing mothers and newborns through a number of interventions

. As a partner, SPHMMC has been both a contributor to and beneficiary of project successes.





Training we provided, such as Helping Babies Breathe, Helping Mothers Survive, Health Management Information Systems and MicroResearch, increased the capacity of midwives, healthcare workers and administrators of this institution. Likewise, QI training empowered SPHMMC to identify and follow through on institutional changes resulting in improvements in the quality of care and outcomes of patients.



In addition to benefitting from training and resources, SPHMMC indirectly benefits from the project's successes elsewhere in Ethiopia. Since the project's inception, referrals from Fiche

and the surrounding areas have been declining dramatically. In fact, according to Dr. Balkachew, Vice-Provost for Academic and Research Affairs, SPHMMC,

"We used to see one to two cases per week. Now, it's very rare to see complicated cases from Fiche or the surrounding areas and it's because of their interventions". By building the skills and capacity of healthcare professionals at SPHMMC through international exchanges, the institution also has more capacity to handle complicated cases.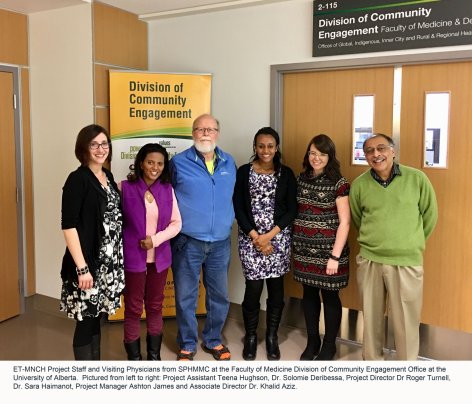 Most recently, the project provided funding for Dr. Sara Haimanot, NICU Director and Assistant Professor of Pediatrics, and Dr. Solomie Deribessa, Chief of Pediatrics, from SPHMMC to join colleagues in Edmonton as they made daily rounds in many pediatrics divisions, including neonatal-perinatal care and pediatrics infectious diseases. The tour, which was part of ongoing efforts to enhance institutional environments supporting maternal, neonatal and child health services in Ethiopia, concluded at the 2018 EPIQ conference in Banff. The conference brought together leading neonatologists and other health professionals to network, share knowledge and identify the best practices for improving outcomes for preterm infants. When speaking of her experience here in Canada, Dr. Deribessa explained, "I want to take what I have learned back home, to meet with the Minster of Health and Hospital Director, to share ideas about how we can improve our health system with our level of resources.