June 2018 Newsletter
For 12 years this newsletter has gone to more than 20,000 Firearms
Collectors,
Enthusiasts, Historians and Professionals Worldwide. We now reprint o
ver 6000 Vintage Gun Catalogs, Books and Manuals from the 1840s to the 2000s

Back issues: you can view the newsletter on our website. For a downloadable copy of our catalog of reprints or manuals this will take you there. Also, we have Interesting downloads at our website. Please forward this letter to your friends.


Clint Walker, who played the title character in the early TV western "Cheyenne," has died. Walker's daughter Valerie Walker tells The Associated Press that her father died Monday, May 21, of congestive heart failure at a hospital in Grass Valley, California at age 91. The towering, strapping Walker played Cheyenne Bodie, who traveled the West and handed down justice on the TV series that ran for seven seasons starting in 1955.




The New York-based bank this week said it is requiring its partners to bar firearm sales to customers under age 21, as well as those who have not passed a background check.
The bank is also barring clients from selling high-capacity ammunition magazines and so-called bump stocks that enable more rapid firing.

The policy will apply company-wide to Citigroup's small business, commercial and institutional clients that borrow funds, use banking services or raise capital through the bank.

The three pictures above are meant as a joke, but I believe the problem they represent runs much deeper. We have all joked about how when we were children we left the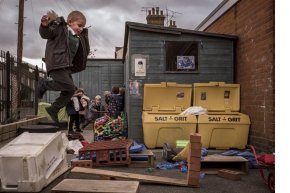 house in the morning and returned now and then for meals. Today it seems we never let kids out of our sight for fear they will be abducted or injured.
Well, in England, to name one place, educators and parents seem to be realizing that childhood needs a certain amount of danger and risk to build self-reliance and self confidence in youths. It is obvious that you don't want to dangle your child out the third story window by his foot but that cuts and abrasions, sprains and bumps are part of the learning process and if we deprive our offspring of these normal results of excursions then we are doing him or her no favors.
Many thanks to Jim Walsh for the Crown Surplus last month (I forgot to credit him). Now I have to admit I added absolutely nothing new this month, sorry I'll try to do better next month. On the other hand it is now near the middle of June and, well, let's see, I'll try.

Meanwhile, here are a few of our favorites:

Remember those carnival games you could never win? The wheel of fortune that always stopped short or the hops that never quite fit over the square or the rifle that's sights were 30 degrees off? Well, here is where all that equipment came from:
Evans Gaming Company 1909-1910 Cheating Equipment (Illinois)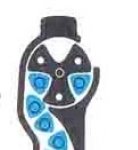 How about the revolutionary triangular pistol shell casing and bullet???
Dardick Magazine-fed Revolver Handgun c1959


These guys are an all time favorite. They came up with the brilliant idea to gas the entire bank, including customers during a robbery. That along with a bunch of other schemes that must have seemed odd, even in 1934.
Federal Gas Protection Laboratories 1934, Pittsburgh, PA

Smith and Wesson thought a screw-on dart gun thing for its revolvers was just the ticket. This contraption could fire tear gas, dye markers or, more ominously, hypodermic syringe projectiles or even an explosive device.
Smith & Wesson 1968 Mercox Dart Gun Catalog

Check out the Authored Books link and not they can be sorted by title, author or year. There are some real gems here.

Joe Vorisek did histories not easy to find... not beautiful but useful.

Guerillas V. Tanks c1940 Illustrated Manual (UK) Always reminds me of a letter my uncle wrote while training with the USA cavalry in 1942. He soberly observed "how effective horses are against tanks". He later learned in the Battle of the Bulge how effective tanks really are.

Don't miss Handbook for Hythe - The School of Musketry of the British Army 1860

CARDER, CHARLES E. BOOKS are always popular for his works on Hopkins & Allen and shotgun history

Speaking of older guns, don't miss this volume for your library: The Manufacture of Firearms and Ammunition 1882, Charles H. Fitch

or these:

Gould, A. - Modern American Pistol and Revolver, The 1888 AC Gould
Gould, A. - Modern American Pistols and Revolvers 1894 AC Gould

You know, I am only up to the Gs and I've filled the allotted space. Please look at the authored books, there is so much wonderful material there I just can't add it all.

Cheers, Rob


_________________________________________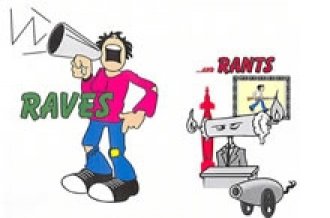 cdrichasso-0 - at eBay

Dear Mr. Chasso,
I am sorry you chose not to contact us to tell us why you gave us six neutral feedbacks which will damage our business. We are surprised by the feedback score when you said the publications you received were "OK".
Rob Mouat (no response- he's a "newby" from Switzerland)
____________________________________________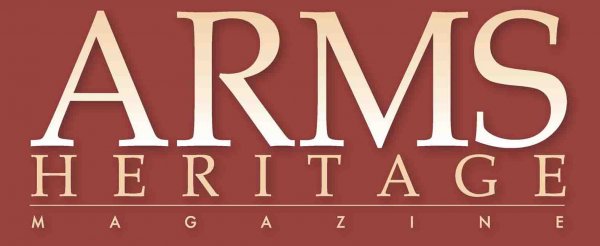 Tinder Lighter Pistols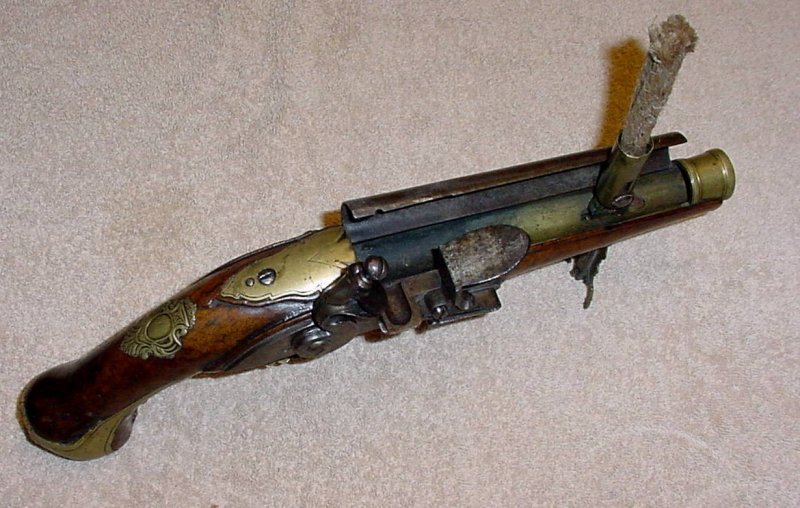 By Dick Salzer and Frank Graves





There are a myriad of different styles of tinder lighter. Prior to the development of matches, which occurred only as recently as about 1825, nearly every home had one. Some were extremely simple and crude, fabricated by local blacksmiths. Others were nicely made by established Gunmakers and often included candle holders.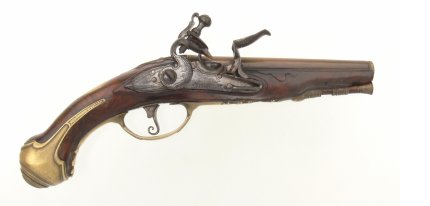 There was, however a class of tinder lighters that was quite unique, fabricated to look and superficially function like pistols of the period. Gunsmiths took obvious pride in making these tools indistinguishable from actual firearms. We have handed examples of these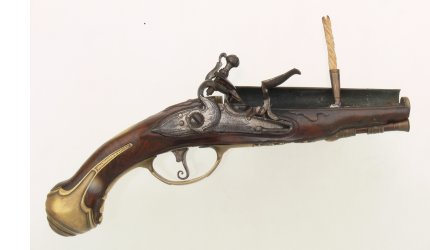 pieces to experienced collectors of flintlock pistols without revealing their secrets. Very few have recognized the unusual feature until the mechanics were demonstrated.

Most of the observed specimens were made in either Germany or Italy.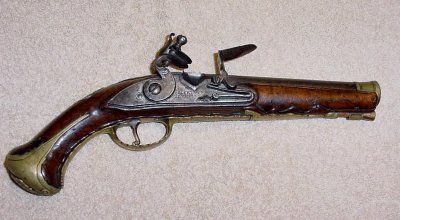 These are quite rare and seldom hit the marketplace, here are a few—We'll let the captions tell the story.

Read the rest of the story at Arms Heritage Magazine. Inexpensive to subscribe and the articles are some of the best available anywhere.

The Internet Browsers we all use to look at emails – Firefox, Edge, Opera etc – have all decided to truncate or cut off the bottoms of long emails. While there is a tiny note at the bottom allowing you to retrieve the rest of the email we decided to reduce the number of Letters from Readers to shorten this newsletter. Rob and Abby





************************************************

Readers- Kevin Rabedeau (kevirabedea_0 on Ebay) has a load of old Marbles catalogs he wants to sell… "I have 5 big plastic binders full of Marble's catalogs and a couple of binders full of every patent that Marble's has..." We (Cornellpubs) are not buyers for them at this time so I promised to put his information (his ebay contact above- ebay rules, you know) in the newsletter. Rob



************************************************



Dear Abby, I am very interested in buying one of the Hartmann & Weiss Gun c1980 Catalog. It seems you ship Worldwide, but unfortunately not to Denmark - is that correct ? Please let me know if you are willing to ship to Denmark. Please advise, thank you. Best regards, Mr Henrik Bonnelycke

Dear Mr Bonnelycke, I regret that due to the cost of international postage and the fact that Ebay charges commissions on postage we no longer ship outside the U.S. from our Ebay account. However, this policy applies only to orders from Ebay.
Best wishes, Rob Mouat

(He ordered from the website. I think I mentioned before that the only problems we have had at Ebay came from overseas orders. Claims of non-delivery and just plain stupid or nasty comments, something we don't get at the website. I guess people feel "empowered" by ebay.)



************************************************



Dear Editor, My name is Jacky and I'm the Editor at Sport Fitness Advisor. I was doing research on parkour and just finished reading your wonderful blog post (in your January newsletter).

In that article, I noticed that you cited a solid post that I've read in the past (on Parkour).
I just finished writing a guide that is even more detailed, updated and comprehensive - it is an ultimate guide to parkour written by Nick Catlin, a two-time Olympian. It is packed with practical tips and advice (including videos), and completely free. You can find it here.

If you like the guide we'd be humbled if you cited us in your article. Of course, we will also share your article with our 50k newsletter subscribers and followers across our social platforms. Either way, keep up the great work! Warmly, Jacky



************************************************



(Dear Rob), I thought that the Smith & Wesson 1900 Revolvers Catalog would include exploded diagrams of the revolver but I just didn't read your description carefully. Can I exchange this one for the 1901 version and pay the difference? Robert Murphy

Dear Mr. Murphy, No manufacturer prior to the period after WWII (1945) used exploded parts views. Those that you may have seen for older guns were made more recently. So, nothing we reprint from that period has exploded views although some makers did use cutaway drawings. S&W, unfortunately did not. They offered only flat parts plans and either you knew how to put them together, knew a gunsmith or sent it to the factory. Best wishes, Rob



************************************************



HI, I'm trying to hunt down a Wilkinson sword knife that I recently acquired. I suspect it was made in the 1960, but I can't find any information on it on the web. I've attempted to look though the site, no real luck, but are you aware of any catalogs or such in your data base from around the 1960's that could have this knife in it? The only thing close was a reference in Fighting Knifes by Fredrick Stephens, as a proto type to the British MOD knife. Many thanks, Josh Lambert

Josh, If you are around and can send me a pic of the Wilkinson you have, I'll put it in the newsletter to see if anyone recognizes it. Rob

Hi Rob, Thank you very much, please find attached some pictures. I've also included the only information I've been able to find, with any traceability. It appears to be a prototype version between the first and second prototype. I've tried to track down the author with no luck. It looks like the publisher is out of business. If any of the readership can shed some light on this knife, that would be very much appreciated. Cheers, Josh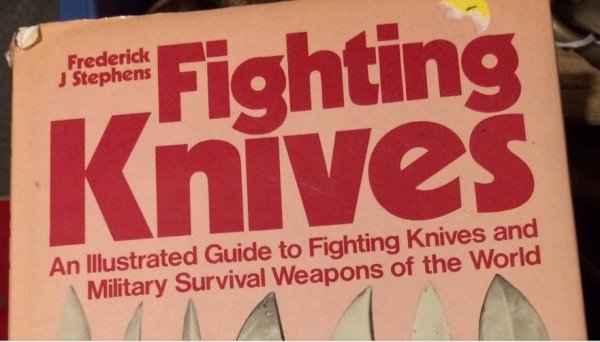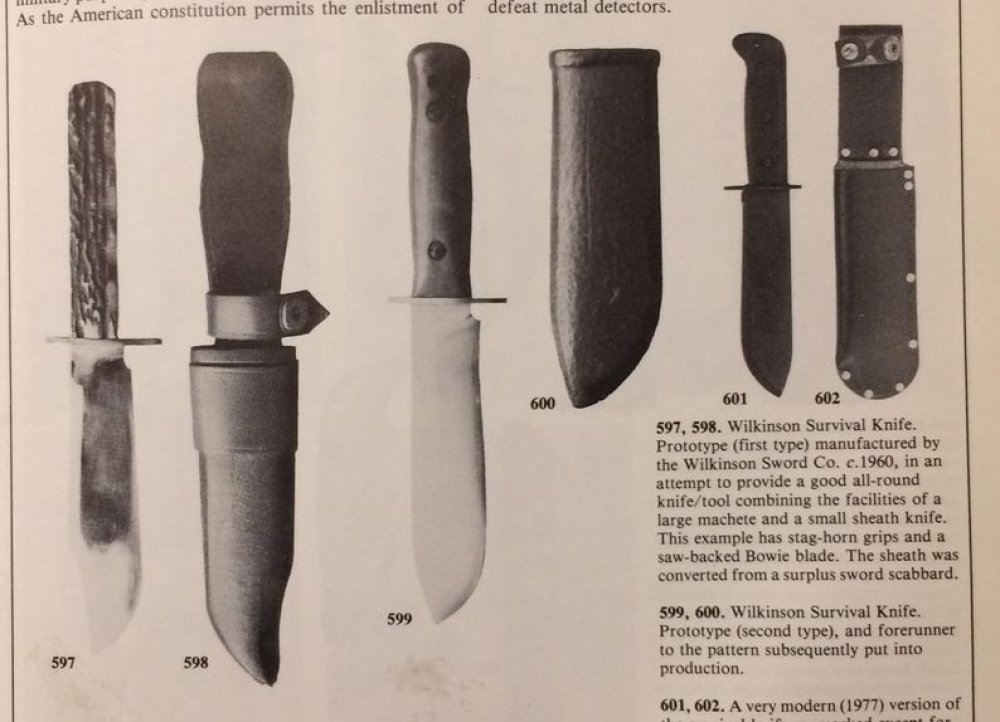 Josh's Knife:





************************************************



Hello (Abby & Rob), My friend Peter McHugh might have already asked you about this. I was wondering if you have any information about the company "San Antonio Knife Works" in regard to their supposedly manufacture of WWII fighting knives from M1913 Patton Sabers? Peter and myself are trying to find out if the company actually existed and if they were one of the companies that made WWII fighting knives from M1913 Patton Sabers. I know Anderson and Knife Crafters did but we are trying to solve the SAIW mystery. I just ordered your 1960 P&S Sales catalog which offered some for sale. Thanks, Don Lyne

Hi Don, I am afraid I have to admit that I've never heard of San Antonio Knife Works. I suppose the story might be true but I rather doubt they would advertise the origin of the steel used. I'm sorry I don't have more to offer but I will put your question in our newsletter and perhaps someone knows the answer. Cheers, Rob – Readers???



************************************************



Hi Abby: The Crown Surplus 1967 Catalog (Canada) arrived today in good condition. It's an excellent copy. I'm very satisfied. It might interest you to learn that Crown Surplus is still operating from the same location in Calgary after all these years. Cheers! Pat McCormick



************************************************



(Dear Abby) Thanks For Reading My Request For Carefully Packaging My Order. Have Learned From Other Sellers That They Seldom Read Buyer Requests And Don't Add Any Extra Effort In Protecting There Product. To Many Internet Sellers Have Realized That Most Customers Won't Buy From Them Again And Skip On Packaging And Customer Service. I Miss The Old Brick And Mortar Bookstores. However People Are Changing There Buying Habits To Order More And More Items From Food To Clothing, Etc. Through The Internet Or There Phones. More And More Of Our Stores Here Are Re-Configuring There Parking Lots And Inside Counters To Handle Pick-Up Orders. I Can't Imagine Your Having A Retail Location With So Many Inconsiderate People Asking Questions, Wanting To Search Through Your Inventory, Etc. And Not Understanding The Value Of Your Time And Expertise. I Still Remember The Sinking Feeling I Had As A Borders Manager When I Saw My First Young Person Using There Phone To Photograph The The Back Cover Of A Book So That They Could Use The ISBN To Order it On Amazon. UGH. Abby, Thanks For Listening. I Look Forward To Receiving My Order And Writing A Great Review And Recommendation. With kind regards / Peter



************************************************



(Dear Abby) I see that you have a catalog for Malcom Scopes from 1936. Do you have a manual for the Malcom scope that will show the internals? I need to clean teh optics but cannot discern how to remove the internal piece. Edward Sneithe

Dear Mr. Sneithe, No we don't, sorry. Abby - Readers????



************************************************



Hi There Abby, I have just purchased a Charles Hellis & Sons Shotgun and I'm trying to find the year of manufacture. I see you have several publications available but I'm am unsure which one would give me this information. The gun was made between 1905 and 1928 is about all I have been able to track down at the moment. Any help much appreciated. Best Regards, Simon McGee

Hi Simon, The sales catalogs we reprint will not, of course, give serial number information because when the catalogs were printed the guns had not yet been made. So your best bet is to try to figure out which generation of guns your gun belongs to. This is done by comparing your gun with guns pictured in the various years of Hellis. I know this isn't ideal but it is one of the reasons for our existence... to give you that opportunity to try to pin down your guns. Cheers, Abby



************************************************



FYI, Ruhr America was not from Waseca, it was Herter's store in Glenwood, mn. It was called Krupp America until Krupp arms found out about the name and threatened to sue. I used to work at Herters in Waseca mn. Bob Wynnemer

Hi Bob, Thanks, I changed it at eBay, but honestly, we've advertised it since 2013 and never sold one so I guess we should put it to rest! Cheers, Rob



************************************************



(Dear Abby) Just received the 2695 Mauser Luger manual. Would you by chance have an English version? Thank you, Derrick – nhrexall (eBay)

Dear Derrick, We offer three Luger manuals in English. I sent you the list to the ebay listings. Abby

(Dear Abby) The one I received was written in a European language. Please see enclosed photo. Nhrexall

Dear Derrick, Yes, the one you bought is in German, the title says it is in German, the description says the text is in German and the index itself is in German. I sent you the links to three Luger manuals in English do you want one of those (please look at them before you choose)? Best wishes, Abby



************************************************



(Dear Rob) I am looking for the catalog that has my uncle in it. Ed Jocke . I'm not sure of the year. He is pointing at his rifle and it has white tape wrapped on it. do you know if your copy has this ? He was hunting in africa. kdiver58 (eBay)

Dear kdiver... I thought this would be another fruitless search but lo and behold, I opened the '73 Weatherby 18th edition, and there on page 45 is Edmund Jocke of Columbia Startion, Ohio! Cheers, Rob

************************************************
email Rob or Abby