This Sunday,
May 20, 10:00 am
Full disclosure — we won't be done in an hour! I'm not sure how long it will go, but this day belongs to the Holy Spirit, aka "God beyond our control."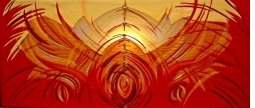 It's Pentecost Sunday, when we remember the day the Christian church was born by the power of the Holy Spirit. (See Acts 2:1-42). It's also my last Sunday with you, so in addition to some extra music I'm trying to squeeze in, we will also have representatives from the Pacific Northwest Conference with us to lead in the farewell liturgy for Recognizing the End of an Authorized Ministry.
Red

is the liturgical color for Pentecost, and it's our tradition to wear the most vivid red clothing we've got to church that day. And oh my, have I got something vivid! I will be wearing a bright red chasuble (like the white one I've worn through Eastertide) which Mary recently bought me for the day after discovering that retired clergy sell their used vestments on ebay for a song.
Teaching moment for newer church members:
So what is Pentecost? Technically it's the 50th day of the Easter Season. It's also the Greek name for the Jewish festival of Shavuot, which occurs 50 days after Passover and celebrates God's gift of the Torah/Ten Commandments at Mt. Sinai. In New Testament times, Jews from all over the Roman Empire would gather in Jerusalem for the festival. As the story goes, seven weeks after the resurrection the disciples were still in Jerusalem for Pentecost when suddenly they were filled with the Holy Spirit and began boldly telling others what God had done through Jesus Christ. Thus we say that the church was "born" on the day of Pentecost.
So Jews and Christians are both celebrating Pentecost this weekend — Jews celebrating the gift of Torah, and Christians celebrating the gift of the Holy Spirit.
There is no church school this Sunday. Children will be in worship for the entire time so teachers can attend the service. Nursery care will be provided for infants and toddlers as usual. — DD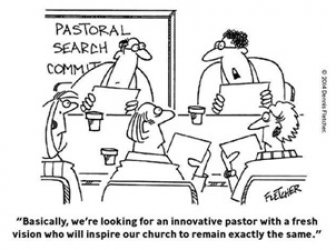 Every church does this; it seems to be the nature of the organism. But have a chuckle now, and when your innovative and visionary new pastor arrives and starts changing things — including things I started or held dear in my time with you — take a deep breath and remember this cartoon. — DD

Alki UCC and KHN staff surprised Pastor Diane and Mary with a sendoff celebration. Happy Trails & Happy Sails! Photo by la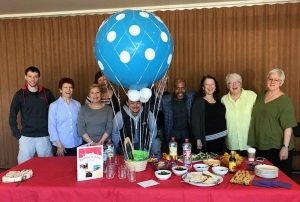 Meet Some More of Our Newest Members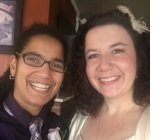 Gina Erickson and Ashleigh Johnson
We started coming to Alki UCC in mid-December, looking for a community, and have been in worship almost every Sunday since then. We immediately felt welcome here. We are looking forward to becoming more involved and getting to know the people that make up this church.
We were married on New Year's Eve of this past year, and are "moms" to a sweet almost 10-year-old corgi named Tedd. The three of us love to go hiking. We are also pretty solid foodies and are always up for trying new food and new recipes. Ashleigh works at Costco and Gina is a Cancer Information Specialist at Fred Hutch. (Gina at left; Ashleigh at right in photo)
Jane Clay
I have been a Christian all my life. I was baptized as an infant in a little

white dress, earned perfect attendance award for Sunday School, and became a member of a Presbyterian church when I was confirmed at age 12. My late husband and I were married in an Episcopal church in 1954, and we had four children together.
From 1957 until now I was an active member of a Unitarian congregation in Madison, Wisconsin. After my husband died in 2011 I have had a hard time deciding where to live. I had many options, with adult children living in different parts of the country, and my minister said, "I'd rather know that you had too many choices rather than none!" I stayed in Madison another year, where I had grandchildren nearby, then moved to a retirement center in Pullman, WA close to where my daughter Jo lived. When she got married she and her husband moved close to her son's family in Salt Lake City.
All my life I had wanted to live in Seattle, and my son Mike lives here, so here I am. Though I live alone, Mike is always ready to help out. I have not given up my life in Madison completely, and continue to visit family and friends there at least once a year. I enjoy Seattle, and Alki UCC has been where I've chosen to worship for at least a couple of years now. I am 94 years old and still learning – learning how to love more, and to accept whatever happens. The 23rd Psalm brings me comfort. Thank you, Alki UCC, for being so loving and conveniently close by.

Sherrie Angela Plymale
Greetings, and thank you for the warm welcome into the loving Alki UCC community. I am delighted to have this opportunity to share fellowship and worship with you. I came from a large, loud, somewhat enmeshed Roman Catholic family. My heritage is German French on the paternal side and Italian on the maternal side. I suppose this explains a lot about my personality! LOL.
Living as a West Sider for 40+ years now, I recently retired as an RN Case Manager for the Providence Health System in TCU. My life is indeed wonderful. It is with extreme gratitude that I enjoyed an awesome nursing career, being trusted and privileged to provide care for people at the most vulnerable time in their lives. The Providence core values resonate deeply: that of respect, compassion, justice, excellence and stewardship.
My fortune are my family and friends. I hope to listen and learn, grow in God's love and contribute to the church mission in relationship. Wishing you peace!
Bruce Wilson, Visiting Pastor


Alki UCC Sunday Worship beginning June 10



Hello Alki UCC,
Some of you may remember me from back in 2014 when I interned at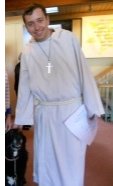 Alki UCC on my path towards ordination, others of you I am very excited to get to know you in the future.
I wanted to incorporate a little bit about myself so that you would get to know who will be the "visiting pastor" this summer as the church works towards finding an interim pastor. First, I am a native of Louisiana (Not New Orleans), but have lived in the Pacific northwest for eight years now and call it home. I currently serve at St. Joseph's Medical Center in Tacoma as a staff chaplain and have been doing that for almost four years now.
I love the art of pastoral care as well as learning more about the helping professions. The love of the helping professions made me want to go back to school and study how to do Mental Health Counseling. When these things get to be mundane, I like to spend my time tasting wine, fishing, or going on an adventure. I am looking forward to my time at Alki (again) and will be happy to be your pastor for the summer!
— The Rev. Bruce Wilson Jr. BS, MDiv, BCC
Pastoral Care Beginning May 21
After Pastor Diane's last service with us on Sunday, May 20, The Rev. Susan Fairo will be your principal contact for emergency pastoral care issues.

Susan has been a member of Alki UCC since 2012, after completing an internship with Pastor Diane. She is currently the intentional interim pastor at Spirit of Peace UCC in Sammamish and previously served as the intentional interim pastor at Penbrook UCC in Harrisburg, PA.
During Susan's summer vacation, The Rev. Amy Hitchens will be available for emergency pastoral care. Amy has been a member of Alki UCC for thirteen years and was, until May of 2017, in four way covenant as a hospital chaplain with Alki UCC. Amy is currently serving as pastor at Normandy Park UCC.
Contact information and other details will be included in future Messengers, in the Directory and in the Sunday bulletin.
2018 Poor People's Campaign
The 2018 Poor People's Campaign: A Call for Moral Revival was started by Rev. Samuel Barber to carry on the public witness for justice begun by Rev. Dr. Martin Luther King Jr 50 years ago. Our deepest values as people of faith compel us to strengthen the well-being, dignity and legal protection for all, promote the desire for peace within and among nations, and expand our responsibility to care for the earth as our common home. As Rev. Barber reminds us, "Faith stands up. Faith speaks truth to power."
You are invited to join with grass-root efforts throughout our nation to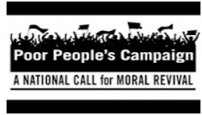 support personal and structural transformation of our country's political, economic and moral narratives to promote justice and respect for everyone. Specifically, you are invited to engage in thoughtful discussions and to take compassionate actions during the 40-day launch, of the Poor People's Campaign.
A Season of 40 Days is significant within our Christian tradition as being a benchmark for creating a favorable environment for deep transformation. The Campaign was launched on Monday and will continue through the Summer Solstice. Here's an article about UCC activities across the country this past Monday.
Campaign information here.
Joys, Concerns and Prayers

It's official! Last Sunday Normandy Park UCC voted to call The Rev. Amy Hitchens to be their Pastor and Teacher. After about fifteen years as a Chaplain at Highline Medical Center, this is a welcome change for Amy and a great decision for Normandy Park UCC.
Congratulations to Ethan and Tyler Van Pelt on their baptism last

Sunday. The Rev. Catherine Foote, from University UCC, where Anna and her children now attend, participated in the baptism with Pastor Diane (a welcome intervention after Diane had spent weeks wondering how she was going to carry two 16 month-olds down the aisle at the same time!)
Please hold in prayer the Piraino family — Mike, Elise and Nicholas — as they face more transitions for Karina. And of course, please keep praying for Karina.
Lisa Burke is still at Mt. St. Vincent as of today, being treated for blood pressure problems and being trained in how and when to take the four medications she needs at different times each day. It's not clear whether she will be able to return to her apartment; she may need to move to some other care facility. In other words, much is in flux. But her family hopes to get her to church this weekend for Pastor Diane's farewell party or Sunday's worship service, or both.
Penny Matthews, recovering from a perforated appendix.
Please kindly remove Diane and Mary from any of your group email lists, such as the Board of Directors, Choir, Outreach, etc. Also, until an Interim Pastor is hired, any emails to pastor@alkiucc will get an auto-response referring people to the Office Manager during this time of transition. Thank you!
For those grieving the recent death of a loved one:
Kristin Michael, Lesa Henry, Jeff Jolly & family, Charley Rosenberry,
Russ Thornock, Trish Dodds, Cynthia Jolly
Recent hospitalization, illness and other concerns:
Lisa Burke, Bev Connor, Patty Magnuson's brother,

Shelley Webster, Jan Cochran
For home bound members/friends of Alki UCC:
Ruth Okada, Doris Colbert
Wider World: All those affected by the volcano eruptions in Hawaii; p
rayers for fewer guns and for all victims of gun violence; victims and survivors of extremist violence

around the world

;

the migrants seeking refuge around the world, and for those who are trying to help and serve them. The rest of the missing schoolgirls kidnapped by Boko Haram, who remain in our hearts as long as they remain missing. The hungry and homeless, the ill and the addicted, the lost and the lonely; the unemployed.
Make sure you get the newsletter:
Please add "office@alkiucc.org" to your Safe Sender list, or click the Subscribe button at right to help keep your newsletters from going walkies:
Pastor Diane
Sendoff Celebration
Saturday at 6:00 pm
Choir Rehearsal
Sunday at 8:45 am
Worship
Sunday at 10:00 am
Choir Rehearsal
Tuesday at 7:00 pm
Parking Alert!
This Sunday,
8:00 to 11:00 am
This Sunday, 8:00 am to 11:00 am, is the annual Alki Beach 5K Walk Run.
It always draws a big crowd and a lot of the parking near the church gets taken by 8:00 am.
So be prepared, allow yourself some extra time to park, and walk or cycle to church if you can.
Sunday Worship
The Rev. Katy Lloyd,
Guest Pastor
Sun, May 27 at 10:00 am
Music Sunday
Marshan Goodwin
Moultry,
Minister of
Music
Sun, June 3 at 10:00 am
Progressive Dinner
Sat, June 9 at 4:00 pm
Sunday Worship &
Annual Meeting
The Rev. Bruce Wilson,
Visiting Pastor
Rod Peeler, Board
Chair
Sun, June 10
at 10:00 am
Eat, drink and be merry one last time with Diane and Mary!

Be at Anderson Hall tomorrow, Saturday, May 19 at 6:00 pm. Casual dress and festive spirits are all you need. Childcare is provided.
Questions about anything: Charlie Hinckley.
Early pledgers have been out in force, celebrating another year of support for our beloved Alki UCC. They've also bagged multiple entries to win the fabulous indulgence basket.
Don't miss out! Grab your pen, your laptop, or your smart phone and join the fun.

You can pledge online at alkiucc.org, OR hand in your pledge form during the offering, OR stop by the Stewardship table at coffee hour. Exchange bon mots, fill out a form, and drop it in our big pledge envelope. We're there to make pledging easy and rewarding!
Your Stewardship Team
— Charlie Hinckley, Jane Gunwaldsen, Julia Chase, Bob Stahley
Tomorrow!!
Call for "Tiny House" Volunteers
Weekly Build Scheduled at Camp Second Chance
Every Saturday until Seven Tiny Houses Completed
Calling all Volunteers! We need you this Saturday!
9:00 am start time
Camp Second Chance, 9701 Myers Way S
Parking lot is in the front; carpooling encouraged
Please contact Kathy if you plan to join us.
We also welcome folks who can bring lunch or snacks!
Important Logistics:
Upon arriving at Camp Second Chance, stop at the security office and sign in. You will be directed to our building site.
Dress for the weather
Wear sturdy boots or shoes (stepping on nails and other construction materials)
Bring:
Hammer, s
afety glasses, w
ork gloves, e
ar plugs (extra available), k
nee pads.
Make sure you label/mark your tools with an identifier.
FYI:
Porta potties on site
There is no running water
In appreciation,
— Kathy
Save the Date!
All Church Progressive Dinner June 9
Our annual all-church Progressive Dinner morphed into an Alki and Admiral UCC Progressive Dinner last year and we had such a great time with our UCC neighbors that we'd like to do it again!

For those of you who have not participated before, it's a lot of fun (and a pretty cheap evening!) getting to know people in a couple of small groups: one small group for appetizers and a different small group for dinner. Then we all meet together at one of the churches for dessert.
For those who attended last year, we're simplifying down to only three stops. Less frantic, more time to visit.
Participants choose to host appetizers in their home, host dinner in their home, help co-host dinner in someone else's home, OR provide a dessert and then help with set up/clean up at a church.
Stay tuned!
— Vicky Smith & Wendy Henderson
Support Initiative 1631 for Clean Air, Clean Energy & Good Jobs
Sign the Petition!
Initiative 1631, sponsored by the Alliance for Jobs and Clean Energy, promotes a
ballot initiative for clean air, clean energy, and good jobs.

Please consider signing a petition next time you're at church; they're on the publications table in the narthex.
More information here.
Alki UCC
Board of Directors
2017-2018
Rod Peeler, Chair
Shannon Peterson,
Vice Chair
Jason Huynh,
Secretary
Charlie Hinckley
Emily Hitchens
Sandra Johnson
Dan Kennedy
Patty Magnuson
Scott Mathews
Ex Officio:
(Voice but no vote)

Kristin Michael,
Business Manager
Julia Peeler, Treasurer
Diane Darling, Pastor
Click on the big, blue donate button at alkiucc.org to make your secure online donation.
You will be redirected to our contributions page where you click on the PayPal button to donate online.
Other giving options are also noted.