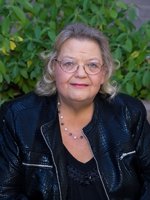 Nomination Citation for American Classical League Merita Award 2012

LeaAnn Osburn's work and philosophy toward students and teachers alike is captured in a favorite Latin quote: Spem successus alit. All of her work in Classics has been done with the singular focus of bringing success to students in the hope that they will continue their study of Latin. LeaAnn has inspired scores of her own students to study the classics at college and some have themselves become Latin teachers. Similarly, she has devoted considerable energy, passion, and time to the service of the classics teaching profession on the state, regional, and national levels. LeaAnn has mentored many of her colleagues through her leadership, her advice, and her presentations. It was my honor and privilege to work with LeaAnn as an officer colleague of the Illinois Classical Conference and to learn from her as a high school teacher colleague.

Developing books that enable, empower, and challenge has been her mission these last ten years, partnering with Bolchazy-Carducci to create workbooks, transitional readers, and textbooks that move students ever deeper into study by enjoying success after success in Latin.

Donald Sprague, Nominator
Co-nominators: Marie Carducci Bolchazy and Rose Williams

For those in the Chicago area, services for LeaAnn are scheduled for May 19. Others can leave an online condolence should they so wish.

Echoes of a Class Long Past
A former student, class of 1985, who studied Greek with me at Loyola Academy sent the following message from one of his friends
.
Today I saw a Honda Odyssey with ILIAD on the license plate. It made my day.
---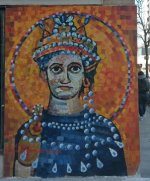 Theodora
The Chicago Mosaic School located in the Edgewater neighborhood is easily recognized by this reproduction of the Ravenna mosaic of the Empress Theodora of the Eastern Roman Empire.
---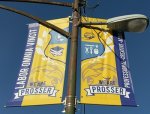 Labor Omnia Vincit
A fitting motto for Chicago's Prosser High School.
Classical Conferences and Meetings in 2018

Bolchazy-Carducci Publishers provides eTextbooks on a variety of eBook platforms. Bolchazy-Carducci textbooks are available through VitalSource,

GooglePlay

,

Chegg

, RedShelf, Adams Book, Follett,

MBSDirect Digital

, and ESCO. Each eBook platform offers a variety of tools to enhance the learning process. eBooks have the same content as our traditional books in print.
eBooks are purchased from the eBook provider. For direct links to purchase Bolchazy-Carducci eTextbooks, visit the title's product page on Bolchazy.com. Just above the product description there is a list of the eTextbook providers and a direct link to purchase the eTextbook. Some eBook providers sell directly to schools—check with your school to make these purchases.
You can read eBooks on a Mac, PC, iPhone, iPad, Android, or a variety of eReaders. Review the eBook providers specifications.
The eyeVocab software leverages human memory for distinctive affective images* presented in isolation to radically improve the speed, depth, and permanence of second language vocabulary acquisition. Images are drawn from classical art, both western and eastern, from photojournalism and historical photography, great book illustration, and other sources.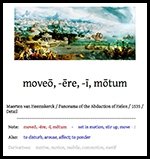 *Learn how images are chosen.

Far more than a set of electronic flashcards, the multimodal vocabulary program facilitates a significantly deeper learning and retention. Students will readily master the frequent Vergil and Caesar vocabulary for the AP® Latin Exam and thereby devote far more of their study time and energy to reading and discussing De Bello Gallico and the Aeneid.

eyeVocab programs correspond to the following B-C books.

Caesar: Selections from his Commentarii De Bello Gallico
(Mueller) (218 words)

Vergil's Aeneid: Selected Readings from Books 1, 2, 4, and 6
(Boyd) (162 words)



Vergil's Aeneid: Books I–VI


(Pharr) (292 words)

Latin for the New Millennium Level 1

(423 words)





Introductory rate for each of the AP® Latin programs is $14.95. The LNM 1 and LNM 2 introductory rate is $24.95 per program. For site licenses, contact Miles Becker at sales@eyeVocab.com.




Click on each title to learn more.
The Pompeiiana Newsletter created and edited by Bernard Barcio ran from 1974 through 2003. The newsletter offered a place for Latin students to publish comics, stories, games, and articles, and was a beloved resource for Latin teachers. In 2008, Barcio granted Bolchazy-Carducci Publishers the rights for all of the Pompeiiana Newsletter. B-C is proud to serve as curator for this archive and has made the issues available for teachers, students, and friends of the classics. Check out http://pompeiiana.blogspot.com/
Each September, Bolchazy-Carducci mails its Roman Calendar to Latin teachers across the nation. If you're not on that mailing list, send a note TODAY to info@bolchazy.com. Put Roman Calendar in the subject line and provide us the USPS address to which you wish the calendar to be sent. The calendar is also available in a digital format.
Preview Bolchazy-Carducci Titles

Preview Bolchazy-Carducci titles before you purchase using Google Preview.
---

Downloadable Products
iPodius - Bolchazy-Carducci Publishers online shop for: audio, software, video, and a treasure trove of teacher-created materials in the Agora.
---
BCP Facebook Fan Page
Become a FAN of Bolchazy-Carducci Publishers, visit our Facebook Fan page for the latest news from BCP.
---
BCP Blog


Visit the BCPublishers Blog for B-C news and information.



Check out the results of this year's Martia Dementia. Congratulations to Nicholas Santana of St. Ignatius College Prep in Chicago who took first place!

---
BCPublishers on Twitter
Follow us on Twitter

---
AP® is a trademark registered and/or owned by the College Board, which was not involved in the production of, and does not endorse, this site.
These products have been developed independently from and are not endorsed by the International Baccalaureate (IB).
All of us at Bolchazy-Carducci Publishers celebrated our teacher colleagues this past week as the nation marked National Teacher Appreciation Day on May 8. Our teacher colleagues have been called to serve in one of the most important professions. Every day they touch the hearts and the minds of their students. And, every day they share their passion for excellence and their passion for the classics. Sententiaeantiquae.com cites the ancients' reverence for teachers.
With great sadness, we note the passing of our colleague LeaAnn Osburn who served the classics community as teacher, leader, and textbook editor. I have known LeaAnn for almost forty years having met her at my first Illinois Classical Conference (ICC) meeting in the winter of 1978, my first year teaching. Subsequently, we served together as officers for ICC, participated in the Illinois District and State Latin Tournaments, worked together as editors at Bolchazy-Carducci, and presented together at conferences.

LeaAnn's contributions to the Latin for the New Millennium series for which she served as series editor are inestimable. Her experience teaching at Barrington High School in Illinois for so many years informed her understanding of pedagogy. I note, in particular, the "Exploring" essays written by college and university scholars that make connections between the ancient world and the contemporary world that are presented in each review section of LNM Levels 1 and 2. When teachers suggested we develop a Level 3 for Latin for the New Millennium, it was a "no brainer" that we turn to LeaAnn to work with Helena Dettmer of the University of Iowa to put together this terrific volume with its in-depth selections from the Golden Age of Latin literature and its introduction to literary analysis. It was my privilege to work with LeaAnn as an editor for the three levels of Latin for the New Millennium.

LeaAnn was a national presence in the classics community. Thus, she was recognized with such awards as the American Classical League Emerita Award (2012), the Illinois Classical Conference Lifetime Achievement Award (2008), the Classical Association of the Middle West and South Good Teacher Award (1996), the Illinois Lieutenant Governor's Award (1990), and the Illinois Latin Teacher of the Year Award (1989). In addition to her editorial work at B-C, she was also coauthor of A Catullus Workbook and Vergil: A LEGAMUS Transitional Reader.

May my friend and colleague rest in peace. Check the sidebar for the nomination citation for LeaAnn's ACL Emerita Award and for her memorial information. We extend our condolences to LeaAnn's family.

Best wishes to you and your students as you march toward summer break. All of us at Bolchazy-Carducci Publisher salute the invaluable service our teaching colleagues provide!

Insert Learning is a unique tool that enhances any website by allowing a teacher to add notes, supplementary links, comprehension questions, or discussion threads. Technically, it is an extension for the Google Chrome browser which means that it is a quick download and is added to your toolbar in Chrome. When you find a website that you want to build a lesson or assignment around for your students, you click on the Insert Learning icon within Chrome to bring up a simple set of tools. As the teacher, you can highlight important vocabulary, terms, or ideas. You can add a sticky note that contains background information, an annotation task, a link for more on the topic, or even a YouTube link. You can insert questions wherever you would like students to have the chance to respond. Finally, you can add in the opportunity to start a discussion.


When you have enriched the website with your own content and questions, you can assign it to a class of students. The most streamlined way to share is using Google Classroom, but there are options to share via another LMS or a link. It is important to note that your students must also use the Chrome browser in order to access the enhanced website. To complete the assignment, students investigate the site, read, answer questions, and contribute to the discussions. The teacher can view student responses from the teacher dashboard.

Insert Learning has a myriad of interesting applications in the classroom. I am particularly excited to use it as I am developing a new unit on medieval Latin. My students have done some background reading on a variety of topics related to the Middle Ages. I like that Insert Learning provides me with a great tool to help them be active readers. I can ask them to highlight, annotate, and respond as they are reading. I have found the Insert Learning resources very helpful in getting started.
Check it out
!
Lynne West
Latin Teacher and Instructional Specialist
Bellarmine Jesuit College Prep
San Jose, CA

Classical Association of the Middle West and South 114th Annual Meeting Report

An annual rite of spring is joining classicists from the thirty-two mid-western, western, and southern states and three Canadian provinces that constitute the Classical Association of the Middle West and South's (CAMWS) territory for the annual meeting. Some 700+ attendees from those areas as well as others from across the country converged on Albuquerque, New Mexico, at the invitation of the University of New Mexico for the 114th Annual Meeting. Nine sets of presentations at each time slot covering a comprehensive range of scholarship and pedagogy took place over the course of the conference's three days, April 11–14. Allan Bolchazy, Bridget Dean, and Don Sprague staffed the five-table display of Bolchazy-Carducci materials. This CAMWS meeting was significant for both Allan and Bridget—his last time representing the company at a classical conference and her first conference as president of B-C.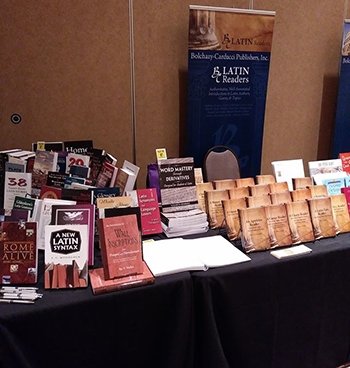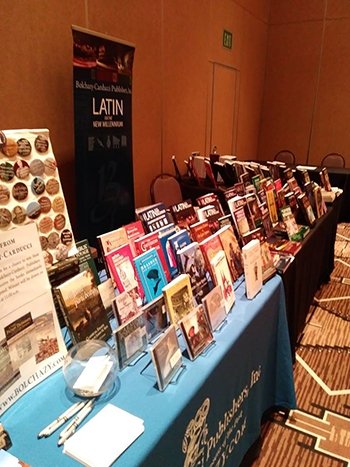 Even with five tables, it's difficult to display the cover of every book we ship to the conference. We use book ends to display some titles. B-C likes to showcase as many of its titles as possible based on the feedback that "there's no substitute for looking at the book itself."
As is their custom, CAMWS Secretary-Treasurer Tom Sienkewicz and Administrative Assistant Jevanie Gillen ensured that the conference ran smoothly with careful attention to the all-important registration and refreshments. Attendees who took up local chair Monica Cyrino of the University of New Mexico's invitation to experience Albuquerque and New Mexico "The Land of Enchantment" were pleased that they did despite the thirty-degree drop in temperature on Friday.
A highlight of the gathering is the annual banquet. Incoming CAMWS President Laura McClure of the University of Wisconsin-Madison delivered an engaging presidential address, "Classics on the Midwest Frontier: The Legacy of Walter Ray Agard." Agard was a major figure in the development of classics at the University of Wisconsin-Madison and on the national scene. Baylor University's David J. White, the new CAMWS orator, ably filled the role that the newly retired James May had undertaken for so many years. White demonstrated that he declaims superbly in Latin but that he also sings quite well.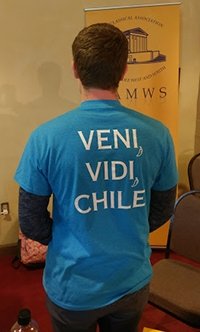 A gracious University of New Mexico student sports the special conference T-shirt worn by student volunteers.
Classical Association of New England 112th Annual Meeting

The quaint town of Kingston, Rhode Island, home of the University of Rhode Island (URI), welcomed members of the Classical Association of New England (CANE) to the annual meeting, March 16–17. While conference sessions took place in the twentieth-century Swann Hall, home of the English and Language Departments, attendees enjoyed checking out the historic buildings of the central quad that have been listed on the National Register of Historic Places. URI's lone classicist Daniel Carpenter served as the ubiquitous, solicitous, and seemingly indefatigable host for the meeting.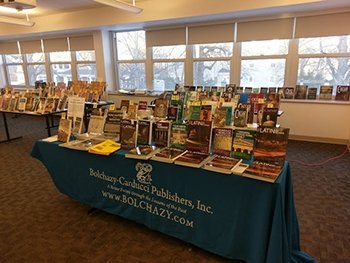 The classroom half-tables readily accommodated almost a hundred book stands for B-C texts.

The paper sessions were held in Swann Hall and the book exhibit filled several second-floor classrooms in the building. Don Sprague displayed B-C's wares and engaged teaching colleagues who visited the exhibit room in conversation about various titles paying particular attention to A Latin Picture Dictionary for Everyone: Lingua Latina Depicta and Word Mastery through Derivatives Designed for Students of Latin.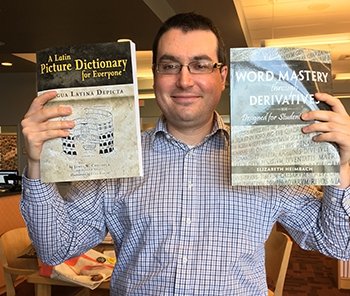 Michael Munsey, book drawing winner at CANE.

Sprague managed to break away from the exhibit and attend the special panel "Twenty-First Century Classical Education: Quo Vadimus?" featuring Jacqui Carlon, University of Massachusetts at Boston; Jamie Chisum, principal of Wellesley High School, MA; Jeri DeBrohun, chair of the classics department at Brown University; Sherry Lewis-daPonte, assistant headmaster at The Boston Latin School; Aaron Robb, principal of Wahconah Regional High School, Dalton, MA; and Ted Zarrow, Latin teacher, Westwood High School, MA. Charlie Bradshaw, president of CANE, presided. The inspiring panel shared their insights and the conviction that Latin must be promoted as a language for all.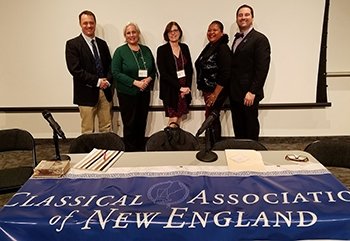 Quo Vadimus? Special Panel

Resources & Teaching Tips

√ Commencement's Latin Connections
Share this essay "Connecting with the Post-Ancient World: Universities in the Middle Ages" from Latin for the New Millennium, Level 2, with your students as your school celebrates graduation. The PDF from the Teacher's Manual includes a roster of the oldest universities in the world as well as notes on the significance of academic garb.
Editor's Note: The above PDFs from Bolchazy-Carducci Publishers' texts are provided for classroom use only as downloaded by the eLitterae subscriber and are not to be otherwise copied or distributed.

√ A Duo of Rose Williams

√ Classical Humor

♦ How clever! The New Yorker's "twelve emotional labors of Hercules."
♦ Have you subscribed to Eidolon? It's a great resource. Check out 'Dating Profiles of Antiquity's Most Eligible Authors"!
♦ And, of course, The Onion's humor is so very special. Special alert—backup at the River Styx.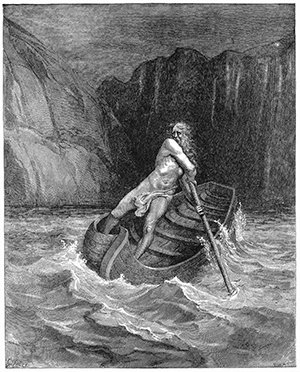 A drawing of Charon from less stressful times. Photo courtesy of Latin for the New Millennium, Level 1.





♦ James Drummond provides a humorous take on "take your child to work day" with examples drawn from Greek mythology.




√ Latin's Enduring Impact


This PBS interview discusses why Latin stays with you forever.




√ Summer Professional Development Opportunities


♦ Lynne West, who pens eLitterae's monthly "Tech Tip," will again offer a workshop called "Simple Strategies for Technology Integration" at the Taft School's Education Center in Watertown, Connecticut. The workshop runs from July 23 to July 27 and will provide lots of opportunities to both learn about great tools and practice using them. For more information, visit the website; in the disciplines window, choose "Technology" and place a check in the E-week box.




♦ Latin for the New Millennium authors Terence Tunberg and Milena Minkova are renowned for their dedication to living Latin. Immerse yourself in Latin at this summer Conventiculum in Lexington, Kentucky, from July 24 to 31. Applications are due May 1. Learn more . . . in English or in Latin.




♦ For those teaching AP Latin, novice or veteran, the College Board offers a set of institutes from Texas to Maine. Master teachers include Bob Cape, Donald Connor, Jill Crooker, Keely Lake, and Mary Pendergraft. These AP Latin Summer Institutes and Workshops are an excellent investment of a teacher's time.




♦

CANE has extended the regular registration deadline for the 2018 CANE Summer Institute to June 1. The institute will run from July 9 to 14 at Brown University, with a theme this year of "Empires Ancient and Modern: Reactions to Imperial Power from Athens to the Americas."




Click here for information about this year's mini-courses, talks, workshops, reading groups, and more; and also for details about registration.




eLitterae Subscribers Special Discount

eLitterae Subscribers
Special 35% Discount

Paperback, 90 pp., ISBN: 978-0-86516-587-8
$10.00

$6.00

Paperback, 134 pp., ISBN: 978-0-86516-668-4

$23.00

$15.00
This offer is valid for up to ten (10)
copies, prepaid, no returns.
Discount is not available to distributors or
on products distributed by Bolchazy-Carducci Publishers.
This offer expires 06/16/18.
(Please note that there will be no adjustments on previous purchases.
Offer is non-transferable and subject to change without notice.)
Enter coupon code eLit0518
on the payment page. The special

offer pricing will be charged at checkout.



Enjoy Summer!! Webinars will resume in September.



If you have suggestions for Fall 2018, please contact Don Sprague.

---
What Equipment Do I Need for B-C Webinars?

To participate in Bolchazy-Carducci Publisher sponsored webinars you will need high-speed internet access, computer speakers/headphones, current web browser, and the link to the webinar virtual meeting space, which is provided in your webinar invitation.
Webinars Make for User-Friendly Professional Development

Participation is free. All webinars provide opportunity for participants to ask questions. Learn lots—attend as many presentations as you can. Bolchazy-Carducci Publishers provides documentation for your participation. You can share this with your supervisors. Many webinar presenters provide handouts, etc.