This Sunday,
May 27, 10:00 am
The Rev. Katy Lloyd, Guest Pastor
Dear Alki Church Folks,
I am so looking forward to spending this Sunday with you, and am honored to be invited back to preach. It will be an odd day: Your first without Diane, after a momentous, emotional Pentecost weekend. My first time back to preach in 18 years: Some of you will recall those days, while others of you may wonder, "Who the heck is this?" And, it will be Memorial Day Weekend. It'd sure be understandable if you decided to sit this one out!

But should you decide to join us, my plan is to share some thoughts about how Nicodemus's confusion in John's Gospel is so much like ours. As your community faces the unknown in this new phase of your life together, maybe you, too, feel like you're wandering in the night like Nicodemus, looking for answers? These are not easy times to feel unmoored: another school shooting, another proclamation of hate speech from the highest office in the land, another report of the widening gap between rich and poor.
And yet hope and possibility, justice and peace, kindness and compassion bubble up in endless supply when we live in the Spirit. When we live as a community moored in Love. Our heads may not see or understand the way forward, but Spirit can and will guide us if we let Her. May it be so.
Grace and peace,
— Katy
# # #
Note: Pastor Katy will be preaching on John 3:1-17 and her sermon is titled "Now What?"
Katy received her MDiv from Boston University School of

Theology,and served Alki UCC from 1996-2000. She has served in multiple settings including co-chair of the PNC-UCC Outdoor Ministries Task Force, serving on the Justice and Witness Task Force, directing camps at Pilgrim Firs, as well as teaching Faith Formation.
Currently she is co-director of Music Ministry at Welcome Table Christian Church (DoC) on Beacon Hill, where she also serves as an Elder. She is delighted to be back for a visit to Alki Church! She lives in West Seattle with her husband Carl, daughters Bailey and Greta, and pug Thor.
The Rev. Susan Fairo is be your principal contact for emergency pastoral care issues.

Susan has been a member of Alki UCC since 2012, after completing an internship with Pastor Diane. She is currently the intentional interim pastor at Spirit of Peace UCC in Sammamish and previously served as the intentional interim pastor at Penbrook UCC in Harrisburg, PA.
During Susan's summer vacation, The Rev. Amy Hitchens will be available for emergency pastoral care. Amy has been a member of Alki UCC for thirteen years and was, until May of 2017, in four way covenant as a hospital chaplain with Alki UCC. Amy is currently serving as pastor at Normandy Park UCC.
Contact information and other details will be included in future Messengers, in the Directory and in the Sunday bulletin.
Contact the Church Office if you have any questions.
Registration due June 3
Admiral/Alki UCC Progressive Dinner
Saturday, June 9 ◊ 5:00 to 9:00 pm
YIKES! With all that has been going on at church, it's definitely time to sign up for the Admiral/Alki Two Church Mystery Progressive Dinner!
Alki church started this event more than 20 years ago, and including Admiral last year made for an exciting addition to our tradition. We look forward to this evening of old and new friends, great food and wonderful conversation.

There are three parts to the evening: Hors d'oeuvres in a small group in one home, Dinner in a different small group in another home, and all of us ending the evening together with Dessert in the church hall. This year dessert will be at Admiral church so we can admire their new kitchen. The mystery comes in when you don't know who will be joining you for the first two courses!
Look for registration forms in the Narthex this Sunday, register online or request a form from the Church Office.
The registration deadline is next Sunday, June 3 so we have time to make assignments. We hope you'll join us.
— Vicky Smith & Wendy Henderson
"THANK YOU" (from former pastor Diane)

Dear good people of Alki UCC,
I have to laugh, because per usual, I am writing something for the church newsletter late on a Thursday night — but this time I am writing from our lanai on the Big Island of Hawaii, and this is the last time I'll write anything for the newsletter.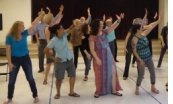 But before another day passes I want to thank you for what may be the most joyous, creative, fun and loving farewell a departing pastor has ever had! After numerous small group gatherings in people's homes and a surprise staff sendoff, it culminated last weekend with the final church party and worship service.
I'm still trying to absorb it all: the kind words said, the flash mob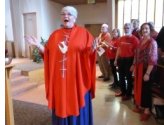 dance, the hilarious singers with new words to "Girls Just Want to Have Fun," and your generous gift in the form of several very large VISA gift cards to spend as we wish in Hawaii this week or some other time.
Hours later, that was followed by our final Sunday morning together with a packed church, all of us in Pentecost red — and my chance to thank you for the gifts of being your pastor, and our chance together to give thanks to God for guiding, inspiring, challenging us and "binding us together in love all these years.
So one last time I say to all of you, members and friends of Alki UCC: "Thank you."
You are forever in my prayers,
— Diane
Diane has put out a call for photos from either Saturday night's farewell celebration and/or her last worship service last Sunday.
Please contact the Church Office if you can send some pix! Graphics files can be quite large, so they may not email successfully, but we can work out other transfer methods. We'll be sending her what we get by next week. Thank you.
Call for Volunteers!


Summer Sunday School will soon be here.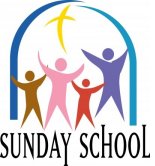 Regular Sunday School's last session is June 10. Our dedicated teachers have worked hard and need a rest. Here is your chance to share your craft or lead an activity with the children. I'll be organizing books, supplies and ideas for Summer Sundays.

Don't let another summer go by without having fun with the kids.
You'll be surprised at how much they'll appreciate a change of pace.

Who is up to the challenge? Check the calendar in Room 22 and sign up for one or more Sundays beginning June 17. Thank you and please let me know if you have any questions. — Julia Peeler

Support Initiative 1631 for Clean Air, Clean Energy & Good Jobs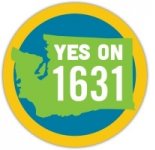 Sign the Petition!
Initiative 1631, sponsored by the Alliance for Jobs and Clean Energy, promotes a
ballot initiative for clean air, clean energy, and good jobs.
Please consider signing a petition next time you're at church; they're on the publications table in the narthex.
More information here.
2018 Poor People's Campaign
The 2018 Poor People's Campaign: A Call for Moral Revival was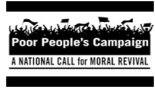 started by Rev. Samuel Barber to carry on the public witness for justice begun by Rev. Dr. Martin Luther King Jr 50 years ago.
You are invited to engage in thoughtful discussions and to take compassionate actions during the 40-day launch, of the Poor People's Campaign.
The Campaign continues through the Summer Solstice.
Editor's Note: YOU are Alki UCC and we would love to let our community know about important events in your life or updates about our wider community.





Please contact the Church Office with story ideas, prayer requests and items about graduations and other noteworthy milestones. Pictures welcome! Thank you.




# # #





Congratulations to Jeff Duckett on being named this year's Outstanding Educator at Meadow Ridge School in Kent! Jeff was recognized by his school's PTA and joined winners from other area schools at a recent dinner tribute.



Further congratulations to Jeff and Kirstin Duckett on celebrating their 25th Anniversary on May 8.

For those grieving the recent death of a loved one:


Kristin Michael, Lesa Henry, Jeff Jolly & family, Charley Rosenberry,

Russ Thornock, Trish Dodds, Cynthia Jolly



Recent hospitalization, illness and other concerns:


Lisa Burke, Penny Matthews, Bev Connor, Patty Magnuson's brother,

Shelley Webster, Jan Cochran

For home bound members/friends of Alki UCC:

Ruth Okada, Doris Colbert


Wider World: All those affected by the volcano eruptions in Hawaii; prayers for fewer guns and for all victims of gun violence; victims and survivors of extremist violence

around the world

;

the migrants seeking refuge around the world, and for those who are trying to help and serve them. The rest of the missing schoolgirls kidnapped by Boko Haram, who remain in our hearts as long as they remain missing. The hungry and homeless, the ill and the addicted, the lost and the lonely; the unemployed.




Click on the big, blue donate button at alkiucc.org to make your secure online donation.
You will be redirected to our contributions page where you click on the PayPal button to donate online.
Other giving options are also noted.
Make sure you get the newsletter:
Please add "office@alkiucc.org" to your Safe Sender list, or click the Subscribe button below to help keep your newsletters from going walkies:
Worship
& Church School
Sunday at 10:00 am
Choir Rehearsal
Tuesday at 7:00 pm
Choir/
Music Sunday
Sun, June 3, 10:00 am
Progressive Dinner
Sat, June 9, 5:00 pm
Sunday Worship &
Annual Meeting
The Rev. Bruce Wilson,
Visiting Pastor
Rod Peeler, Board
Chair
Sun, June 10,
10:00 am
You're invited!
Choir/Music Sunday
Next Sunday,
June 3 at 10:00 am
The Alki UCC choir is a dynamic and powerful place of belonging, with the purpose of engaging others to encounter the holy through music and worship.

We have more than tripled in membership in the last two years. The choir has also participated in events that foster greater connection with our sister churches — Liberation UCC and Everett UCC. We plan to do more outreach through music and service in our city, helping those in need.
June 3 is Choir/Music Sunday, when the choir leads worship. It is a big day for us! We'll be raising funds to continue this transformational work of service and ministry, and we look forward to worshiping with you as we encounter the holy together.
— Marshan Goodwin Moultry Minister of Music
A big THANK YOU to everyone who has pledged already. You rock!
We know the rest of you want to jump on the pledge joy train, and we're here to help you do it. Stop by the Pledge Table on Sunday, fill out a pledge form, and you're

done.
If you're skipping church for Memorial weekend, take a minute to pledge online at alkiucc.org, It's simple and easy.
Pledge season wraps up on June 3, when we'll draw the winning entry at coffee hour for our fabled, fabulous Indulgence Basket. Rumor has it that there may be a second basket as well!
Plug in and pledge on, dear members!
Your Grateful Stewardship Team
— Charlie Hinckley, Jane Gunwaldsen, Julia Chase, Bob Stahley
Bruce Wilson, Visiting Pastor
for Alki UCC Sunday Worship

beginning June 10
Hello Alki UCC,
Some of you may remember me from back in 2014 when I interned at

Alki UCC on my path towards ordination, others of you I am very excited to get to know you in the future.
I wanted to incorporate a little bit about myself so that you would get to know who will be the "visiting pastor" this summer as the church works towards finding an interim pastor. First, I am a native of Louisiana (Not New Orleans), but have lived in the Pacific northwest for eight years now and call it home. I currently serve at St. Joseph's Medical Center in Tacoma as a staff chaplain and have been doing that for almost four years now.
I love the art of pastoral care as well as learning more about the helping professions. The love of the helping professions made me want to go back to school and study how to do Mental Health Counseling. When these things get to be mundane, I like to spend my time tasting wine, fishing, or going on an adventure. I am looking forward to my time at Alki (again) and will be happy to be your pastor for the summer!
— The Rev. Bruce Wilson Jr. BS, MDiv, BCC
Tiny House Build Cancelled Tomorrow
This Saturday's build at Camp Second Chance is canceled due to the holiday weekend.
Kathy reports that the build will resume next Saturday June 2 at 9:00 am.
Please let her know if you will be available to help with that build.
A HUGE thanks to all our intrepid and dedicated volunteers, including everyone who brings lunch and snacks to feed the hungry crew.
Drumming Class with Simone LaDrumma
at Admiral Church
Saturday, June 2
2:30 – 5:30 pm: Class
6:00 pm: Potluck followed by Drum & Dance Party
Admiral Church is excited to welcome professional drummer and teacher Simone LaDrumma for an afternoon and evening of hand drumming fun! You'll learn the "blueprint" of rhythm: down, up and off beats; basic hand drum technique; hand percussion; creating your own rhythms; and more.
Simone will teach one or more songs for class members to play as part of the evening event: friends, families and community members are invited to the Potluck and Drum & Dance Party, where all will be welcome to drum, play percussion, sing, and/or dance, dance, dance!
Contact Admiral Church for more information and to sign up.
Alki UCC
Board of Directors
2017-2018
Rod Peeler, Chair
Shannon Peterson,
Vice Chair
Jason Huynh,
Secretary
Charlie Hinckley
Emily Hitchens
Sandra Johnson
Dan Kennedy
Patty Magnuson
Scott Mathews
Ex Officio:
(Voice but no vote)

Kristin Michael,
Business Manager
Julia Peeler, Treasurer
Diane Darling, Pastor