Choir/Music Sunday, June 3 at 10:00 am

The Alki UCC choir is a dynamic and powerful place of belonging, with the purpose of engaging others to encounter the holy through music and worship.

We have more than tripled in membership in the last two years. The choir has also participated in events that foster greater connection with our sister churches — Liberation UCC and Everett UCC. We plan to do more outreach through music and service in our city, helping those in need.
June 3 is Choir/Music Sunday, when the choir leads worship. It is a big day for us! We'll be raising funds to continue this transformational work of service and ministry, and we look forward to worshiping with you as we encounter the holy together.
— Marshan Goodwin-Moultry, Minister of Music
Letter to the Congregation
Interim Pastor Search Process

Dear members and friends of Alki United Church of Christ,
Our congregation's traditional practice of "calling" a pastor affirms the active presence of God's Spirit in the search process. We prayerfully seek a pastor with particular gifts and skills while recognizing that candidates are also engaged in a Spirit-led discernment process. Thus our church enters into a covenant with a new pastor always knowing that God may sometimes call that pastor to a new ministry setting.
In the days that have elapsed since our Pastor Rev. Diane Darling has retired, we have been keenly aware of God's new calling for her even as we have experienced a profound sense of loss. It is not easy to think about ending a Spirit-filled 17 year ministry. These next several months together will be a precious time.
The members of your governing board/council have already been approached by some of you with the haunting question, "Our pastor is leaving . . . what will we do?" We want to assure you that we have already been in touch with our Conference/Association minister, Rev. Mike Denton. A few of us met with him and he suggested that we share with you this brief overview:
We will select an intentional interim pastor to provide continuity in worship, pastoral care and program/staff oversight. Rev. Denton will advise us on this process; he has assured us that he has several excellent candidates available who offer the specialized skills needed during a transition time. This pastor will not be a candidate for the "settled" position.

After the interim pastor is in place, we will initiate a search process for a new pastor in accordance with our bylaws. We will invite all of you to be part of a self-study that will identify our church's pastoral needs. And we will develop a church profile for our potential candidates.

Our Conference office will advertise our vacancy among UCC clergy all across the country. Our search committee will read ministerial profiles, screen candidates, conduct interviews, check references, and eventually select a candidate who will be recommended to the entire congregation.
We send this letter so you will know that we are taking steps to move forward. We will keep you informed on a regular basis. For now, let us express our gratitude to God for Diane's ministry and continue to keep her and Mary in your prayers. And, as you know from experience that she will be praying for us.
In Christ's name,
Alki UCC Board of Directors
Registration Deadline!


Sign up for June 9 Admiral/Alki Progressive Dinner by the end of worship this Sunday.

It's time to start building the mystery: where will you go and who will join you for hors d'oeuvres on Saturday evening? Where and with whom will you share dinner?

All will be revealed in good time. Meanwhile, you will receive an email early next week with your assignment for the evening, along with all pertinent instructions.
This is a great way to get to know people beyond the few minutes you may spend chatting during Coffee Hour after worship.The small groups at hors d'oeuvres and dinner guarantee good conversation and enjoyment, especially for those who might be hesitant to attend a larger gathering.
Think of it as 'speed dating,' with great food and no pressure. If you don't want to host in your home, co-hosting dinner or dessert is an option. The church parlor is also a hosting venue option. Talk to Wendy; she's done it there for years!
Register online or turn in a hard copy by the end of worship this Sunday. If you have any questions, don't hesitate to call Wendy Henderson, (425)466-6850, or Vicky Smith, (206) 938-3424.
We hope you'll join us! We think you'll be glad you did.
— Vicky Smith & Wendy Henderson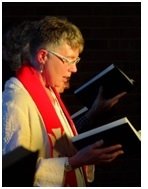 The Rev. Susan Fairo is your principal contact for pastoral care. Susan has been a member of Alki UCC since 2012, after completing an internship with Pastor Diane. She is currently the intentional interim pastor at Spirit of Peace UCC in Sammamish and previously served as the intentional interim pastor at Penbrook UCC
in Harrisburg, PA.
Susan's cell number is (206) 349-7285.
Texts are preferred for prompt attention if possible, and please identify yourself.
Next best is email: susan.fairo@gmail.com, then phone calls at
(206) 349-7285.
Susan says she will respond as soon as she is able.
# # #
During Susan's vacations in late July and late August (dates will be

announced), The Rev. Amy Hitchens will be available for pastoral care. Amy has been a member of Alki UCC for thirteen years and was until May of 2017, in four way covenant as a hospital chaplain with Alki UCC. Amy is now serving at Normandy Park United Church of Christ as their pastor.
The Rev. Bruce Wilson, who will be our Visiting Pastor for Sunday worship beginning June 10, will also be available for pastoral care as needed. Bruce interned with Pastor Diane in 2014. For the past four years, he has been serving at St. Joseph's Medical Center in Tacoma as a staff chaplain.
# # #
Alki UCC member Emily Hitchens is our Parish Care Nurse and leads the Parish Care team. You can contact her directly to request help with rides/meals or other logistics associated with illness, injury or major life disruptions. ameliahitchens95@gmail.com or (206) 824-6816
Updates will be included in future Messengers, in the Directory and in the Sunday bulletin. Contact the Church Office if you have any questions.
Request for Photos (from former pastor Diane)

Diane has put out a call for photos from either Saturday night's farewell celebration and/or her last worship service (May 19 & 20).
Please contact the Church Office if you can send some pix!
Graphics files can be quite large, so they may not email successfully, but we can work out other transfer methods. We'll be sending her what we get on Tuesday. Thank you.
Call for Volunteers!


Summer Sunday School will soon be here.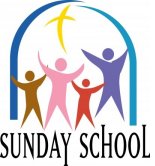 Regular Sunday School's last session is June 10. Our dedicated teachers have worked hard and need a rest. Here is your chance to share your craft or lead an activity with the children. I'll be organizing books, supplies and ideas for Summer Sundays.

Don't let another summer go by without having fun with the kids.
You'll be surprised at how much they'll appreciate a change of pace.

Who is up to the challenge? Check the calendar in Room 22 and sign up for one or more Sundays beginning June 17. Thank you and please let me know if you have any questions. — Julia Peeler

Support Initiative 1631 for Clean Air, Clean Energy & Good Jobs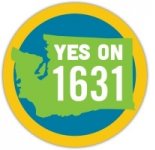 Sign the Petition!
Initiative 1631, sponsored by the Alliance for Jobs and Clean Energy, promotes a
ballot initiative for clean air, clean energy, and good jobs.
Please consider signing a petition next time you're at church; they're on the publications table in the narthex.
More information here.
For those grieving the recent death of a loved one:
Kristin Michael, Lesa Henry, Jeff Jolly & family, Charley Rosenberry,
Russ Thornock, Trish Dodds
Recent hospitalization, illness and other concerns:
Lisa Burke, Penny Matthews, Bev Connor, Patty Magnuson's brother,

Shelley Webster, Jan Cochran
For home bound members/friends of Alki UCC:
Ruth Okada, Doris Colbert
Wider World: All those affected by the volcano eruptions in Hawaii; p
rayers for fewer guns and for all victims of gun violence; victims and survivors of extremist violence

around the world

;

the migrants seeking refuge around the world, and for those who are trying to help and serve them. The rest of the missing schoolgirls kidnapped by Boko Haram, who remain in our hearts as long as they remain missing. The hungry and homeless, the ill and the addicted, the lost and the lonely; the unemployed.

Click on the big, blue donate button at alkiucc.org to make your secure online donation.
You will be redirected to our contributions page where you click on the PayPal button to donate online.
Other giving options are also noted.
Make sure you get the newsletter:
Please add "office@alkiucc.org" to your Safe Sender list, or click the Subscribe button below to help keep your newsletters from going walkies:
Tiny House Build/
Camp Second Chance
Saturday: 9:00 am to ?
Choir/Music Sunday
Sunday at 10:00 am
Stewardship
Wednesday at 2:00 pm
Board of Directors
TBD
Progressive Dinner
Sat, June 9, 5:00 pm
Sunday Worship &
Annual Meeting
Sun, June 10,
10:00 am
Please Please Please PLEDGE
Simply put, we need your pledges now! Here's why:
1. Your budget team has to prepare for our annual congregational meeting on June 10. Have mercy on them.
2. Your stewardship team is feeling anxious. Have mercy on them.
3. You will miss out on the drawing for TWO indulgence baskets if you don't pledge by Sunday. Be kind to yourself.
Stop by the stewardship

table on Sunday and pledge! We'll have pens, forms, and happy smiles for you.
Your Grateful Stewardship Team — Charlie Hinckley, Jane Gunwaldsen, Julia Chase, Bob Stahley
Tomorrow!
Tiny House Build Scheduled at Camp Second Chance
Calling all Volunteers! We need you this Saturday.
9:00 am start time
Camp Second Chance, 9701 Myers Way S
Parking lot is in the front; carpooling encouraged
Please contact Kathy if you plan to join us.
We also welcome folks who can bring lunch or snacks!
YOU are Alki UCC and we would love to let our community know about important events in your life or updates about our wider community.
Please contact the Church Office with story ideas and items about graduations, your participation in charity events and other noteworthy milestones.
Pictures welcome!
Thank you.
Thank you to everyone who gave us feedback on our first draft of the proposed new bylaws! We'll be working on incorporating your suggestions over the next few months, as well as creating a transition plan for next year.
In order to do this well, we're postponing our congregational vote on the new bylaws for a few months, and we won't be presenting any new information at the annual meeting on June 10.
Look for updates in The Messenger as we get closer. Meanwhile, if you have questions or suggestions, please contact us.
Your bylaws team,
Rod Peeler, Emily Hitchens, Charlie Hinckley
Bruce Wilson, Visiting Pastor
for Alki UCC Sunday Worship

beginning June 10
Hello Alki UCC,
Some of you may remember me from back in 2014 when I interned at

Alki UCC on my path towards ordination, others of you I am very excited to get to know you in the future.
I wanted to incorporate a little bit about myself so that you would get to know who will be the "visiting pastor" this summer as the church works towards finding an interim pastor. First, I am a native of Louisiana (Not New Orleans), but have lived in the Pacific northwest for eight years now and call it home. I currently serve at St. Joseph's Medical Center in Tacoma as a staff chaplain and have been doing that for almost four years now.
I love the art of pastoral care as well as learning more about the helping professions. The love of the helping professions made me want to go back to school and study how to do Mental Health Counseling. When these things get to be mundane, I like to spend my time tasting wine, fishing, or going on an adventure. I am looking forward to my time at Alki (again) and will be happy to be your pastor for the summer!
— The Rev. Bruce Wilson Jr. BS, MDiv, BCC
Drumming Class with Simone LaDrumma
at Admiral Church
Saturday, June 2
2:30 – 5:30 pm: Class
6:00 pm: Potluck followed by Drum & Dance Party
Admiral Church is excited to welcome professional drummer and teacher Simone LaDrumma for an afternoon and evening of hand drumming fun! You'll learn the "blueprint" of rhythm: down, up and off beats; basic hand drum technique; hand percussion; creating your own rhythms; and more.
Simone will teach one or more songs for class members to play as part of the evening event: friends, families and community members are invited to the Potluck and Drum & Dance Party, where all will be welcome to drum, play percussion, sing, and/or dance, dance, dance!
Contact Admiral Church for more information and to sign up.
Alki UCC
Board of Directors
2017-2018
Rod Peeler, Chair
Shannon Peterson,
Vice Chair
Jason Huynh,
Secretary
Charlie Hinckley
Emily Hitchens
Sandra Johnson
Dan Kennedy
Patty Magnuson
Scott Mathews
Ex Officio:
(Voice but no vote)

Kristin Michael,
Business Manager
Julia Peeler, Treasurer
Diane Darling, Pastor