Come One ... Come All!
Annual Meeting of the Congregation
This Sunday, June 10 at 10:00 am


We'll gather in the Sanctuary at 10:00 am for an informal worship service, led by Visiting Pastor Bruce Wilson, followed by the Annual Congregational Meeting, led by Board Chair Rod Peeler.
It's a day to remember the highlights of the past year and plan for the year ahead, including adoption of an operating budget and election of new committee/board members. We will also get an Interim Pastor report.
It's important and we need you!
We'll have a short break between worship and the business meeting, so please bring some finger food to share.
UCC Leaders Join National Call to End 'Cruel' Immigration Policy, Keep Families Together

Across the country on Friday, June 1, scores of Americans came out to say no more — the purposeful separation of children from their parents at the border is cruel, inhumane and unacceptable in the United States.
During a National Day of Action for Children, faith communities and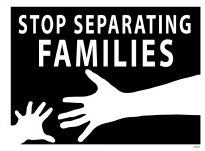 civil rights organizations arranged dozens of rallies at Federal Courthouses, Offices of U.S. Attorneys and those of Immigration and Customs Enforcement, demanding a change in the latest policy that criminalizes the actions of parents bringing children into the U.S. illegally and forcibly separates their families.
"It is appalling that this administration doesn't see the moral depravity inherent in ripping children away from their parents," said the Rev. John Dorhauer, United Church of Christ General Minister and President. "As a faith leader, I say without equivocation there is nothing remotely humane in this policy. It is beyond sinful – it is evil. I call on all leaders of our church to contact their representatives. Ask them not to abdicate their responsibility. Tell them not to fund this atrocity. Tell them to use their power, their voice, and your vote to repeal this morally repugnant policy immediately."
Read the entire story here.
Congratulations to Trish and Kathy!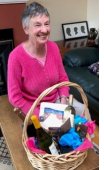 As regular pledge season drew to a close last Sunday, your stewardship team awarded fabulous indulgence baskets to TWO lucky winners!
Trish Dodds (pictured at left) had just left the church when her name was called, but was thrilled to receive a visit from Sallie Neillie and Liese Frankenstein, who delivered her basket.
Kathy Olson, our second winner, will receive hers when she returns from Denali National Park. Congratulations, ladies, and thank you for pledging! Thanks to ALL of you who have pledged!!

It's pledge post-season game time now, so if you haven't plugged in yet, your stewardship team will be helping out with personal reminders.
Your grateful stewardship team,
Charlie Hinckley, Jane Gunwaldsen, Julia Chase, Bob Stahley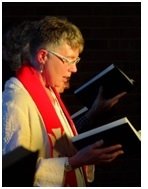 The Rev. Susan Fairo is your principal contact for pastoral care. Susan has been a member of Alki UCC since 2012, after completing an internship with Pastor Diane. She is currently the intentional interim pastor at Spirit of Peace UCC in Sammamish and previously served as the intentional interim pastor at Penbrook UCC
in Harrisburg, PA.
Susan's cell number is (206) 349-7285.
Texts are preferred for prompt attention if possible, and please identify yourself.
Next best is email: susan.fairo@gmail.com, then phone calls at
(206) 349-7285.
Susan says she will respond as soon as she is able.
# # #
During Susan's vacations in late July and late August (dates will be announced), The Rev. Amy Hitchens will be available for pastoral care. Amy has been a member of Alki UCC for thirteen years and is now serving at Normandy Park United Church of Christ as their pastor.
The Rev. Bruce Wilson, is our Visiting Pastor for Sunday worship, is also available for pastoral care as needed. Bruce interned with Pastor Diane in 2014. For the past four years, he has been serving at St. Joseph's Medical Center in Tacoma as a staff chaplain.
# # #
Alki UCC member Emily Hitchens is our Parish Care Nurse and leads the Parish Care team. You can contact her directly to request help with rides/meals or other logistics associated with illness, injury or major life disruptions. ameliahitchens95@gmail.com or (206) 824-6816
Updates will be included in future Messengers, in the Directory and in the Sunday bulletin. Contact the Church Office if you have any questions.
Call for Volunteers!


Summer Sunday School will soon be here.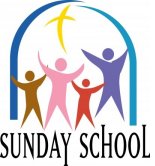 Regular Sunday School's last session is June 10. Our dedicated teachers have worked hard and need a rest. Here is your chance to share your craft or lead an activity with the children. I'll be organizing books, supplies and ideas for Summer Sundays.
Don't let another summer go by without having fun with the kids.
You'll be surprised at how much they'll appreciate a change of pace.
Who is up to the challenge? Check the calendar in Room 22 and sign up for one or more Sundays beginning June 17. Thank you and please let me know if you have any questions. — Julia Peeler
Care For Creation
I 1631 Petition Signature Deadline June 17

The Faith Action Network has put out a call to support Initiative 1631, a ballot initiative petition sponsored by the Alliance for Jobs and Clean Energy.
If you haven't heard, I-1631 is an excellent response to the question "what should our state do to reduce carbon emissions?" This initiative would price our state's largest carbon emitters and invest that money into job training and transition, clean energy businesses, and impacted communities of color.
The campaign needs you and your faith community to step up NOW and collect as many signatures as you can to help qualify this initiative for the October/November ballot.
Sign the Petition!
It's on the lamp table in the Narthex, right inside the entrance.
More information here.
For those grieving the recent death of a loved one:
Kristin Michael, Lesa Henry, Jeff Jolly & family, Charley Rosenberry,
Russ Thornock, Trish Dodds
Recent hospitalization, illness and other concerns:
Lisa Burke, Penny Matthews, Bev Connor, Patty Magnuson's brother,

Shelley Webster, Jan Cochran
For home bound members/friends of Alki UCC:
Ruth Okada, Doris Colbert
Wider World: Children, parents and all those affected by recently-instituted, inhumane immigration policies; all those affected by the volcano eruptions in Hawaii; p
rayers for fewer guns and for all victims of gun violence; victims and survivors of extremist violence

around the world

;

the migrants seeking refuge around the world, and for those who are trying to help and serve them. The rest of the missing schoolgirls kidnapped by Boko Haram, who remain in our hearts as long as they remain missing. The hungry and homeless, the ill and the addicted, the lost and the lonely; the unemployed.
Tiny House Build/
Camp Second Chance
Saturday: 9:00 am to ?
Progressive Dinner
Saturday at 5:00 pm
Sunday Worship &
Annual Meeting
Sunday at 10:00 am
Tomorrow!
Tiny House Build Scheduled at Camp Second Chance
Calling all Volunteers! We need you this Saturday.
9:00 am start time
Camp Second Chance, 9701 Myers Way S
Parking lot is in the front; carpooling encouraged
Please contact Kathy if you plan to join us.
We also welcome folks who can bring lunch or snacks!
Progressive Dinner Tomorrow!!
Fellowship and Good Food ...
with a little Mystery!
Thanks to all who signed up. We have a great turnout. Prepare for an enjoyable evening.

Everyone hosting or co-hosting dinner should have received an email by now telling them where to go for hors d'oeuvres. Please check, and if you did not receive one, call Vicky Smith at (206) 669-4443.
Everyone hosting hors d'oeuvres should receive, by Saturday afternoon, an envelope containing dinner assignments for all of your guests. To maintain the mystery of who will be your guests, please don't open the envelope until time to leave for dinner!
Everyone donating a dessert will find out their hors d'oeuvre destination when they deliver their desserts to Admiral church. David Pelton, who is coordinating desserts, will have the envelope, and will distribute assignments when it is time to leave.
Have a great time! We'll all see everyone at Admiral at 8:15.pm for dessert.
Thanks to Marilynn Miller for coordinating Admiral's participation!
— Vicky Smith
YOU are Alki UCC and we would love to let our community know about important events in your life or updates about our wider community.
Please contact the Church Office with story ideas and items about graduations, your participation in charity events and other noteworthy milestones.
Pictures welcome!
Thank you.
Alki UCC
Board of Directors
2017-2018
Rod Peeler, Chair
Shannon Peterson,
Vice Chair
Jason Huynh,
Secretary
Charlie Hinckley
Emily Hitchens
Sandra Johnson
Dan Kennedy
Patty Magnuson
Scott Mathews
Ex Officio:
(Voice but no vote)

Kristin Michael,
Business Manager
Julia Peeler, Treasurer

Click on the big, blue donate button at alkiucc.org to make your secure online donation.
You will be redirected to our contributions page where you click on the PayPal button to donate online.
Other giving options are also noted.
Make sure you get the newsletter:
Please add "office@alkiucc.org" to your Safe Sender list, or click the Subscribe button below to help keep your newsletters from going walkies: