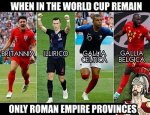 Echoes of the Roman Empire
You gotta love this history meme that celebrates Rome and the World Cup.

---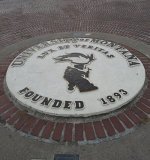 Lux et Veritas
The motto in the seal of the University of Montana celebrates two of the goals of education.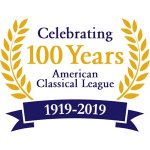 Congratulations to the American Classical League as it launches the Centennial and a series of regional and national events as well as its Centennial Capital Campaign. The campaign seeks to raise $350,000 to fund the Centennial events and other endeavors. Bolchazy-Carducci Publishers encourages folks to make pledges and donations.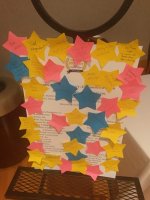 Donors to the Centennial Capital Campaign at the ACL Institute added a star to mark their gift on the donor recognition roster.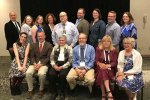 Congratulations also to ACL on reorganizing its governing structure. Depicted are current members of the Board of Governors from the ACL Institute. Kudos to Kathy Elifrits (seated, third from the left), outgoing ACL president, and to Sherwin Little (standing, first on left), ACL executive director, who oversaw this milestone change along with Ian Hochberg (not pictured), chair of the Taskforce on Governance.


NOTA BENE
Cindy Caltagirone and Don Sprague are hard at work planning the ACL Centennial Study Tour of Rome.
So, mark your calendar for ROME2020 in July of 2020!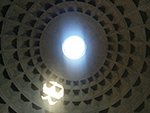 ROME2020 Awaits . . .
Classical Conferences and Meetings in 2018

Bolchazy-Carducci Publishers provides eTextbooks on a variety of eBook platforms. Bolchazy-Carducci textbooks are available through VitalSource,

GooglePlay

,

Chegg

, RedShelf, Adams Book, Follett,

MBSDirect Digital

, and ESCO. Each eBook platform offers a variety of tools to enhance the learning process. eBooks have the same content as our traditional books in print.
eBooks are purchased from the eBook provider. For direct links to purchase Bolchazy-Carducci eTextbooks, visit the title's product page on Bolchazy.com. Just above the product description there is a list of the eTextbook providers and a direct link to purchase the eTextbook. Some eBook providers sell directly to schools—check with your school to make these purchases.
You can read eBooks on a Mac, PC, iPhone, iPad, Android, or a variety of eReaders. Review the eBook providers specifications.
The eyeVocab software leverages human memory for distinctive affective images* presented in isolation to radically improve the speed, depth, and permanence of second language vocabulary acquisition. Images are drawn from classical art, both western and eastern, from photojournalism and historical photography, great book illustration, and other sources.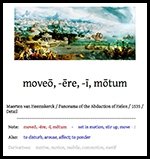 *Learn how images are chosen.

Far more than a set of electronic flashcards, the multimodal vocabulary program facilitates a significantly deeper learning and retention. Students will readily master the frequent Vergil and Caesar vocabulary for the AP® Latin Exam and thereby devote far more of their study time and energy to reading and discussing De Bello Gallico and the Aeneid.

eyeVocab programs correspond to the following B-C books.

Caesar: Selections from his Commentarii De Bello Gallico
(Mueller) (218 words)

Vergil's Aeneid: Selected Readings from Books 1, 2, 4, and 6
(Boyd) (162 words)



Vergil's Aeneid: Books I–VI


(Pharr) (292 words)

Latin for the New Millennium Level 1

(423 words)





Introductory rate for each of the AP® Latin programs is $14.95. The LNM 1 and LNM 2 introductory rate is $24.95 per program. For site licenses, contact Miles Becker at sales@eyeVocab.com.




Click on each title to learn more.
The Pompeiiana Newsletter created and edited by Bernard Barcio ran from 1974 through 2003. The newsletter offered a place for Latin students to publish comics, stories, games, and articles, and was a beloved resource for Latin teachers. In 2008, Barcio granted Bolchazy-Carducci Publishers the rights for all of the Pompeiiana Newsletter. B-C is proud to serve as curator for this archive and has made the issues available for teachers, students, and friends of the classics. Check out http://pompeiiana.blogspot.com/
Each September, Bolchazy-Carducci mails its Roman Calendar to Latin teachers across the nation. If you're not on that mailing list, send a note TODAY to info@bolchazy.com. Put Roman Calendar in the subject line and provide us the USPS address to which you wish the calendar to be sent. The calendar is also available in a digital format.
Preview Bolchazy-Carducci Titles

Preview Bolchazy-Carducci titles before you purchase using Google Preview.
---

Downloadable Products
iPodius - Bolchazy-Carducci Publishers online shop for: audio, software, video, and a treasure trove of teacher-created materials in the Agora.
---
BCP Facebook Fan Page
Become a FAN of Bolchazy-Carducci Publishers, visit our Facebook Fan page for the latest news from BCP.
---
BCP Blog


Visit the BCPublishers Blog for B-C news and information.



Check out the results of this year's Martia Dementia. Congratulations to Nicholas Santana of St. Ignatius College Prep in Chicago who took first place!

---
BCPublishers on Twitter
Follow us on Twitter

---
AP® is a trademark registered and/or owned by the College Board, which was not involved in the production of, and does not endorse, this site.
These products have been developed independently from and are not endorsed by the International Baccalaureate (IB).
All of us at Bolchazy-Carducci Publishers hope that you have been enjoying a respite from the school year routine. We also note that the calendar tells us that some of you will be starting back all too soon at the beginning of August or midmonth. We wish you well as you make the most of these last days and weeks of summer. And, of course, give us a holler if you need to ask us about some of our learning materials. In the meantime, check out this month's special discount—four terrific historical novels, each one showcasing a significant Roman figure: Caesar, Catullus, Cicero, and Ovid.
With Bridget Dean taking on the responsibilities of B-C president, we needed to hire an additional editor. The response to the job posting was both overwhelming and at the same time very gratifying. We were looking for someone with classroom experience—ideally, at different levels—and with a willingness to collaborate at our suburban Chicago office. We are very pleased to introduce you to Amelia Wallace, who has definitely hit the ground running and whose prior editing experience made for a smooth transition. Indeed, she has already proven herself a valued member of the B-C editorial team. See below where Amelia introduces herself. For those of you coming to NJCL, the National Junior Classical League, stop by our learning materials display and say "hello." And, remind your students attending NJCL that they are welcome to check out the display and purchase items for themselves.
Farewell, summer—almost and all too soon!
Meet Amelia Wallace . . .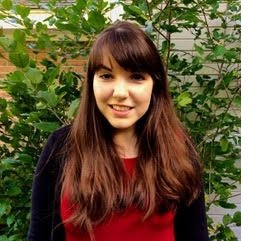 I recently graduated with my MAT in Latin and Classical Humanities from the University of Massachusetts Amherst; I earned my BA in Classical Civilizations from the University of Michigan. During my master's program, I had the opportunity to teach introductory and intermediate Latin courses at the university, as well as teach Latin courses at a local high school as part of my student teaching practicum. Previously, I taught Latin at a Chicago-area middle school, in addition to tutoring students of all ages in Latin and Greek. One of my favorite parts of teaching was employing creativity to interpret and present material in new ways—whether that meant writing absurdist Latin "fan fiction" or creating digital choose-your-own-adventure-style activities. In turn, I always loved seeing the creative student responses to class material, and I especially enjoyed their often humorous takes on whatever we were learning.
In addition to teaching and tutoring, I have spent several years as a freelance editor and proofreader, working on texts ranging from scientific grants to business case studies and others. Helping authors achieve the best possible writing that they can has been very satisfying for me; reading about a wide variety of subjects was often interesting, as was learning about some off-the-wall topics (though I must admit, I did not retain much information from the theoretical chemistry papers I edited).
During my free time, I love to read contemporary fiction, visit museums, and complete crossword puzzles. I also enjoy spending time with my house rabbit, a black and white Dutch named Marigold.
NB: Lynne West's "Tech Tip" will return in September.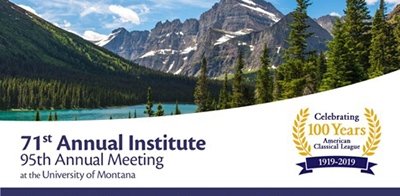 The beautiful campus of the University of Montana in Missoula drew 220+ classicists from across the United States and Canada for the 71st Annual Institute of the American Classical League. The Bolchazy-Carducci crew included Bridget Dean, president, and editors Laurel Draper and Don Sprague. The pre-Institute field trips to Glacier National Park and Flathead Lake proved to be very popular. The B-C trio made their own trek north along the western shore of Flathead Lake to Glacier National Park and then on returned along the eastern shore. The scenery was breathtaking—check out the scene from the park in the Institute logo above.
The University Center of the University of Montana served as an all-in-one headquarters for the Institute's presentations, exhibitions, and meetings. Breaks offering a terrific set of libations and snacks drew participants to the exhibit hall where B-C showcased its learning materials across four tables. Bridget Dean staffed a separate table where she was able to meet with individuals who expressed interest in the interactive program we are developing for Latin for the New Millennium.

The Institute afforded the editors the opportunity to reconnect with longtime B-C friends as well as with newbies and friends from the northwest states who less frequently are able to attend the annual conference. The following gallery of photos provides a glimpse into this special rite of summer.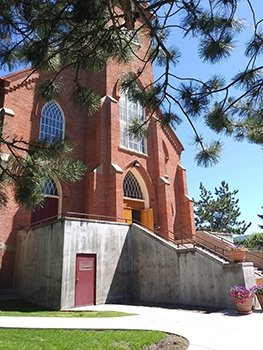 En route to the national park, the editors checked out the Mission Church of St. Ignatius in St. Ignatius, MT. The native Flathead peoples had invited the "Black Robes," the Jesuits, to come as missionaries to their territory. The church, a national historic landmark and still in use, was erected in 1891.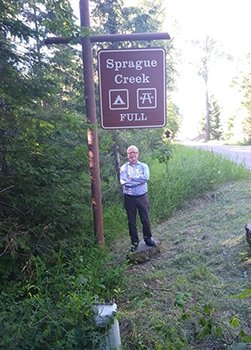 Editor Don Sprague poses by the sign for the Sprague Creek campsite in Glacier National Park.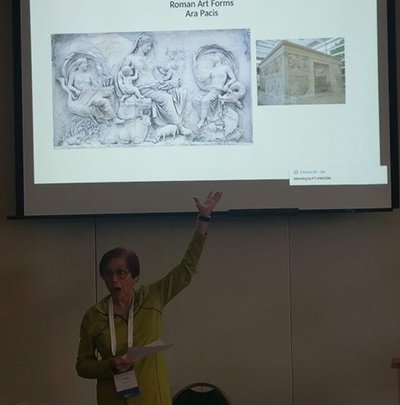 Prolific author and presenter Rose Williams declaims about "the Romans no one ever sees."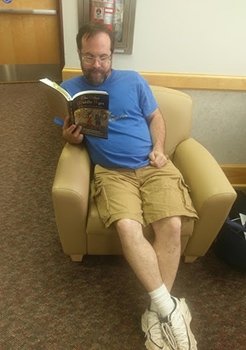 Peter Sipes, teacher at Casper Classical in Wyoming and former B-C staffer, enjoys his purchase of The Other Middle Ages.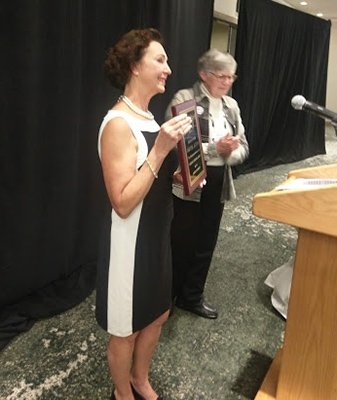 Martha Altieri accepts her plaque as the ACL Merita Awardee for 2018 from Kathy Elifrits, ACL president. The note in her citation about simultaneously teaching four levels of German and four levels of Latin drew a salute of admiration from the banquet audience. Offered a choice between teaching German and Latin, Martha chose Latin. The classics community lucked out and continues to benefit from Martha's choice.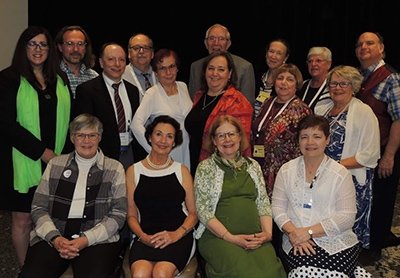 Following the banquet, all those Meritae Meritique awardees were invited to pose for the group photo.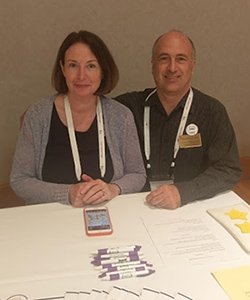 Mary Elizabeth DeCamp won the B-C book drawing: student and teacher editions of A Latin Picture Dictionary and Word Mastery through Derivatives: Designed for Latin Students and Plotinus on Beauty and Reality: A Reader for Enneads I.6 and V.1. In this photo, Mary Elizabeth and Sherwin Little are staffing the Centennial Capital Campaign table.

As is an ACL custom, Stan Farrow plays the piano following the banquet and the community gathers for a spectacular sing-along that brings the institute to a resounding close!
We look forward to seeing a record number of attendees next summer in New York City as ACL celebrates its Centennial and its Big Apple roots!

Resources & Teaching Tips

A roundup of archaeological discoveries that readily answer the proverbial "So, what's new in Latin?"
√ Roman villa in Positano buried by Vesuvius opens to the public.
√ Marcus Aurelius inscription is found in Bulgaria.
√ Check out the oldest written record of Homer's Odyssey.
√ A synagogue's mosaics reveal much about life in Huqoq in Galilea.
eLitterae Subscribers Special Discount

eLitterae Subscribers
Special 50% Discount
Four Historical Novels Carefully Researched and Written
by Benita Kane Jaro
Great for end of summer reading,
for the classroom resource shelf, as prizes!
About Caesar . . .
The Door in the Wall
Paperback, 249 pp., ISBN: 978-0-86516-533-5,
$12.00
$6.00

About Catullus . . .
The Key
Paperback, 224 pp., ISBN: 978-0-86516-534-2,
$12.00
$6.00

About Cicero . . .
The Lock
Paperback, 304 pp., ISBN: 978-0-86516-535-9,
$12.00
$6.00

About Ovid . . .
Betray the Night: A Novel about Ovid
Paperback, 316 pp., ISBN: 978-0-86516-712-4,
$12.00
$6.00
This offer is valid for up to five (5)
copies, prepaid, no returns.
Discount is not available to distributors or
on products distributed by Bolchazy-Carducci Publishers.
This offer expires 08/18/18.
(Please note that there will be no adjustments on previous purchases.
Offer is non-transferable and subject to change without notice.)
Enter coupon code eLit0718
on the payment page. The special

offer pricing will be charged at checkout.
Enjoy Summer!! Webinars will resume in September.





Thanks to our webinar presenters and participants for another year of engaging, helpful, and informative professional development presentations. The 2017–2018 line up included:





Robert Cape, PhD
Professor of Classics, Austin College, Sherman,TX
The Art of Translating Latin





Bridget Dean, PhD
Managing Editor, Bolchazy-Carducci Publishers
Implementing Latin for the New Millennium; Special Workshop: eBooks





Caitlin Gillespie, PhD
Instructor, Columbia University, New York, NY
Women and War in the Roman Empire





Thomas "TJ" Howell, Belchertown High School, MA
& Edward Zarrow, PhD, Westwood High School, MA
Using Roman Coins and Material Culture in the Active Classroom





Kelly Northrup
The Webb School, Bell Buckle, TN
No Time for a Project: Four Quick Cross-cultural Activities for Latin





Tara Sewell-Lasater
Instructor, University of Houston, Houston, TX
Amazons: The Myth, the Meme, the Reality





Terence Tunberg, PhD
Professor of Classics, University of Kentucky, Lexington, KY
Latin for the New Millennium: Using the Aural/Oral Component





Phillip F. Venticinque, PhD
Associate Professor of Classics, Cornell College, IA
Honor Among Thieves: Craftsmen, Merchants, and Associations in Roman and Late Roman Egypt





Lynne West
Bellarmine Preparatory School, San Jose, CA
Some Tech Tips Useful for Review





For the 2018–2019 line up, check back here mid-August and the August issue of eLitterae.





Please note: The Bolchazy-Carducci Publishers Webinar Program is intended to be a live interactive endeavor in which presenter and attendees ask questions, make comments, seek clarification, share examples, etc. Thus, by design and in order to protect the presenter's intellectual property, B-C does not make recordings available to non-attendees. B-C encourages those interested in a given topic or presenter to plan to attend the live webinar.



If you have suggestions for Fall 2018, please contact Don Sprague.

---
What Equipment Do I Need for B-C Webinars?

To participate in Bolchazy-Carducci Publisher sponsored webinars you will need high-speed internet access, computer speakers/headphones, current web browser, and the link to the webinar virtual meeting space, which is provided in your webinar invitation.
Webinars Make for User-Friendly Professional Development

Participation is free. All webinars provide opportunity for participants to ask questions. Learn lots—attend as many presentations as you can. Bolchazy-Carducci Publishers provides documentation for your participation. You can share this with your supervisors. Many webinar presenters provide handouts, etc.