Classical Conferences and Meetings in 2018-2019

Classics Day Festival
September 29, 2018 [1–4 pm]
Monmouth College
Monmouth, IL
Representative: Bridget Dean

Classical Association of the Atlantic States
Fall 2018 Meeting
October 4–6, 2018
The Inn at Penn
Philadelphia, PA
Representative: Donald Sprague

Presentations:
Friday, October 5, 2018
10:30am–1:00pm
"Peritrope, or Retorsion, Arguments from Antiphon and Socrates" David Murphy, coauthor
Horace: A LEGAMUS Transitional Reader and A Horace Workbook

Friday, October 5, 2018
10:30am–1:00pm
"Panel Eight: The Landmark Julius Caesar (LMJC): A New Resource for Latin Teachers and Students"
Panelist Hans-Friedrich Mueller, author Caesar: Selections from his Commentarii de Bello Gallico; coauthor Caesar: A LEGAMUS Transitional Reader

Illinois Classical Conference
Annual Meeting
October 6–7, 2018
Norris University Center
Northwestern University
Evanston, IL
Representative: Amelia Wallace

Presentation:
"The Jewish Diaspora in the Roman Context" B-C Editor Amelia Wallace

Classical Association of the Middle West and South, Southern Section
98th Anniversary Meeting
October 18–20, 2018
At the invitation of Wake Forest University
Hawthorne Inn and Conference Center
Winston-Salem, NC

Representatives: Bridget Dean and Amelia Wallace

Classical Association of the Empire State
55th Annual Institute
October 26–27, 2018
Skidmore College
Saratoga Springs, NY
Representative: Donald Sprague

Tennessee Classical Association in conjunction with TFLTA
November 2–3, 20 l 8
Franklin Marriott Cool Springs
Franklin, TN
Representative: Laurel Draper

American Council on the Teaching of Foreign Language
2018 Annual Convention and World Languages Expo
November 16–18, 2018
New Orleans Convention Center
New Orleans, LA
Representative: Donald Sprague

SCS/AIA–Society for Classical Studies/Archaeological Institute of America
January 3–6, 2019
San Diego Marriott Marquis and Marina
San Diego, CA
Representatives: Bridget Dean, Donald Sprague, and Amelia Wallace

CANE–Classical Association of New England
March 8–9, 2019
College of the Holy Cross
Worcester, MA
Representative: Donald Sprague

CAMWS–Classical Association of the Middle West and South
April 3–6, 2019
The Cornhusker at the invitation of the University of Nebraska
Lincoln, NE
Representatives: TBD

The 54th International Congress on Medieval Studies
May 9–12, 2019
Western Michigan University
Kalamazoo, MI
Representatives: Laurel Draper and Adam Velez

ACL–The American Classical League
Celebrating ACL's Centennial
72nd Annual Institute
June 27–29, 2019
Hilton Midtown
New York, NY
Representatives: TBD

NJCL–National Junior Classical League
July 26–31, 2019
North Dakota State University
Fargo, ND
Representatives: TBD

Cindy Caltagirone and Don Sprague are hard at work planning the ACL Centennial Study Tour of Rome with an optional add-on tour to Campania.

So, mark your calendar for ROME2020 in July of 2020!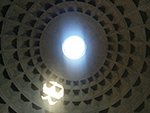 ROME202 Awaits . . .
Bolchazy-Carducci Publishers provides eTextbooks on a variety of eBook platforms. Bolchazy-Carducci textbooks are available through VitalSource,

GooglePlay

,

Chegg

, RedShelf, Adams Book, Follett,

MBSDirect Digital

, and ESCO. Each eBook platform offers a variety of tools to enhance the learning process. eBooks have the same content as our traditional books in print.
eBooks are purchased from the eBook provider. For direct links to purchase Bolchazy-Carducci eTextbooks, visit the title's product page on Bolchazy.com. Just above the product description there is a list of the eTextbook providers and a direct link to purchase the eTextbook. Some eBook providers sell directly to schools—check with your school to make these purchases.
You can read eBooks on a Mac, PC, iPhone, iPad, Android, or a variety of eReaders. Review the eBook providers specifications.
The eyeVocab software leverages human memory for distinctive affective images* presented in isolation to radically improve the speed, depth, and permanence of second language vocabulary acquisition. Images are drawn from classical art, both western and eastern, from photojournalism and historical photography, great book illustration, and other sources.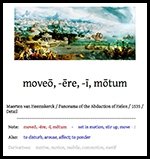 *Learn how images are chosen.

Far more than a set of electronic flashcards, the multimodal vocabulary program facilitates a significantly deeper learning and retention. Students will readily master the frequent Vergil and Caesar vocabulary for the AP® Latin Exam and thereby devote far more of their study time and energy to reading and discussing De Bello Gallico and the Aeneid.

eyeVocab programs correspond to the following B-C books.

Caesar: Selections from his Commentarii De Bello Gallico
(Mueller) (218 words)

Vergil's Aeneid: Selected Readings from Books 1, 2, 4, and 6
(Boyd) (162 words)



Vergil's Aeneid: Books I–VI


(Pharr) (292 words)

Latin for the New Millennium Level 1

(423 words)





Introductory rate for each of the AP® Latin programs is $14.95. The LNM 1 and LNM 2 introductory rate is $24.95 per program. For site licenses, contact Miles Becker at sales@eyeVocab.com.




Click on each title to learn more.
The Pompeiiana Newsletter created and edited by Bernard Barcio ran from 1974 through 2003. The newsletter offered a place for Latin students to publish comics, stories, games, and articles, and was a beloved resource for Latin teachers. In 2008, Barcio granted Bolchazy-Carducci Publishers the rights for all of the Pompeiiana Newsletter. B-C is proud to serve as curator for this archive and has made the issues available for teachers, students, and friends of the classics. Check out http://pompeiiana.blogspot.com/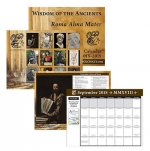 The 2018-2019 Roman Calendar is in the mail If you were not on that mailing list, the calendar is available as a download. We also have copies available at conferences. If you would like to be included in the 2019-2020 Roman Calendar mailing please submit your request.
Preview Bolchazy-Carducci Titles

Preview Bolchazy-Carducci titles before you purchase using Google Preview.
---

Downloadable Products
iPodius - Bolchazy-Carducci Publishers online shop for: audio, software, video, and a treasure trove of teacher-created materials in the Agora.
---
BCP Facebook Fan Page
Become a FAN of Bolchazy-Carducci Publishers, visit our Facebook Fan page for the latest news from BCP.
---
BCP Blog


Visit the BCPublishers Blog for B-C news and information.



Check out the results of this year's Martia Dementia. Congratulations to Nicholas Santana of St. Ignatius College Prep in Chicago who took first place!

---
Bolchazy-Carducci has hit a milliarium with its 1,000th follower. If you tweet, you should be following us!
BCPublishers on Twitter
Follow us on Twitter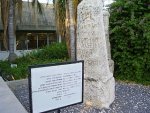 Roman milestone in Kibbutz Tirat Tzvi, Israel. Wikimedia Commons: Public Domain.
---
AP® is a trademark registered and/or owned by the College Board, which was not involved in the production of, and does not endorse, this site.
These products have been developed independently from and are not endorsed by the International Baccalaureate (IB).
We're still finalizing the schedule for Fall 2018. Watch our Facebook posts and the September issue of eLitterae for the roster of complimentary webinars, a great resource for professional development.





Please note: The Bolchazy-Carducci Publishers Webinar Program is intended to be a live interactive endeavor in which presenter and attendees ask questions, make comments, seek clarification, share examples, etc. Thus, by design and in order to protect the presenter's intellectual property, B-C does not make recordings available to non-attendees. B-C encourages those interested in a given topic or presenter to plan to attend the live webinar.



If you have suggestions for webinars, please contact Don Sprague.

---
What Equipment Do I Need for B-C Webinars?

To participate in Bolchazy-Carducci Publisher sponsored webinars you will need high-speed internet access, computer speakers/headphones, current web browser, and the link to the webinar virtual meeting space, which is provided in your webinar invitation.
Webinars Make for User-Friendly Professional Development

Participation is free. All webinars provide opportunity for participants to ask questions. Learn lots—attend as many presentations as you can. Bolchazy-Carducci Publishers provides documentation for your participation. You can share this with your supervisors. Many webinar presenters provide handouts, etc.
Dear Colleagues,

Where did summer go? School bells are already ringing . . .

While it's almost three years ago that I left Kennedy-King, one of the City Colleges of Chicago, I still feel the rhythm of the school year. Of course, it's reinforced by my niece who teaches third grade in the Bronx and by my work with Porchlight Music Theatre for whom I coordinate our outreach program for underserved schools. My work as an editor also keeps me close to the rhythm.

As you begin your new school year, all of us at Bolchazy-Carducci wish you and your students the best.

If you have questions about one of our texts, don't hesitate to reach out. We'll do our best to be of help.

Happy Fall Semester 2018!

All the best,

NB: Lynne West's "Tech Tip" will return in September.

NJCL National Junior Classical League 65th Annual Convention 2018
B-C Report

The idyllic campus of
Miami University
in Oxford, Ohio, hosted over 1,500 enthusiastic Latin students who came to compete at the annual
National Junior Classical League
Convention. While their passion for all things classical and Latin knows no bounds, these dedicated Latin students conducted themselves courteously, respecting one another, the adults with whom they came in contact, and the campus that served as staging ground and home for a week's contests. The NJCL convention is impressive on so many levels.
The recently renovated Armstrong Student Center served as headquarters for the NJCL administration and for the Learning and Teaching Materials exhibit. Editors Don Sprague and Amelia Wallace carefully arranged the Bolchazy-Carducci book exhibit over five tables. No matter the number of tables, the editors affirm that it's always a challenge to make sure as many titles as possible are displayed. At conference end, the editors concurred that setting up the display and maximizing the space is the toughest task of the conference!

Over the three days of exhibiting, July 25–27, a steady stream of teachers and students checked out the many B-C offerings. Some teachers came by to say hello and to thank us for participating. Others made their annual pilgrimage to stock up. Wallace, a recent graduate of the prestigious MAT in Latin Program at the University of Massachusetts, was able to catch up with colleagues and to share her teaching insights. For Sprague, it was his fifth consecutive convention and an occasion to reconnect with regular exhibit visitors as well as to meet teachers new to B-C titles.

The NJCL exhibit schedule regularly provides free time on Thursday afternoons. Thus, the editors were able to spend some time visiting the William Holmes McGuffey Home and Museum, a National Historic Landmark and the second oldest building on the Miami campus. In addition to materials related to McGuffey and the famous McGuffey Eclectic Reader series, the museum also exhibits material relating to the university and nineteenth-century domestic life. Museum administrator and curator Steve Gordon provided an engaging and informative tour of the house museum. McGuffey, who developed his readers while at Miami, served as a professor of Latin, Greek, Hebrew, and Ethics at the university.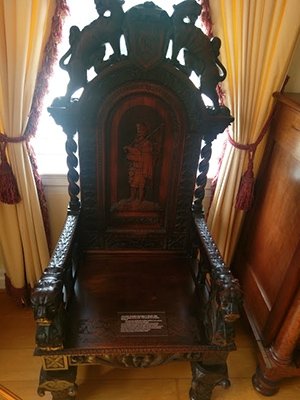 Curator Gordon delighted in showing this ornate chair owned by Professor McGuffey's brother, lawyer Alexander Hamilton McGuffey. Gordon noted that the name "Alexander Hamilton" firmly established the son as American while the ornate chair that sat in the lawyer's office hall celebrated his Scottish roots with its inscription nemo me lacessit impune (Nobody provokes me with impunity*). Unfortunately, it is difficult to see the inscription let alone photograph it. At the center of the chair is carved a Scottish bagpiper. From the chair's label comes this interesting tidbit: It (the chair) personifies discomfort and the story is that Alexander would leave clients sitting there until they were ready to agree to his terms when negotiating a legal case.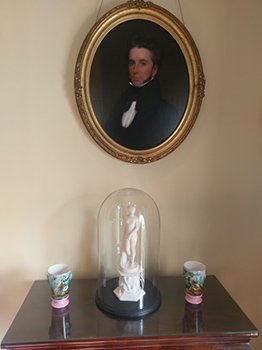 Ever on the lookout for classical reception, the camera had to capture this statue of Aphrodite that graces the formal dining room and provides an interesting juxtaposition to the somber portrait of a McGuffey relative.
As is our custom at conferences, attendees were invited to participate in a drawing of new titles. Jeanine Edson of Westwood High School in Texas won our NJCL fishbowl drawing, taking home Word Mastery through Derivatives, Three Abecedaria, and A Latin Picture Dictionary for Everyone.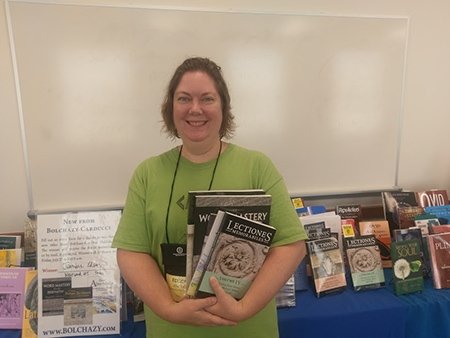 Jeanine Edson, drawing winner, is also holding Lectiones Memorabiles Volume IV: Selections from Horace, Livy, Martial, Sallust, and Vergil by Mary Jaeger, our newest IB text.

Bolchazy-Carducci Publishers thanks all those NJCL participants who visited the exhibit and salutes the dedicated teachers and chaperons who provide this terrific opportunity to their students.

B-C particularly salutes ACL Executive Director Sherwin Little and the ACL and NJCL staffs for overseeing this important gathering of Latin students. How fitting that a former Latin student of Little's, Tom Tsuchiya, over the course of the convention, created a special sculpture to honor NJCL. Depicted below is Recycling Phoenix, 2018 with Tom Tsuchiya, sculptor, and Gina Erardi, apprentice. The phoenix represented regeneration by being reborn cyclically from the ashes of its predecessor. Not only does this sculpture serve as a receptacle for recycling aluminum, plastic, glass, and paper, but it is itself made primarily from reused materials including scrap foam and used or defective aluminum cans. Tsuchiya participated in NJCL as a high schooler and earned a BA in classical civilization. A noted sculptor, he is especially celebrated for his bronze plaques at the National Baseball Hall of Fame, the Cincinnati Reds' bronze statues, and Atlas Recycled.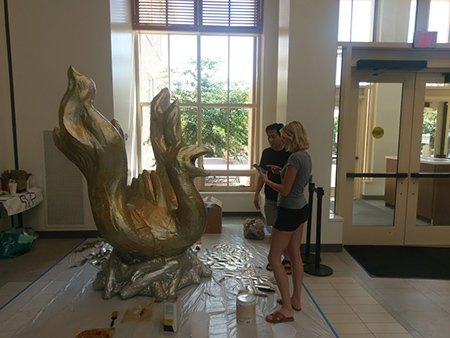 *The
Memorābile Dictū
of
Latin for the New Millennium
, Level 2, celebrates this Royal Scottish motto.
To enjoy NJCL 2018 vicariously,
click
and you'll have access to multiple albums and hundreds of photos that capture the wonders of a NJCL convention.
The Bolchazy-Carducci family—current and former employees and good friends—gathered on July 20 to celebrate Founder's Day VI, a tribute to the late Dr. Lou Bolchazy, company founder. Following a luscious lunch with side dishes and desserts created by staff members, Director of Finance David Fiedelman presented a tribute to Lou that included a series of photos and employee contributions of two words or phrases like "single-minded," "kind," and "passionate" that described Lou. Following lunch, the Bolchazy-Carducci Board of Directors held its quarterly meeting. Marie Bolchazy serves as board chair and Allan Bolchazy is the vice chair.

Please find below a set of photos from this special event.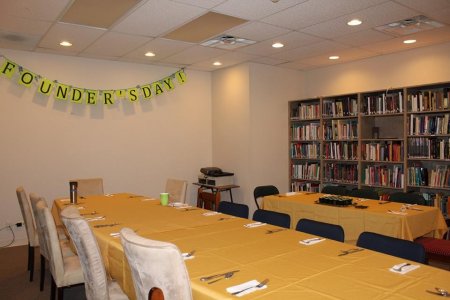 The conference room/library awaits the luncheon group. Notice to the right the tray of little glasses used to give the late founder Dr. Lou Bolchazy a coffee toast.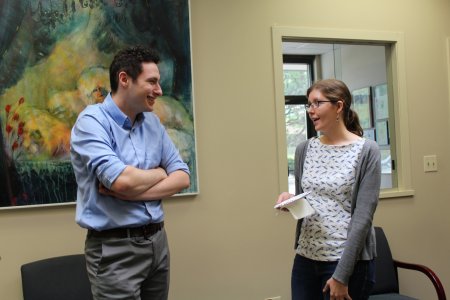 Intern Alex Cohen and editor Laurel Draper gather in the reception area for appetizers.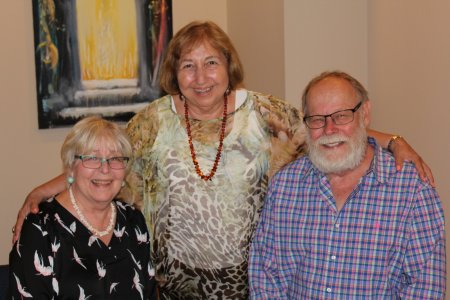 Marie Bolchazy poses with Thom Kapheim, who created illustrations for B-C's Gilgamesh and Vergil texts among others, and his wife Carol.
Marie Bolchazy reminisces with former employee Anna Cooper and editor Don Sprague.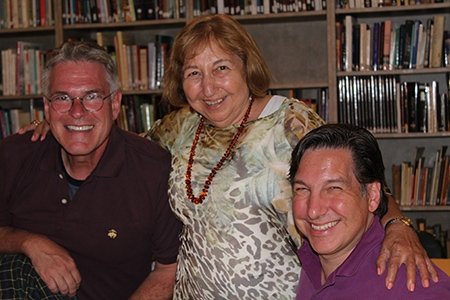 Marie Bolchazy with her son-in-law Paul Mallatt and her son Allan Bolchazy.

Congratulations to Professor Gregory N. Daugherty upon his retirement from Randolph-Macon College where he has taught since the fall of 1976. Daugherty is the coauthor (with Margaret A. Brucia) of To Be a Roman (Bolchazy-Carducci Publishers, 2007). Daugherty earned his bachelor's degree in Latin from the University of Richmond, and, after spending a year at the Collegio Ghislieri of the University of Pavia in Italy on a Fulbright Scholarship, he received his MA and PhD in Classical Studies from Vanderbilt University. His research interests have been centered on public safety in the ancient city, with particular reference to the Imperial Roman fire brigades, the Cohortes Vigilum, especially their role in the Great Fire at the time of Nero. He more recently has become interested in the reception of classics (especially Cleopatra and Homer) by American popular culture. Daugherty counts as his proudest achievements at Randolph-Macon his role in helping to establish the Honors Program (and in serving as the first Director of the Program) and the success of the Saturday Seminars for Latin Teachers which the Department of Classics has run since 1980. He twice received the Thomas Branch Award for Excellence in Teaching, was the winner of the APA Teaching Excellence Award in 2003, and was the CAV Lurlene Todd Teacher of the Year in 2005.

Daugherty has also been very active in regional and national organizations devoted to the field of Classics. He served on the Education Committee of the American Philological Association*, as Executive Secretary of the National Committee for Latin and Greek, the Secretary-Treasurer of the Classical Association of the Middle West and South (CAMWS), as well as President of the Foreign Language Association of Virginia, of CAMWS, and of the Classical Association of Virginia.

Bolchazy-Carducci Publishers salutes Gregory N. Daugherty as author, scholar, outstanding teacher, and leader in service to the classics profession. Thank you for inspiring countless students and colleagues! May you enjoy a well-deserved retirement!
*Now called the Society for Classical Studies.
---

Congratulations to Professor and Distinguished Scholar-Teacher Judith Peller Hallett upon her retirement from the University of Maryland, College Park. Hallett is coauthor of A Roman Women Reader: Selections from the Second Century BCE through the Second Century CE (Bolchazy-Carducci Publishers, 2015) and coeditor of Rome and Her Monuments: Essays on the City and Literature of Rome in Honor of Katherine A. Geffcken (Bolchazy-Carducci Publishers, 2000). Sheila K. Dickison of the University of Florida collaborated on both texts. Hallett also authored Fathers and Daughters in Roman Society: Women and the Elite Family (Princeton, 1984). Hallett's work specializes in Latin language and literature; women, sexuality, and the family in ancient Greek and Roman society; and classical education and reception in the nineteenth and twentieth century Anglophone world. Edith Hamilton holds a special place in Hallett's heart and scholarship. She has written widely and presented internationally on these topics and served as coeditor on such volumes as Compromising Traditions: The Personal Voice in Classical Scholarship, with Thomas Van Nortwick (Routledge, 1997); Roman Sexualities, with Marilyn Skinner (Princeton, 1997); "Roman Mothers" (special issue of the journal Helios, 2006); and British Classics Outside England: The Academy and Beyond, with Christopher Stray (Baylor, 2008).

A longtime editor of the journal Classical World, she assumed the North American editorship of EuGeStA, a European-based online journal of gender studies in the fields of classics and classical reception, founded and edited by Jacqueline Fabre-Serris, University of Lille. An enthusiastic promoter of the classics and popularizing the classics, she served as a consultant on the 2001 PBS documentary series The Roman Empire in the First Century and appeared in all four of its episodes. From 1986 through 1994 Hallett was featured on The Court of Ideas, a long-running Canadian Broadcasting Company educational radio program.


Hallett was president of the Classical Association of the Atlantic States in 2000 and coordinated the program for CAAS meetings from 2000 to 2009. She served on the American Philological Association Board of Directors and as its Vice-President for Outreach. From 2001 to 2011 she was a member of the Maryland Humanities Council, and from 2002 to 2009 she was on the Board of Trustees, Baltimore Hebrew University; in 2010 she was appointed to the Board of Directors of the Thornton Wilder Society.


Hallett received her BA from Wellesley College and her MA and PhD in Classical Philology from Harvard University. While attending Harvard, she studied at the American Academy in Rome; after receiving her doctorate, she spent a year at the Institute of Classical Studies at the University of London. She was Blegen Visiting Scholar in Classics at Vassar College and has held Mellon teaching fellowships at both Brandeis University and the Wellesley Center for Research on Women. Winner of the College of Arts and Humanities Award for Excellence in Teaching, and honored by the Center for Excellence in Teaching Celebrating Teachers Program in 1994 and 2002, she was named a Distinguished Scholar-Teacher in 1992–1993 and a Lilly Center for Excellence in Teaching fellow in 2002–2003.


Perhaps the signature tribute to Hallett took place in May 2013 when Routledge Monographs in Classical Studies published Roman Literature, Gender and Reception: Domina Illustris, comprising nineteen essays collectively honoring Hallett's work. The volume begins with an intellectual biography of Hallett entitled "Judith Peller Hallett: An Introduction to a Force of Nature" and concludes with her bibliography from 1970 to 2012.


All of us at Bolchazy-Carducci wish Hallett well in her retirement but, as anyone who follows her peregrinations and activities on Facebook knows, we're sure she'll be ever busy and productive. We salute her many contributions to the profession here and abroad and her indefatigable dedication to her students and colleagues. May this "Force of Nature" enjoy her retirement!

Resources & Teaching Tips

√
Horatian Metaphor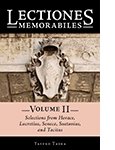 Horace's
Ode
3.26 provides insight to the battle for love metaphor. An ideal supplement for the Latin III or Latin IV class! This
selection
is taken from B-C's
Lectiones Memorabiles Volume II: Selections from Horace, Lucretius, Seneca, Suetonius, and Tacitus
.

The Latin readings in the volume concern history and "good living." This poem is from the latter set of selections.

√ Archaeological Discoveries

√ Important Reads
√ TV for Learning

√ Intriguing Correlation
eLitterae Subscribers Special Discount

eLitterae Subscribers
Special 40% Discount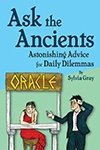 Ask the Ancients: Astonishing Advice for Daily Dilemmas
by
Sylvia Gray
and illustrated by
Lydia Koller
Paperback, x + 132 pp., ISBN: 978-0-86516-818-3,
$19.00
$11.00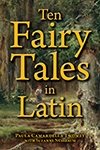 Ten Fairy Tales in Latin
by
Paula Camardella Twomey
and translated by
Suzanne Nussbaum
Paperback, ii + 127 pp., ISBN: 978-0-86516-791-9,
$19.00
$11.00
This offer is valid for up to five (5)
copies, prepaid, no returns.
Discount is not available to distributors or
on products distributed by Bolchazy-Carducci Publishers.
This offer expires 09/23/18.
(Please note that there will be no adjustments on previous purchases.
Offer is non-transferable and subject to change without notice.)
Enter coupon code eLit0818
on the payment page. The special

offer pricing will be charged at checkout.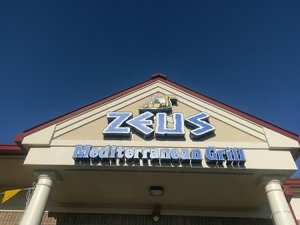 In addition to its Mediterranean specialties, this grill near the Cincinnati airport also serves a variety of tacos.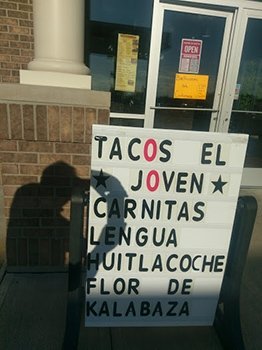 ---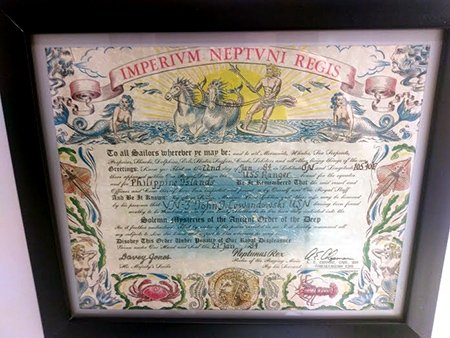 This certificate signifies that Sailor John Lewandowski has been duly initiated into "The Solemn Mysteries of the Ancient Order of the Deep." The line-crossing ceremony is an initiation rite that commemorates a sailor's first crossing of the equator. Those who have crossed the equator are called "shellbacks" while the uninitiated are called "pollywogs" or "slimy pollywogs." The equatorial ritual for the US Navy takes place over the course of an evening and a day. After their ship has crossed the line, "pollywogs" receive subpoenas to appear before King Neptune and his court.