They're Baaaaaack ...
Alki UCC Choir Launches Fall/Advent Repertoire at September 8 Fall Workshop
Scene: 9:45 last Saturday morning.
Picture 30 people moving around Verona's home to put the finishing touches on their lunch dishes, find their choir binders (or get their new accessory). Lines of information pages and songs to sing until Advent were being gathered. The opening was, as always, in prayer.
Thirty people were energized, perhaps anxious, excited and ready to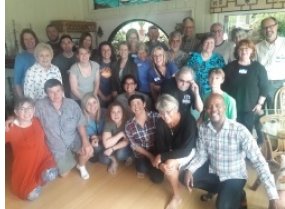 make the fall Choir ministry a success. It's never been about just singing, of course. One of Marshan's goals, our Minister of Music (MOM), has been to generate cohesion and connections, caring and trust. We shared in small groups and section teams; soprano, alto, tenor and bass. Our goals had expanded to include community outreach and service. A new leadership team had volunteered to unload the growing administrative burdens. When membership tops 30, the commitment to an agreed choir culture must deepen.
All attendees were focused on learning new songs and refreshing old favorites for the autumn season. The learning curve for new people began on Saturday. They were magnificent. Five hours of hard work followed, along with a great lunch! Marshan spoke of what we would be singing on "Sunday." We reminded him that he was really talking about "tomorrow morning!"
And it happened!! —

Jane Gunwaldsen
Note: People who may want to join the choir for the Christmas season can begin with extended practice on Sunday, November 4. Preparations for a special Outreach Christmas Concert on Sunday, December 16 will continue at our regular Tuesday evening practices.
Camp Second Chance Tiny House Blessing/Dedication
Saturday, Septmber 22 at Noon
It's a CELEBRATION!
Eight (count 'em- 8!!) Tiny Houses have been completed at Camp Second Chance from the donations raised at our Mardi Gras Dinner in 2017.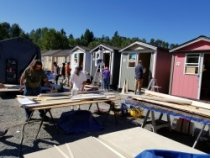 Come join the choir in blessing these wonderful houses, and their new residents.
We will assemble at noon for a tour of the camp.
You'll be a witness to the amazing tiny houses that ALKI UCC (and friends) BUILT, enjoy food compliments of Peasant Food Manifesto, then hear the choir sing and take part in the blessing.
Camp Second Chance
9701 Myers Way, Seattle, 98108
Note: The Saturday build sessions are on hiatus for several weeks but will resume on an undetermined date, thanks to continuing generous donations. — Cinda Stenger
Sacred Conversations Planning Session
to Launch Continuing Church Discussions
on Race
Wednesday, September 26, 7:00 to 8:00 pm
Alki UCC Parlor
Join us to discuss next steps and plans for the this year's Sacred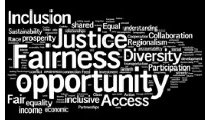 Conversations group.
The larger group conversations will be held the second Wednesday of the month on October 10, November 14, December 12 and January 16. We will continue to draft a curriculum for those in our church community interested in furthering their personal journey to debunk racial myths and implicit bias.
Stay tuned for updates and please send any questions or comments to Bonita Corliss.
Yours in Christ — Bonita
Calling All Sunday School Teachers

Our children need teachers in Room 22.
The curriculum is accessible and engaging.
The lessons, which can be taught with a little preparation, incorporate reading, games and activities.
Please consider joining in the fun!
Sign up for one Sunday or sign up for more.
— Julia Peeler
Kol HaNeshamah (KHN) High Holy Days Services at Alki UCC/KHN Sept 9 & 10/Sept 18 & 19

Jews around the world welcomed a New Year last Sunday night with the holiday of Rosh HaShanah, starting a 10-day period of intense reflection, introspection and teshuvah (atonement and forgiveness).
The period culminates at the conclusion of Yom Kippur when the sun

sets on Tuesday evening, September 18. During this time, Jews reflect on their actions and interactions of the past year, taking a "fearless moral accounting"... asking forgiveness from those whom they may have hurt, and forgiving those who may have hurt them. Many Jews fast from sundown to sundown on Yom Kippur, wear white, and refrain from wearing leather or other "luxuries."
It is an intense and powerful period of renewal. The High Holy Days are then followed by two joyous holidays, Succot and Simchat Torah. During Succot, Jews build temporary huts in which to eat (and sometimes to sleep!), celebrating the bounty of our lives, as well as reminding ourselves of the fragility of life itself. On Simchat Torah we complete the cycle of the reading of the Torah — finishing the last portion of the Book of Deuteronomy, and beginning all over again at the beginning of Genesis. The fall holy days are often referred to as "The Chagim," the holidays. — Rabbi Zari Weiss
* * *
Tuesday, September 18, 7:00 pm
Kol Nidre
Wednesday, September 19, 10:00 am (children's service at 9:00 am)
Yom Kippur
Services through 6:45 pm when congregants break their fast.
A tent is already up in the courtyard outside the parlor to shelter guest registration. In accordance with KHN's practice and the practice of many synagogues across the country, there will be an armed guard at the entrance to the churchagogue for the duration of the services.
If you see KHN Congregants and guests carrying food bags into KHN, it is because KHN is collecting nonperishable foods for donation to the Jewish Family Service Pollack Food Pantry.
Rabbi Zari notes: "KHN thanks Alki UCC for the opportunity to hold our High Holy Day services at home again this year and we appreciate the support of everyone at our partner church who is helping make this possible."
Cash Only Requested:
Donations Drive for Immigrant Families
on the Southern Border

Good Shepard UCC in Sahuarita, AZ, has requested cash donations instead of shipping items so they can respond to changing priorities for supplies needed by people stranded at the US/Mexican border, most of whom are seeking asylum.
Make your check out to "Alki UCC" and put

Border Supply Drive

in the memo line.
There is also a basket for cash donations on Sunday.

Weaving our Strengths Conference:
Narratives of Hope
Saturday, September 29
8:00 am – 3:15 pm
Mercer Island Presbyterian Church
3605 84th Ave SE
Our community is invited to the fifth annual Weaving Our Strengths, a day-long conference of fellowship, inspiration, and skill-building to strengthen local churches' efforts for the common good.
Registration and workshop details at "Weaving Our Strengths" section of our website.
Workshop themes include organizing for church vitality; our call to advocacy; water in Scripture, our lives and world; standing with our Muslim neighbors; equity in daily life; racial justice; civility; environmental and housing justice; spirituality & justice "reset;" cultural humility; and discernment.
For those grieving the recent death of a loved one:
Sue Backs, Lesa Henry, Jeff Jolly & family, Charley Rosenberry
Recent hospitalization, illness and other concerns:
Larry Gill's nephew, Paul; Lisa Burke, Penny Matthews, Bev Connor, Patty Magnuson's brother,

Shelley Webster, Jan Cochran
For home bound members/friends of Alki UCC:
Ruth Okada, Doris Colbert
Wider World: C
hildren, parents and all those affected by myriad inhumane immigration policies/practices; p
rayers for fewer guns and for all victims of gun violence; victims and survivors of extremist violence

around the world

;

migrants seeking refuge around the world, and for those who are trying to help and serve them. The rest of the missing schoolgirls kidnapped by Boko Haram, who remain in our hearts as long as they remain missing. The hungry and homeless, the ill and the addicted, the lost and the lonely; the unemployed.
This Sunday,
September 16,
10:00 am

Visiting Pastor Bruce Wilson gives a sermon on Teaching. Our Scripture is James 3: 1-12.
Choir Rehearsal
Sunday at 9:00 am
Sunday Worship
and Church School
Sunday at 10:00 am
Choir Rehearsal
Tuesday at 7:00 pm
You can help the West Seattle Helpline win a $10,000 grant with a simple click of your mouse.
Voting has opened for Homestreet Bank's
Vote Your Heart online campaign. The Seattle charity receiving the most votes gets the grant … SO VOTE YOUR HEART, West Seattle!
Cast your vote NOW at homestreet.com/heart.

The West Seattle Helpline is a beloved, local non-profit founded 30 years ago by our retired pastor, Rev. Jack Coates, in collaboration with other WS churches. The Helpline prevents homelessness by providing vital financial assistance with rent, utilities, clothing, bus tickets and more.
Show your love by voting NOW!
Pastor Susan's cell is (206) 349-7285. Texts are preferred for prompt attention if possible, and please identify yourself. Next best is email: susan.fairo@gmail.com, then phone calls at (206) 349-7285.
# # #
Alki UCC member Emily Hitchens is our Parish Nurse and leads the Parish Care team. You can also contact her directly to request help with rides/meals or other logistics associated with illness, injury or major life disruptions.
Keep those Thriftway Receipts Coming!
Bring in your Thriftway receipts to help the West Seattle Food Bank!
The bank gets a proportional donation for each and every receipt.

Our own Wanda Dray periodically collects the receipts and delivers them to the bank. She wants you to know how grateful they are for each and every one.
Look for the basket next to the lamp on the table immediately to your right as you enter the narthex.
Note: The program does NOT include Met Market receipts.
Thank you!
Admiral Church Invites You
A Staged Reading Performance of Nightingale: A Musical on the Life and Passionate Nature of Miss Florence Nightingale
by Pamela Gerke,
Admiral Choir Director

Sunday, September 23
at 3:00 pm
$15 donation
Admiral Church
4320 SW Hill Street
206 932-2928
You're invited!
Barbeque Grand Opening of
Mary's Place Burien Family Center
Tuesday,
September 25
5:30 pm
12845 Ambaum Blvd SW
RSVP here

Celebrate! The new center brings more families inside to safety, stability and hope. Support the opening with donations of towels and twin sheets/blankets.
Free Medical, Dental and Vision Care
Seattle/King County Clinics for People Struggling to Access and/or Afford Healthcare
September 20–23
Seattle Center
All are welcome regardless of income, insurance, or immigration status; patients will not be asked for documentation; all services are FREE.
• Online information here
• Email
• 206.684.7200
.

Click on the big, blue donate button at alkiucc.org to make your secure online donation.
You will be redirected to our contributions page where you click on the PayPal button to donate online.
Other giving options are also noted.