Classical Conferences and Meetings in 2018-2019

Classics Day Festival
September 29, 2018 [1–4 pm]
Monmouth College
Monmouth, IL
Representative: Bridget Dean

Classical Association of the Atlantic States
Fall 2018 Meeting
October 4–6, 2018
The Inn at Penn
Philadelphia, PA
Representative: Donald Sprague

Presentations:
Friday, October 5, 2018
10:30am–1:00pm
"Peritrope, or Retorsion, Arguments from Antiphon and Socrates" David Murphy, coauthor
Horace: A LEGAMUS Transitional Reader and A Horace Workbook

Friday, October 5, 2018
10:30am–1:00pm
"Panel Eight: The Landmark Julius Caesar (LMJC): A New Resource for Latin Teachers and Students"
Panelist Hans-Friedrich Mueller, author Caesar: Selections from his Commentarii de Bello Gallico; coauthor Caesar: A LEGAMUS Transitional Reader

Illinois Classical Conference
Annual Meeting
October 6–7, 2018
Norris University Center
Northwestern University
Evanston, IL
Representative: Amelia Wallace

Presentation:
"The Jewish Diaspora in the Roman Context" B-C Editor Amelia Wallace

Classical Association of the Middle West and South, Southern Section
98th Anniversary Meeting
October 18–20, 2018
At the invitation of Wake Forest University
Hawthorne Inn and Conference Center
Winston-Salem, NC

Representatives: Bridget Dean and Amelia Wallace

Classical Association of the Empire State
55th Annual Institute
October 26–27, 2018
Skidmore College
Saratoga Springs, NY
Representative: Donald Sprague

Tennessee Classical Association in conjunction with TFLTA
November 2–3, 20 l 8
Franklin Marriott Cool Springs
Franklin, TN
Representative: Laurel Draper

American Council on the Teaching of Foreign Language
2018 Annual Convention and World Languages Expo
November 16–18, 2018
New Orleans Convention Center
New Orleans, LA
Representative: Donald Sprague

SCS/AIA–Society for Classical Studies/Archaeological Institute of America
January 3–6, 2019
San Diego Marriott Marquis and Marina
San Diego, CA
Representatives: Bridget Dean, Donald Sprague, and Amelia Wallace

CANE–Classical Association of New England
March 8–9, 2019
College of the Holy Cross
Worcester, MA
Representative: Donald Sprague

CAMWS–Classical Association of the Middle West and South
April 3–6, 2019
The Cornhusker at the invitation of the University of Nebraska
Lincoln, NE
Representatives: TBD

The 54th International Congress on Medieval Studies
May 9–12, 2019
Western Michigan University
Kalamazoo, MI
Representatives: Laurel Draper and Adam Velez

ACL–The American Classical League
Celebrating ACL's Centennial
72nd Annual Institute
June 27–29, 2019
Hilton Midtown
New York, NY
Representatives: TBD

NJCL–National Junior Classical League
July 26–31, 2019
North Dakota State University
Fargo, ND
Representatives: TBD

Cindy Caltagirone and Don Sprague are hard at work planning the ACL Centennial Study Tour of Rome with an optional add-on tour to Campania.

So, mark your calendar for ROME2020 in July of 2020!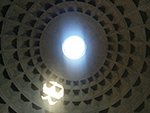 ROME202 Awaits . . .
Bolchazy-Carducci Publishers provides eTextbooks on a variety of eBook platforms. Bolchazy-Carducci textbooks are available through VitalSource,

GooglePlay

,

Chegg

, RedShelf, Adams Book, Follett,

MBSDirect Digital

, and ESCO. Each eBook platform offers a variety of tools to enhance the learning process. eBooks have the same content as our traditional books in print.
eBooks are purchased from the eBook provider. For direct links to purchase Bolchazy-Carducci eTextbooks, visit the title's product page on Bolchazy.com. Just above the product description there is a list of the eTextbook providers and a direct link to purchase the eTextbook. Some eBook providers sell directly to schools—check with your school to make these purchases.
You can read eBooks on a Mac, PC, iPhone, iPad, Android, or a variety of eReaders. Review the eBook providers specifications.
The eyeVocab software leverages human memory for distinctive affective images* presented in isolation to radically improve the speed, depth, and permanence of second language vocabulary acquisition. Images are drawn from classical art, both western and eastern, from photojournalism and historical photography, great book illustration, and other sources.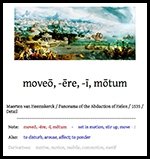 *Learn how images are chosen.

Far more than a set of electronic flashcards, the multimodal vocabulary program facilitates a significantly deeper learning and retention. Students will readily master the frequent Vergil and Caesar vocabulary for the AP® Latin Exam and thereby devote far more of their study time and energy to reading and discussing De Bello Gallico and the Aeneid.

eyeVocab programs correspond to the following B-C books.

Caesar: Selections from his Commentarii De Bello Gallico
(Mueller) (218 words)

Vergil's Aeneid: Selected Readings from Books 1, 2, 4, and 6
(Boyd) (162 words)



Vergil's Aeneid: Books I–VI


(Pharr) (292 words)

Latin for the New Millennium Level 1

(423 words)





Introductory rate for each of the AP® Latin programs is $14.95. The LNM 1 and LNM 2 introductory rate is $24.95 per program. For site licenses, contact Miles Becker at sales@eyeVocab.com.




Click on each title to learn more.
The Pompeiiana Newsletter created and edited by Bernard Barcio ran from 1974 through 2003. The newsletter offered a place for Latin students to publish comics, stories, games, and articles, and was a beloved resource for Latin teachers. In 2008, Barcio granted Bolchazy-Carducci Publishers the rights for all of the Pompeiiana Newsletter. B-C is proud to serve as curator for this archive and has made the issues available for teachers, students, and friends of the classics. Check out http://pompeiiana.blogspot.com/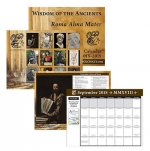 The 2018-2019 Roman Calendar is in the mail If you were not on that mailing list, the calendar is available as a download. We also have copies available at conferences. If you would like to be included in the 2019-2020 Roman Calendar mailing please submit your request.
Preview Bolchazy-Carducci Titles

Preview Bolchazy-Carducci titles before you purchase using Google Preview.
---

Downloadable Products
iPodius - Bolchazy-Carducci Publishers online shop for: audio, software, video, and a treasure trove of teacher-created materials in the Agora.
---
BCP Facebook Fan Page
Become a FAN of Bolchazy-Carducci Publishers, visit our Facebook Fan page for the latest news from BCP.
---
BCP Blog
Visit the BCPublishers Blog for B-C news and information.
---
BCPublishers on Twitter
Follow us on Twitter

---
AP® is a trademark registered and/or owned by the College Board, which was not involved in the production of, and does not endorse, this site.
These products have been developed independently from and are not endorsed by the International Baccalaureate (IB).
Please note: The Bolchazy-Carducci Publishers Webinar Program is intended to be a live interactive endeavor in which presenter and attendees ask questions, make comments, seek clarification, share examples, etc. Thus, by design and in order to protect the presenter's intellectual property, B-C does not make recordings available to non-attendees. B-C encourages those interested in a given topic or presenter to plan to attend the live webinar.



If you have suggestions for webinars, please contact Don Sprague.

---
What Equipment Do I Need for B-C Webinars?

To participate in Bolchazy-Carducci Publisher sponsored webinars you will need high-speed internet access, computer speakers/headphones, current web browser, and the link to the webinar virtual meeting space, which is provided in your webinar invitation.
Webinars Make for User-Friendly Professional Development

Participation is free. All webinars provide opportunity for participants to ask questions. Learn lots—attend as many presentations as you can. Bolchazy-Carducci Publishers provides documentation for your participation. You can share this with your supervisors. Many webinar presenters provide handouts, etc.
With the passing of Labor Day, Greek and Latin classrooms across the country are buzzing with authentic greetings and various review activities. Teachers are busy implementing new ideas and activities, sharing their ideas online, and reaching out to one another especially online for suggestions and advice. Check out social media resources such as these Facebook groups: AP Latin Teachers, LNM Idea Exchange, IB Latin Teacher Idea Exchange, and Latin Teacher Idea Exchange. The Facebook group Latin Best Practices: The Next Generation in Comprehensible Input is also a great resource especially for active Latin and comprehensible instruction ideas.

Another way of sharing ideas and suggestions with colleagues is to become involved in your state classics organization, the regional organization, and a national organization like the American Classical League. Their annual institute takes place in New York City next summer as part of their centennial celebrations. In addition, ACL is sponsoring regional gatherings and celebrations over the course of the year.

Many a Latin teacher does not have a classics colleague at their school and is often frustrated that their modern language colleagues don't understand the dynamics of the classics classroom. Attending the regular gatherings of these professional groups provides the opportunity not only to attend presentations on pedagogy and scholarship but also and more importantly to interact over break, at meals, and in the evenings after the formal sessions. I still remember connecting with colleagues at my first meeting of the Illinois Classical Conference in 1978 on a wintry day at the Orrington Hotel in Evanston, IL. Throughout my years teaching high school Latin, I made sure to attend ICC's annual meeting and regularly consulted my Latin teacher colleagues who soon became and remain good friends.

Since joining Bolchazy-Carducci Publishers, I am privileged to represent the company at conferences and institutes throughout the country. What I first experienced in 1978 comes to mind each time I attend a conference. Interacting with you teachers is one of the great benefits of this job. Bolchazy-Carducci Publishers takes pride in exhibiting its inventory of Latin and Greek titles at conferences throughout the year. Check out our calendar of conferences. This year, we're pleased to add Monmouth's Classic Day Festival and to return to both the Classical Association of the Empire State and the Tennessee Classical Association meetings. We agree with so many teachers who have shared "there's no substitute for taking a book in your hands and checking it out." Come see us!

Ut semper . . . all of us at Bolchazy-Carducci Publishers wish you and your students a wonderful learning adventure!

All the best,

This summer, I reacquainted myself with Padlet, a web-based tool for creating virtual bulletin boards. Think of it as a digital version of your classroom bulletin board. The virtual bulletin board can contain text, links, and images. You can use it as a way to showcase the work of an entire class, as a collection of resources on a particular topic, or even as a brainstorming session. A few years ago, in my AP Latin class, I created individual boards for the themes of the AP course. As students encountered passages of Latin related to the different themes, they added a note to the Padlet board referencing the Latin text and explaining its relationship to the theme. Periodically, I allocated a few minutes of class time for students to add to the Padlet boards. I appreciated how easy it was for the students to add their thoughts to the board and especially loved what a great resource it was during review time.

Two of my favorite things about Padlet are its simplicity and flexibility. It has a simple interface that is quick to get to know. A teacher can create a new virtual bulletin board in less than a minute and share it with students. There are a couple of decisions to make regarding the layout and look of the bulletin board. I appreciate that Padlet has some settings that are really helpful for classroom teachers. For example, the teacher can determine whether students have to attach their name to the notes they add to the Padlet board. Moreover, the teacher has control of the privacy settings of the board and can even password protect it. There is also the option to moderate posts before they go public. It is easy to share a Padlet board with students via a link, embedded code, QR code, or Google Classroom integration. To give Padlet a try, visit:
www.padlet.com
Lynne West
Educational Consultant

---
Editor's Note
After her many years teaching Latin, chairing the language department, and serving as an instructional specialist, Lynne has moved to Valencia where she has launched
Sunodia Educational Consulting
. Lynne will continue to pen
eLitterae
's "Tech Tip." We all wish Lynne well in her new professional venture.
Intrigued by the name "sunodia"? We've included it in "Classics Tidbits."

Kudos to B-C editor Laurel Draper, who completed her first half-marathon at the
Millennium Meadows
race in Grand Rapids, MI, on August 26! Tradition has it that in 490 BCE, Pheidippides (or Philippides) ran about 150 miles in two days to request the aid of the Spartans against the Persians in the battle of Marathon. Following the battle, he then ran about 25 miles to Athens to report the Athenian victory and died after delivering his message. The marathon race, a tribute to Pheidippides's last run, was one of the events in the first modern Olympics held in 1896. In 1982, five members of the Royal Air Force sought to recreate Pheidippides's 150-mile run. Three runners succeeded in completing the course in a day and a half, and the 153-mile Spartathlon has been held in Greece since 1983.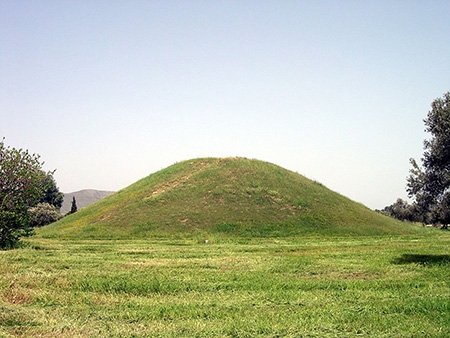 Two tumuli commemorate those who fell in the Battle of Marathon in 490 BCE—the one pictured dominates the landscape and contains the ashes of 192 Athenians and the other contains the inhumed bodies of the Plataeans who fell in the battle. Creative Commons 3.0.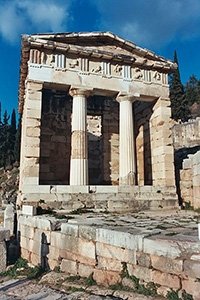 The Treasury of the Athenians was erected at Delphi to house the spoils of the Athenian victory over the Persians at Marathon. Creative Commons 3.0.
A Tribute to Lou Bolchazy, PhD.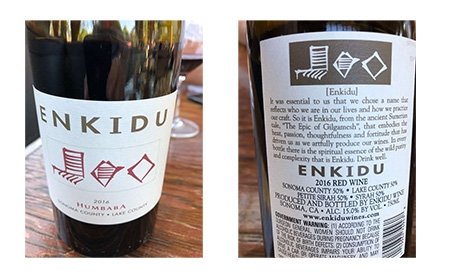 For Bolchazy-Carducci folks, Enkidu and Gilgamesh readily bring our beloved late founder Lou Bolchazy, PhD., to mind.
Allan Bolchazy, Lou's son and until recently B-C's vice president, shared these images from a visit to the Enkidu Winery in Sonoma, CA. As Marie (chair of the Bolchazy-Carducci Publishers board and former president), Lou's wife, is fond of reminding us, The Epic of Gilgamesh held a special place in Lou's mind and in his heart. He was so very proud of the Gilgamesh titles he published and loved presenting about the pre-Homeric epic. So, it's no surprise that Allan took photos and sent them along. While the label explains the winery's name, do check out the website for a more extensive explanation. Note that the Enkidu Winery's Red Rhone blend is named "Humbaba" since "it embodies the monster of the Cedar Forest himself." The blend contains some syrah, the grapes for which the company grows in its Odyssey vineyard.
Resources & Teaching Tips


√ Catullus's Humor
Editor's Note: The PDF from Lectiones Memorabiles Volume III is provided for classroom use only as downloaded by the eLitterae subscriber and is not to be otherwise copied or distributed.

√
The Wreckage of Terrorism
√ Archaeological Discoveries

√ Fact or Fiction?

√ An Energy Boost

√ A Woman's Perspective

eLitterae Subscribers Special Discount

eLitterae Subscribers
Special 33% Discount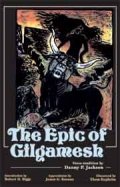 The Epic of Gilgamesh: Second Edition
Translator:
Danny P. Jackson
Introduction:
Robert D. Biggs
Appreciation:
James G. Keenan
Illustrations:
Thom Kapheim
Paperback, lxi + 106 pp., ISBN: 978-0-86516-352-2,
$15.00
$10.00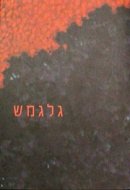 The Epic of Gilgamesh: A Myth Revisited
Translators:
Danny P. Jackson
, Saul Tchernichovsky Illustrator: Zeeve Raban
Hardcover, 200 pp., ISBN: 978-0-86516-527-4,
$19.00
$13.00
This offer is valid for up to five (5)
copies, prepaid, no returns.
Discount is not available to distributors or
on products distributed by Bolchazy-Carducci Publishers.
This offer expires 10/17/18.
(Please note that there will be no adjustments on previous purchases.
Offer is non-transferable and subject to change without notice.)
Enter coupon code eLit0918
on the payment page. The special

offer pricing will be charged at checkout.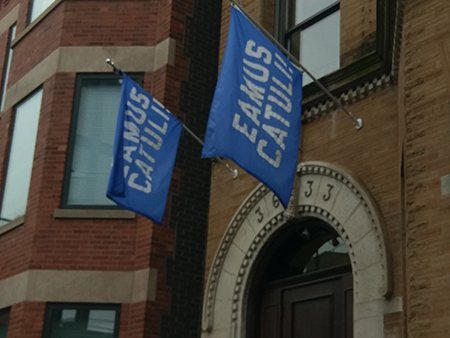 A recent trip to Wrigley Field for a Cubs game sparked sharing this well-meaning Latin.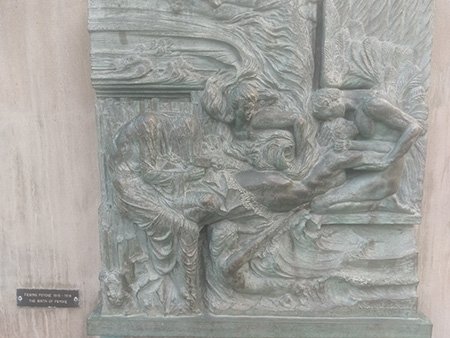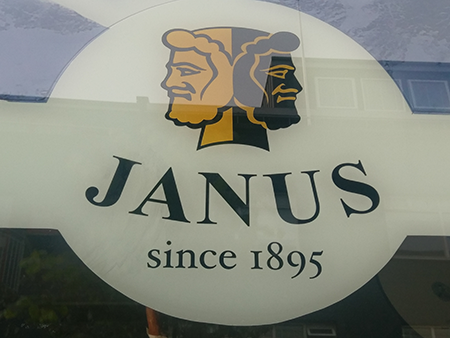 Janus, a Norwegian firm, has been producing clothing made from soft merino wool or merino wool blends for children and adults since 1895. The logo graces the front window (hence, the reflection) of the Ullarkistan shop in Reykjavík, Iceland.


"Tech Tip" author Lynne West notes, "Συνοδία (sunodia) is an ancient Greek word that describes a journey that one takes with companions." What a great name for an educational consultant company or for teaching itself!
National Classical Etymology Exam

registration: September 1–October 27, 2018
administration: November 1–December 8, 2018

CAMWS Latin Translation Contest
[intermediate and advanced levels for
high school students and for college students]

deadline: November 1, 2018
administration: November 26–December 7, 2018

National Greek Exam

deadline: January 19, 2019
regular* administration: February 25–March 3, 2019

About the National Mythology Exam

deadline: January 20, 2019
administration: February 18–March 1, 2019

National Latin Exam

deadline: January 22, 2019
regular* administration: March 11–15, 2019

National Roman Civilization Exam

deadline: February 2, 2019
administration: February 7–March 9, 2019

National Latin Vocabulary

deadline: February 2, 2019+
administration: February 7–March 9, 2019+

Amherst College
Harry de Forest Smith Greek Translation Contest

registration: late November 2018
administration: February 8, 2019

The Exploratory Latin Exam - ELE

deadline: March 1, 2019
administration: October 1, 2018–April 1, 2019

Bernice L. Fox Classics Writing Contest

deadline: March 15, 2019 postmark

*Check online for early administration dates.
+Based on 2018 dates.

Webinar Registration

Bolchazy-Carducci Publishers professional development webinars are offered on Tuesday evenings 6:00-7:00 p.m. Eastern Time (5:00-6:00 p.m. Central Time). Webinar participants will receive a certificate of participation for professional development credit.


Tuesday, October 9, 2018, 6–7:00 pm ET
Reading Roman Women

Presenter: Judith Peller Hallett, Professor Emerita, University of Maryland



Coauthor of Bolchazy-Carducci Publishers' anthology A Roman Women Reader: Selections from the 2nd Century BCE–2nd Century CE (Bolchazy-Carducci Publishers, 2015), Professor Hallett is renowned for her study of gender and sexuality. In her webinar, she will provide a guided reading and insights on Roman women.





Judith P. Hallett is professor emerita of classics at the University of Maryland at College Park. Hallett received her BA from Wellesley College and her MA and PhD from Harvard University.
---
Tuesday, October 23, 2018, 6–7:00 pm ET
American Gadflies Emulate the Ancients


Presenter: Timothy Joseph, Associate Professor, College of the Holy Cross


Professor Joseph will share his recent research on the classical influence on the United States. His webinar will focus on a few figures in US history who have drawn on classical models of "troublemakers" or gadflies. The webinar will present Socrates as a model for Martin Luther King, Jr. and how John Quincy Adams, in his abolitionist writings, drew on the Roman Cato and, in a different way, on the Carthaginian Hannibal.


Timothy Joseph graduated from the College of the Holy Cross with a BA in Classics and then taught Latin at Cresskill Junior-Senior High School in New Jersey from 1998 to 2001. He went on to earn a PhD in Classical Philology from Harvard University in 2007. He joined the classics department at Holy Cross in 2006. He has served as department chair and as director of the Classical Association of New England's Summer Institute at Brown University.

---
Tuesday, November 13, 2018, 6–7:00 pm ET
Caesar: Man of Letters
Presenter: Debra L. Nousek, Associate Professor, The University of Western Ontario

Professor Nousek is a Caesar devotee who has extensively researched, presented on, and written about him. Her most recent delineated below focuses on Caesar as author. This webinar will be a great learning experience for all teachers of Caesar and especially those who shepherd their students through the AP Latin curriculum.

Debra L. Nousek is associate professor at The University of Western Ontario in Canada where she served as Director of the Graduate Program in the Classics. She earned a BA at the University of Alberta, an MA at the University of California at Santa Barbara, and a PhD from Rutgers University.

---
Tuesday, December 11, 2018, 6–7:00 pm ET
Discover the Beautiful Bounty of Post-Antique Latin
Presenter: Terence O. Tunberg, Professor, The University of Kentucky
Recognized internationally for his expertise and scholarship in medieval and Neo-Latin, Professor Tunberg will share his passion for post-antique Latin in this webinar. Tunberg will discuss representative examples of this beautiful bounty—twice as much Latin published in the post-antique period as during the Roman era—noting that many authors emulated the style of their Roman predecessors.

Terence Owen Tunberg is a professor in the Department of Classical Languages and teaches in the Honors Program at the University of Kentucky. Tunberg received a BA and MA in classics from the University of Southern California and a PhD from the University of Toronto.

---
Visit our
website
for complete author bios.