The purpose of the NC Farm to Preschool Network (NCF2PSN) is to connect, educate, develop, and share resources between community and state partners, farmers, early childhood educators, and families to spark the local foods movement in early childhood education environments.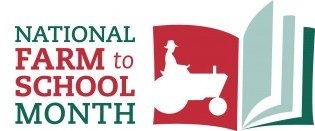 October is National Farm to School Month! Click here to find free resources and the national calendar for planning and promoting celebrations in your community, including customizable posters and bookmarks, stickers, activity suggestions, and more.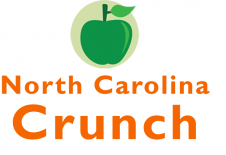 Join the state of North Carolina in celebrating National Farm to School Month by crunching into a locally grown apple at NOON on Wednesday, October 10, 2018. Participants of all ages are invited to crunch!

Across North Carolina, kids and adults will be crunching an apple that is available from a local farm in October. This event is about uniting together to celebrate North Carolina agriculture, National Farm to School month, apples grown by local farmers, and promoting healthy eating!


Click here

to learn more and to register!



After the Crunch, submit your event(s) for recognition! The NC Farm to School Cooperative is sponsoring a contest to recognize early care and education sites and K-12 schools for their promotion of North Carolina fruits and vegetables during October.

Let It Grow!...
Gardening Tips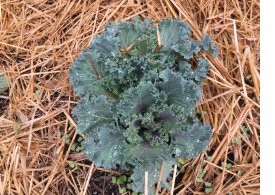 We've been talking about the fall garden over the past couple of newsletters. If you were able to plant in August or September, you may have some greens or other things about ready to harvest. If your seedlings are too close together, (a common problem when planting with little ones), pull out some of the extra plants to give the others a little room to grow. You can make a baby greens salad with the thinnings, just clip off the roots, wash, spin, and serve. Carrots, radishes and beets should be about 2 inches apart in the row, lettuce, spinach and kale 4-6 inches apart in the row.

One fun thing that can be planted in October is garlic. You can buy seed garlic at a garden center or organic garlic at the grocery store and plant it with your children. Divide each head of garlic into cloves, keeping the inner paper covering on the individual cloves. Make a shallow trench (1.5-2 inches deep). Set each clove in the bottom of the trench with 3-4 inches between each clove in the row. Place the root end down and the pointy end up and cover with soil. Within 2-3 weeks you should see a green sprout emerge from the soil. The garlic will grow slowly through the winter and faster in the spring. Garlic is harvested in June when the tops of the plant begin to turn yellow-brown and start to bend over. Each clove of garlic will produce an entire head next year! Because the garlic grows for a long time, plant it in a long row on the edge of a garden bed, or together at one end, so it won't be in the way when you get ready to plant your spring vegetables in February and March of next year.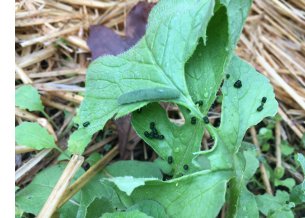 Keep your fall garden weeded and watered! If you are growing kale, broccoli, collards, or other brassicas, watch out out for caterpillars which eat the leaves! Look on the underside of the leaves too. Children are great helpers at picking off caterpillars and these are an insect that they may enjoy exploring. Here's a pre-k lesson plan for Insects in the Garden. If you notice holes in the leaves, caterpillars are probably the culprit and if they're not removed they will eat the whole plant. Here is a good article on caterpillars that attack fall crops: Controlling Caterpillars in Vegetable Gardens.

Whip It up!...

Menus and Recipes



The batata dulce or sweet potato is a root vegetable that is native to Central and South America, Mexico, and the West Indies. As the result of exploration and early world travel, the sweet potato is eaten in Asian and South American countries as well as in the United States. This combination of apples and batatas dulces creates a sweet and savory dish that both kids and adults enjoy.

North Carolina is the number one producer of sweet potatoes in the US. Inspired by a class of fourth graders, this nutritious and naturally sweet veggie was designated as the official vegetable of the state in 1995. North Carolina also ranks 7th nationally in apple production. Read more here!

Farm to School Month is a perfect time to celebrate North Carolina's rich agricultural history. Combine our love for sweet potatoes and apples with this tasty recipe.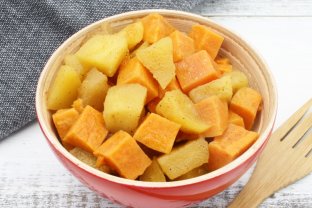 Baked Batatas and Apples
Ingredients
3 tablespoons brown sugar, packed
1/2 teaspoon cinnamon, ground
1/4 teaspoon salt, table
2 cups sweet potatoes (batatas dulce) fresh, peeled, 1/2" cubed
3 cups apples, fresh, peeled, cored, 1/2" cubed (Recommend: Braeburn, Gala, Honey Crisp, Jonagold, or Jonathans)
1 tablespoon canola oil
1/4 cup orange juice
Nonstick cooking spray

Directions
1. Preheat oven to 350 °F.
2. Lightly coat a medium baking dish (about 8" x 8") with nonstick cooking spray.
3. In a medium bowl, combine brown sugar, cinnamon, and salt.
4. Toss sweet potatoes (batatas dulces), apples, oil, and orange juice in the cinnamon-sugar mixture.
5. Place the sweet potato (batata dulce) and apple mixture in the baking dish.
6. Cover with foil and bake for 40 minutes, or until sweet potatoes (batatas dulces) are tender. Heat to 140 °F for at least 15 seconds.
7. Serve 1/2 cup.
Critical Control Point: Hold at 140 °F or higher.

CACFP Crediting Information:
1/2 cup provides 1/4 cup vegetable and 1/4 cup fruit.

For a quantity recipe that yields 25 or 50 servings see: https://whatscooking.fns.usda.gov/quantity/child-nutrition-cnp/baked-batatas-and-apples.

Source: CACFP Multi-Cultural Recipe Project - Team Nutrition: Adapted from http://extension.umass.edu/nutrition/recipes/baked-batatas-and-apples.

Learning Never Ends...Conferences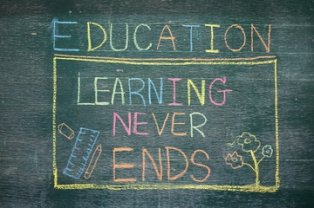 Natural Learning Initiative: 16th Annual Design Institute
October 4-5, 2018
Raleigh, NC

Head Start Fall Leadership Institute 2018
October 8-11, 2018
Arlington, VA

National Black Child Development Institute (NBCDI) Annual Conference
October 15-16, 2018
Dallas, TX

NC Home Visiting Summit
October 22-23, 2018
Greensboro, NC

NAEYC 2018 Annual Conference
November 14-17, 2018
Washington, DC

National Home Visiting Summit on Quality in Home Visiting Programs
January 30–February 1, 2019
Washington, DC

National Early Childhood Inclusion Institute
May 7-9, 2019
Chapel Hill, NC

National Farm to School Conference - Canada


May 15-17, 2019




Victoria, British Columbia



NC Extension Events


Statewide, NC



Trending Topics Webinar: Results from the 2018 National Farm to Early Care and Education Survey
October 11 // 2-3 PM EST
The National Farm to School Network, in partnership with Michigan State University Center for Regional Food Systems, launched the 2018 National Survey of Early Care and Education Providers in the spring of 2018. Over 2,000 ECE providers from across the country responded and shared information about current farm to ECE initiatives, motivations for participation, challenges to starting or expanding farm to ECE, and more. Join us to hear about the survey findings and learn how you can use the results to promote farm to ECE in your state and community.
Register here
.
Slow Food USA and Whole Kids Foundation announce the webinar series Build You District's Garden to Cafeteria Program. A four month series providing technical support for the Garden to Cafeteria toolkit, which leads a district through the design of food safety protocols to minimize risk in using school garden produce in the cafeteria, so that students can get the true garden to table educational experience. Each webinar will cover a portion of the toolkit and will feature special guests from school districts that have successfully launched their Garden to Cafeteria program using the toolkit.
Register here
.
Typically 4th Wednesday of the month
To be added to listserve, email eceobesity@cdc.gov.
Where to Find the Beans...
Funding Opportunities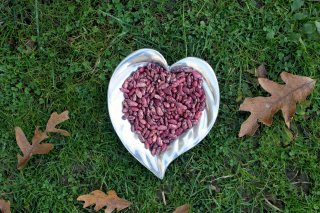 Growing Minds Funding
Growing Minds offers two funding opportunities for pre-K through 12th grade teachers and members of the public working in cooperation with a school in ASAP's Appalachian Grown Region.

Farm to School Funding - Deadlines

September 15

and March 15
Local Food Cooking Stipends - Accepted on a rolling basis

Whole Kids Foundation Garden Grant


The deadline to apply is October 15, 2018.

Created in partnership with FoodCorps, the Garden Grant program provides a $2,000 monetary grant to support a new or existing edible garden at either a: K-12 school, 501(c)(3) Non-profit working in partnership with a K-12 school, or 501(c)(3) non-profit organization.

Learn more and apply here

.

National Education Association Grants

The deadline to apply is October 15, 2018.

Student Achievement Grants

, offered by the National Education Association (NEA) Foundation, are for projects that help students learn how to think critically and solve problems in order to improve student learning.

Learning & Leadership Grants

, offered by the National Education Association (NEA) Foundation, are for professional development opportunities for individuals or groups. Grants are available to current members of the National Education Association who are educators in public schools or public institutions of higher education. Preference is given to proposals that incorporate STEM and/or global learning into projects, which can include farm to school activities. Two levels of funding are available: $2,000 and $5,000.

2019 Youth Garden Grant

The deadline to apply is December 17, 2018

Since 1982, the Youth Garden Grant has supported school and youth educational garden projects that enhance the quality of life for students and their communities. Any nonprofit organization, public or private school, or youth program in the United States or US Territories planning a new garden program or expanding an established one that serves at least 15 youth between the ages of 3 and 18 is eligible to apply. The selection of winners is based on demonstrated program impact and sustainability. Learn more and apply here.
The NC Farm to Preschool Network has all of the child care centers, staff and families that have been affected by Hurricane Florence in our hearts and minds at this difficult time. We hope everyone is safe and that your centers and gardens have survived the flood waters.
Here is an article that may be of help as you assess the damage to your preschool and home gardens;
Gardening After a Flood.
With many of our communities experiencing devastating impacts from Hurricane Florence, eastern Smart Start local partnerships need help getting back up and running so they can focus on taking care of the children and families in their communities.
Smart Start and The North Carolina Partnership for Children are accepting donations that will go directly to local partnerships impacted by the storm so they, in turn, can help families.
Donate here!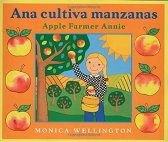 Apple Farmer Annie


by Monica Wellington



Written in both Spanish and English, this book is an outstanding introduction to apple production for young readers. The story follows a young apple grower from the farm to the market and ties in with math and science education. A great book for the classroom!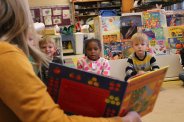 Invite a farmer to your center to read Apple Farmer Annie for the NC Crunch. Take photos and share on our Facebook page! Tag it with #NCCrunch and #F2SMonth.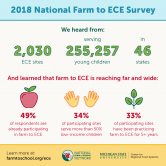 New survey shows farm to early care and education supports healthy futures for
all children

In 2018, the National Farm to School Network (NFSN) and the Michigan State University Center for Regional Food Systems (MSU CRFS) surveyed early care and
education (ECE) providers across the country. Nearly 2,030 providers serving 255,257 young children in 46 states responded and shared with us the benefits and challenges of connecting young children to healthy, local foods, gardening, and food and agriculture education through farm to ECE. The survey found that farm to ECE is reaching far and wide across the country. 49% of respondents from 46 states are already doing farm to ECE activities and another 30%
plan to start in the near future. To see more survey results and learn how NFSN and MSU CRFS are working to expand farm to ECE, explore the new infographic and fact sheet at
farmtoschool.org/ece
.
THIS WEEK IN THE GARDEN @ PRESCHOOL
WHO'S WHO IN THE NETWORK?
Meet...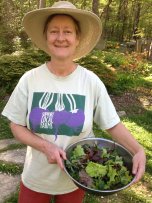 Maria Hitt
Growing Up Healthy

Project Manager

Orange County Partnership for Young Children (OCPYC)


After 10 years working as a professional chef, Maria earned a BS in Public Health Education from UNC-Chapel Hill in 1991 and then spent 15 years in public health and community organizing. Since 2008 she has been with OCPYC specializing in gardening, outdoor learning, and improving health in child care settings. Maria has worked with SHAPE NC, the Farm to Child Care Collaborative, and many other initiatives related to early childhood health and education. She is a certified NC Environmental Educator and lifelong gardener and loves teaching kids and teachers how to garden, cook, and appreciate the great outdoors!

The Network's Steering Committee will be convening for a retreat to discuss future visions for the Network. Our working groups are working behind the scenes to expand the Network and make it more engaging for farm to preschool enthusiasts across the state. Stay tuned for updates! The next Advisory Committee call is coming up on October 8.

Like us on Facebook for the most up to date information on resources, events, webinars, and more!