This Sunday,
September 30,
10:00 am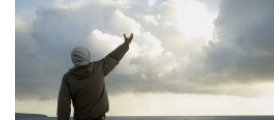 Visiting Pastor Bruce Wilson returns to the pulpit to give a sermon on Praying.
Our scripture is
James 5: 13-20.
And, we will take a Special Offering on the UCC's Neighbors in Need mission.
Prayer? What is it? Why do we do it? Shouldn't God just know what we are going through and why we are concerned are happy about our loved ones?
This Sunday we explore what it means to have prayer, what it means to use our own language when speaking to our Creator and why it's so important.
As you think about praying or not, how do you do it? Do you sit quietly? Do you spend some time outside? Do you think about all those you love and those harder to love?
This Sunday I invite you to think about how you pray and how we can live a life of prayer. —
The Rev. Bruce Wilson
Berea Circle First Fall Meeting
Wednesday, October 3 at 7:00 pm


Home of Sandy Johnson



Join us for our first meeting after the summer hiatus for fun and fellowship as we plan our service projects for the coming year. Berea Circle hosts Coffee Hour after worship on the first Sunday of the month; we usually do a sock drive in winter and donate an auction basket for the Alki UCC Mardi Gras Fundraiser. As always, we continue to gather and package toiletries for our community's homeless neighbors. Your ideas and spirit are welcome!
— Patty Magnuson, Berea Circle Secretary
Note: In response to last Sunday's sermon on the many disturbing immigrant/refuge issues at the southern border, here's an update on what happened to all the wonderful donations the caring people of Alki UCC collected to send to the asylum-seekers and others stalled in the immigration process.
Due to the significant logistical complexity (and prohibitive cost!) of shipping multiple small items, Berea Circle volunteered to donate $300 directly to border church Shepherd UCC. Your donated items were distributed locally to nearby organizations who could quickly get them to those in need — a win/win!
Reinhardt Circle First Fall Meeting


Thursday, October 4 at 12:30 pm



Reinhardt Circle launches our annual fall Mayflower soup-making project this Thursday, October 4, at 12:30 pm in the Alki UCC Parlor.
We'll enjoy food and fellowship as we begin to assemble our signature bean-soup ingredient kits, which are sold after worship during Advent to benefit a local charity.
Bring a sack lunch and we will provide tea. We usually meet for a couple of hours at 12:30 pm on the first Thursday of the month. All are welcome! — Emily Hitchens
Seattle CROP Hunger Walk
Sunday, October 7


12:30 pm sign-in for 1:00 pm walk



Walk. Give. Change the world.
Join the Alki UCC CROPWalk Team!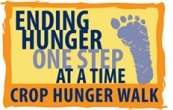 We leave after worship from Alki UCC for an easy loop along Alki beach.
For the last two decades, we've walked in solidarity with others who journey for resources, whether these individuals are displaced, located far from water/food sources, or are homeless within our own communities.
Contributions are dispersed globally, with 25% going to support well-known resources fighting hunger in our own community, including Mary's Place, West Seattle Food Bank and White Center Food Bank.
Alki UCC Choir Launches
Community Outreach Mission

" ... courageously sharing God's love with each other and the world."

So ends our church mission statement. The Alki Choir began actively doing just that on Saturday, September 22. An outreach team is in place to organize more.

Our day began at the VA Hospital on Beacon Hill. We sang our list of favorites. Twenty-strong we outnumbered the patients attending, but they received our focus, with friendship as well as music. Stories were shared and a new community was humming along together.



Off to Camp Second Chance where we went to greet friends, Alki people, camp residents and many other volunteers who have worked together since last spring. The Peasant Food Manifesto truck had arrived, donating everyone's tasty lunch orders. It certainly felt like a party. The showers, a downpour, sunshine and wind provided the drama.

A construction tent was emptied of its brand-new wall frame, due to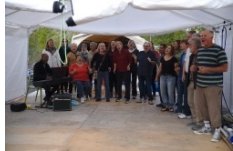 the rain. The choir shared thoughts, prayers and plenty of music with camp residents and friends. Once again, it was a total community celebration. We were told our music filled the camp. The visiting and sharing went on and on.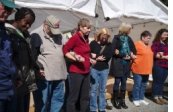 Kathy Herigstad was honored for the many months of hard work she logged to inaugurate and move the Tiny House project forward. It wouldn't have happened without her.

Eight Tiny Houses, new homes, were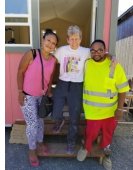 blessed. More are on the way.
— Jane Gunwaldsen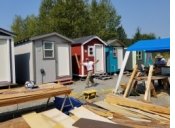 Alki UCC's Tiny House Project at Camp Second Chance ...
A Look

Back

...
Alki UCC & Friends Build Tiny Houses
at Camp Second Chance
Check out Kathy Herigstad's Tiny House retrospective. What a story!

Going Forward ...
Tomasz Biernacki film, Trickle Down Town, Spotlights Local Homelessness

Tomasz Biernacki, our new Tiny House build manager at Camp Second Chance, has written a terrific Op-Ed in the September 27 issue of Westside Seattle about his new documentary film on local homelessness — Trickle Down Town. The story is based on his multiple conversations with folks living in their vehicles along Harbor Avenue in West Seattle. Tomasz writes:



It's a story about us. It's a story about Seattle. My hope is that it will provide insight into the complicated world that is homelessness. The people I have gotten to know do not match the typical stereotypes of what most of us think about the homeless. I don't claim that I have found THE solution to homelessness. There are as many reasons and solutions to the problem as there are people who experience homelessness. But the common connection here is affordable housing for the people who are struggling in this trickle down economy. The common connection is family and community support. The solutions will require all of us ... Making this film changed my view on homelessness forever. I hope it creates a crack in all of us to let the light in.





Stay tuned for news about local showings of Trickle Down Town, including a possible premier at the Admiral Theater.

Faith Action Network Annual Dinner

Sunday, November 18 at 5:30 pm
Renton Pavilion Event Center
233 Burnett Avenue South
Join us to celebrate unprecedented victories in the state legislature, as we brace ourselves for ongoing struggles at the federal level.
We need your help to keep going strong, fighting on behalf of the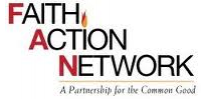 values of inclusion, compassion and justice. Together, we take courageous public action.
Information and registration here.
You're invited:

Installation of The Rev. Amy E. Hitchens
as Pastor of Normandy Park UCC
Saturday, October 6 at 3:00 pm
9247 1st Ave S
Normandy Park, WA 98148
Reception to follow in the Fellowship Hall.
For those grieving the recent death of a loved one:
Sue Backs, Lesa Henry, Jeff Jolly & family, Charley Rosenberry
Recent hospitalization, illness and other concerns:
Larry Gill's nephew, Paul; Lisa Burke, Penny Matthews, Bev Connor, Patty Magnuson's brother,

Shelley Webster, Jan Cochran
For home bound members/friends of Alki UCC:
Ruth Okada, Doris Colbert
Wider World: C
hildren, parents and all those affected by myriad inhumane immigration policies/practices; p
rayers for fewer guns and for all victims of gun violence; victims and survivors of extremist violence

around the world

;

migrants seeking refuge around the world, and for those who are trying to help and serve them. The rest of the missing schoolgirls kidnapped by Boko Haram, who remain in our hearts as long as they remain missing. The hungry and homeless, the ill and the addicted, the lost and the lonely; the unemployed.
Camp Second Chance
Tiny House Build
Saturday at 8:30 am
Choir Rehearsal
Sunday at 9:00 am
Sunday Worship
Sunday at 10:00 am
Choir Rehearsal
Tuesday at 7:00 pm
Berea Circle
Wednesday at 7:00 pm
Home of Sandy Johnson
Reinhardt Circle
Thursday at 12:30 pm
CROPWalk
Sunday, October 7
12:30 p
m Registration
1:00 pm Walk
UCC Neighbors in Need Special Offering
This Sunday,
September 30
Neighbors in Need (NIN) is a special mission offering of the United Church of Christ supporting ministries of justice and compassion throughout the United States.
NIN grants are awarded to UCC churches and organizations doing justice work in their communities. These grants fund projects whose work ranges from direct service to community organizing and advocacy to address systemic injustice.
This year, special consideration is given to projects focusing on serving our immigrant neighbors and communities. The 2018 theme is "Love your Neighbor."
You can donate directly online through the UCC website.
Tomorrow!
Tiny House Build
at Camp Second Chance
Calling all Volunteers!
Camp Second Chance, 9701 Myers Way S
Parking lot is in the front; carpooling encouraged
Build supervisor Tomasz Biernacki reports that the team plans to build more walls and prep more insulation panels.
He is looking for volunteers to provide lunch Help with framing and cutting lumber. All tools are on site and people with no building experience are welcome.
Nursery/Sunday School Update
There will be no Nursery Care during worship until Sunday, October 21 due to family vacations.
Sunday School is also suspended until the teaching roster fills in.
Pastor Susan's cell is (206) 349-7285. Texts are preferred for prompt attention if possible, and please identify yourself. Next best is email: susan.fairo@gmail.com, then phone calls at (206) 349-7285.
# # #
Alki UCC member Emily Hitchens is our Parish Nurse and leads the Parish Care team. You can also contact her directly to request help with rides/meals or other logistics associated with illness, injury or major life disruptions.
You can help the West Seattle Helpline win a $10,000 grant with a click of your mouse.
Voting is underway for Homestreet Bank's
Vote Your Heart online campaign. The organization receiving the most votes gets the grant … SO VOTE YOUR HEART, West Seattle!
Cast your vote NOW at homestreet.com/heart.

Mental Health First Aid Training
Saturday, October 13, 8:00 am to 5:00 pm
West Side Presbyterian
3601 California Ave SW
Free: King County is providing this training through public tax dollars.
Mental Health First Aid is a public education program that introduces participants to risk factors and warning signs of mental health problems, builds understanding of their impact and overviews appropriate supports.
The 8-hour course uses role-playing and simulations to demonstrate how to offer initial help in a mental health crisis and connect people to the appropriate professional, peer, social and self-help care.
Lunch is provided. Register by email or call 253-426-5957. More information here.
Cash Only Requested:
Donations Drive for Immigrant Families
on the Southern Border
Good Shepard UCC in Sahuarita, AZ, has requested cash donations instead of shipping items so they can respond to changing priorities for supplies needed by people stranded at the US/Mexican border, most of whom are seeking asylum.
Make your check out to "Alki UCC" and put Border Supply Drive in the memo line.

Click on the big, blue donate button at alkiucc.org to make your secure online donation.