The purpose of the NC Farm to Preschool Network (NCF2PSN) is to connect, educate, develop, and share resources between community and state partners, farmers, early childhood educators, and families to spark the local foods movement in early childhood education environments.
Farm to ECE in Action at WIC

Henderson County WIC

The Tom Bridge's Demonstration Gardens have been in existence since they were erected in 2013, at the
Henderson County Department of Public Health
in Hendersonville, NC. The five raised garden beds provide hands-on gardening education and opportunities for the community to learn about growing, harvesting and preparing produce and using herbs. The goal of the garden is to facilitate home gardening education as a sustainable method for feeding the family. It serves as a backdrop for nutrition education classes.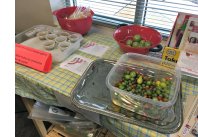 Crops gleaned are used to prepare tasty f
ood samples. Recipes and produce are available for clients to take home
to reproduce the recipe for the family.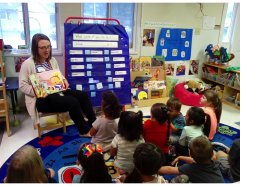 Additionally, to continue to support ASAP, Henderson County SNAP, and WIC participants; the WIC Program has partnered with more than 15 local early childhood education centers to bring Farm to Early Care Education (ECE) to more than 300 children and families in Henderson County.

Nutrition Interns under the direction and guidance of WIC Nutritionists use the "Growing Minds" Sweet Potato Exploration


curriculum to educate children about where food comes from, how it is grown, prepared, and provides nutrients for the body. This
includes having the children feel a "mystery vegetable" inside a paper bag, having them make guesses as to what it is, revealing the sweet potato and speaking briefly on how it is go

od for eyesight, and having

everyone try a piece of local sweet potato. The story Oliver's Vegetables is read to the class and an evaluation game is played to gauge learning. Finally, the children craft vegetable crowns and receive ASAP stickers.

Visit NC Farm to Preschool Network's Facebook page for more photos of the gardens!

Let It Grow!...
Gardening Tips
by Maria Hitt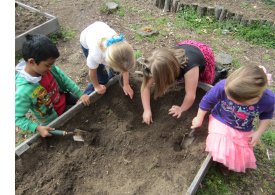 With frosty nights upo
n us, November is truly time to put the garden to rest. Beautiful fall days are perfect to spend time o
utside and get the children to help you clean out the garden. Pick any remaining summer vegetables. Pull out dead and dying plants of tomatoes, peppers, squash, and whatever might still be hanging around but no doubt looking pitiful! If you have a compost bin, you may add dead plants but avoid adding anything that seems diseased or any weeds with seeds. Green tomatoes and peppers can be placed in a paper bag with the top folded down and they will slowly ripen. Just remember to check occasionally and remove the ripe ones (or any that start to rot).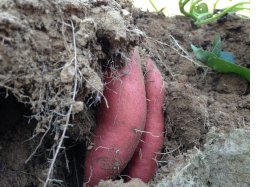 If you grew winter squashes, pumpkins, or sweet potatoes they should be harvested now before freezing nights (32 degrees or below) kill back the vines. Bring them indoors and they will store for many months. Sweet potatoes should be allowed to cure in a warm place for a couple of weeks to develop their sugars. Don't wash them until they have cured for a while so the skins can toughen up a bit. You can spread them on
newspapers and put them in some out of the way place until ready to eat.
Look for more on winter squash in our next newsletter!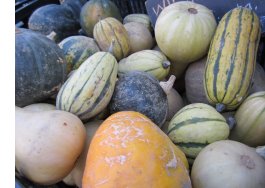 Any weeds should also be
removed and taken out of the garden. If you planted fall crops such as lettuce, collards, or kale, they may survive well into the winter or even spring depending on where you are located in NC. Harvest greens by cutting the outer leaves and leaving the center of the plant to continue to grow. Place a 2-3 inch thick layer of straw or leaf mulch around growing plants and over any bare soil to hold in moisture and prevent weeds from growing. Mulch also helps keep your garden soil from washing or blowing away over the winter.
Children will enjoy helping to rake leaves, have fun tossing them into the air, or raking them into a pile to jump into! Leaves can be piled in an out of the way spot and used for garden mulch. Or, add some to your compost pile each time greens or kitchen scraps are added; a layer of leaves or other brown material should be placed over the top.
Enjoy the fall!
Whip It up!...

Menus and Recipes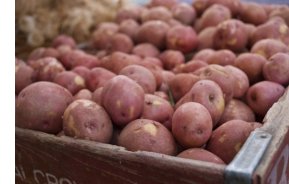 Mashed Potatoes


'Tis the season for mashed potatoes! And they are so easy to prepare. Grab some fresh, local potatoes from the farmers market. Then, try this CACFP approved recipe to serve your kids. Learn more here about CACFP reimbursements for local food purchases.

Where to Find the Beans...
Funding Opportunities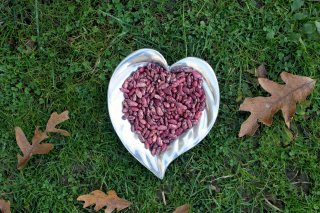 National Head Start Association Garden Grants

The deadline to apply is November 15, 2018

The National Head Start Association and The Scotts Miracle-Gro Foundation have launched a new multi-year Garden Grants initiative, which seeks to bring the life-enhancing benefits of gardens to more Head Start children and families, increasing healthy food access and fostering a lifelong love of gardening. Grant recipients will receive $5,000, plus a garden kit, to create or expand a garden in their community. Schools, community action programs, non-profits, hospitals, community centers and inter-generational groups that hosts Head Start programs are eligible to apply.

Learn more here

.


NC Local Physical Activity and Nutrition RFA
The deadline to apply is December 3, 2018, 5:00 pm
Notice of Intent submissions due by November 9, 2018
The Community and Clinical Connections for Prevention and Health Branch, NC Division of Public Health, announces the Request for Applications, #359 Physical Activity and Nutrition. This RFA is to implement local level nutrition and physical activity interventions that support healthy eating, safe and accessible physical activity, and breastfeeding. Local organizations applying for these funds must work to mobilize communities, build collaborative relationships and implement culturally relevant and specific evidence-supported interventions. Any RFA related questions can be directed to Cindy.Stevenson@dhhs.nc.gov.

Eligibility:
Funding is open to North Carolina-based private, non-profit organizations and public or local governmental agencies (excluding local health departments).
How to Apply:
Applicants shall email an electronic copy of the signed application and all attachments to Cindy.Stevenson@dhhs.nc.gov in Excel and PDF format.
How to Obtain Further Information:
Information regarding this RFA is available at:
https://www.communityclinicalconnections.com/panresources/
AND
http://www.ncdhhs.gov/about/grant-opportunities/public-health-grant-opportunities

Growing Minds Funding
Deadlines to apply are

September 15

and March 15
Growing Minds offers farm to school funding for pre-K through 12th grade teachers and members of the public working in cooperation with a school in ASAP's Appalachian Grown Region.

FY 2019 Farm to School Grant Request for Applications (RFA)
The deadline to apply it December 4, 2018
USDA will award up to $7.5 million in competitive grants to eligible entities through the Farm to School Grant Program in fiscal year (FY) 2019. Each grant helps implement Farm to School programs that increase access to local food in eligible schools, providing students with quality meals at a reasonable cost while also supporting local producers.

The RFA includes three tracks—Implementation, Planning, and Training. These will support a variety of projects and implementation stages.

The Grant RFA can be found on grants.gov.



2019 Youth Garden Grant

The deadline to apply is December 17, 2018

Since 1982, the Youth Garden Grant has supported school and youth educational garden projects that enhance the quality of life for students and their communities. Any nonprofit organization, public or private school, or youth program in the United States or US Territories planning a new garden program or expanding an established one that serves at least 15 youth between the ages of 3 and 18 is eligible to apply. The selection of winners is based on demonstrated program impact and sustainability. Learn more and apply here.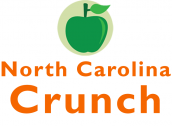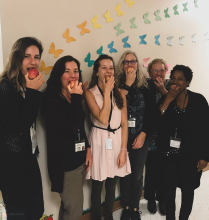 Buncombe County WIC staff crunching on local apples
Submit your NC Crunch event(s) for recognition
! The NC Farm to School Cooperative is sponsoring a contest to recognize early care and education sites and K-12 schools for their promotion of North Carolina fruits and vegetables during October. Deadline to apply is November 9.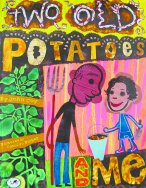 Two Old Potatoes and Me


by John Coy



In this book, a girl discovers two old potatoes that have begun to sprout at the back of the cupboard. She goes to throw them away, but her dad suggests instead that they try to grow new potatoes from the old ones. The story details how they prepare the soil, care for the plants, and protect the plants from potato beetles. Their patience and hard work are rewarded with a brimming bucket of new potatoes.

Native Farm-to-School
Resource Guide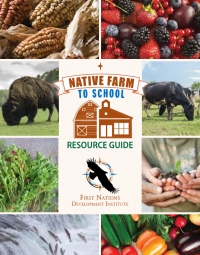 First Nations Development Institute has released a Native Farm to School Resource Guide, a comprehensive manual for planning and implementing farm to school programs in Native American communities. The Native Farm to School Resource Guide was developed by identifying existing Native and non-Native farm to school programs and analyzing best practices, lessons learned, biggest challenges and case study examples of programs that achieved high-level impact and long-term sustainability. The result is a process guide for planning Native farm to school programs as well as a guide for tribal officials to engage their leadership and create buy-in for the farm to school process.
Learn more here
.
THIS WEEK IN THE GARDEN @ PRESCHOOL
WHO'S WHO IN THE NETWORK?
Meet...
Advisory Committee

Member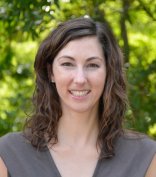 Training & Outreach Coordinator
Rachel has a master's degree in nutrition education and is a Registered Dietitian Nutritionist (RDN). She is currently a Training & Outreach Coordinator with the Go NAPSACC program at UNC-Chapel Hill. Rachel has extensive experience in developing and delivering health-related training to child care stakeholders. Other experience includes working with the Child and Adult Care Food Program, nutrition policy, research, and wellness in childcare settings. Before becoming an RDN, Rachel used her English degree in cookbook publishing and continues to draw on her communication experience in producing educational materials. When not thinking about healthy eating, she likes hiking, yoga, and riding her bicycle.
Learning Never Ends...
Conferences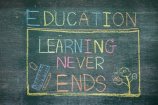 NAEYC 2018 Annual Conference
November 14-17, 2018
Washington, DC

National Home Visiting Summit on Quality in Home Visiting Programs
January 30–February 1, 2019
Washington, DC

Annual Child Nutrition Conference
April 23-25, 2019
Chicago, IL

National Early Childhood Inclusion Institute
May 7-9, 2019
Chapel Hill, NC

National Farm to School Conference - Canada
May 15-17, 2019
Victoria, British Columbia

NC Extension Events
Statewide, NC

NFSN WEBINAR Trending Topics: NFSN Seed Change in Native Communities Cohort
November 1, 2-3pm EST
In recognition of Native American Heritage Month, our November Trending Topics webinar will feature partners from the National Farm to School Network's Seed Change in Native Communities project. Since 2017, the Seed Change project has helped to create dozens of school gardens in Native communities, put local and indigenous foods on the plates of hundreds of children, and supported the inspiring work of five school communities dedicated to expanding and sustaining farm to school programming for the next generation of Native youth.
Register here
.
ECE Obesity Network Webinars
Typically the 4th Wednesday of the month. To be added to listserve, email eceobesity@cdc.gov.
Like us on Facebook for the most up to date information on resources, events, webinars, and more!