October 2018 Newsletter

For over 12 years our newsletter has gone to more than 20,000 Firearms
Collectors,
Enthusiasts, Historians and Professionals Worldwide. We now reprint o
ver 6000 Vintage Gun Catalogs, Books and Manuals from the 1840s to the 2000s
Back issues: you can view the newsletter on our website. For a downloadable copy of our catalog of reprints or manuals this will take you there. Also, we have Interesting downloads at our website. Please forward this letter to your friends.





Some Nanny Browsers such as Firefox and Opera have done a couple of things to "help" you. They sometimes block images... you can click the button to show pictures with no fear. They also sometimes cut off the bottom of the newsletter... scroll down and click the button to show the whole thing.





It arouses that lurking feeling you sometimes get... in my next life I'll...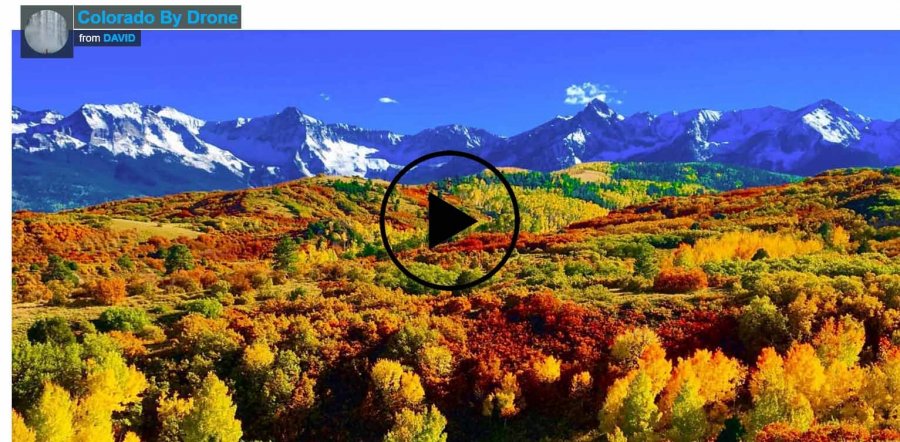 The Best Dog Training Collar

During the fifteen or so years we've written this newsletter we don't believe we have ever endorsed a product, but this month we'll make an exception. For some years we've used a dog training collar when walking our dogs off leash or for just for training them to obey. Collars are very useful but in some ways are difficult to use.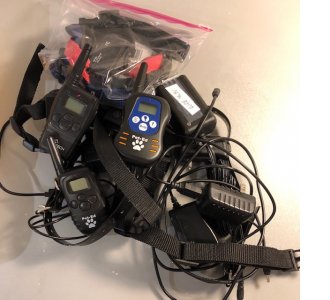 We've had several different collar/transmitter devices over the years and they all worked after a fashion, but they all had a common problem- they all had a tiny screen with minuscule icons indicating which mode the thing was set to, buzz, beep, flashlight or SHOCK. Generally, all you want to do is attract the dog's attention with a beep or buzz, not weld him to the ground with a stun and none of the transmitters allowed us see at a glance which mode was active. Also, the modes are all activated with one button and the mode could be accidentally changed by hitting the wrong button in your pocket. They were all very fiddly.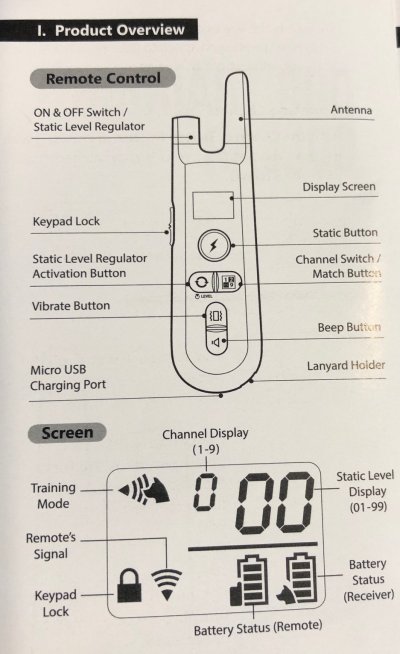 This collar is different. It is brilliantly designed with different buttons for buzz, beep and shock. It also has an easy on/off switch you can use with gloves to deactivate the buttons when the device is on your pocket. It has rechargeable, long lasting batteries with level display and USB charging! Not only that, compared to some other devices it is much less expensive. We've only seen it on Amazon (link below) and we have no connection to the seller, financial or otherwise. My browser tells me their
website
isn't secure and they are located in Hong Kong so I would try to order at Amazon.
and it has some thoughtful but exciting instructions...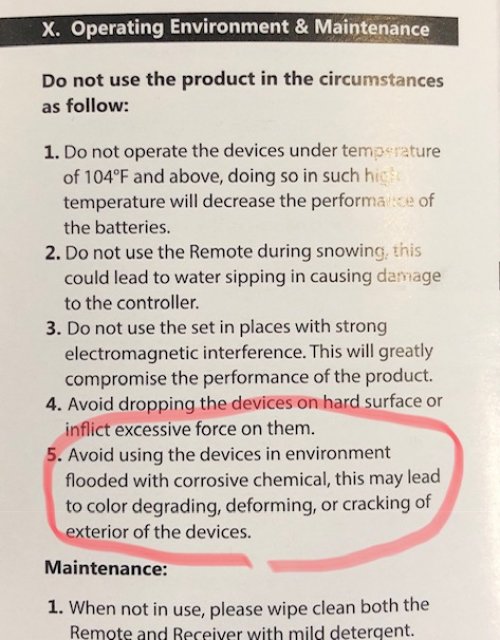 As if the devastating effects of bombs dropped on European cities during the Second World War weren't terrible enough, a surprising new study shows that the shock-waves produced by these bombing raids reached the edge of space, temporarily weakening the Earth's ionosphere...



Cologne, Germany after the war: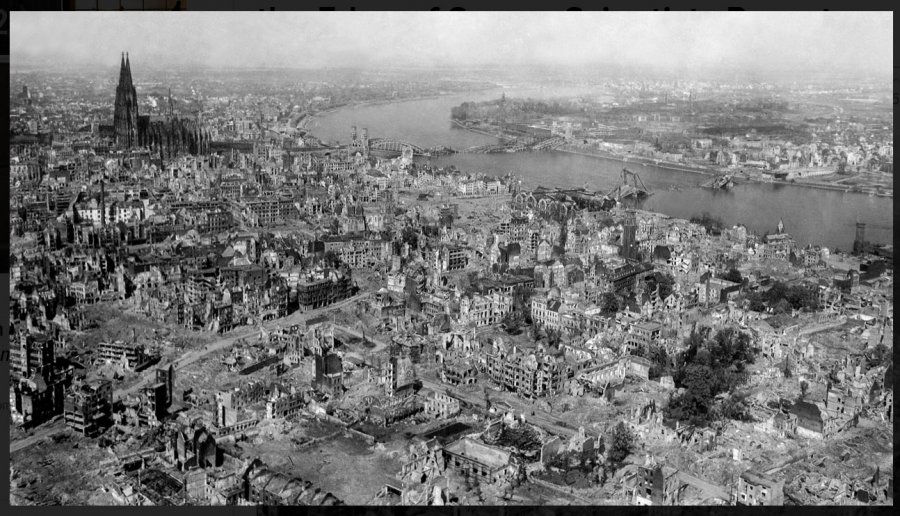 When You Come to a Fork in the Road... Take It!


Just remember, once you're over the hill you begin to pick up speed.

Bird Hide and Seek: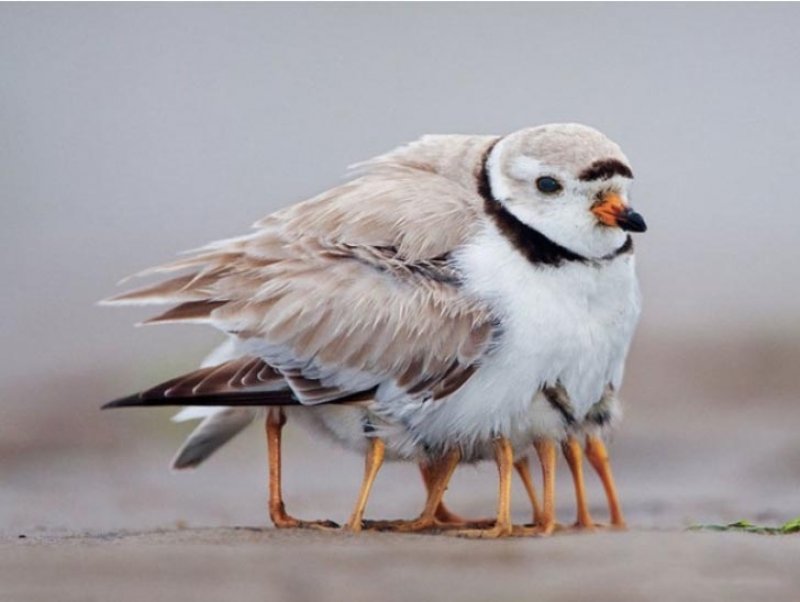 Where, Where, Where is it, Dad?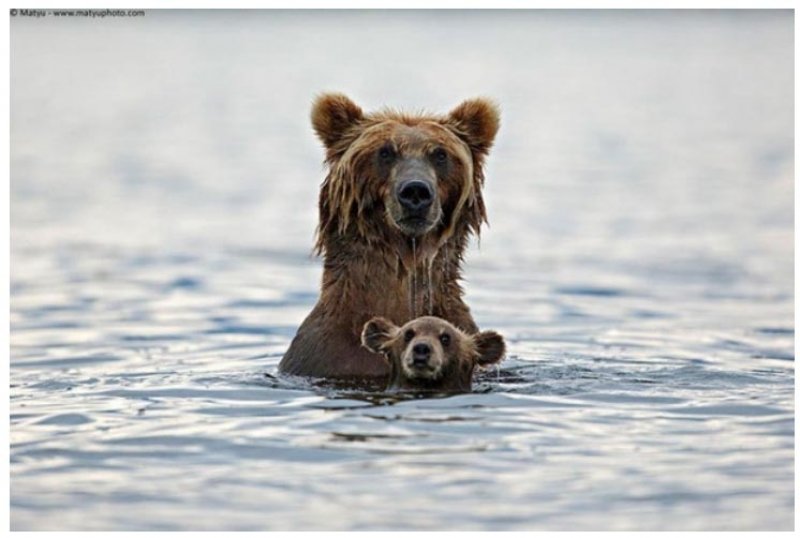 How Travis Simpkins Bought Millions of Dollars' Worth of Luxury Cars and Got Blacklisted by Jaguar Land Rover, Mercedes, and Porsche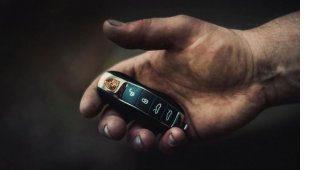 A single car can earn a straw buyer anywhere from 500 to 7000 dollars in commission. It's enough to take the kids to Disneyland but nothing you can build a career on.

The Interfaith Center on Corporate Responsibility won a resolution on gun safety at American Outdoor Brand's annual shareholder meeting, the same resolution it successfully passed at Sturm Ruger earlier this year.
The group wants Smith & Wesson's parent company to make a report on whether it is adequately addressing the risks that its products are associated with gun violence and to show evidence it is exploring ways to make safer guns. Sept. 25, 2018
_________________________________________________________

All the contributors who, over the years, have lent us originals, scanned their originals for us and even sent us money for the project are the backbone of what makes us successful. We didn't add much this month but the Hollis from Bob Cuyler is a beaut. Also we have to thank Chip Nedza for helping to sort out the early Eley catalog dates.
We get a fair number of requests from people wondering what to buy for friends as gifts. Tough question! If you don't know the specific make or model of a gun your friend owns or collects it is risky to buy him a publication that is model or make specific. We have a better idea.

You probably have a good feel for the era that interests your friend, so below we suggest some publications from different eras. These are merchant catalogs that offer a vivid picture of not only guns of the time but also ammunition, specs, reloading, sights clothing and accessories. All of these books offer a really good read and we are sure your friends will be grateful for your thought.
For big game hunters these are irresistible:
also... for a terrific read consider the biggest Bannerman catalog. Bannerman was, for a time, one of the largest arms dealers in the world and the company stories are particularly interesting - like the time the city fathers in New York discovered that Bannerman had tons and tons of high explosives stored at their shop on Broadway and invited him to more them. The result was Bannerman Island on the Hudson near West Point where the remains of his castle arsenal can be viewed today:






There are many, many more merchant catalogs from the U.S. and abroad:






We also offer over 350 out of print books covering 150 years of firearm evolution. They were written by some of the most influential and knowledgeable writers of the time and cover everything from Production Machinery (Colt) to Machine Guns to Airguns, Cartridges, Reloading, Shooting Game, War, Military and so much more. Check out the list and note it can be sorted by Author, Title or Year: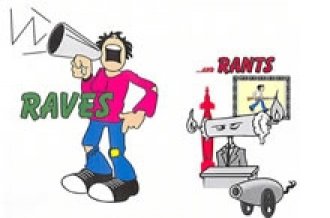 Guy, This is not a Reprint - this is a copyright pirated illegal copy. All of Weatherby copyrights are still intact. You know as a publishing company you know this is willful infringement.. that starts at 30,000 dollars PER VIOLATION.. this is pathetic... a Reprint is another run using the original plates subsequent to the original release.... not a illegal bad color copy.
Dear Mr. Sefton, Thank you for your note. During the last 15 years of our retirement we have acquired and digitally scanned over 6000 old firearms publications, dating from before the Civil War to the 21st century, for future generations to enjoy. To fund our project, we print to order. The Weatherby catalog you bought was lent to us to reproduce by a retired Weatherby executive. We have never had a complaint from, I would guess, over 1000 companies whose literature we reprint because, we suppose, they are pleased we are reprinting their advertising at no expense to them, thereby enhancing their brand. Only two companies, Smith & Wesson and Daisy, have made specific printing requests to be added to our listings, which we naturally do. I hope this clarifies our mission a bit and I am sorry you were disappointed. Cheers, Rob Mouat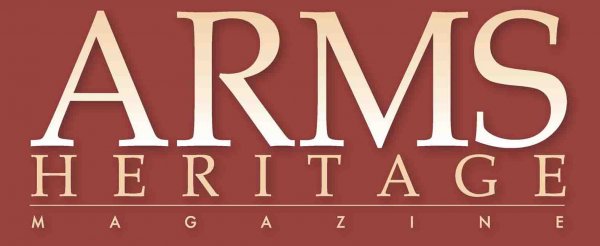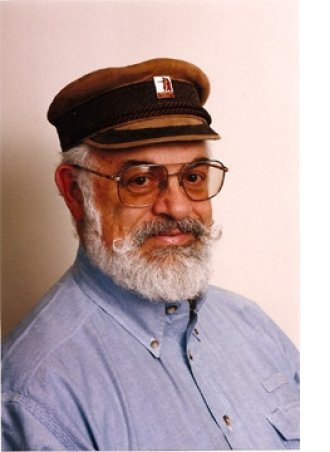 Question: via the Internet from Ernie in Oregon:
I have a 7.62 x 54R caliber Winchester Model 1895 Musket from the contract to Russia during WW1. I am familiar with the history of these guns, but mine has a mark on the right side of the buttstock that I haven't seen on others. It is a flaming bomb with MP 8 inside, and is about 1-1/8" tall. Here is a photo of it. Can you tell me the meaning of this mark?

Answer:
As you probably know, Winchester received a contract from the Imperial Government of Russia for 100,000 Model 1895 Muskets and bayonets in 1914 and another contract for 200,000 in 1915. It is believed that Winchester delivered 293,816 guns on these contracts. During the Spanish Civil War (1936-1939) Russia supported the Republican Government in their battle against General Franco's Nationalist Army. In return for large quantities of gold coins and bullion from the Spanish treasury,


Russia shipped immense amounts of armaments to Spain, among which were almost half a million small arms. One of the shipping documents lists 9,000 Winchester Model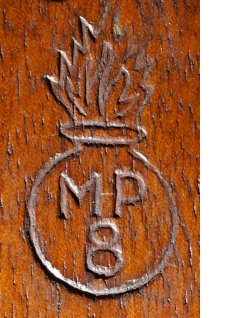 1895 Muskets, but there could have been more since some of the lists describe items such as "20,000 rifles of foreign make." In other words, not Russian Mosin-Nagant rifles, which were usually listed by name.
After Franco's Nationalist forces prevailed, a "National Ordnance Recovery Unit" was commissioned to survey, sort, clean or refurbish, all captured or surrendered armament. The acceptance mark of this inspection is the MP 8 flaming bomb stamped on the buttstock of your rifle. It has been reported that the Republican Army had at least fifty varieties of small arms, and this MP 8 mark is seen on Mosin-Nagant rifles, Italian Vetterlis, and any number of arms that the Republicans could buy. Many of these Spanish-used guns were imported into the United States in the 1950s and 1960s. An advertisement on page 52, December, 1956, in The Gun Report magazine, offers these Winchesters from the Spanish Civil War for $39.50. Mike Carrick


-----------------------------------


We took the above column from

ARMS HERITAGE MAGAZINE - Volume 2, All Six Issues

. The really good news is you don't have to buy the print version from us; with your annual subscription to AHM of only $19, you get free access to all the older bi-monthy editions- all seven and a half years of them! Read this and dozens of other terrific articles in Arms Heritage Magazine.




A note from the publisher, Dick Salzer: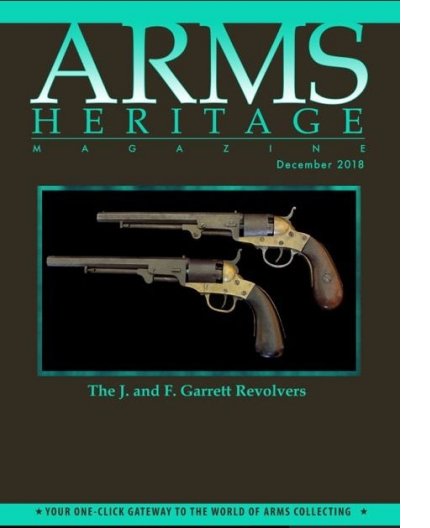 As we approach the end of our eighth year of publication, I'm taking time out to reflect on what we've accomplished so far. We've now published 48 consecutive issues, consisting of 165 articles, 179 columns and seven hard-copy Annuals. Our subscription base has continued grow, albeit not as fast as we might like, but quite steadily. We now have subscribers in 21 countries.

We are still only $19 for a year and that fee includes quick access to all back issues. While some of the negative predictions have come true, we realize that there will always be a part of the collecting community that will never embrace the concept of on line publications. As more and more magazines, newspapers and auction houses have learned, this trend is starting to catch on.





The Internet Browsers we all use to look at emails – Firefox, Edge, Opera etc – have all decided to truncate or cut off the bottoms of long emails. While there is a tiny note at the bottom allowing you to retrieve the rest of the email we decided to reduce the number of Letters from Readers to shorten this newsletter. Rob and Abby




************************************************


(Rob and Abby) Hello to you folks, First & foremost, thanks for your service. I'm looking for a special part for a 1929-40 Walther, & was wondering if any of your customers might help. The early Walther PP had colorful finger rests for their magazine and I am searching for a green one. It would be smooth all over, called a "slab" style, and bright green from 1929-40. I have a red, black, & peanut butter color and would like to complete the "rainbow." Thank you very much for your time and if you can't help I understand - been looking for quite some time. Love the picture (in the October Newsletter- ed) "Putt, Putt, Putt..." Take care - much happiness - don't let those detractors get you down. Mike McCoy

(Mike's original email read 1939-40 but in another email that I lost he changed the date to, I think, 1929- so if the 1929-1940 above is not correct, it is my error, not Mike's- Rob)

***********************************************
What'sit...???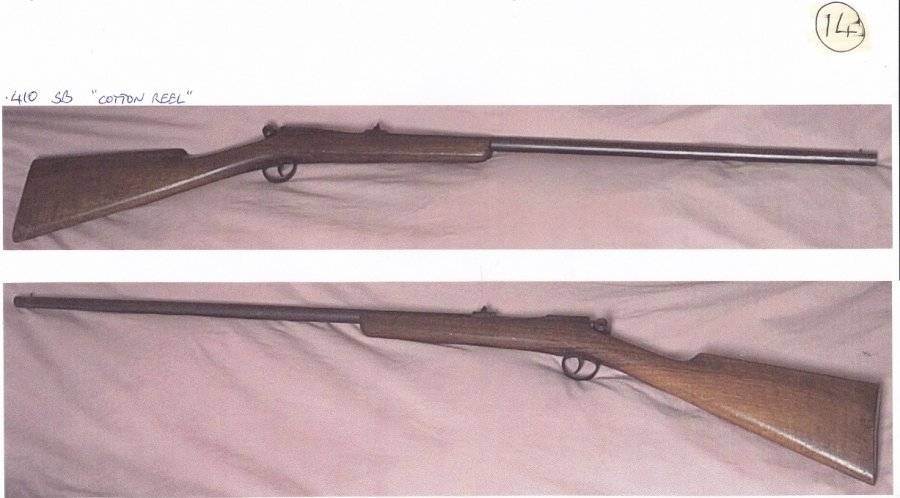 Hi Abby, I have a "shotgun" that I have been trying to identify for ages and cannot seem to find an answer, I have included a couple of pics hoping that if the pics were put into your email mag somebody out there might know what it is. There are no proof marks on it giving an idea of where it was made. The only mark on it is a letter "P" on the end of the stock which has been stamped in from a letter punch and the number 5446 stamped in the breech. It is a form of bolt action, but instead of being rotary with a bolt handle, this one has a cotton reel type lift up part that allows the bolt to be drawn back. It also has rifle type sights, so it might have been a small calibre rifle that has been bored out to the 2 inch chamber 410g that it is now. I hope somebody can help me. Many thanks, Dave Cousins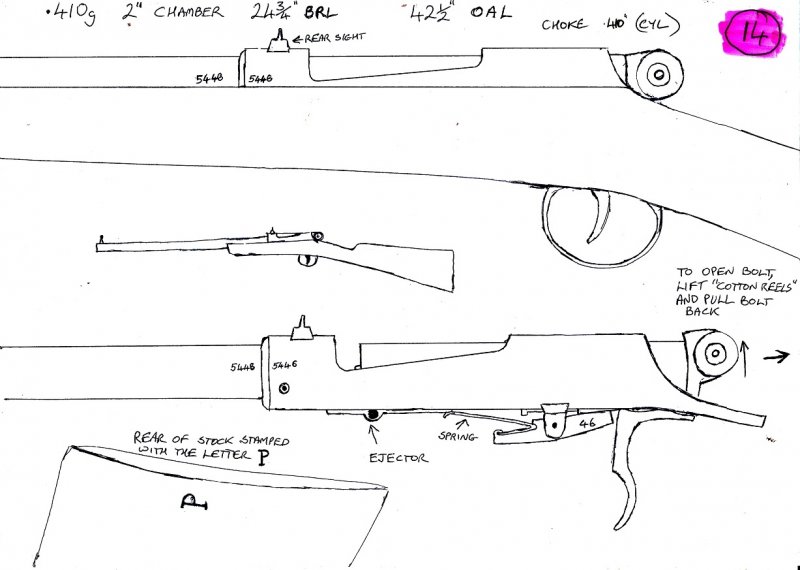 Hi Dave, I assume you are on GB and so I imagine the weapon is probably British. We'll see what we can find out. Cheers, Abby - Readers???


Hi Abby, Yes, I am in GB, but do not think it is British. The "cotton reel shotgun" came from a gunsmith who sold me several other shotguns which were sent to this side of the pond during the LEND LEASE SYSTEM during the Second World War, these all bypassed the British proof house and went straight to the military for use by the HOME GUARD etc. After the war they were all handed in to the local gunsmiths who then sold them off. I, liking American guns bought quite a few. Since the late 1980's it has been illegal to sell an out of proof gun or one without proof marks, so now when I find them at gunsmiths or auctions they are sold as "stock & actions" and I have to submit them for proof so they can be entered on my certificate, so far I have never had one fail. Getting back to the "cotton reel shotgun", again it has no proof marks, so could have come into the country via a soldiers kit bag, although I would have thought that it would have a proof mark on it unless it is a prototype that never got as far as the proof house before it was "found" and made its way to GB. If it is British, there is no reason why it was not proofed for use. Many thanks, Dave.

PS, I enjoy looking through your email mag looking for items I do not have in my Winchester collection and do not understand the idiots who complain. Obviously some of the mags you copy are not in the best of condition, but so far have been very happy with everything that you have sent to me. You do a wonderful job.

***********************************************
Abby and Rob, You guys are really clever. You give us these "trailers" from ARMS HERITAGE and so I went to their site and decided to invest the $19. So I started reading the current issue and the article about military marksmanship, it tweaked my interest so I went back to your site and looked up some of the manuals and ended up buying 3. Really clever! Thank you for everything, Keith

***********************************************
(Rob and Abby) Good for you guys! Hats off for removing Ebay from your foreign sales. Like many things these days, they started out as a good idea, and then got greedy. Happy to hear you fight back! Karen S.

***********************************************
Abby, Received the copy of "Remington 1950 Firearms Field Service Guide & Parts Catalog" in perfect condition. Am very happy with it as it has really helped me with learning about the difference in the parts difference between the Rem M12 22LR and the M12 22 Special. That information is unavailable anywhere other than this Catalogs parts list. It has helped me find the right parts to restore customers old family heirloom Remington M12 22 Special. The customer and I thank you. Thanks, Thomas Barker - T.Barker GunSmithing

***********************************************
(Rob and Abby) Received the Manurhin c1972 MR73 Revolvers & Manual . Thanks for the great packaging done for the Mailing. Top notch! Sincerely, Shawn Moffitt

***********************************************
Hi Abby and Rob: I'm looking for people who have an interest in correcting the BATF position that stripped receivers of C&R firearms are NOT C&R firearms. I'm trying to figure out the most effective way to change the BATF's position, since this rule, that stripped receivers can't be C&R, causes real problems for low-budget collectors like myself. But I don't want to trigger any stubborn reaction from BTAF. The original position happened when Congress allowed "collectible" firearms to be imported. BATF wanted to limit the importing to fully functional firearms, and got away with it, because appealing BATF's rulings is very expensive. So they extended it to all C&R transactions. But the winds of change may be blowing. I'll let you know about my plans. My sense is that some of your members are the kind of folks who are most harmed by this BATF position. Gerry Blodgett - gerry@bablaw.com

***********************************************
Staff, I have a question about the book "Fifty years of Gun Making by Joseph T. Vorisk. Its is very few pages long and it seems it doesn't have much history about the Hopkins & Allen Arms Company in it but a lot of STATS ABOUT ALL DIFFERENT BRANDS OF GUNS. Is that true ? Sin. Max

Hi Max, I'm not too sure how to answer your question but will try. I assume you are asking about this book: Hopkins & Allen Arms Co. Fifty Years of Gunmaking 1867 - 1917; Vorisek , right? If yes, then it is a book about Hopkins and Allen only. If you are looking at the index on the right side the names you see are trade brands made my Hopkins and Allen with associated information. Think of it this way, General Motors makes the brands Chevy, Caddy, GMC etc and each of those brands has car names. H&A did the same thing and that is what is in the book. Does that help? Cheers, Rob

Sir, I was looking FOR THE WHOLE STORY ON THE COMPANY OF HOPKINS & ALLEN ARMS CO. That is what my Email says,exactly. I believe you say "ITS JUST HAS STATS OF TRADE BRANDS MADE BY HOPKINS & ALLEN ARMS " NO STORY ? RIGHT ? Max

Max, I don't believe anyone has written "the whole story" about H&A and, honestly, I don't know what that means. Joe Vorisek did a great deal of research during his travels around Connecticut and New England and his couple of pages in his book about evolving ownership give insight into the Bacon Mfg, Continental Arms, Merwin Hulbert, Bay State Arms and other related co-owners/companies and how they influenced H&A. The story of arms companies from Norwich, CT is complex with multiple interrelated owners. I've spoken with arms researchers of the Norwich companies and from what I understand there is no definitive history of owners better than Joe's. Beyond the owners and dates, the real history of the company, I believe, is what it produced and that is what Joe did a very nice job compiling. Rob

***********************************************
(Rob and Abby) Would you please ship the manual to SWITZERLAND? Please send feedback. Tx, Greetings out from SWITZERLAND xbone65 (eBay)

Hello xbone, I am sorry but after numerous problems and misunderstandings shipping abroad through ebay we have discontinued all shipments outside the U.S. through the ebay portal. Our international customers have to buy through the website. Cheers, Abby

***********************************************
Hi Abby, Received my nicely done catalog today. Thank you very much. I was awaiting it to answer some questions that had been raised about Stevens catalogs on a now 9 page discussion on the ASSRA (American Single Shot Rifle Association) website. The questions arose from comparisons with Tom Rowe's reprint of the apparently same catalog from some years ago and various original catalog copies that some members had. The crux was that Tom's had 128 pages and yours was listed at 142 pages. On eagerly examining mine today I find that it has the same 128 numbered pages (including 1 and 2 which are not actually numbered) and counting both sides of the front and back covers, the leading page "Important", the backside of page 128, and both sides of the blank last page, I could only get 136 pages. Could it be that a few pages are missing? Perhaps those that would have described the No. 44 1/2 rifle which is mentioned in only one sentence on page 25 "For special calibres and extras see description of our No. 44 1/2 rifle, which has an entirely new action." This might possibly have been an insert as the 44 1/2 was new in 1903. Your "Contents - Index" on your web page for this catalog lists Stevens #44 1/2 Ideal and especially the Stevens Ideal English Model 044 1/2 which is not mentioned at all in the 128 pages. You must originally have had something on these last two in order to list them in your Contents - Index. Thank you for investigating this. Chauncey Walden

Chauncey, I changed the page numbers at our website from 147 to 130 which is what the print file actually has (my mistake). I have no other pages to add or that have been left out. Below is another answer to an Assra member on this issue that may clarify our job. Cheers, Rob

Hi Abby! I'm writing because there's a minor tempest going on at the ASSRA forum regarding Stevens catalogs from the period 1900 to about 1905. The going gets interesting on page 2, and it's now up to over 100 posts. (My moniker on ASSRA is uscra112, BTW.) I have one of your reprints, dated 1903 on the cover, and #50 inside, which is 128 pages total. Content does not include anything in detail about their new 44 1/2 model. The 1903 dated catalog you now have listed is 142 pages and, by your description, does provide details about the 44 1/2 model. Can you shed any light on the provenance of these two? It all boils down to a question of exactly when the 44 1/2 rifle was first presented to the public, and when certain features of the older Model 44 were changed. Stevens' factory records were destroyed long ago. Over the last 3 years or so I've been creating a spreadsheet of the known Model 44s, hoping to recreate a timeline by which these can be dated. Accurately dating catalogs is crucial to this effort. Thanks in advance! If we get this sorted out, I may be ordering more to fill in holes in my catalog collection, if there are any. Phil Way

Hi Phil, We are actually not the experts, we rely on donors and outside people to help us date publications. Stevens are particularly difficult for the reasons you mentioned. Some donor catalogs had hand written dates others none so we took the word of the owners. If things are particularly vague we use circa in the title. Now, Nick Niles, who was a self professed "super expert with thousands of hours of research on Stevens" insisted on re-dating our Stevens catalogs and we trusted his input. He also lent us a number of mostly 1930s issues to copy. So, I am afraid you are at another dead end given that Nick is dead. I'm sorry I can't be more help. I changed the page numbers at our website from 147 to 130 which is what the print file actually has (my mistake). I have no other pages to add or that have been left out. Below is another answer to an Assra member on this issue that may clarify our job. Cheers, Rob and Abby

***********************************************
(Rob and Abby) Hello, I'm researching the original Cogswell and Harrison "Certus" bolt action rifles. They were patented March 1900, made until about 1906 (in the large action size). I'm wondering if the catalogues you have listed dated 1900 and 1903 have these rifles in it? If so I'll be keen to order a copy. Thanks for your time, Cheers, Troy Cox.

Hi Troy, Yes, the 1903 has five pages on the Certus, no rifles in the 1900. Cheers, Rob

***********************************************
Hi Abby, Need to know if there is any information in this catalog on Pinfire Case for Shotguns, Gauges 12, 16 etc. BTW; I've ordered at least 8 of your catalogs for my research. Thanks, Chip

Hi Chip - It is in the index of that catalog so I must assume it is in it.... Please if you go to the website there are indexes for each catalog indicating briefly the contents. I used first PINFIRE as one word in the SEARCH BAR and several UK catalogs came up I used PIN FIRE as two words and several ELEY and other Brit ammo catalogs came up.... people often make the mistake of putting too many words to search. Click on the item and it will link you to the item page with index etc.... very useful for research... thanks Abby

(Abby) I want to know if the 1886 Eley Catalog has Pinfire Shot shell info. You need to check Catalog. Chip

Hi Chip, It gives the Blank and Shot Revolver Cartridge Pin Fire prices from 5M to 12 M - Pin Fire Loading Grains Powder, Bullett Grs and Price for 5M to 15M carbine info No illustrations. It notes Skin Cartridges for Deans Adams, Tranter Kerr Colt and other Revolvers. I have done all the indexes on over 6000 items we sell. The entire catalog/manual has to be printed to really read the contents so I did! Best, Abby

(Abby) Thanks for the info. I looked at the 1889 Eley Catalog in your Store. The image on the right is from another catalog. Any idea where that image come from. Chip

Chip, We re-dated and sorted that out, thanks, Abby

***********************************************
(Rob and Abby) Klein's 1946 Sporting Goods & Gun Catalog (Chicago) - Does this catalog have many lures of the Marathon Bait Co.? If so, I'll buy a copy. Thank you. gare870 (eBay)

Hi gare… Yes, there is a page of them. Rob

(Rob and Abby) Thanks. I'll order a copy.

***********************************************
(Rob and Abby) Just to let you know that yesterday afternoon I received my book with no complaints at all, I´m absolutely satisfied, thanks. Peabody Martini Rifle c1877 Manual- Providence Tool Co. - Kindly, Andrés Contador

***********************************************
(Rob and Abby) EK, JOHN Your Silent Partner c1965 Fightin Knives - I got my knife pamphlet today and it is really sweet, thank you David - (eBay)

***********************************************
(Rob and Abby) Hard to believe…I ordered the Colt 1921 Firearms Factory Catalog on October 9th. Today, October 13th, I received the perfect reproduction in the mail. I've bought a few items from you over the years and I recall that they arrived quickly. But 4 days from order to arrival, is just wonderful. I know you know you do a great job, but I wanted you to know that I know you do a great job…every time, ya know? -Richard Campbell

***********************************************
(Rob and Abby) Received your catalog and to be honest, I'm not impressed. The pages are different sizes and are staggered in their binding. Some of the pages are cropped to short and the page number is cut in half. And as far as full color, I see only red and some kind of yellow along with the normal black and white. This item looks like a junior high project and the student didn't care what grade they got. If I had seen this item prior to purchase, I would not have bought it. I'm giving you this information so you can have better quality control. Respectfully, Scott - 8921scott (ebay)

Hello Scott, I asked Abby to refund your payment but before we go I think your thoughtful note to us deserves an equally detailed response. Abby and I, in our retirement, embarked on a project to preserve firearms publications before they all disappear. We have scanned and offer over 6000 different, old firearms publications from around 1850 forward (about 3000 are on ebay).

In order to accomplish this we have to try to balance artful reproductions verses volume. Early on we decided to not emphasize making exact forgeries of originals but rather to provide historical information by processing as many documents as we could. Put simply, right or wrong we made the choice to spend more time acquiring and processing many publications rather than on perfectly reproducing individual ones.

The Winchester 1941 Pocket Catalog is a good case to illustrate our efforts. We processed that one in June of 2010 and have advertised it on ebay ever since at $.10/mo. or about $10.00. Yours is the only copy we have sold during that eight years and the same can be said for probably half of what we offer. Now, we pay to offer all those unsold reprints because we sell enough of some to pay the bills and someone, like you, will need the information the 1941 Winchester catalog contains someday. I tell you this not to excuse the crummy scan job but to show why we don't make perfect copies. I hope this makes some sense.

Your point about the page sizes is fair criticism and I'll try to fix that (we fixed it!). The amount and distribution choices of color in the catalog, though, were decisions made by the Winchester ad people almost 80 years ago so there isn't much I can do about that. Cheers, Rob

(Rob and Abby) Evening, appreciate the thought of a refund but that isn't necessary. I see your listings all the time on ebay. Y'all do a good job of trying to list out of print items. I only told you folks of my experience so you could put out a better product. Respectfully, Scott
************************************************