Classical Conferences and Meetings in 2018-2019

American Council on the Teaching of Foreign Language
2018 Annual Convention and World Languages Expo
November 16–18, 2018
New Orleans Convention Center
New Orleans, LA
Representative: Donald Sprague

SCS/AIA–Society for Classical Studies/Archaeological Institute of America
January 3–6, 2019
San Diego Marriott Marquis and Marina
San Diego, CA
Representatives: Bridget Dean, Donald Sprague, and Amelia Wallace

CANE–Classical Association of New England
March 8–9, 2019
College of the Holy Cross
Worcester, MA
Representative: Donald Sprague

CAMWS–Classical Association of the Middle West and South
April 3–6, 2019
The Cornhusker at the invitation of the University of Nebraska
Lincoln, NE
Representatives: TBD

The 54th International Congress on Medieval Studies
May 9–12, 2019
Western Michigan University
Kalamazoo, MI
Representatives: Laurel Draper and Adam Velez

ACL–The American Classical League
Celebrating ACL's Centennial
72nd Annual Institute
June 27–29, 2019
Hilton Midtown
New York, NY
Representatives: TBD

NJCL–National Junior Classical League
July 26–31, 2019
North Dakota State University
Fargo, ND
Representatives: TBD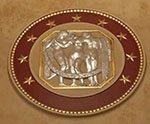 The "Three Graces" grace the lobby ceiling of the Hilton Hotel Milwaukee City Center.

---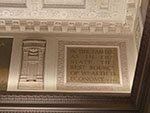 The grand hall of Wintrust Bank (the former Continental Bank) in Chicago revels in a grand display of classical architecture—a veritable temple to banking! The cornice displays a series of money-related quotations including this one from Cicero—"In the family as in the state, the best source of wealth is economy."

---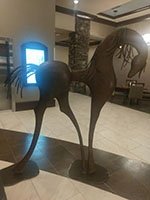 Saratoga Springs is famous for its tradition of thoroughbred horse racing. The Embassy Suites hotel lobby includes this sculpture with its echoes of Modigliani and Etruscan bronze sculptures.


---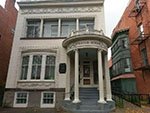 Temple Sinai stands as a resplendent example of neoclassical architecture on Broadway, the main street of Saratoga Springs, New York. The reformed congregation transformed the neoclassical home into a temple in 1966.

KUDOS to Dolus aut Dulce Twitter Costume Contest Winners





For a full report, check out the B-C blog.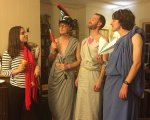 Group: Judgment of Paris; L to R = Chloe Kolbet, Steven John, Joe Stern, Forrester Hammer, all first-year MAT students at UMass, Amherst.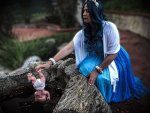 Individual: Thetis dipping baby Achilles in the river Styx = Mercedes Barletta, Latin teacher and world languages chair at Harvard-Westlake School, Los Angeles.
Cindy Caltagirone and Don Sprague are hard at work planning the ACL Centennial Study Tour of Rome with an optional add-on tour to Campania.

So, mark your calendar for ROME2020 in July of 2020!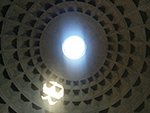 ROME202 Awaits . . .
Bolchazy-Carducci Publishers provides eTextbooks on a variety of eBook platforms. Bolchazy-Carducci textbooks are available through VitalSource,

GooglePlay

,

Chegg

, RedShelf, Adams Book, Follett,

MBSDirect Digital

, and ESCO. Each eBook platform offers a variety of tools to enhance the learning process. eBooks have the same content as our traditional books in print.
eBooks are purchased from the eBook provider. For direct links to purchase Bolchazy-Carducci eTextbooks, visit the title's product page on Bolchazy.com. Just above the product description there is a list of the eTextbook providers and a direct link to purchase the eTextbook. Some eBook providers sell directly to schools—check with your school to make these purchases.
You can read eBooks on a Mac, PC, iPhone, iPad, Android, or a variety of eReaders. Review the eBook providers specifications.
The eyeVocab software leverages human memory for distinctive affective images* presented in isolation to radically improve the speed, depth, and permanence of second language vocabulary acquisition. Images are drawn from classical art, both western and eastern, from photojournalism and historical photography, great book illustration, and other sources.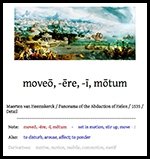 *Learn how images are chosen.

Far more than a set of electronic flashcards, the multimodal vocabulary program facilitates a significantly deeper learning and retention. Students will readily master the frequent Vergil and Caesar vocabulary for the AP® Latin Exam and thereby devote far more of their study time and energy to reading and discussing De Bello Gallico and the Aeneid.

eyeVocab programs correspond to the following B-C books.

Caesar: Selections from his Commentarii De Bello Gallico
(Mueller) (218 words)

Vergil's Aeneid: Selected Readings from Books 1, 2, 4, and 6
(Boyd) (162 words)



Vergil's Aeneid: Books I–VI


(Pharr) (292 words)

Latin for the New Millennium Level 1

(423 words)





Introductory rate for each of the AP® Latin programs is $14.95. The LNM 1 and LNM 2 introductory rate is $24.95 per program. For site licenses, contact Miles Becker at sales@eyeVocab.com.




Click on each title to learn more.
The Pompeiiana Newsletter created and edited by Bernard Barcio ran from 1974 through 2003. The newsletter offered a place for Latin students to publish comics, stories, games, and articles, and was a beloved resource for Latin teachers. In 2008, Barcio granted Bolchazy-Carducci Publishers the rights for all of the Pompeiiana Newsletter. B-C is proud to serve as curator for this archive and has made the issues available for teachers, students, and friends of the classics. Check out http://pompeiiana.blogspot.com/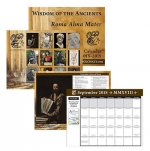 The 2018-2019 Roman Calendar is in the mail If you were not on that mailing list, the calendar is available as a download. We also have copies available at conferences. If you would like to be included in the 2019-2020 Roman Calendar mailing please submit your request.
Preview Bolchazy-Carducci Titles

Preview Bolchazy-Carducci titles before you purchase using Google Preview.
---

Downloadable Products
iPodius - Bolchazy-Carducci Publishers online shop for: audio, software, video, and a treasure trove of teacher-created materials in the Agora.
---
BCP Facebook Fan Page
Become a FAN of Bolchazy-Carducci Publishers, visit our Facebook Fan page for the latest news from BCP.
---
BCP Blog
Visit the BCPublishers Blog for B-C news and information.
---
BCPublishers on Twitter
Follow us on Twitter

---
AP® is a trademark registered and/or owned by the College Board, which was not involved in the production of, and does not endorse, this site.
These products have been developed independently from and are not endorsed by the International Baccalaureate (IB).
Please note: The Bolchazy-Carducci Publishers Webinar Program is intended to be a live interactive endeavor in which presenter and attendees ask questions, make comments, seek clarification, share examples, etc. Thus, by design and in order to protect the presenter's intellectual property, B-C does not make recordings available to non-attendees. B-C encourages those interested in a given topic or presenter to plan to attend the live webinar.



If you have suggestions for webinars, please contact Don Sprague.

---
What Equipment Do I Need for B-C Webinars?

To participate in Bolchazy-Carducci Publisher sponsored webinars you will need high-speed internet access, computer speakers/headphones, current web browser, and the link to the webinar virtual meeting space, which is provided in your webinar invitation.
Webinars Make for User-Friendly Professional Development

Participation is free. All webinars provide opportunity for participants to ask questions. Learn lots—attend as many presentations as you can. Bolchazy-Carducci Publishers provides documentation for your participation. You can share this with your supervisors. Many webinar presenters provide handouts, etc.
Wow! Here we are in the middle of November already! The flurry of the past few weeks has been punctuated by Bolchazy-Carducci representatives exhibiting at several classics conferences. Check out the reports about these meetings in this issue.

As I am writing this on the 11th of November, and, in anticipation of Thanksgiving, let us remember and give thanks to our citizen colleagues who have served and currently serve in our country's military. Let us join in gratitude and appreciation for their role in preserving the freedoms and opportunities that are at the very core of our United States of America.

This Thanksgiving season, all of us at Bolchazy-Carducci Publishers wish you and your families, your students and their families, a happy Thanksgiving. We thank you for the opportunity to serve you and the classics community.

All the best,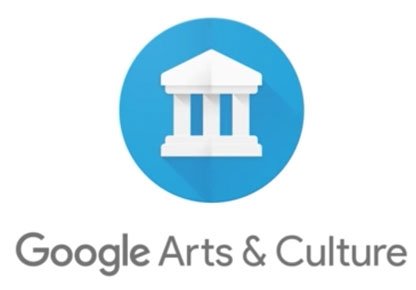 Google Arts and Culture is an excellent website that teachers can incorporate into their classes in various ways. It is a searchable online collection of very high quality images of art from more than 150 museums and sites worldwide. Thanks to the site's high-resolution images, it is a great resource for teachers who are looking for images of particular works of art to show to students. But, it is far more than simply a database of images. Through its partnerships with so many fantastic museums, the Google Arts and Culture site offers the opportunity to do virtual walkthroughs of many collections. Our students can virtually visit the Capitoline Museum, the Uffizi Gallery, the Pergamon Museum, and the Acropolis Museum to name just a few. Some partnered museums also offer virtual reality tours that students can explore if they download the Google Arts and Culture app for iOS or Android. This feature is a nice supplement to our discussion and exploration of works of art.

In addition to virtually exploring some very beautiful museums, users can search the collection of images in really interesting ways. For example, if you would like to show your students some images related to the story of Daphne and Apollo, a quick search will yield numerous images each accompanied by a description and details. Even better, the students can perform the search and locate the images that they find compelling. The collection is also searchable by medium, time period, location, historical event, and historical figure. Both teachers and students can add individual images to their list of favorites and group them into personal collections. To take a look and get started, visit
https://artsandculture.google.com/
---
Editor's Note:
Open Culture has recently made a
database
of 600+ overlooked female artists from the 15th–19th centuries available.
Resources & Teaching Tips

√ Ovid's "Rape of Arethusa"


As a complement to reading Ovid's "Apollo and Daphne," we offer this Latin

selection

with limited

notes

on the rape of Arethusa excerpted from

An Ovid Reader: Selections from Seven Works

by Carole E. Newlands. Depending on the level of the class, high school teachers may need to provide additional notes for their students as the BC Latin Readers are geared for intermediate college students. Alternatively, students can work in small groups to prepare notes and vocabulary for the passage.




Editor's Notes: The above PDFs are provided for classroom use only as downloaded by the eLitterae subscriber and are not to be otherwise copied or distributed.



√ Archaeology Roundup
• Roman potty jokes illustrated in latrine mosaics.

• Ship found on bottom of the Black Sea is believed to be ancient Greek.

• Another piece of the advanced analog "computer" found in a shipwreck near the Greek island of Antikythera is discovered.

• Romans honored their ancestors with grave libations.

• Prehistoric musical instrument found in Italy.

• Archaeology affirms ghoulish Gallic custom.

Classical Association of the Middle West and South, Southern Section (CAMWS-SS) 2018 Report
At the invitation of the
Wake Forest University
, the 98th Anniversary Meeting of
CAMWS-SS
took place in Winston-Salem, North Carolina, at the Hawthorne Inn and Conference Center, October 18-20, 2018. President Bridget Dean and editor Amelia Wallace welcomed the opportunity to enjoy the warmth of the setting and southern hospitality.
Attendees came to the book exhibition room to browse B-C's book selection and chat throughout all three days of the conference. Not surprisingly, our Latin and Greek buttons proved to be especially popular—while many professors and teachers noted that they were buying for students, they also frequently let slip that they were going to save a button or two for themselves! Our book drawing gave conference goers a chance to win two of B-C's recent titles, Word Mastery through Derivatives and A Latin Picture Dictionary. Anthony Parenti, graduate student at the University of Kentucky, came away the victor; his excitement and enthusiasm at winning (and about all things classics in general) was truly infectious.

In addition to running the B-C booth, Bridget and Amelia were able to sit in on several panel sessions, including the fascinating "Graphic Design: Text and Image in Ancient Inscription" and the informative "Teachers Teaching Teachers." They also attended the Friday night banquet, the highlight of which was incoming CAMWS-SS President David J. White's speech. White, of Baylor University, spoke broadly about contingent faculty, making insightful points about the importance of focusing on pedagogy and the need for collaboration between secondary teachers and university faculty. While dealing with a serious and at times difficult topic, White was nevertheless able to offer a hopeful message about the future of classics teaching.

Many thanks to Wake Forest University and especially to T. Davina McClain, whose careful planning and hard work as CAMWS-SS president ensured an excellent conference. We at B-C are looking forward to the next meeting in 2020 at Baylor University!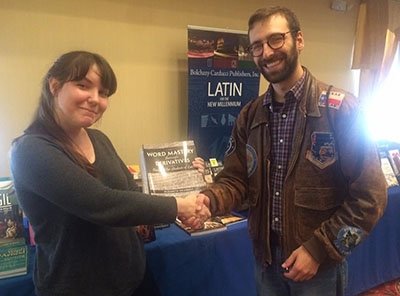 Anthony Parenti, graduate student at the University of Kentucky, winner of B-C's book drawing at CAMWS-SS, receives his winnings Word Mastery through Derivatives and A Latin Picture Dictionary.
Classical Association of the Empire State (CAES) 2018 Institute Report
Skidmore College
, host of this year's
CAES
Institute, welcomed some 60+ attendees for the two-day conference, October 26–27. While the weather in Saratoga Springs was wet and chilly, the New York classicists gave a warm welcome to editor Don Sprague, who staffed the Bolchazy-Carducci book exhibit. Indeed, the attendees presented Don with a chorus of "thank you" and "we're so pleased that you're here." Skidmore College, host of this year's CAES Institute, welcomed some 60+ attendees for the two-day conference, October 26–27. While the weather in Saratoga Springs was wet and chilly, the New York classicists gave a warm welcome to editor Don Sprague, who staffed the Bolchazy-Carducci book exhibit. Indeed, the attendees presented Don with a chorus of "thank you" and "we're so pleased that you're here."

Participants eagerly paged through titles newly released since B-C exhibited two years ago as well as tried and true titles. Teachers eagerly picked out their favorite Latin and Greek quotation buttons. By the end of the conference only a handful of buttons remained for sale. A Latin Picture Dictionary and the I Am Reading Latin and I Am Reading Latin Stories books proved big hits, as did the children's tales—Arbor Alma, Quomodo Invidiosulus nomine GRINCHUS Christi natalem Abrogaverit, and Ubi Fera Sunt.


The B-C exhibit was located in the atrium area alongside the wall of the room where the presentations took place. Fortunately, the podium was just the other side of a glass door, affording Don the opportunity to listen to the talks. Daniel Gallagher, former Latin secretary to Pope Benedict XV and Pope Francis, who now serves as the Ralph and Jeanne Kanders Associate Professor of the Practice in Latin, delivered the keynote address, "From Taedium to Studium, from Negotium to Otium: My Voyage Across the Sea of Latin," in which he shared his personal journey that started with his study of Latin as an adult. On Saturday, Professor Gallagher again wowed participants with two presentations—"Conversational Latin: It's Not What You Think It Is" and "Ossa: The Bones of Latin," an explication of the Reginald Foster method.


Congratulations to the CAES board and especially John Mooney, CAES president, for a successful institute that set an attendance record. Thanks to the Skidmore classics faculty and conference staff for all their work on behalf of the CAES Institute 2018!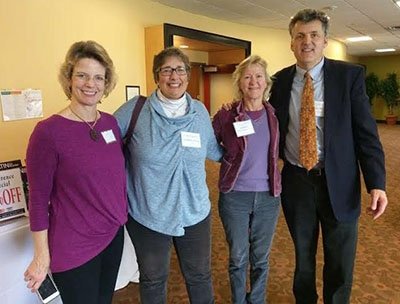 Three Graces—Claudia DeSantis, Andrianne Pierce, and Rowena Fenstermacher pose with CAES President John Mooney.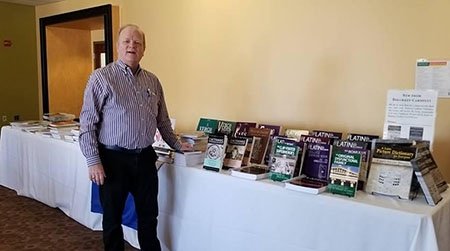 CAES webmaster Kristen Griswold requested that editor Don Sprague pose with the B-C book exhibit.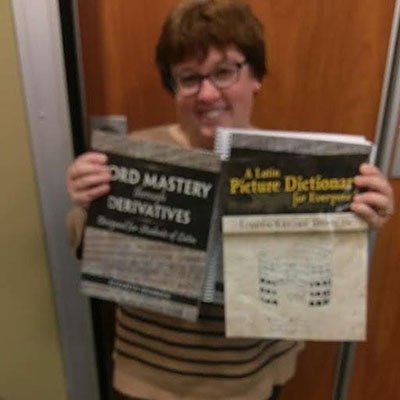 Program Co-Chair Meghan Miller won copies of both the student and teacher editions of Word Mastery through Derivatives and A Latin Picture Dictionary. Photographer Sprague apologizes for the fuzziness.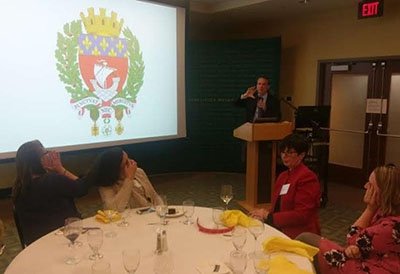 Professor Daniel Gallagher delivers the keynote address at the Annual Institute Banquet.
---
Editor's Note:
For more about Professor Gallagher, check out this
interview
.
Tennessee Foreign Language Teaching Association (TFLTA) / Tennessee Classical Association (TCA) 2018 Conference Report

The Tennessee Foreign Language Teaching Association (
TFLTA
) and the Tennessee Classical Association (
TCA
) held their annual meetings November 2–3 at the Franklin Marriott Cool Springs in Franklin, Tennessee, just south of Nashville. The program offered over fifty talks and workshops covering a broad range of languages and topics. Several sessions provided information on Tennessee's new World Languages standards, while others highlighted professional growth opportunities for teachers of various languages.
Editor Laurel Draper served as the representative for the Bolchazy-Carducci Publishers exhibit. Visitors to the booth perused B-C's new titles, delighted at Latin translations of children's books such as Ubi Fera Sunt and Arbor Alma, and took informational folders for Latin for the New Millennium. Donald Mueller of Pellissippi State Community College won B-C's drawing for a set of four books: Word Mastery through Derivatives, Latin Picture Dictionary, and the new Lectiones Memorabiles Vols. III and IV.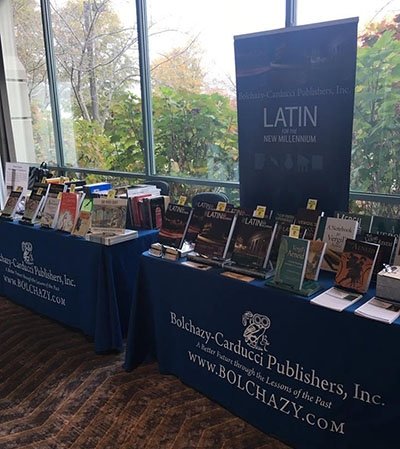 The B-C display and a glimpse at autumn in Franklin, Tennessee.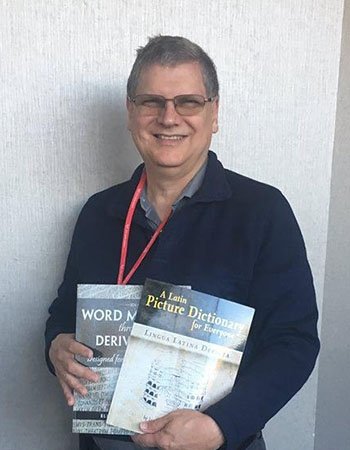 Donald Mueller of Pellissippi State Community College poses with his winnings from the B-C book drawing.
Teachers chatted with Laurel about Latin for the New Millennium for possible adoption. The Tennessee Board of Education has formally approved all three levels of LNM for adoption. Previously, a review panel affirmed that the correlations for the three levels of LNM met Tennessee's new World Languages standards. B-C is pleased that LNM's Second Edition has been officially adopted. When LNM's First Edition came out in 2008, Tennessee was the first state to adopt the text. At the encouragement of several Tennessee Latin teachers, early adopters of LNM, B-C subsequently published Latin for the New Millennium, Level 3.

eLitterae Subscribers Special Discount


48-Hour Sale — 40% OFF!
40% OFF website orders!
Enter coupon code 48BC18 upon checkout.
SALE STARTS NOVEMBER 26TH! (CYBER MONDAY)
(The sale begins at midnight November 25th and ends at midnight November 27th)
This offer is valid for one copy per title, prepaid, no returns.
Discount is not available to distributors.
This offer expires 11/27/18.
(Please note that there will be no adjustments on previous purchases.
Offer is nontransferable and subject to change without notice.
Only valid on products published by Bolchazy-Carducci Publishers, Inc.)
Shop:
www.BOLCHAZY.com
Bolchazy-Carducci Publishers, Inc.
NEW 2018 Titles

Webinar Registration

Bolchazy-Carducci Publishers professional development webinars are offered on Tuesday evenings 6:00-7:00 p.m. Eastern Time (5:00-6:00 p.m. Central Time). Webinar participants will receive a certificate of participation for professional development credit.

Postponed: to be rescheduled after the holidays.
Caesar: Man of Letters

Presenter: Debra L. Nousek, Associate Professor, The University of Western Ontario



Professor Nousek is a Caesar devotee who has extensively researched, presented on, and written about him. Her most recent delineated below focuses on Caesar as author. This webinar will be a great learning experience for all teachers of Caesar and especially those who shepherd their students through the AP Latin curriculum.





Debra L. Nousek is associate professor at The University of Western Ontario in Canada where she served as Director of the Graduate Program in the Classics. She earned a BA at the University of Alberta, an MA at the University of California at Santa Barbara, and a PhD from Rutgers University.

---
Tuesday, December 11, 2018, 6–7:00 pm ET
Discover the Beautiful Bounty of Post-Antique Latin
Presenter: Terence O. Tunberg, Professor, The University of Kentucky
Recognized internationally for his expertise and scholarship in medieval and Neo-Latin, Professor Tunberg will share his passion for post-antique Latin in this webinar. Tunberg will discuss representative examples of this beautiful bounty—twice as much Latin published in the post-antique period as during the Roman era—noting that many authors emulated the style of their Roman predecessors.

Terence Owen Tunberg is a professor in the Department of Classical Languages and teaches in the Honors Program at the University of Kentucky. Tunberg received a BA and MA in classics from the University of Southern California and a PhD from the University of Toronto.

---
Visit our
website
for complete author bios.
National Greek Exam

deadline: January 19, 2019
regular* administration: February 25–March 3, 2019

About the National Mythology Exam

deadline: January 20, 2019
administration: February 18–March 1, 2019

National Latin Exam

deadline: January 22, 2019
regular* administration: March 11–15, 2019

National Roman Civilization Exam

deadline: February 2, 2019
administration: February 7–March 9, 2019

National Latin Vocabulary

deadline: February 2, 2019+
administration: February 7–March 9, 2019+

Amherst College
Harry de Forest Smith Greek Translation Contest

registration: late November 2018
administration: February 8, 2019

The Exploratory Latin Exam - ELE

deadline: March 1, 2019
administration: October 1, 2018–April 1, 2019

Bernice L. Fox Classics Writing Contest

deadline: March 15, 2019 postmark

*Check online for early administration dates.
+Based on 2018 dates.