The purpose of the NC Farm to Preschool Network (NCF2PSN) is to connect, educate, develop, and share resources between community and state partners, farmers, early childhood educators, and families to spark the local foods movement in early childhood education environments.
The Frankie Lemmon School & Developmental Center in Raleigh, NC was the ECE winner for NC Crunch Contest. Read about the fun connections they made while learning about apples.

by Kelsey Stevens, FLS Communications Coordinator

The Frankie Lemmon School Crunch took place on Wednesday, October 10th at 2:00pm during afternoon snack. The local Jonagold apples were enjoyed by the children thanks to Michele's Fresh Fruits from the North Carolina State Farmers Market. Over the past couple of weeks, the children at Frankie Lemmon have been learning all about apples. They have been reading books about apples, learning how apples grow, apple stamping with paint, taste testing different colored apples, tasting other apple flavored products (apple sauce and apple bars), sorting apples and making apple people. The teachers have enjoyed teaching their students about apples and the children sure have enjoyed all the activities that have come along with it! Apples are definitely a favorite food for many of the children at FLS!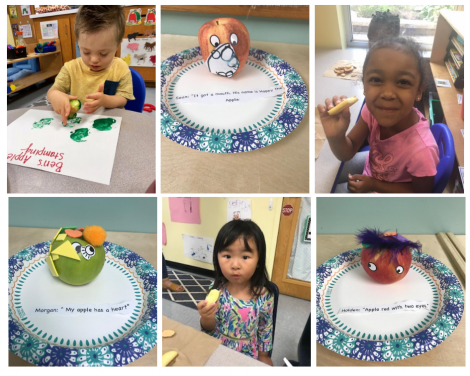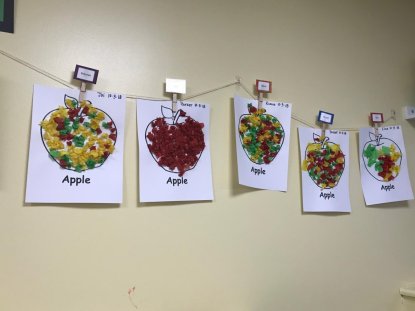 by Maria Hitt

Depending on what part of the state you are in, you may still have vegetables in your gardens, everything may be under snow, or finished for the season. If you did plant a fall garden, continue to check on your plants and harvest as you can; lettuces, spinach, collards and kale can grow right through the winter and still be tasty for salad or cooked greens. Broccoli may also do very well in the winter time, harvest as the heads approach the size of a baseball (or larger) and try sampling them with your classroom. Children are always thrilled when they get to taste something they watched grow.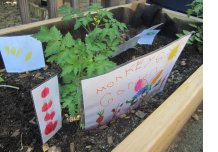 If you are not gardening this winter, it's a great time to try out some indoor gardening activities or outside garden art activities such as these suggested by the folks at Kids Gardening:



Art in the Winter
Kitchen Scrap Gardening
Forcing Spring Blooming Bulbs

And it's never too soon to start dreaming about what you will plant in the spring time, you can start now to explore with your students what they would like to grow in the coming season, look at seed catalogs, and discuss the possibilities. Here's a couple of fun activities to plan your garden with the kids: Garden Plot Crackers or Veggie Crowns (you can use cutouts from seed catalogs).

Whip It up!...

Menus and Recipes
During the government shutdown, the USDA Mixing Bowl site is not available, but there are still plenty of other resources. NC Department of Health and Human Services brings
Seasonal Cycle Menus
.
The CACFP Seasonal Menus are designed to inspire programs to use seasonal, locally grown foods when possible. The menus are four-week cycle menus with a breakfast, lunch/supper, and snack. Menus are customizable and contain links to standardized recipes. Your institution can start implementing these healthy seasonal menus in your adult or childcare facility today!

Check out what's on the menu this winter! You can find more editable menu templates at
Growing Minds
to create and share with parents.
Where to Find the Beans...

Funding Opportunities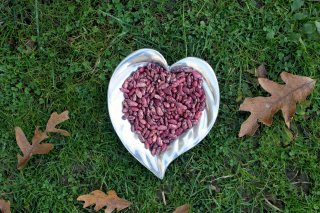 Growing Minds Funding
Deadlines to apply are

September 15

and March 15
Growing Minds offers farm to school funding for pre-K through 12th grade teachers and members of the public working in cooperation with a school in ASAP's Appalachian Grown Region.

Association of State Public Health Nutritionists (ASPHN)
Interest form deadline is January 22, 2019
2019-20 Obesity Mini CoIIN
CDC is supporting a new ASPHN Obesity Mini-CoIIN focused on ECE settings as an effective way to teach healthy habits at a young age. The purpose of this CoIIN is to improve ECE nutrition environments, policies and/or practices utilizing a Farm to ECE approach. The CoIIN will support nutrition professionals at state or local health departments or other key state early childhood agencies with planning, implementing, running, expanding and/or evaluating a Farm to ECE program.
All states and the District of Columbia are eligible to apply. This opportunity will be available to five state teams. Each team will receive seed funding for a period beginning early 2019 through August 2020 to participate in the CoIIN to advance their states' Farm to ECE work. States can be at a variety of stages in the process of incorporating Farm to ECE work into their state system and supporting ECE providers in their state implementing Farm to ECE activities. Annually, the state teams will attend an in-person
meeting for extensive networking, group training and hands-on in-depth team planning.

Find more information on how to apply here.


Caplan Foundation for Early Childhood
Letter of Intent due January 31, 2019
The funds are intended to be an incubator of promising research and development projects that may ultimately enhance the development, health, safety, education or quality of life of children from infancy through seven years of age across the country. The Foundation provides funding in the following areas: Early Childhood Welfare; Early Childhood Education and Play; and Parenting Education. More details here.

Advisory Committee Member

Tes Thraves

Center for Environmental Farming Systems (CEFS)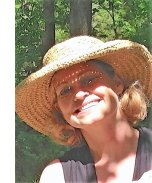 Tes began working with CEFS in 2007 and her work currently focuses on farm to school/ECE efforts and racial equity in food systems. For seven years, Tes cohosted FoodCorps NC with her colleague from 4H-NC and partner in mischief-making, Liz Driscoll. Tes founded CEFS's Food Youth Initiative, in partnership with multiple statewide and local organizations, to support youth leadership in NC, especially leaders coming from communities who are the most adversely impacted by food system inequities. She is also one of the many founders of the Farm to School Coalition of NC and serves on its steering committee as well as on the NC Farm to Preschool Network, and is the North Carolina partner for the National Farm to School Network.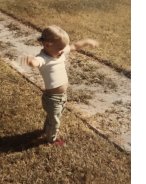 Her Racial Equity studies and learning is a daily practice and she is
pained
by the urgency of work
undone, grateful for all those who have laid the path for today's work, and inspired by leaders she sees (and turns to) everywhere, those who have never stopped trying to provide opportunities and basic human rights. She is a white, Southern, mountain woman re-rooted in the NC Piedmont.
In her free time, Tes is likely busy planting fruit trees with her wife, building coyote and hawk-free fencing, inoculating mushrooms everywhere, and making up songs about food for their now seven-month-old foster child.

Have something to share in our e-newsletter? Submit your request to: Kim Knoppel kim@asapconnections.org.
Engage with us on Facebook! And get the most-up-to date information on resources, events, webinars, and more!


Dear Rebecca, Winter is Here

by Jean George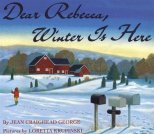 On a cold winter morning, grandmother writes, "Dear Rebecca, winter is here". Read on to experience the many swift changes of winter grandmother describes in her letter.

Harvest for Healthy


Kids Activity Kits



Harvest for Healthy Kids helps children develop healthy eating habits. The program connects young children with fresh food grown close to home through activity kits that teach science, math and literacy. Each kit is developed and tested by teachers and childcare providers, and includes hands-on activities
with different fruits and vegetables, colorful picture cards, newsletters for families and background
information for adults. All Harvest for Healthy Kids activities are aligned with early learning standards and have been rigorously evaluated. Some of the parent materials are also in Spanish.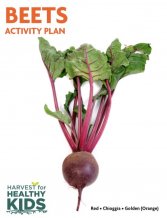 Harvest for Healthy Kids began as a collaboration between Portland State University, Mt. Hood
Community College Head Start, and Early Head Start in Oregon. Visit Harvest for Healthy Kids, create a login, then all materials can be downloaded for free. Use the activities to explore some common winter fruits and veggies with your children like beets, apples, cabbage, and cauliflower.

This Week in the Garden @ Preschool
Learning Never Ends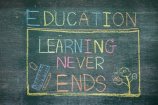 National Home Visiting Summit on Quality in Home Visiting Programs
January 30–February 1, 2019
Washington, DC

CCSA's 46th annual Advancing Skills & Knowledge (ASK) Conference
February 23, 2019
Chapel Hill, NC

SHAPE America
April 9-13, 2019
Tampa, FL

Annual Child Nutrition Conference
April 23-25, 2019
Chicago, IL

2019 National Smart Start Conference
April 29- May 2, 2019
Greensboro, NC

National Early Childhood Inclusion Institute
May 7-9, 2019
Chapel Hill, NC

National Farm to School Conference - Canada
May 15-17, 2019
Victoria, British Columbia

27th annual National Children & Youth Garden Symposium
July 10-13. 2019
Madison, WI

NC Extension Events
Statewide, NC

NEW NFSN Webinar Series
Starting in 2019, the National Farm to School Network will host quarterly Resource Roundup webinars. These bite-sized webinars provide a brief highlight of a new or innovate farm to school or farm to early care and education resource. Featured resources will include tools and publications from the National Farm to School Network, as well as resources developed by other organizations. Webinars will take place the third Wednesday of February, May, August and November from 4-4:30 PM ET. Save the date and be on the lookout for more information about the February Resource Roundup Webinar soon.

Typically the 4th Wednesday of the month. To be added to listserve, email eceobesity@cdc.gov.