Classical Conferences and Meetings in 2019


SCS/AIA–Society for Classical Studies/Archaeological Institute of America
January 3–6, 2019
San Diego Marriott Marquis and Marina
San Diego, CA
Representatives: Bridget Dean, Donald Sprague, and Amelia Wallace

Presentations:
Friday, January 4
Session 10: 8:00–10:30 am
"Travesty: The Ultimate Domestication of Epic" Susanna Braund, author, A Lucan Reader: Selections from Civil War

Session 16: 10:45 am–12:45 pm
"African American Members of the Society for Classical Studies: A Census of Affiliations (1875–1938)" Michele Valerie Ronnick, introduction, William Sanders Scarborough's First Lessons in Greek : A Facsimile of the 1881 First Edition

"Opening the Gates: The American Philological Association/Society for Classical Studies 1970–2019" Ward Briggs, foreword, William Sanders Scarborough's First Lessons in Greek : A Facsimile of the 1881 First Edition

Session 26: 1:45–4:45 pm
"Teaching Beginning Greek Online" Wilfred Major, coauthor, Plato: A Transitional Reader

Sunday, January 6
Session 68: 8:00–11:00 am
"Actaeon in the Wilderness: Ovid, Christine de Pizan and Gavin Douglas" Carole Newlands, author, An Ovid Reader: Selections from Seven Works

"Ovid In and After Exile: Modern Fiction on Ovid Outside Rome" Alison Keith, author, A Latin Epic Reader: Selections from Ten Epics

Session 80: 11:45 am–1:45 pm
"Living Backwards: Roman Attitudes toward the Environment" Victoria Pagán, author, A Sallust Reader: Selections from Bellum Catilinae and Bellum Iugurthinum, and Historiae

CANE–Classical Association of New England
March 8–9, 2019
College of the Holy Cross
Worcester, MA
Representative: Donald Sprague

CAMWS–Classical Association of the Middle West and South
April 3–6, 2019
The Cornhusker at the invitation of the University of Nebraska
Lincoln, NE
Representatives: TBD

The 54th International Congress on Medieval Studies
May 9–12, 2019
Western Michigan University
Kalamazoo, MI
Representatives: Laurel Draper and Adam Velez

ACL–The American Classical League
Celebrating ACL's Centennial
72nd Annual Institute
June 27–29, 2019
Hilton Midtown
New York, NY
Representatives: TBD

NJCL–National Junior Classical League
July 26–31, 2019
North Dakota State University
Fargo, ND
Representatives: TBD

Cindy Caltagirone and Don Sprague are hard at work planning the ACL Centennial Study Tour of Rome with an optional add-on tour to Campania.

So, mark your calendar for ROME2020 in July of 2020!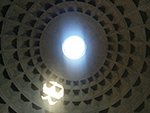 ROME202 Awaits . . .
Bolchazy-Carducci Publishers provides eTextbooks on a variety of eBook platforms. Bolchazy-Carducci textbooks are available through VitalSource,

GooglePlay

,

Chegg

, RedShelf, Adams Book, Follett,

MBSDirect Digital

, and ESCO. Each eBook platform offers a variety of tools to enhance the learning process. eBooks have the same content as our traditional books in print.
eBooks are purchased from the eBook provider. For direct links to purchase Bolchazy-Carducci eTextbooks, visit the title's product page on Bolchazy.com. Just above the product description there is a list of the eTextbook providers and a direct link to purchase the eTextbook. Some eBook providers sell directly to schools—check with your school to make these purchases.
You can read eBooks on a Mac, PC, iPhone, iPad, Android, or a variety of eReaders. Review the eBook providers specifications.
The eyeVocab software leverages human memory for distinctive affective images* presented in isolation to radically improve the speed, depth, and permanence of second language vocabulary acquisition. Images are drawn from classical art, both western and eastern, from photojournalism and historical photography, great book illustration, and other sources.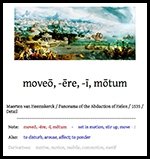 *Learn how images are chosen.

Far more than a set of electronic flashcards, the multimodal vocabulary program facilitates a significantly deeper learning and retention. Students will readily master the frequent Vergil and Caesar vocabulary for the AP® Latin Exam and thereby devote far more of their study time and energy to reading and discussing De Bello Gallico and the Aeneid.

eyeVocab programs correspond to the following B-C books.

Caesar: Selections from his Commentarii De Bello Gallico
(Mueller) (218 words)

Vergil's Aeneid: Selected Readings from Books 1, 2, 4, and 6
(Boyd) (162 words)



Vergil's Aeneid: Books I–VI


(Pharr) (292 words)

Latin for the New Millennium Level 1

(423 words)





Introductory rate for each of the AP® Latin programs is $14.95. The LNM 1 and LNM 2 introductory rate is $24.95 per program. For site licenses, contact Miles Becker at sales@eyeVocab.com.




Click on each title to learn more.
The Pompeiiana Newsletter created and edited by Bernard Barcio ran from 1974 through 2003. The newsletter offered a place for Latin students to publish comics, stories, games, and articles, and was a beloved resource for Latin teachers. In 2008, Barcio granted Bolchazy-Carducci Publishers the rights for all of the Pompeiiana Newsletter. B-C is proud to serve as curator for this archive and has made the issues available for teachers, students, and friends of the classics. Check out http://pompeiiana.blogspot.com/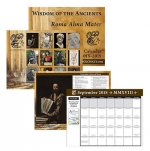 The 2018-2019 Roman Calendar is in the mail If you were not on that mailing list, the calendar is available as a download. We also have copies available at conferences. If you would like to be included in the 2019-2020 Roman Calendar mailing please submit your request.
Preview Bolchazy-Carducci Titles

Preview Bolchazy-Carducci titles before you purchase using Google Preview.
---

Downloadable Products
iPodius - Bolchazy-Carducci Publishers online shop for: audio, software, video, and a treasure trove of teacher-created materials in the Agora.
---
BCP Facebook Fan Page
Become a FAN of Bolchazy-Carducci Publishers, visit our Facebook Fan page for the latest news from BCP.
---
BCP Blog
Visit the BCPublishers Blog for B-C news and information.
---
BCPublishers on Twitter
Follow us on Twitter

---
AP® is a trademark registered and/or owned by the College Board, which was not involved in the production of, and does not endorse, this site.
These products have been developed independently from and are not endorsed by the International Baccalaureate (IB).
Please note: The Bolchazy-Carducci Publishers Webinar Program is intended to be a live interactive endeavor in which presenter and attendees ask questions, make comments, seek clarification, share examples, etc. Thus, by design and in order to protect the presenter's intellectual property, B-C does not make recordings available to non-attendees. B-C encourages those interested in a given topic or presenter to plan to attend the live webinar.



If you have suggestions for webinars, please contact Don Sprague.

---
What Equipment Do I Need for B-C Webinars?

To participate in Bolchazy-Carducci Publisher sponsored webinars you will need high-speed internet access, computer speakers/headphones, current web browser, and the link to the webinar virtual meeting space, which is provided in your webinar invitation.
Webinars Make for User-Friendly Professional Development

Participation is free. All webinars provide opportunity for participants to ask questions. Learn lots—attend as many presentations as you can. Bolchazy-Carducci Publishers provides documentation for your participation. You can share this with your supervisors. Many webinar presenters provide handouts, etc.
As I place my fingers on the keyboard for this annual holiday greeting, my mind wanders to tomorrow's festivities at Bolchazy-Carducci Publishers. As is our custom, we'll be gathering in the conference/library room festooned especially for this solstice season. It's always a special time and this year even more so as Marie Bolchazy and Allan Bolchazy will be visiting from California. They're here for the holiday luncheon and, as board chair and vice-chair respectively, for Bolchazy-Carducci Publishers' quarterly board meeting. We all look forward to hearing about their adventures out west.

As we celebrate the holidays, we'll be thinking of all the wonderful teachers and authors with whom we have the pleasure to interact. We wish you, your families, your students, and their families a happy holiday season. May your vacation days find you relaxing and pampering yourselves.

See you in the New Year!

All best wishes,

---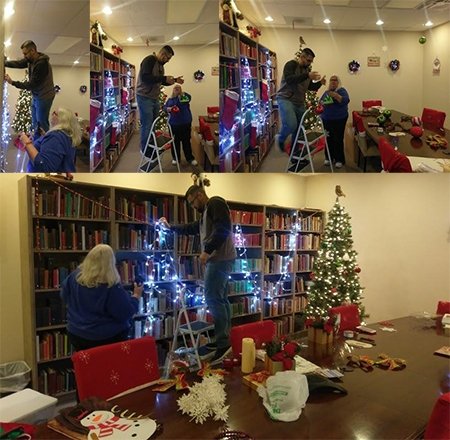 "Mrs. Claus"—Carolyn Bernardi, customer service professional/bookkeeper—and "her elf" —Rene Vela, shipping & logistics specialist—decorate the B-C conference/library room for the holidays and the annual holiday luncheon in particular.

Quizalize brings together some elements of Kahoot and some of Quizlet but with the addition of some built-in tools for differentiation that make it unique. Quizalize allows the teacher to create activities containing a variety of different types of questions. In addition to the standard multiple choice and true-false question types, the program also offers short answer, linking, sorting, picture-driven, and audio/video-based questions. Once the teacher has created the questions, she can then assign the activity to students to complete either as a homework assignment or as an in-class activity. When using the activity in class, the teacher can determine whether to have students compete against each other or against the computer. The element of competition ups the engagement level for many students. After the game finishes, there are several very helpful views of the analytics. For example, there's a "who needs help" view that shows the teacher the names of students who "need help," those who are "almost there," and those who are "strong." The teacher can click on each student's name to get a deeper look at how they did. There's also an option to add follow-up activities for students to work on that differ based on how the students performed. So, a student who gets less than 50% of the questions correct would have a different follow-up activity from the students who score above 90%.

Latin teachers enjoy a great many uses for Quizalize in our classrooms. I've always liked to provide students the opportunity to practice vocabulary in as many different ways as possible. I really like that with Quizalize, the teacher can use an image in either the answer options or in the question. This activates students' brains in a different way than text-based studying does—this is very beneficial. The larger variety of question types offered by Quizalize means activities can go well beyond vocabulary drill. The sorting question type, for example, is useful for practicing case ending and verb tense recognition. Start exploring Quizalize at www.quizalize.com!

Resources & Teaching Tips

√ Saturnalia and December Holidays





• We are happy to share this PDF from prolific author Rose Williams's "Holidays for Latin Class." Feel free to make copies for distribution in your classes.

• Feasting tips from ancient Greece just in time for the holidays.

• Holiday treats from the ancient and medieval world.

√ Archaeology Roundup
• Ring with Pontius Pilate's name raises questions discussed by the New York Times and Haaretz News.

• Excavations at Rome's cathedral, St. John Lateran, reveal layers of history

• Roman forensic science techniques compared with modern procedures.

• Mycenaean throne room reconstructed at German museum.

• VR experience offers 3-D reconstruction of 7,000 Roman buildings.

• Ever wonder about those dormice served at Trimalchio's dinner party?

√ Classics in the News

• Eight things the average reader might not know about the Romans.

• The National Museum in Damascus, closed due to civil war, reopens.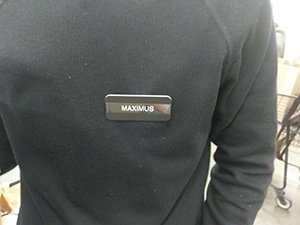 The bagger at Mariano's, a local grocery store, graciously allowed a photograph of his name tag. Additionally, Maximus offered that his father had named him for the character in the movie Gladiator.

---

Wikipedia tells us: Air Nostrum, legally incorporated as Air Nostrum, Líneas Aéreas del Mediterráneo, S.A., is a Spanish regional airline based in Valencia. Air Nostrum is an independent carrier that operates as a franchisee of Iberia as Iberia Regional and an affiliate member of the Oneworld airline alliance. Note noun/adjective agreement.

---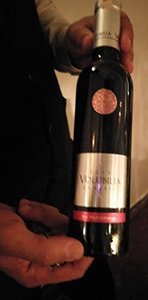 The Roman city of Volubilis, in what was the Roman province of Mauretania, is evoked in the nearby wine estate's Volubilia wines.

---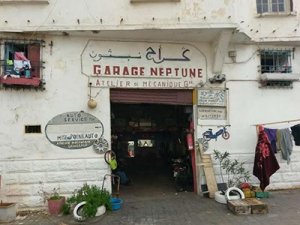 Next door to Rick's American Café near the coastline in Casablanca stands this nautical reminder.

eLitterae Subscribers Special Discount

Special 40% Discount

Contributor: Cynthia Kaldis
128 pages, ISBN: 978-0-86516-242-6

$25.00

$15.00

Conducted by: Clayton Lein
CD with 1 Music Selections, ISBN: 978-0-86516-706-3

$25.00

$15.00
This offer is valid for up to five (5) copies per title, prepaid, no returns.
Discount is not available to distributors.
This offer expires 01/15/19.
Enter coupon code
eLit1218
on the payment page.
The special offer pricing will be charged at checkout.
(Please note that there will be no adjustments on previous purchases.
Offer is nontransferable and subject to change without notice.
Only valid on products published by Bolchazy-Carducci Publishers, Inc.)
Webinar Registration

Bolchazy-Carducci Publishers professional development webinars are offered on Tuesday evenings 6:00-7:00 p.m. Eastern Time (5:00-6:00 p.m. Central Time). Webinar participants will receive a certificate of participation for professional development credit.

Postponed: to be rescheduled after the holidays.
Caesar: Man of Letters

Presenter: Debra L. Nousek, Associate Professor, The University of Western Ontario



Professor Nousek is a Caesar devotee who has extensively researched, presented on, and written about him. Her most recent delineated below focuses on Caesar as author. This webinar will be a great learning experience for all teachers of Caesar and especially those who shepherd their students through the AP Latin curriculum.





Debra L. Nousek is associate professor at The University of Western Ontario in Canada where she served as Director of the Graduate Program in the Classics. She earned a BA at the University of Alberta, an MA at the University of California at Santa Barbara, and a PhD from Rutgers University.

---
For second semester schedule, check back in
mid-January or the January issue of eLitterae.

National Greek Exam

deadline: January 19, 2019
regular* administration: February 25–March 3, 2019

About the National Mythology Exam

deadline: January 20, 2019
administration: February 18–March 1, 2019

National Latin Exam

deadline: January 22, 2019
regular* administration: March 11–15, 2019

National Roman Civilization Exam

deadline: February 2, 2019
administration: February 7–March 9, 2019

National Latin Vocabulary

deadline: February 2, 2019+
administration: February 7–March 9, 2019+

The Exploratory Latin Exam - ELE

deadline: March 1, 2019
administration: October 1, 2018–April 1, 2019

Bernice L. Fox Classics Writing Contest

deadline: March 15, 2019 postmark

*Check online for early administration dates.
+Based on 2018 dates.