FREE Computer Science Fundamentals for Elementary Teachers: Workshops in 3 North Country Locations!
Did you know that in June of 2018 a bill passed in New Hampshire that requires computer science as a core content area in grades K-12? New to teaching computer science? No worries! Try a CS Fundamentals course and learn CS ahead of your students!


NCES and WMSI worked with the Code.org Regional Partner, the UNH STEM Teachers Collaborative, to bring the one-day Computer Science Fundamentals workshop to three sites in the North Country.



Littleton location: WMSI's new site, 23 Ammoonusuc Street.
Instructor: Susan Leifer
Date/time: Monday, February 25, 2018, 8:30 to 3:30 (lunch provided)
Cost: FREE
Registration deadline: January 16th.
Register: Littleton/Feb 25 registration

Lancaster location: Lancaster School, 35 Ice Pond Road.
Instructor: Susan Leifer
Date/time: Tuesday, February 26, 2018, 8:30 to 3:30 (lunch provided)
Cost: FREE
Registration deadline: January 16th.
Register: Lancaster/Feb 26 registration

Gorham location: NCES, 300 Gorham Hill Road.
Instructor: Heather Drolet
Date/time: Saturday, March 16, 2018, 9:00 to 4:00 (lunch provided)
Cost: FREE
Registration deadline: Feb 13th.
Register: Gorham/March 16 registration



Learn more

about CS Fundamentals and the courses you can use in your classroom for FREE.



in partnership with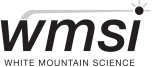 ---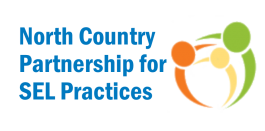 The North Country Partnership for SEL Practices convened a regional meeting on Wednesday, December 19, 2018 at the Town & Country Resort. The session provided an overview of the partnership and highlight some of the work North Country schools are engaging with on SEL practices. A mix of educators, specialists, administrators, and various family-serving organizations participated.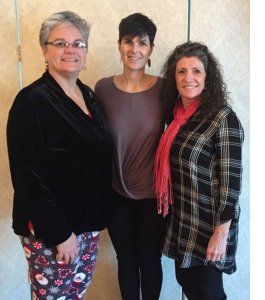 Showcasing SEL work in schools included presentations by:

Kate Moore and Anne-Marie Gagne, Brown School: Everyday SEL, POP charts, and movement techniques in the early grades.
Kerry Sheehan, Lancaster School: Changing mindset in middle school.
Kelly Dussault, SAU 36: Developing a culture of readiness through exploration
Shelli Roberts, Bethlehem Elementary: Common language and support activities, student support center, and Zones of Regulation classroom strategies.
Resources and more information about the partnership can be found at:



Photo: Mollie White, Executive Manager of the Coos Coalition for Young Children & Families,

Kate Moore, Grade 2 Teacher at Brown School, and

Anne-Marie Gagne, SEL Interventionist at Brown School. Kate and Anne-Marie are certified Mindful Practice SEL Trainers.




---
Films Available for Streaming to NH Schools & Educators

The Bureau of Student Wellness at the NH Department of Education has a lending library of films (and books) to support school efforts to learn more about the whole-child health and wellness.

Use of the lending library films is free, provided that viewers are not charged an admission fee of any kind to see the movie. Individuals, organizations, and districts who would like to show a film are asked to share the information requested in this form. This helps the Bureau of Student Wellness collect data and feedback about which communities are hosting showings and how many people have seen the films.

Each film comes with a copy of its discussion guide to help a facilitator continue the conversation after the showing.

Additional information can be found here.

Requests for additions to the lending library can be made to ellen.desmond@doe.nh.gov.


---
Apply for a Empower Coos Youth Grant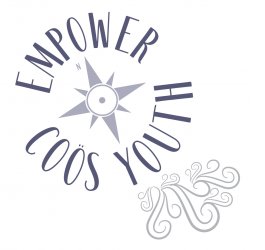 This competitive grant program supports specific projects, operating expenses, planning, evaluation and technical assistance for programs that benefit benefit Coös County, NH and Essex County, VT and surrounding communities in New Hampshire and Vermont. This grant program awards support of $10,000 or less to eligible organizations.

The priorities of this grant fund were developed by high school students in the region.





The Empower Coös Youth responsive grant program is competitive. Successful applicants must demonstrate that:

Initiatives and programs have engaged youth (ages 22 and under) in the design, implementation, and decision making process of the organization or project.
Programs and organizational leadership is focused on increasing participation for groups and individuals that face barriers to access.
Learn more

The deadline to apply is January 17, 2019.

---
Middle and High School Film & Writing Contest on Mental Health Issues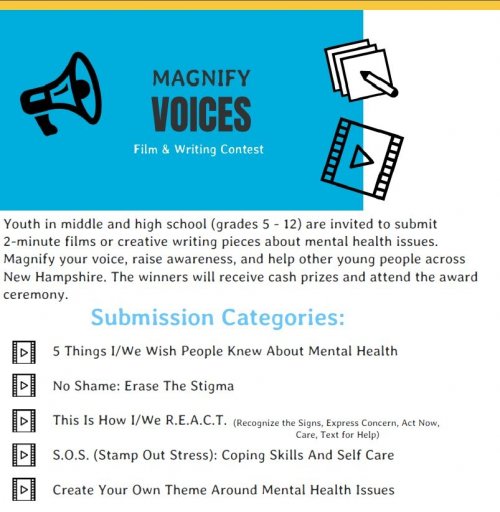 ---
Learn more or contact Dellie Champagne, Community Engagement Coordinator at the Children's Behavioral Health Collaborative at dchampagne@new-futures.org for more information.

---

Save the dates! April 5th for students and April 6th for parents, educators, and the community. Four students from every high school in NH will be invited to participate along with a counselor or teacher for Friday's event. The summit will include a film and writing festival.

More information will be available soon at https://www.dhyouthsummit.com/.

---
TRRE Accepting Applications for Cohort 3
The Teacher Residency for Rural Education (TRRE) is a 15-month program for people who desire to become elementary, secondary math or science teachers for students in rural, high-need schools in NH. Live, learn, volunteer and teach in TRRE partner community schools. Put down roots in NH and launch your legacy in teaching!

TRRE is an innovative teacher preparation program including graduate coursework, a community internship, and a full year residency in a rural school with a mentor teacher.
Residents complete an M.Ed. and teacher certification in exchange for three years teaching in rural NH. UNH provides professional development and mentor support during the first two years of teaching (induction.)

Certification areas

Elementary (K-6)
Elementary education and middle school math or science (K-8)
Secondary education in math (7-12)
Secondary education in science (7-12)Secondary sciences - select one of the following:


Life Sciences - Biology
Chemistry
Physics
Earth Science
Eligibility

Earned bachelor's degree prior to beginning the TRRE program
Minimum undergraduate 3.0 GPA
Undergraduate major (or substantial course work) in either science or mathematics for secondary certification pathways
Seeking initial teacher certification
Passed Praxis Core
U.S. Citizenship or Permanent Residency Status

Apply Now!
More information on TRRE


---


Supporting North Country schools in planning for comprehensive and strategic implementation of computer science in grades K through 12.



---

Coos Adult Learner Services offers small group instruction in basic reading, writing, math, English for English Language Learners, and preparation for the HiSet exam.

Services available in Berlin, Colebrook, and Lancaster locations. The program serves all of Coos County.

Volunteer tutoring opportunities as well.

Call 603-752-1927 to get started.




---




Feeling Overwhelmed?



Many school insurance carriers offer free employee assistance programs, even for those not participating in health coverage.



HealthTrust Schools
LifeResources Employee Assistance Program, call 1-603-769-8463.





NH Interlocal Trust Schools
Employee Assistance Program (EAP), call 1-855-853-1528..





SchoolCare Schools
Strength & Resilience Program, call 1-800-809-9598 to get started.



Contact your Human Resource department for details.




---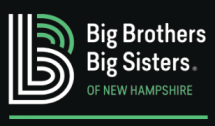 BBBS of NH is actively recruiting for "Bigs" and "Littles" in the North Country. Site-based programs are in the works for Groveton, Whitefield, and Lancaster areas. There is potential for other communities. Contact Dan Peel at dpeel@bbbsnh.org or visit https://www.bbbsnh.org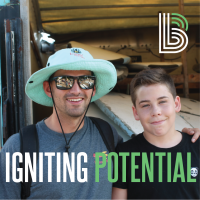 ---


The Amazon Future Engineer program initiative seeks to dramatically expand access to high caliber preparatory courses, curricular resources, and programs for schools and districts to help prepare and propel high school students forward in their pursuit of AP Computer Science education.

With a special focus on students in lower-income communities and in states that have made computer science education a clear priority, the Amazon Future Engineer sponsorship opportunities are available for schools offering AP Computer Science for the first time.

Learn more.




---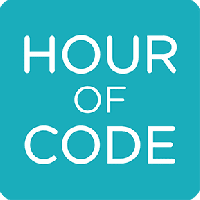 The Hour of Code is a global movement reaching tens of millions of students in 180+ countries. Anyone, anywhere can organize an Hour of Code event. One-hour tutorials are available. No experience needed. Ages 4 to 104.



---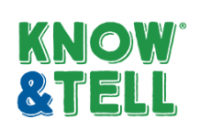 Protecting children is all of our responsibility. The Granite State Children's Alliance, New Hampshire's network of Child Advocacy Centers, served 2,359 child victims of abuse last year. But with only 10% of victims reporting, we know there are 21,231 child victims still waiting for help. Know & Tell is a new public responsibility movement to educate Granite Staters to KNOW the signs of abuse and TELL responsible authorities.



---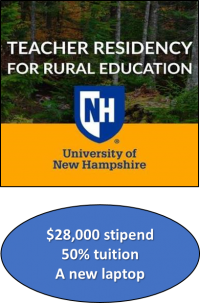 ---
NCES Online Professional Development L

ibra

ry & Educational Student Texts

Want to enhance your ebook collection? Check out the hundreds of educational ebooks available to NCES member schools:


---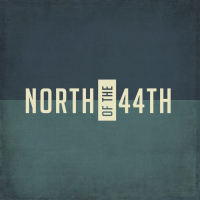 ---
School Resources About Military Families



There are many resources available to school personnel who are working with military connected families including the NH National Guard. Visit the Clearinghouse for Military Family Readiness at Penn State's Applied Science Research Center for more information.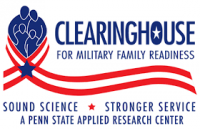 New Hampshire schools with questions should contact the Portsmouth Naval Shipyard School Liaison Officer, Kristen Ferullo, for more information at kristen.ferullo@navy.mil or (207) 318-1730. Learn more.




---
Support NCES with a tax deductible donation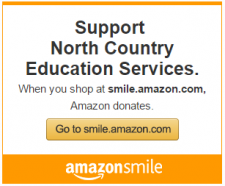 Contact Information
North Country Education Services
300 Gorham Hill Road
Gorham, NH 03581
ncedservices.org
603-466-5437
nces@ncedservices.org
NCES is an equal opportunity employer and provider.