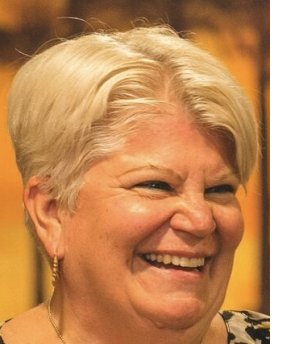 Dear Friends,
The January Eclipses were quite intense for all, including the weather, it was certainly a shift point that got our attention. Now that we are on the other side we can witness the changes unfolding inside and out for the next six months. Be gentle and strong in your movements. As we let go of fear of the unknown, we find new pathways open as we walk. Enjoy the journey into higher consciousness.

The focus of Be The Medicine is always taking the high road to life and healing and staying awake to how we can lead our own life with wisdom and grace and transform and transmute the challenges into solutions.. Allowing all the experiences and emotions, we can learn how to navigate through them, to discover and live the highest possibilities, truth and love.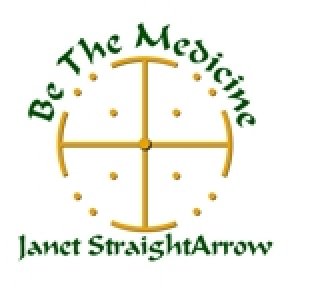 Classes below are exciting foundations and growth experiences for all. Each class offers you a high level of energy, experiences, tools, and teaching to move you ahead from where you are. If you are ready for the 5th dimension, take Soul Shamanism.

Be Your Own Guru and ongoing classes in healing and Shamanism will begin in Spring along with Medical Intuition. These classes are an excellent preparation.

This past year has been so deep in preparation and writing to offer a larger audience and even more direct path. Online classes and more are in the works. We are the change. We are the Medicine. I love assisting people to discover the most direct path for them.

Reach out with questions there are so many opportunities within each class and session. Make a private appointment. 973-647-2500 leave a message for a call back if I do not answer. Email Janet

Happy New Beginnings for All, Janet StraightArrow
Be The Medicine, Live the Power of You! Website for more.

Let's Keep Climbing the Ladder Together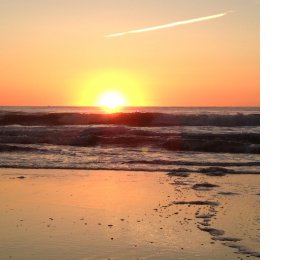 Another Day, Another Chance to Live an Amazing Life. Go For It!

With all that is occurring in the world, now is the perfect time for all of us to take responsibility and find our way up and out of the challenges of our lives.

The journey of awakening consciousness never ends. Since we are alive we keep going. That is the beauty of the journey. Something in our culture tells us, we must have a goal, an end game. It's over when it's over, and our body is finished on earth.

Enjoy this precious opportunity to continually change and grow on every level. Have fun doing it, instead of making it a job. Lighten up by being sincere, instead of serious. Be curious instead of caught up in right and wrong. When you get to a stuck place call Janet to help you move through with StraightArrow precision and love. Enjoy the Journey. Blessings and Love, Janet

| | |
| --- | --- |
| Quieting the mind is a profound set of teachings and practices that takes you to your sweet calm wise center as a foundation for everything in your life. Learn to discern and wisdom from BS in your head and find your way down a clear path to you and true. This is offered individually and in the class below. | Shamanism gives us access to multidimensional realities. Having walked this path for 27 years studying with Masters of Traditions around the world, I found a neutral clear path to work in a safe protected way for everyone. Being curious and discerning is always important in exploring spiritual realities and every day realities too. These teachings, classes and practices are taught to awaken our wholeness and live in ways that heal and help, not hurt. |
Classes, Workshops and Talks

Reiki 1 Heal Self and Others 2/2-3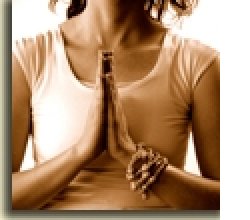 Learn this hands-on-healing art for Healers and Everyone Ready to Heal Self & Others with this Ancient practice that is now used in medical systems as well. Our focus is for you to understand and be confident in your abilities so you use it every day as you continue developing this profound ability that is organic and natural. Janet adds many stories and teachings that help you activate healing you and others from her years of learning and practicing.

Reiki empowers your own healing abilities. Reiki is used to speed up healing, relieve pain, aids sleep, relieve stress, improve circulation, aid digestion, increase energy and stamina, balance the body, clear negativity, and heighten psychic abilities, aids connection to your higher power and much more! Healing can occur on all levels- physical, emotional, mental and spiritual.

TEACHER. Janet StraightArrow, Reiki Master, Medical Intuitive, and Shaman has been teaching healing for 35 Years-Reiki for 23 years.

Reiki 1 Certificate. Recording of class and Reiki 1 book added to the class. CE Credits available. www.PayPal.me/JanetStraightArrow or checks by 1/28 sent to Janet StraightArrow, 39 Greenwood Ave, Madison, NJ 07940

$325 prepaid by 1/31/19. Bring a friend for $25. off, each.
Janet will send you an ebook when paid for you to begin learning before the class.
See more about Reiki, our Reiki Training, Testimonials, and Janet on website

Shamanic Home & Land Clearing 2/9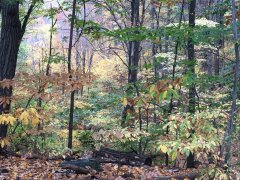 Our homes and property hold and support energy that interferes with our health both mental and physical and ability to be safe and comfortable in our homes.
Clearing property and buildings regularly is as important as our daily practices of showering and meditating and eating healthy foods.

Expand your awareness to many of the possibilities and learn how to perceive, clear and navigate our life in the world on higher levels. Shamanic and more ways to clear land and buildings.

We will work remotely together on a property of each participant and learn through this process. We will also cover in person methods of clearing as well and work on them in class.

Healers you can add this to your tool bag of offerings to clients. This is an advanced class and requires Shamanic training and practice.

$195. prepaid by 2/7. RSVP so I can plan for you. I am excited to share little know wisdom and information. Credit Cards by PayPal Direct Payment Link

Janet has been clearing land with great results for decades and helped people solve problems in their health and life through this work.

Soul Shamanism 2 - Upper Worlds 3/2-3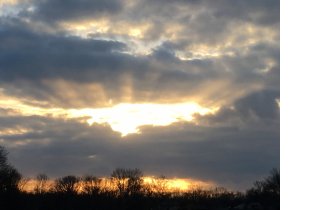 Once we are introduced to our inner space and soul there is much to learn on how to navigate this Universal space of you. This continues the foundational teachings of the practice. We make higher and deeper connections and learn to use this practice for immediate healing and learning on our life-soul journey.

In this class, you will join more fully with your timeless self and know more clearly about your life and soul purpose. We explore new dimensions of us in higher realms and find our true nature as divine with solutions always available. Health, happiness, truth, beauty, light, love, goodness, wisdom and peace are always inside.

Janet brings forth more profound teachings as you move more strongly into communion with you. Learning to move through any blocks into wholeness, allows your entire life to transform into its perfect alignment.

This is not like any Shamanic practice you may have experienced. We navigate in higher dimensional ways where Universal laws only apply. Shamanic practitioners have enjoyed the freedom of direct results in new ways that are simple, easy and clear.

$395 prepaid by 2/21/19. $425 by 3/1.
This is priced for a small class with individual attention and support.
Send a check to Janet StraightArrow, 39 Greenwood Ave, Madison, NJ 07940 or for credit cards use Pay Pal Direct Payment Link.

Clear and Quiet Mind Saturday 3/9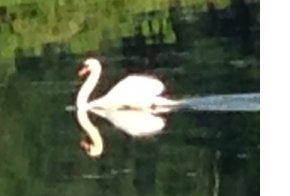 WORKSHOP FOR AWARE, PEACEFUL LIVING, MENTAL AND PHYSICAL HEALTH & MEDITATION
2.5-hour workshop with, Janet StraightArrow 1-3:30 PM @ Be The Medicine

The mind rules our life. The conscious, unconscious and subconscious all have a total affect on how we think, feel, act and run our life. How do we wake up to what is controlling us and learn to reverse this and be in control of our life?

How would you like to be more present, positive, productive, happy and healthy? The key begins in our mind. In decades of study to get to the core of what keeps us out of us and confuses our mind, Janet StraightArrow shares some simple practices and profound wisdom that will give you immediate relief and bring you into you in a confident, and comfortable way.

This life changing class will reset your entire life focus to be more present, peaceful and happy. You begin to release anxiety, fear and stress, notice, release and choose thoughts, and make clear decisions in your life from a place of greater awareness and peace.

NO MORE ANXIETY, FEAR OR DOUBT.
Ongoing internal dialogue laced with emotions, judgments and more is something we all deal with day and night. Stress, with lots of busy, challenging, and fearful thoughts, memories and opinions flow and run our lives distracting us everyday. Learn to have more time for what you want to enjoy.

The process of clearing the mind is a powerful practice that we can use anytime to move into silence, clarity and truth and find the peaceful inner core of us that is always with us. This practice goes deeper and becomes easier with everyday use, and you discover who you are beneath the roar.

We will experience meditation with ease, and you will learn strategies to live in peace. This is a primer for a developing a comfortable meditation practice as well. $150. by 3/1. $170. after. Recording included. Direct payment Link Checks to Janet StraightArrow 39 Greenwood Ave, Madison, NJ 07940

Reiki, Energy Medicine, Meditation 3/16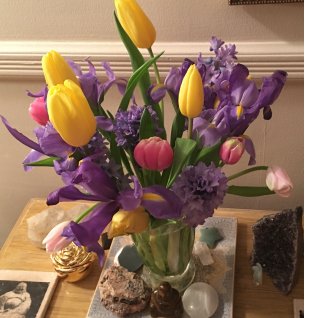 Saturday, March 16, 1:30 – 3:30 PM $35.
Studio Yoga Studio Madison, NJ 973-966-5311
www.studioyogamadison.com
This 2.5-hour Workshop will offer experiential practices and teachings.

Join us for a fun and exciting way to experience energy, healing, and life, with Master Teacher Janet StraightArrow. Reiki is a hands-on-healing art available to everyone to learn how to heal self & others.
In this introductory workshop, you will begin to learn how to work with healing energy in everything you think and do.

Experience and learn basic ways of; healing, clearing, energizing, balancing and aligning you - body, mind and spirit. We use unified methods of intention, connection, breath, movement and meditation for powerful results.

You will leave with greater understanding and tools to raise your energy, heal self, and be more present in your body and life. This is a perfect preparation for a full Reiki class and for anyone interested in energy medicine and a more vibrant life.

Reiki empowers your own healing abilities. Reiki is used to speed up healing, relieve pain, aids sleep, relieve stress, improve circulation, aid digestion, increase energy and stamina, balance the body, clear negativity, and heighten psychic abilities, aids connection to your higher power and much more! Healing can occur on all levels- physical, emotional, mental and spiritual.

Reiki is practiced in hospitals and with massage and on its own. Everyone can learn this healing art and improve your life and those you share it with.

We will offer certified Reiki classes here at Studio Yoga. Janet has been a Reiki Master Teacher since 1996 and practiced energy healing since 1992. Janet offers a comprehensive professional training for teens and up.

Shamanism Beginning the Journey 3/23-24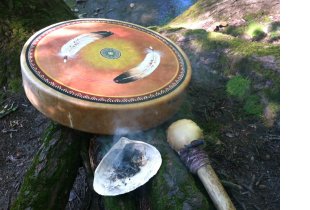 The purpose of Shamanism is to expand our awareness and ability to live in our everyday world, and for greater healing and learning. We open to our innate abilities to perceive higher levels of consciousness and reality.

Janet StraightArrow creates a safe space and deep understanding in how to let go of our fear and resistance and begin to know higher levels of us and all. In this class you will begin to access the many levels of your own consciousness and spiritual connection. Everyone can increase our awareness and psychic abilities and awaken gifts and experience and explore our own personal spiritual and healing work with self and know how magical our everyday world is. With practice you can later assist others if you choose.

• There are many levels of consciousness with us always. We learn to open to greater perception and develop our abilities that are natural to us when we learn how.
• Shamanism acknowledges and perceives the life in all things. You will begin to see, feel, hear, and know many levels of what is going on, as well as begin to know who we are.
• Meet and learn to communicate with higher level guides and guardians including your power animal.
• Shamanic Initiations open you to deeper spiritual and soul connection.
• Introducing the Medicine Wheel and how we are all one, honoring the directions, symbols, signs, nature, and creating sacred space.
• Energy workers and other healers will awaken abilities of perception far above where you are now. You will see, hear and know more about clients on many levels.
• Your life will be richer and fuller as your day to day awareness increases.
• This experiential class will be a healing and learning experience and expand your view of life.

Bring a blanket, eye covering, journal, pens, joy, curiosity and love. If you have a drum or rattle bring them too.


Option of one or two day attendance. Saturday is one day.
$295.00 prepaid by 3/12/19. $325. after till 3/21/19
One day is $150. prepaid by 3/12 or $170. after till 3/21.
$25. off each for 2 or more 2 day participants together.

Janet StraightArrow found her Shamanic calling in 1992 and has been healing, teaching and initiating students for 23 years. StraightArrow has studied and apprenticed with Shamans and Spiritual Healing Masters from many traditions around the world and brings experience and wisdom that you can use in your life immediately. Looking at the Magic of life as normal and how to create it in your life awakens possibilities you might have always desired.
One on one training and healing are also available.

www.BeTheMedicine.com 973-647-2500 Janet@Bethemedicine.com

Soul Shamanism Path to You! 4/6-7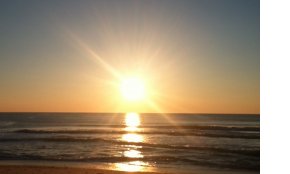 EXPERIENCE YOUR WHOLENESS AND WISDOM NOW, Are you Ready for the most life-changing weekend of your life? Meet your soul self directly and begin to live as a whole self in this body and life. Know and Love you and be your authentic self every day..

Join Janet StraightArrow as she initiates you into direct experience of your-soul-self, you will explore your inner space that directly reflects your body and entire life. You will never feel alone again. You have direct access to your inner wisdom and knowledge and learn how to deepen this every day.

This Universal, Spiritual Shamanic practice makes the mystical – practical, immediate and real in everyday life and working with others.

A great class for healers, teachers, therapists, coaches and All who are ready to Be and Live who they truly are. From this day forward you will feel empowered by the depth of your soul, self and all of your personal connections and tools received from this experiential class.

Your life purpose awakens and readies you to move forward in all areas of your life in profound, simple, clear ways. Heal yourself deeply and directly from present concerns and past hurts. Find inner peace, tranquility and knowing.

This class is an important beginning to assist you to Be The Medicine.
$395 prepaid by 3/25/19. $425. after. Priced for a small class with individual attention and support.
Send a check to Janet StraightArrow, 39 Greenwood Ave, Madison, NJ 07940 Credit cards use Pay Pal Direct Payment Link. Email or call 973-647-2500

Focused Holistic Health Talk- available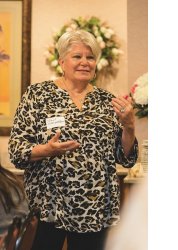 Our focus is specific for your group. This write up is for a lunch and learn at a medical group in Morris County.
BODY, MIND, EMOTIONS, SPIRIT. Join us for this inspiring and engaging talk on holistic health. In this experiential and interactive talk, we will have fun exploring new ways to look at life and health. You will learn to use simple tools to empower better health and happiness.
When we remember our body heals itself, we can begin to look at what we can do to help it along the way. Our talk today will outline and offer some things you can do immediately to support your body to align with health.
Janet will also speak about Reiki and other natural methods to heal and help your body heal itself. Questions are encouraged to focus on your concerns and interests. She has great stories from decades of living this and helping others.
Janet is not a medical doctor and does not prescribe or practice medicine. Honoring our medical journey, these teachings and practices enhance our healing process and empower our body, mind, and spirit to work together for best results.
Janet StraightArrow began her holistic journey in 1967. After years of being very sickly and in pain, her doctor told her she would not live long or well as she was following in her father's footsteps who was dying. At fifteen she decided then and there to change her life and health. Now, at sixty-six she is healthy and energetic and when anything goes awry with her body, mind, and spirit, she is on it to heal and regain health.
Janet has helped thousands of people heal from things that are unexpected and said to be impossible. She has also helped people of all ages and challenges to reclaim and align with health. People come with many things from anxiety to cancer, chronic pain to recovery from surgery and more. In all of her sessions and classes she loves awakening individual people's connection to their own body-mind in ways to listen and know what to do next.
Janet has studied many holistic methods with over 100 teacher, many for years at a time. She holds a degree in nutrition, and psychology, and has been helping people heal and help themselves for over 40 years. Be The Medicine is her body of work that she gathered and refined from traditions around the world. website
Janet is is a Reiki Master, Shaman, Medical Intuitive, Healer, Teacher, and Sage and loves to inspire and educate people of all ages. Enjoy her daily teachings and inspiration on Facebook Page and explore her additional pages as well.