Classical Conferences and Meetings in 2019

The 54th International Congress on Medieval Studies

May 9–12, 2019
Western Michigan University
Kalamazoo, MI
Representatives: Laurel Draper and Adam Velez

ACL–The American Classical League
Celebrating ACL's Centennial
72nd Annual Institute
June 27–29, 2019
Hilton Midtown
New York, NY
Representatives: TBD
Presentations:
Friday, June 28
8:30 am – 10:00 am
"Quomod discamus? Tunc et Nunc: A Century of Teaching Latin"
Panelist: Kenneth Kitchell, author, The Other Middle Ages, They Said It First: The Wisdom of the Ancient Greeks and Romans; coauthor, Catullus: A LEGAMUS Transitional Reader

"Teaching Greek Better in the 21st Century"
Wilfred Major, coauthor, Plato: A Transitional Reader

2:00 pm – 3:00 pm
Poster Session: "Rome Through the Ages: A Tour of Rome and Surroundings Celebrating the American Classical League's Centennial"
Cindy Caltagirone, Chair ACL Technology Committee, and Don Sprague, editor, Bolchazy-Carducci Publishers

4:00 pm – 5:00 pm
"The Contemporary City Dionysia, Past, Present, and Future"
Marianthe Colakis, author, Lectiones Memorabiles: Volume I: Selections from Catullus, Cicero, Livy, Ovid, Propertius, Tibullus, and Vergil; coauthor, Classical Mythology & More: A Reader Workbook, Excelability in Advanced Latin: A Workbook for Students, and Lectiones Memorabiles: Volume III: Selections from Caesar, Catullus, Horace, Livy, Ovid, and Vergil

Friday, June 28
9:00 am – 10:00 am
"Let's Diversity: Using African American Fiction to Bring Black Classicism into Your Classroom"
Michele Valerie Ronnick, William Scarborough Sanders' First Lessons in Greek: A Facsimile of the 1881 First Edition

"ACL's The Classical Outlook: The Early Years in New York City"
Ronnie Ancona, Writing Passion: A Catullus Reader, Writing Passion Plus: A Catullus Reader Supplement, Horace: Selected Odes and Satire 1.9; coauthor: Horace: A LEGAMUS Transitional Reader and A Horace Workbook

Saturday, June 29
12:00 pm –1:00 pm
Roundtable Discussions
"Local and Global Perspectives on Latin/Classics Teacher Training"
Ronnie Ancona, see above, and Arlene Holmes-Henderson, University of Oxford

"Extra Muros: Teaching Latin Online"
Ed DeHoratius, author, Follow Your Fates Series: The Exile of Aeneas, The Journey of Odysseus, and The Wrath of Achilles

NJCL–National Junior Classical League
July 26–31, 2019 (book exhibit July 27–30)
North Dakota State University
Fargo, ND
Representatives: Donald Sprague and Amelia Wallace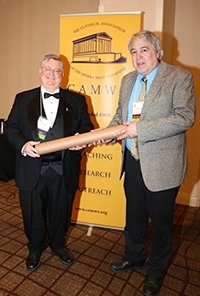 CAMWS Orator David White and ovatio recipient Mark Haynes. Photo courtesy of Kristin Lord.

Bolchazy-Carducci Publishers salutes Mark Haynes, on being honored by the Classical Association of the Middle West and South with a 2019 ovatio. Haynes is coauthor, with Judith Lynn Sebesta, of Cicero: A LEGAMUS Transitional Reader and its Teacher's Guide.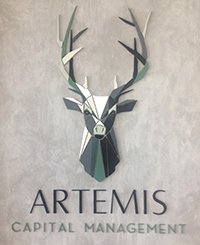 Would you trust your money to the goddess of the hunt?

---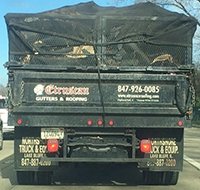 An anachronism in the name of the Etruscans!
Thanks to Amelia Wallace, whose keen eye caught these tidbits.

---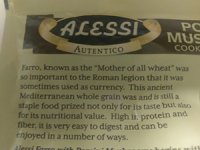 What better endorsement than that of the Roman legions.

---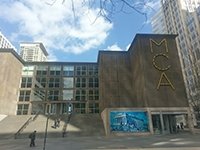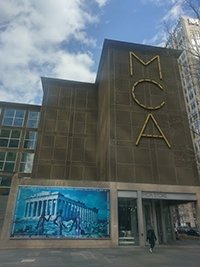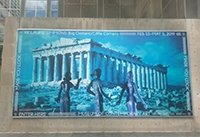 The front entrance of Chicago's Museum of Contemporary Art pays tribute to the propylaea or gateway of the Acropolis in Athens. Through May 5, the MCA hosts the show "Laurie Simmons: Big Camera/Little Camera." The show features the Parthenon image.

---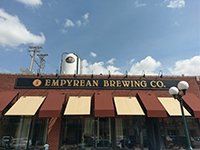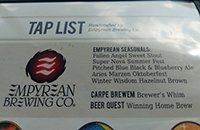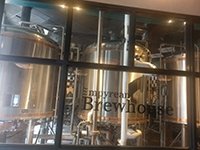 Classical allusions at Lincoln, Nebraska's Empyrean Brewing. Carpe Brewem!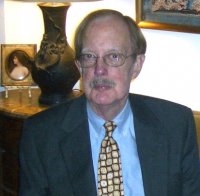 Jerry Clack (1926–2019)


Photo courtesy of Wikimedia Commons.



Bolchazy-Carducci Publishers joins the Classics Community in mourning the loss of Jerry Clack, emeritus professor at Duquesne University. Bolchazy-Carducci published Clack's three books on Greek poetry: Meleager: The Poems (1992), Asclepiades of Samos and Leonidas of Tarentum: The Poems (1999), and Antipater of Sidon and Dioscorides: The Poems (2001). Clack was a stalwart member of the Classical Association of the Atlantic States. He served as president, executive director, and fifteen years as editor of the Classical World. His impact on the organization was profound and is evoked each year since 2010 with the Jerry Clack Lecture. The Pittsburgh Post-Gazette published this beautiful tribute to Dr. Clack.

Free Webinar: Lumina for LNM
Lumina for LNM Interactive and Self-grading
May 7, 2019: 5:00–6:00 Central Time (6:00–7:00 Eastern Time)
Come join Dr. Bridget Dean as she gives a tour of Bolchazy-Carducci's forthcoming interactive program for Latin for the New Millennium. Dr. Dean will demonstrate the various features of the program including how it paces with each chapter in LNM, the vocabulary and derivative reviews, the extra homework/quiz options, and the gradebook as it appears in B-C's Learning Management System, Moodle. Jody Cull, Production and eLearning Manager at B-C, will also be available to address questions of how Lumina will integrate with your school's technology. This webinar is open to anyone, whether or not you currently use Latin for the New Millennium.
For a brief overview of the program, check out this video.
Webinar Registration Form
---
Bolchazy-Carducci Publishers is pleased to provide complimentary webinars on a variety of subjects, especially pedagogical, of interest to classicists. Some webinars are geared to the Latin for the New Millennium program and to topics generated by the AP* Latin curriculum.





Read eLitterae or follow us on Facebook and Twitter for the announcement of our next series of free webinars.




Please note: The Bolchazy-Carducci Publishers Webinar Program is intended to be a live interactive endeavor in which presenter and attendees ask questions, make comments, seek clarification, share examples, etc. Thus, by design and in order to protect the presenter's intellectual property, B-C does not make recordings available to non-attendees. B-C encourages those interested in a given topic or presenter to plan to attend the live webinar.



If you have suggestions for webinars, please contact Don Sprague.

---
What Equipment Do I Need for B-C Webinars?
To participate in Bolchazy-Carducci Publisher sponsored webinars you will need high-speed internet access, computer speakers/headphones, current web browser, and the link to the webinar virtual meeting space, which is provided in your webinar invitation.
Webinars Make for User-Friendly Professional Development

Participation is free. All webinars provide opportunity for participants to ask questions. Learn lots—attend as many presentations as you can. Bolchazy-Carducci Publishers provides documentation for your participation. You can share this with your supervisors. Many webinar presenters provide handouts, etc.
Sportula Online Conference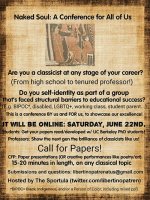 The group of classicists who have formed The Sportula as a means of assisting students with microgrants will be sponsoring an online conference dedicated to inclusivity. Note that abstracts for presentations are due March 15.

Follow The Sportula on twitter.

Cindy Caltagirone and Don Sprague are hard at work planning the ACL Centennial Study Tour of Rome with an optional add-on tour to Campania.

So, mark your calendar for ROME2020ACL100 in July of 2020!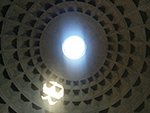 ROME2020 Awaits . . .
Bolchazy-Carducci Publishers provides eTextbooks on a variety of eBook platforms. Bolchazy-Carducci textbooks are available through VitalSource,

GooglePlay

,

Chegg

, RedShelf, Adams Book, Follett,

MBSDirect Digital

, and ESCO. Each eBook platform offers a variety of tools to enhance the learning process. eBooks have the same content as our traditional books in print.
You can read eBooks on a Mac, PC, iPhone, iPad, Android, or a variety of eReaders. Review the eBook providers specifications.
The eyeVocab software leverages human memory for distinctive affective images* presented in isolation to radically improve the speed, depth, and permanence of second language vocabulary acquisition. Images are drawn from classical art, both western and eastern, from photojournalism and historical photography, great book illustration, and other sources.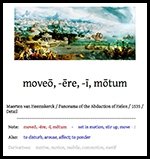 *Learn how images are chosen.

Far more than a set of electronic flashcards, the multimodal vocabulary program facilitates a significantly deeper learning and retention. Students will readily master the frequent Vergil and Caesar vocabulary for the AP® Latin Exam and thereby devote far more of their study time and energy to reading and discussing De Bello Gallico and the Aeneid.

eyeVocab programs correspond to the following B-C books.

Caesar: Selections from his Commentarii De Bello Gallico
(Mueller) (218 words)

Vergil's Aeneid: Selected Readings from Books 1, 2, 4, and 6
(Boyd) (162 words)



Vergil's Aeneid: Books I–VI


(Pharr) (292 words)

Latin for the New Millennium Level 1

(423 words)





Introductory rate for each of the AP® Latin programs is $14.95. The LNM 1 and LNM 2 introductory rate is $24.95 per program. For site licenses, contact Miles Becker at sales@eyeVocab.com.




Click on each title to learn more.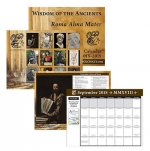 The 2018-2019 Roman Calendar has been mailed. If you were not on that mailing list, the calendar is available as a download. We also have copies available at conferences. If you would like to be included in the 2019-2020 Roman Calendar mailing please submit your request.
Preview Bolchazy-Carducci Titles

Preview Bolchazy-Carducci titles before you purchase using Google Preview.
---

Downloadable Products
iPodius - Bolchazy-Carducci Publishers online shop for: audio, software, video, and a treasure trove of teacher-created materials in the Agora.
---
BCP Facebook Fan Page
Become a FAN of Bolchazy-Carducci Publishers, visit our Facebook Fan page for the latest news from BCP.
---
BCP Blog
Visit the BCPublishers Blog for B-C news and information.
---
BCPublishers on Twitter
Follow us on Twitter

---
AP® is a trademark registered and/or owned by the College Board, which was not involved in the production of, and does not endorse, this site.
These products have been developed independently from and are not endorsed by the International Baccalaureate (IB).



Happy Birthday Week, Rome!





Best wishes to AP Latin teachers and students as they review for the big exam! May hard work meet with great success on the exam.





It has been my distinct pleasure over the years through my work as an editor and a conference exhibitor to work with and come to know some wonderful people. The recent CAMWS meeting brought that home in a special way. The highlight of the annual banquet is declamation of the year's ovationes for CAMWS members who have given significant service to CAMWS and the classics profession. It was great to see dear friend Linda Montross, one of the condentes matres of the National Latin Exam, so honored. What a special tribute as she steps down after forty years of service! Then, as I was listening to the second ovatio, I heard non procul hac civitate and rightly suspected that Creighton Prep's Mark Haynes was being honored. Both Jesuit school Latin teachers, Mark and I became friends over the course of his coauthoring Cicero: A LEGAMUS Transitional Reader. A delight to bask in Linda and Mark being celebrated!





As you think about the 2019–2020 school year, don't hesitate to reach out with questions about our texts or to order exam copies.





Enjoy spring—it seems it might finally be here.





Laurel Draper and Adam Velez look forward to their annual pilgrimage to Western Michigan University and greeting folks at the International Congress on Medieval Studies in May. If you're heading to Kalamazoo too, be sure to stop by the B-C exhibit and say hello.



All best,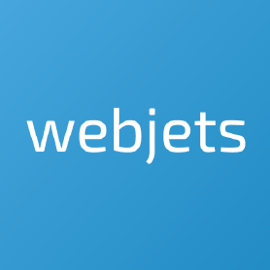 Webjets is a virtual desktop—a space where you can gather all kinds of digital resources—and group them, connect them, and add to them. It is akin to an enormous whiteboard or a classroom bulletin board but resides online rather than in your physical classroom. The user simply creates a board in Webjets and then uses the board as a space to gather and visually display digital resources by creating cards for each different resource. A card can be a typed note, a YouTube video, a website, an image, a PDF, a Google Doc, a file from your computer, and more. The user can drag a file, image, or link into the board space and Webjets will automatically create the card. The cards can be connected to each other using a mind mapping tool or organized into lists, tables, and folders. Entire boards or individual cards can be shared—so collaboration is a snap. A finished board can be published so that it is viewable via a link.


For teachers, Webjets offers a single location for organizing instructional materials. Rather than having a PowerPoint file, several web links, and a Google Doc open, a teacher can navigate to the appropriate board in Webjets. Boards can be nested inside other boards, so a teacher can have a board for an instructional unit and then drill down into a weekly and even daily board. Webjets offers a great deal of flexibility and, in my opinion, it's a pretty fun tool to play around with.


On the student side, Webjets is a great tool for organizing research on a topic. Students find it useful to have all their materials in one place and to flexibly organize it in an intuitive manner. Students can share their boards with teachers by publishing them to generate a shareable URL.

Teachers and students are eligible for free "pro" accounts. To check it out and get started, visit
www.webjets.io
.
---
Editor's Note:
Lynne West, who pens
eLitterae'
s monthly "Tech Tip," will again offer a workshop called "Teaching with Technology" at the Taft School's Education Center in Watertown, CT. The workshop runs from July 29 to August 1 and will provide many opportunities to both learn about great tools and practice using them. For more information, visit the
website
; in the disciplines window, choose "Technology" and place a check in the F-week box.
115th Classical Association of the Middle West and South (CAMWS) Annual Meeting Report
The
University of Nebraska
at Lincoln welcomed some five hundred classicists to the annual meeting of
CAMWS
held at the Marriott
Cornhusker Hotel
in the shadow of the State Capitol Building. The capital city proved to be a delightful place with terrific restaurants and local breweries and surpassed expectations raised by the city's self-deprecatory slogan "Lincoln is better than you're thinkin'!" The UNL Classics Department, the local hosts, as is CAMWS custom, hosted presentations on Friday afternoon.
CAMWS Secretary Treasurer Tom Sienkewicz and his ever-smiling colleague Jevanie Gillen are to be lauded for their hours of preparation and their solicitous attention to attendees' needs in the course of the meeting. Monmouth College alumna and soon-to-be University of Massachusetts MAT graduate, the ubiquitous Emma Vanderpool, cheerfully assisted with audio-visual concerns and a myriad of other needs to make the conference a success.

The exhibit room was located near the registration desk and meeting rooms. The goodies for the morning and afternoon coffee breaks were strategically located at the back of the room. This required attendees to pass along the various information tables and book displays en route to noshes and libations. Bolchazy-Carducci Publishers filled five tables right by the refreshment setup. Editors Amelia Wallace and Don Sprague enjoyed meeting new attendees and catching up with old friends.

Amelia added to her CAMWS debut with a roundtable presentation on Lumina, Bolchazy-Carducci's new interactive online programs. Through Lumina, B-C is offering both guided practice to supplement
Latin for the New Millennium
and self-teaching Latin course
Artes Latinae
. Watch for more on these in upcoming issues of
eLitterae
or
sign up
for the upcoming
May 7 webinar
.
Friday evening's banquet celebrated the good work of CAMWS in multiple ways. The University of Virginia's Jenny Strauss Clay masterfully managed the program as presider. UNL's Donde Plowman, executive vice chancellor, gave a warm welcome, and CAMWS president-elect Anne Groton of St. Olaf College responded with matching warmth and enthusiasm. Baylor's David White wowed the audience with his beautiful oratory—spoken and sung—as he declaimed the ovationes for this year's three honorees. The program culminated in an engaging and informative presidential address titled "Plain Truths: Classics, Nebraska, and the Fiction of Willa Cather." President Andrew Faulkner of the University of Waterloo paid fitting tribute to Nebraska native and University of Nebraska at Lincoln alumna Willa Cather, who first fell in love with the classics as a child.

Plan to join us at CAMWS next year in Birmingham, Alabama, at the invitation of Samford University.

A Gallery of Photos from CAMWS 2019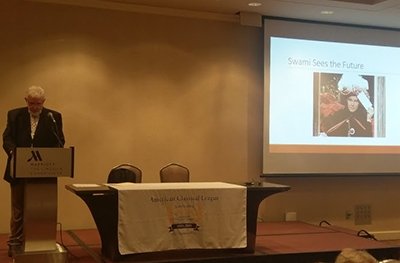 Kenneth Kitchell, University of Massachusetts at Amherst emeritus, delivers the American Classical League Centennial Lecture, "Latin Teacher Training: Does It Have a Future Tense?"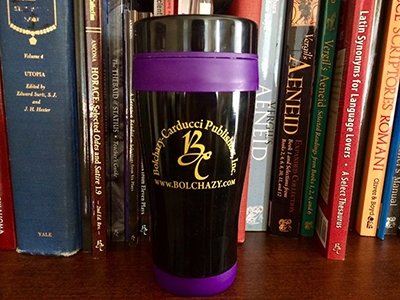 CAMWS attendees received an insulated cup as a memento from the 115th meeting.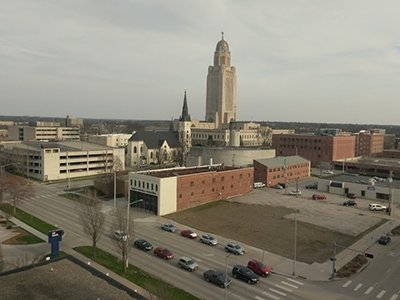 The State Capitol Building, Lincoln, Nebraska, as seen from the Cornhusker Hotel.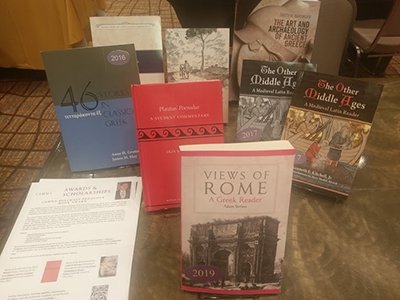 CAMWS display of Ladislaus J. Bolchazy Pedagogy Book Award winners. Congratulations to Adam Serfass, whose Views of Rome: A Greek Reader is the 2019 winner.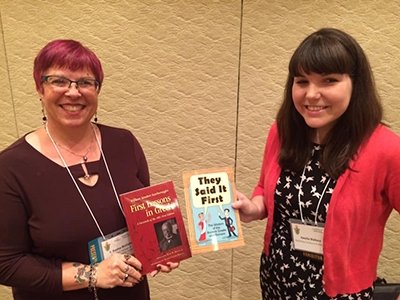 Bolchazy-Carducci book drawing winner Davina McLain of Northwestern State University of Louisiana is congratulated by editor Amelia Wallace. The two classicists are displaying two of McClain's winnings:

They Said It First and William Sanders Scarborough's First Lessons in Greek. McClain also won Lectiones Memorabiles, Volumes III and IV.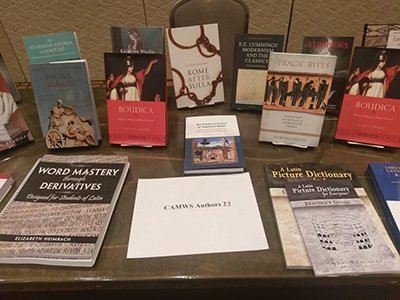 Display of CAMWS authors' recent books includes Bolchazy-Carducci titles Word Mastery by Elizabeth Heimbach and A Latin Picture Dictionary by James Chochola and Donald Sprague.
Both of these titles were nominated for the 2019 Bolchazy Pedagogy Book Award.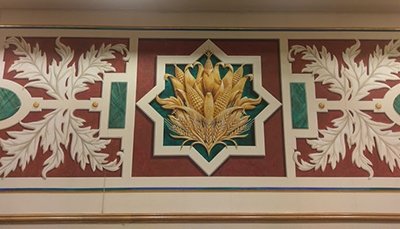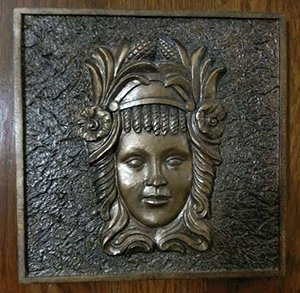 Corn . . . Cornhuskers . . . Corn Maidens. A band of decorative corn images graces the Cornhusker Hotel's ballroom. The fountain by Lincoln's historic city hall boasts four of the original Corn Maiden busts from the Cornhusker Hotel. A bronze image of the Corn Maiden on each hotel room door greets guests.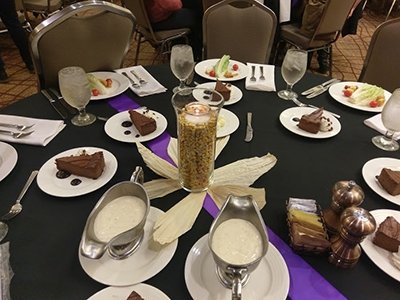 CAMWS's Jevanie Gillen devoted significant prep time to ensure that banquet centerpieces reflected the host city, Lincoln, Nebraska. Check out that corn!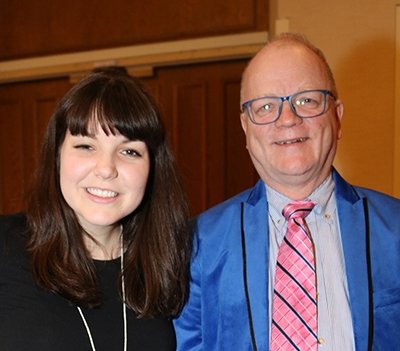 Editors Amelia Wallace and Don Sprague pose for CAMWS photographer Kristin Lord as they prepare to enter the CAMWS banquet.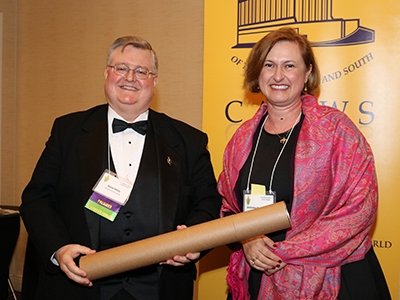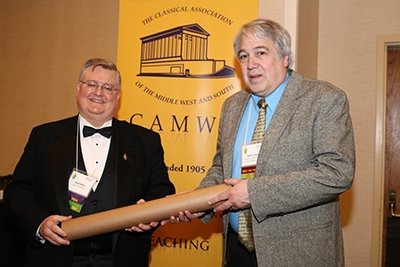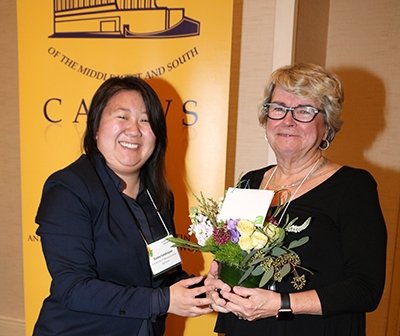 CAMWS orator David White poses with ovationes recipients Machi Karanika of the University of California at Irvine and Mark Haynes of the University of Nebraska at Omaha and Creighton Preparatory School. CAMWS volunteer Emma Vanderpool presents a congratulatory bouquet from her family to ovatio honoree Linda Sharrard Montross of the National Latin Exam. Photos courtesy of Kristin Lord.
Resources & Teaching Tips

√ AP Latin ALERT!!


Do not worry! Do not fret! Do not panic!


The College Board has made

no

changes to the exam expectations or to the AP Latin Caesar and Vergil curriculum.




What they have done is prepare a set of

suggestions

for how to approach the material and how to construct a syllabus that integrates teaching the two authors and their works. The College Board commissioned this work to assist teachers new to teaching the AP Latin curriculum and for those looking to enhance their instruction. These new materials will include an online question bank that will offer a much larger number of context and cultural questions than the exam will contain. These extra questions can serve as practice opportunities.




√ Professional Development Opportunities


• See the Editor's Note following this month's Tech Tip to learn about Lynne West's summer workshop on technology in the Latin classroom.



• Veteran teacher and AP Latin consultant, Jill Crooker is teaching three workshops for teachers of AP Latin.

√ The Sounds of Latin and Greek
• How can you use this YouTube video on Latin pronunciation?
• The passion of a lifetime helps us learn about music in ancient Greece.

√ The Roman World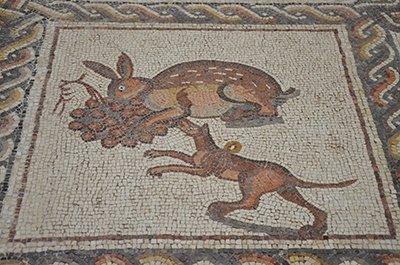 Detail of the Lod Mosaic, a rabbit eating grapes and Laconian hunting dog wearing harness— mosaic believed to belong to a large and well-appointed Roman house and is dated to about 300 CE, found in Lod, Israel. Photo courtesy of Carole Raddato and Creative Commons 2.0.

• Just in time for Easter—evidence that the Romans brought the bunny to England.

• Archeology reveals a diverse population in Roman Britain.

• How did plagues affect the Roman Empire?

• Excavations reveal victim of Vesuvius.

• Nifty visual of "All Roads Lead to Rome."

• Bolchazy-Carducci webinar presenter, historian Barry Strauss, reflects on slavery and immigration in Rome.

• Stunning statue of Roman emperor.

• Nero's Domus Transitoria to open to the public.

• Archeological find provides detail about the Battle of Actium.

• Fast food restaurant unearthed in Pompeii. Notices from the Guardian and the Smithsonian.

• What a difference a letter makes!

√ The Greek World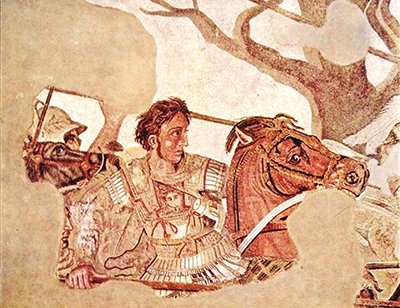 Alexander the Great—detail from the Battle of Issus mosaic housed at the Museo Nazionale in Naples. Photo courtesy of the The Yorck Project.

• The death of Alexander and the founding of Alexandria.

• Oldest intact shipwreck found in Bulgaria.

• Archeology meets literary record.

√ The Post-Antique World
• Humor in the scriptorium.

• Dialogue between Muslims and Christians revisited. A potential complement to LNM 2, Chapter 4 and Review 2: "Exploring the Muslim Influence on Spain" by Francis C. Oakley

• Who were the Scots? A potential complement to LNM 2, Chapter 1.

• Cross-cultural transmission of texts from Arabic to Irish. A potential complement to LNM 2, Chapter 4 and Review 2: "Exploring the Muslim Influence on Spain" by Francis C. Oakley.

• An astrolabe from the journeys of Vasco da Gama. A potential complement to LNM 2, Chapter 3.

√ Classics in the News
• A UNESCO treasure: Latin and Greek!

• John Malkovich to play Seneca.

• Famous students of the classics.

√ Some Insights into Learning
• A how to read poetry guide.

• What about print vs. electronic textbooks?

eLitterae Subscribers Special Discount

Special 30% Discount

Cicero: A LEGAMUS Transitional Reader

by Mark Haynes, Judith Lynn Sebesta

248 pages, ISBN 978-0-86516-656-1

$31.00

$20.00
This offer is valid for up to five (5) copies of book, prepaid, no returns.
Discount is not available to distributors.
This offer expires 05/24/19.
Enter coupon code
eLit0419
on the payment page.
The special offer pricing will be charged at checkout.
(Please note that there will be no adjustments on previous purchases.
Offer is nontransferable and subject to change without notice.)