... No not just for some ... but for everyone ..."
- Hal David/Burt Bacharach

The late Marshall Rosenberg, in his book

Non-Violent Communication: A Language of Life,

stated in the Introduction: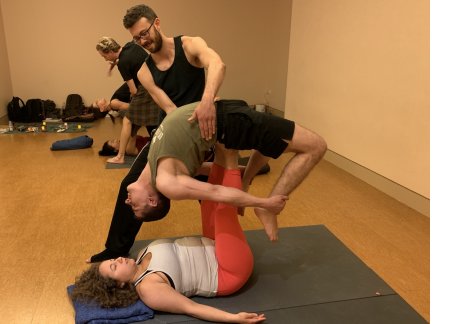 "Believing that it is our nature to enjoy giving and receiving in a compassionate manner, I have been preoccupied most of my life with two questions: What happens to disconnect us from our compassionate nature... And... what allows ... people to stay connected...?"

That is a huge statement: "it is our nature to enjoy giving and receiving in a compassionate manner."

In practical experience, the Lunar Therapeutics Yoga Immersion I just co-led in NYC Memorial Day Weekend demonstrated that statement in embodied, nurturing actions over four joyful days, with a group of souls who for the most part had never met one another before.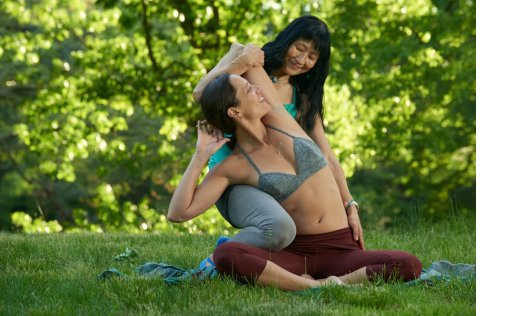 The Lunar practice is a little-known but powerful original component of the partner yoga/ acrobatics / healing arts fusion that has spread globally in its 15-year lifespan since it originated as AcroYoga in the Bay Area, California, over a decade ago.

There are many expressions of this fusion art form, and many trainings and lineages, especially now. But as much as I enjoy its athletic artistry, I keep finding that the soul of the practice I most resonate with is its power to foster communication, acceptance, understanding, and healing for human bodies, minds, and communities. That is the lunar practice. Its goal is ... well, yoga. What the world needs now.

Acro + Yoga = High Union.

Therefore I am so delighted to have shared this Lunar Immersion here, and to bring its milk and honey to more groups in the future!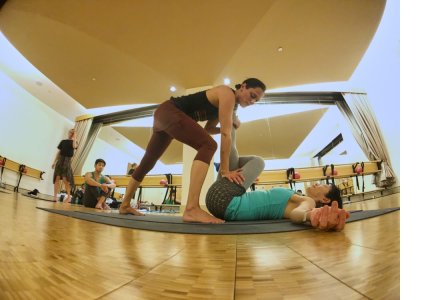 A mission of mine and my compatriot Katie's is to diversify its reach more. If Yoga is for everyone, then just as surely, restorative partner yoga is for everyone; at least, everyone who breathes, and who could use love and healing.

Watch for this annual event and other events to come!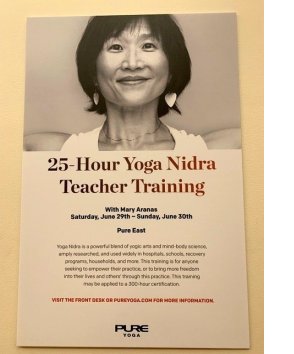 Upcoming Retreats, Festivals, Teacher Trainings:


6/7-6/9/19 ~ Wagging Tail Spring Retreat ~ Bethel, NY


~ with Ora Ramat, Wagging Tail Yoga owner & co-teacher



6/21-6/23/19 ~

Wanderlust Festival, VT ~ assist K.Capano, Thai

6/29-6/30/19 ~ Yoga Nidra Teacher Training ~ Pure Yoga, NYC

8/9-8/11/19 ~ New York AcroFest, Chelsea Piers, NYC


~ $10 code: mary10; teaching Thai Massage Sunday w/Laura Ziegler

9/13-9/15/19 ~

Wagging Tail Yoga Fall Retreat #14

~ Bethel, NY


~ with Ora Ramat, Wagging Tail Yoga owner & co-teacher

1/4-1/11/20 ~ reSOULutions retreat ~ location TBA!



Weekly Classes:



Pure Yoga New York:
Pure Yoga Eastside - 203 E.86th St. (3rd Ave)


Monday: 10:30-12:00 Slow Flow Meditation


Monday: 12:30-1:30 Yoga Nidra Meditation


Monday subs: 6:15-7:15PM Vinyasa L1/2 (7/22, 7/29, 8/5, 9/9)




Tuesday: 12:30-1:30 Restorative


Thursday: 12:30-1:30 Restorative
Pure Yoga Westside - 204 W.77th St. (Amsterdam Ave)


Friday: 12:15-1:30 Flow & Restore L1



NEW: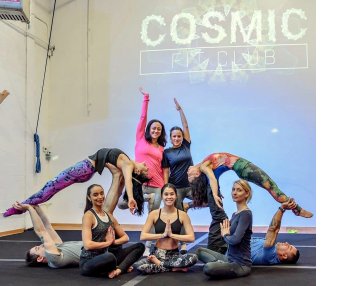 Cosmic Fit Club

~


AcroYoga Therapeutics:



Friday: 6-7:30PM Cosmic Thai & Fly




Restorative Partner Yoga Therapeutics




Open Level -

Cosmic Fit Club


Court Square, L.I.C.


No partner needed! Beginners welcome.
First Cosmic class free!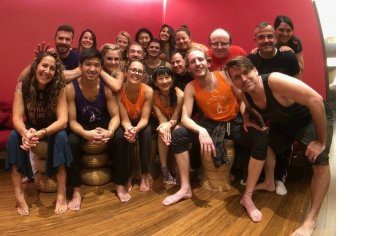 Most of the Fly and Thai photos this issue are by Derek Pashupa Goodwin. Check out his great yoga photos on his site! Thanks also to: Cosmic Fit Club photographer Ramon Frias, Pure Yoga, NY Acrofest, Boundless Yoga and Brian Davis, our stellar Immersion team Jake West and Loc Le, our Lunar Immersion students, and Xinalani Retreats.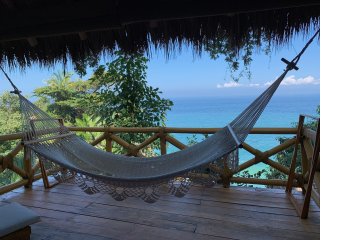 I value your privacy and do not share email lists. Feel free any time to Reply, Forward, Subscribe, or Unsubscribe.

May you have a beautiful month of June!

I will be leading a weekend Catskills retreat, assisting at Wanderlust Festival in Vermont, and leading my Yoga Nidra Teacher Training weekend, all in June! See you soon ~ in a studio or on a mountaintop!

Shanti ~ Peace!

OMMMMMMMary
Non-Violent Communication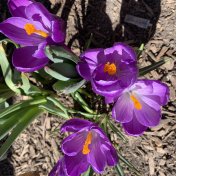 The study of NVC (Non-Violent Communication) also known in some regions as Compassionate Communication, is growing worldwide,

New York has a strong educational network (see www.NYCNVC.com) founded by Thom Bond, student and colleague of the late Marshall Rosenberg.

Their free monthly intro workshops and their ongoing studies are exciting, fascinating, and highly worthwhile.

Modern science and ancient art meet in this practice that rests and refreshes your body and mind, Yoga Nidra is, among other things: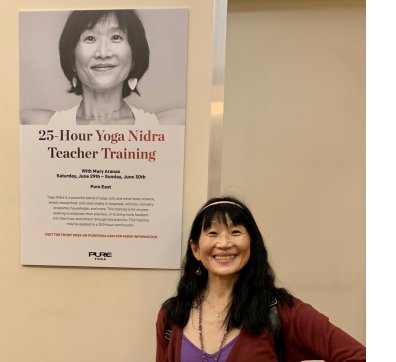 A Meditation gateway for those who find sitting challenging;

A More accessible meditation than seated for many;

A Deeper meditation than sitting for many others.

Meet your mind in the place where mystics, poets, hypnotists, artists, inventors, and visionaries have found themselves.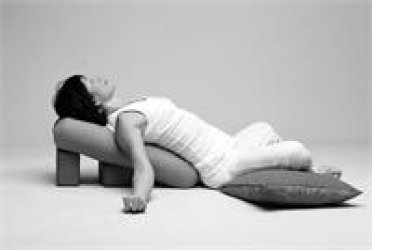 Learn the science and skills to quiet the body and mind, and help others do the same.

No prior teaching or meditation experience is necessary.

Yoga Alliance Teachers will earn 25 hours CEU hours. 9-6 Sat & Sun. June 29-30, Pure Yoga East. Register here.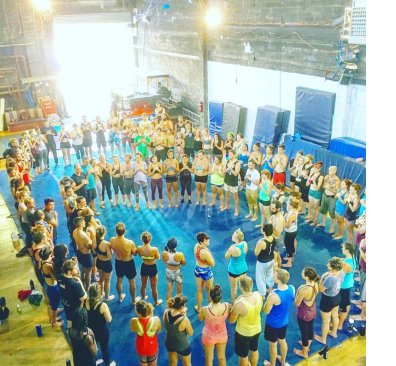 Aug 9-11, 2019 at Chelsea Piers, multiple session choices, 1 and 2-day festival passes, concluding with Sunday Jam in Central Park's Sheep Meadow!

New York AcroFest is a joyful celebration of New York and of AcroYoga students and teachers: with all levels, many styles, global teachers.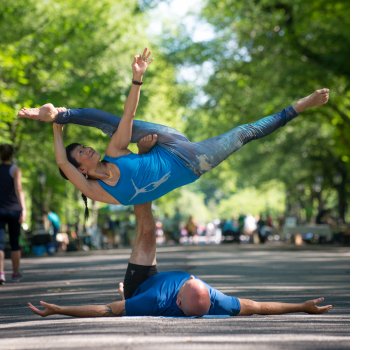 Use code: mary10 while supplies last, to save $10 on your pass. Festival

passes are on

sale

and the earliest tiers are the least expensive!



Save your final session Sunday for my Thai Massage Body Tour with me and Laura Ziegler from Colorado to ease your satisfied, sore bodies!