Hi There, ,
What keeps you passionate about your creative pursuit? [Wait, no really ... take a moment and ask yourself that question even if there's no immediate answer. I'll wait.]
For me, it's a sense of mastery in a certain area - mostly creative - that keeps me coming back. Mastery in a world that changes constantly and tumble us into a heap of lost dreams and kick us in the hope, is a gift, a cure, ... a lifesaver. If I love something and don't have that mastery, I get to tolerate my lack of mastery through the hard parts until I find that glimmer of light that indicates it's a tad easier. Mastery is the power to be myself more easily in a world that encourages us all to be alike, and creativity is a return to the self. Mastery can't happen if I'm procrastinating with the immediately gratifying hollow rewards and these days there are more than ever. The tools I've taught to get through procrastination are not only my own holy grail, they have also freed hundreds from their own procrastination hell.
I'm an artist, a teacher, a writer, and kind of a pistachio nut so being a salesperson does not come natural. HOWEVER, after 15 years of teaching the Kaizen-Muse Creativity Coaching Certification training I think it's time to share a little of the inner workings of that training in case you're ready to launch into a journey that unlocks your own creativity, and teaches you how to do that for others. Or for you if are just curious why it's so successful.
The feedback I've received from graduates has kept me passionate about teaching people who not only want to experience a deeper connection to their own creativity, but want to be in a community that cares about liberating the creativity of others. Creativity is keeping us almost sane these days.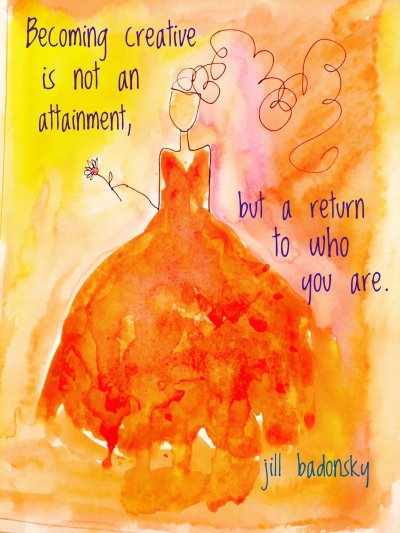 Mindfulness is a word that literally means "recall" and creativity is a return to who we are. Thus engaging in present moments filled with writing, art, craft-making, music, dance, theater, humor, or simply using our resources to live a better existence that best reflects our authenticity makes creativity one of the most soul-affirming acts of being alive. But you knew that or you wouldn't be reading this.
The simple intuitive-based tools of the Kaizen-Muse Creativity Coaching training have helps with the unfolding of a more mindful existence, unleashing the power that's always been there in every aspect of life for the hundreds of people who have gone through it. A few recent graduates shared these things:
I just want to thank all of you for making this experience more than unique, it was a life changer. I realize I'm not alone in the crazy world of art and voices of self-doubt are NORMAL! I now have Kaizen tools like the 4-part belief maker, the PLANETs and a great support group! I know I have this; I know I am an artist, and NO ONE can take that away from me! Great class and a great group of talented women! ~Kathy Gonzales, Kaizen-Muse Creativity Coach
I came to KMCC training to become a Creativity Coach, I ended up being an Artist in Progress.

Serendipity, Synchronicity and now Kaizen ... these 3 words rules my life ... knowing that I don't have a clear destination in where or what I am getting to. I am just enjoying every discovery. My creative soul is finally awaken ...

.
~Tatiana Jacquot, Kaizen-Muse Creativity Coach
Jill, it's been a sheer honor, blessing, and utter gift to be in this class with you and the crew! I am so excited to embark on my coaching path and plan to continue to grow with your support and all of KMCC!! ~
Kate Linquist, Kaizen-Muse Creativity Coach
Answer to the question: What part of this training worked for you?
What didn't? LOL seriously, it was all so amazing. I think the elevation, the guided relaxations, all the exercises. I like doing exercises and checking them off. :) Just doing our own small steps and our projects really brought it home. We can coach so much better because we've actually experienced it.
~Meghan O'Connor, Kaizen-Muse Creativity Coach

Up until now, the training and all the uniquely designed tools that come from overcoming my own struggles with creativity, as well as observing how they have helped the hundreds I've shared them with, have been primarily reserved for those going through the training. They seep out in these newsletters, my teleconferences, and the art I share is a result of my own quest to realize my creative gifts.
For the first time, this coming Thursday, on a free Zoom teleconference. I'll be sharing a little about how the training works, as well as some of the tools I teach about moving past procrastination.
Here's the link
.
An upcoming journey on Zoom in 2020
Starting next a January, I'll be facilitating a journey that is not just for creativity-coaches in training but that is more affordable for anyone wanting to experience what this work is all about and why it's so life changing.
If you want to be the first to experience this journey, reply to this email
(or message me if you didn't get this as an email)... I'll put you on the list for the goodies that come with being the first, the curious, and the dedicated. More info is coming, stay tuned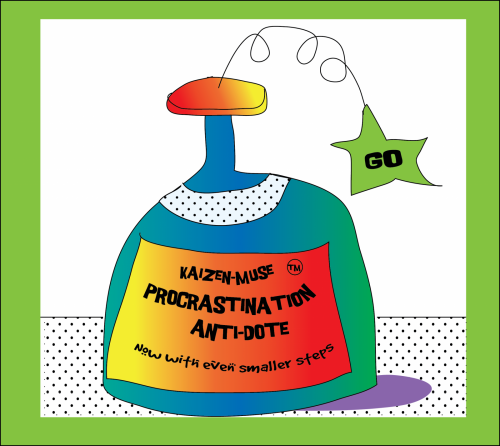 Three Easy Ways to Un-Procrastinate
Yourself - A FREE call

< so why not?



Procrastination is one of the biggest detractors from the creative process and why we don't experience the skill of mastery and the satisfaction of finishing things. We become captive to its insidious habit for many reasons, that's why it requires extra sneaky skills, as well as a lot of kindness to get through it.

If you are a procrastinator and would like a short Kaizen-Muse Creativity Coaching session personalized to your own brand of procrastination during the workshop, email or message me.
Here's a Procrastinator Buster: