Sub-Machine Gun Stolen from Auburn IN Police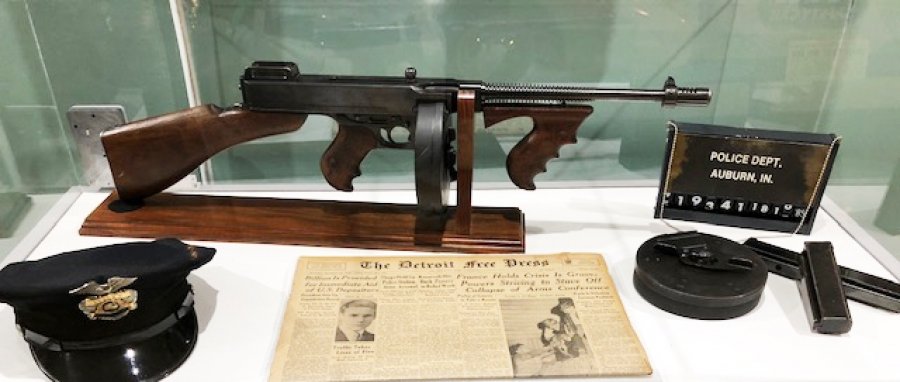 see story below

June 2019 Newsletter

For 12 years our newsletter has gone to more than 20,000 Firearms
Collectors,
Enthusiasts, Historians and Professionals Worldwide. We now reprint o
ver 6000 Vintage Gun Catalogs, Books and Manuals from the 1840s to the 2000s
See all the New Additions (scroll down) this month!!
Back issues: you can view the newsletter on our website. For a downloadable copy of our catalog of reprints or manuals this will take you there. Also, we have Interesting downloads at our website. Please forward this letter to your friends.





Most Internet Browsers – Firefox, Edge, Opera etc – have decided to truncate, or cut off, the bottoms of long emails. There is a tiny note at the bottom allowing you to retrieve the rest of the email. Rob and Abby




ACD Has Missing Firearm

We recently visited the
Auburn, Cord Duesenburg Museum in Auburn, IN
. This fabulous destination is located in the original 90 year old, Art Deco Administration Building of the Auburn Automobile Company. Among the dozens of gorgeous cars on display we found a modest exhibit of a Thompson SMG stolen by John Dillinger as he departed the care of the of the Auburn Police department, more about that in a moment.
The ACD is a must see monument to the magnificent cars of the 20s and 30s, a group of vehicles rapidly being forgotten as the people who knew them as youths die off. How do we know that? We had a first hand experience last weekend when in addition to visiting the museum we also went to the RM Spring Auction just down the road.


The main attraction was the offering of the
Route 66 Packard Museum
collection being auctioned at no reserve. Click on the link just above to give yourself an idea of just how sad that auction was. To give you a clue look at these: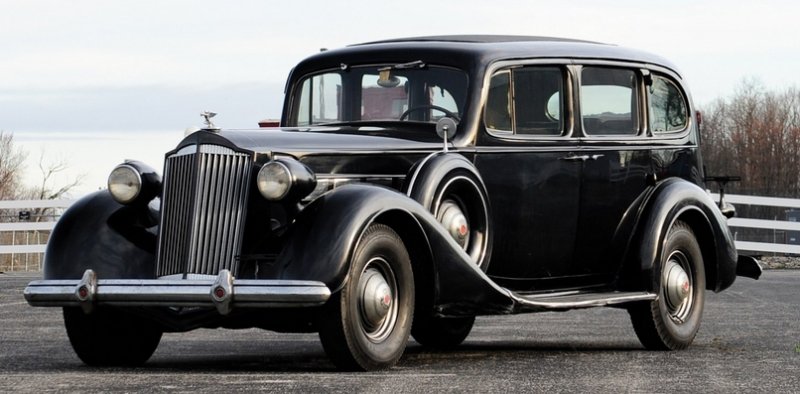 1937 Packard Touring Sedan... $7700 (all prices include buyer premium)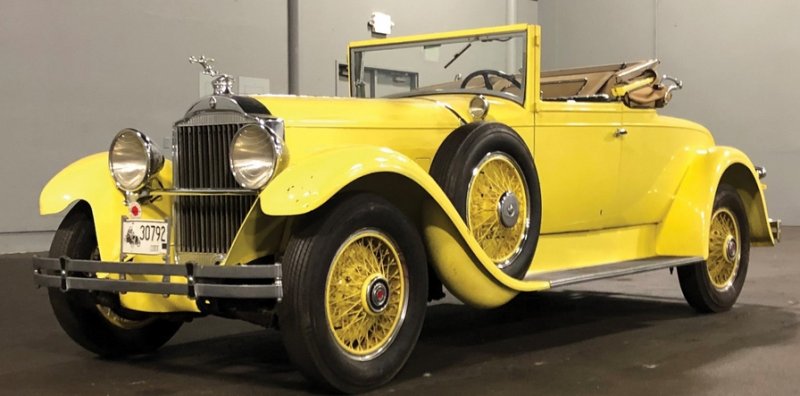 1929 Packard Standard Eight Convertible... $26,400


1958 Herter's Flying Fish with Merc Outboard & Trailer... $3738


These cars and all the rest of the Packards sold for 25-35% of the bottom auction estimate. Later,
this Mustang
which had a pre-sale estimate of, I think, $37-48,000 sold for $17,050. The sellers wife was standing next to us and we thought she was going to fall over when it sold for a little over $15k (before the buyer premium).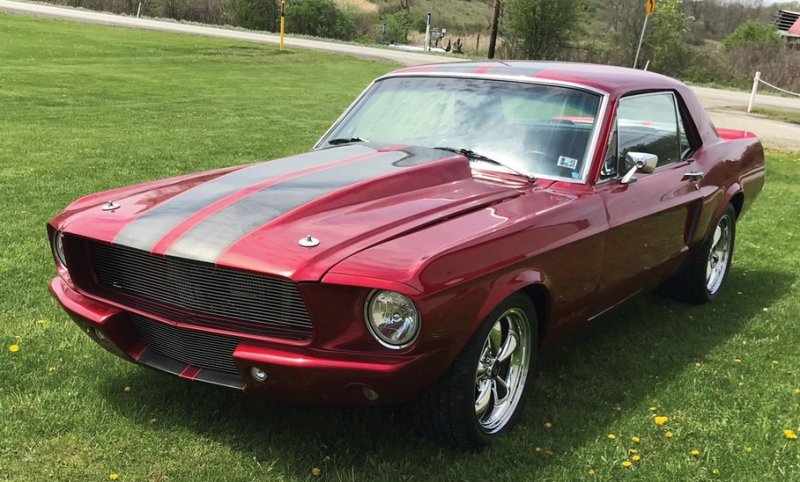 1968 Ford Mustang Coupe Pro Touring... $17,050

The lucky ones were the people with cars that had a reserve and the "still for sale" lot was full of their cars. All in all it was a pitiful performance. A bunch of white-haired guys (us too) sitting on their hands.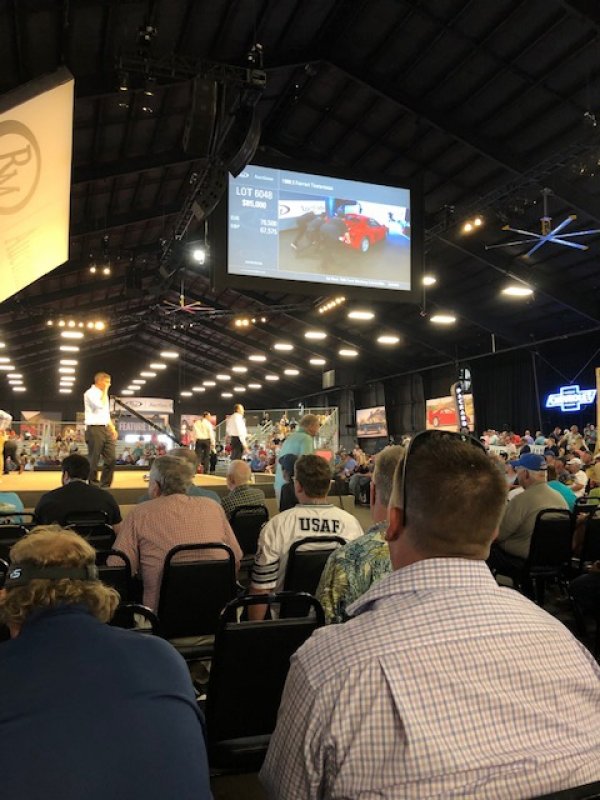 Later, back at the ACD Museum...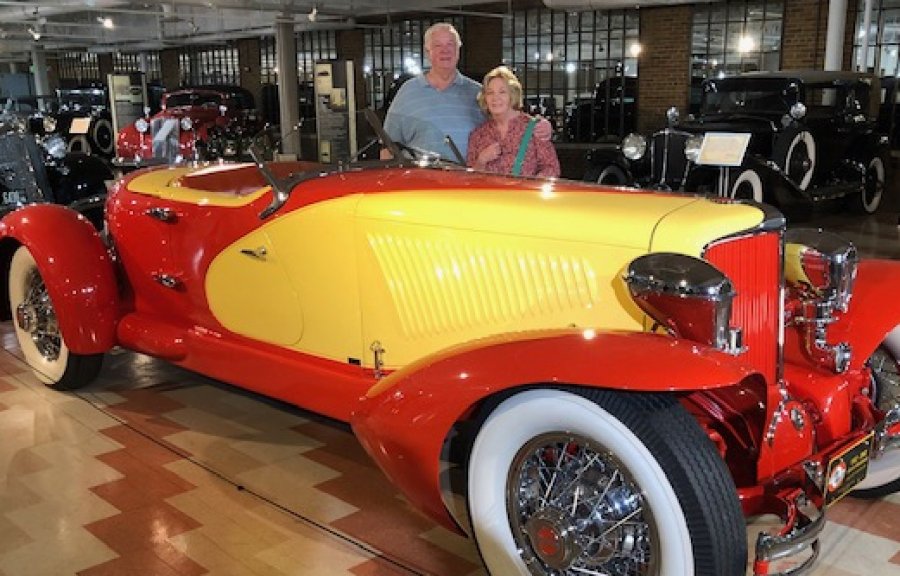 We learned the story of the missing Tommy Gun:





One of the most recognizable sub-machine guns ever produced, the "Thompson" sub-machine gun was invented by John T. Thompson. It was commonly used during the Prohibition era. Approximately two million were produced from 1921 -1945. It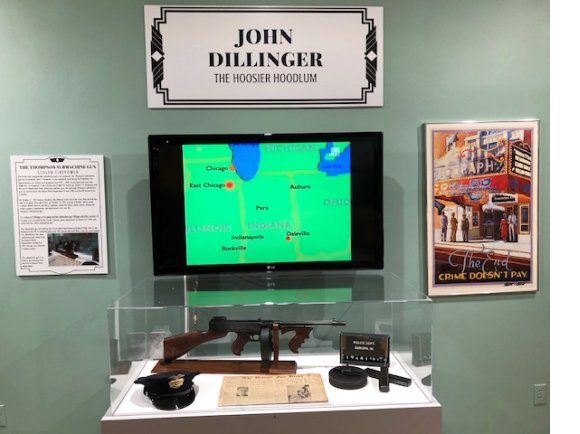 used both drum and stick magazines, as displayed. It has a firing rate of 600 – 725 rounds per minute. It is displayed with the correct walnut butt stock, pistol grip and fore grip. This particular Thompson sub-machine gun was purchased by the Auburn police Department in July 1930 from the HD Folsom Arms Company.

On October 11. 1933, Hoosier Hoodlum John Dillinger broke out of the Lima, Ohio jail with help of his gang. Three days later on October 14, 1933, a group of bandits, led by recent escapees Walter Dietrich and Harry Copeland, raided the Auburn police station. Among the stolen weapons, ammunition, and bullet proof vests was this Thompson sub-machine gun.

It is unknown if Dillinger or his gang used the sub-machine gun but Dillinger and other members of his gang were arrested by the Tucson Arizona police department on January 25, 1934, who confiscated the stolen sub-machine gun.

The gun was held by the Tuscon Police Department until March 1966, when it was donated to the FBI where it remained until 2010 when the serial number was identified as the same submachine gun stolen from the Auburn Police Department . On March 6, 2014 the gun was returned to the Auburn police.

The Thompson is on loan from the City of Auburn Police Department.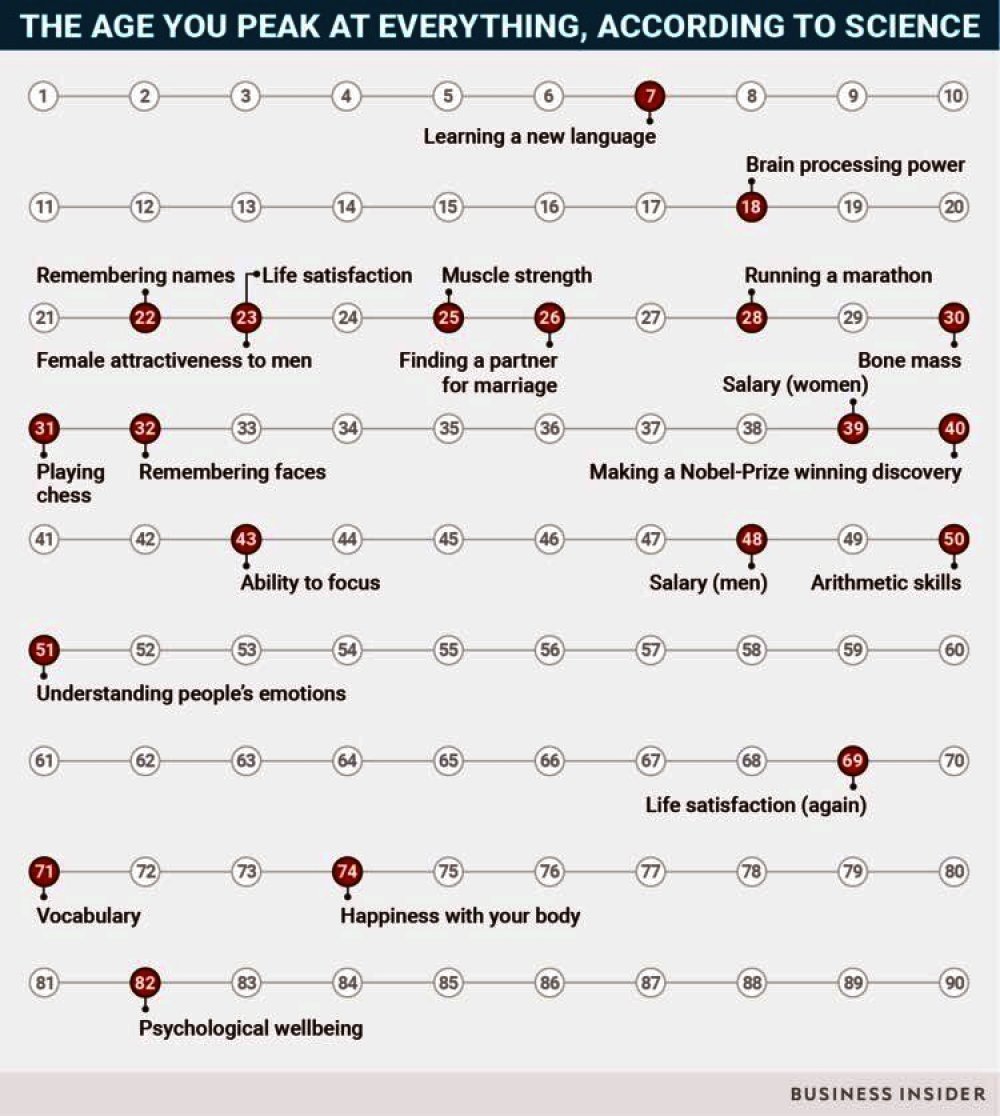 I don't know how happy I am with
my
body!

The entry price is a little steep but the rewards could be significant if you are careful!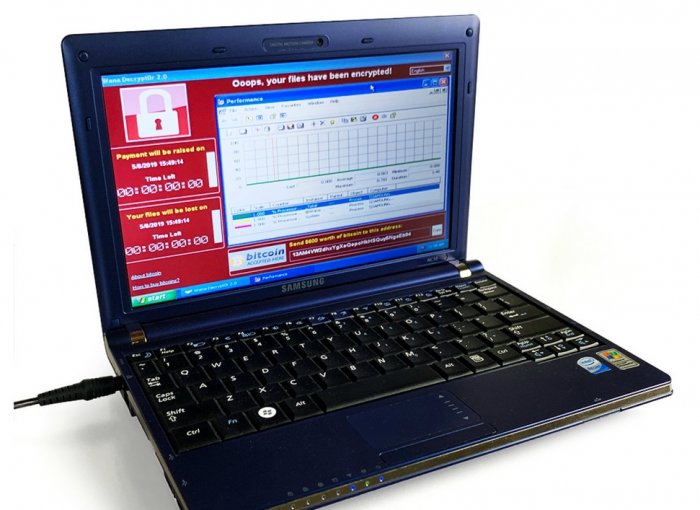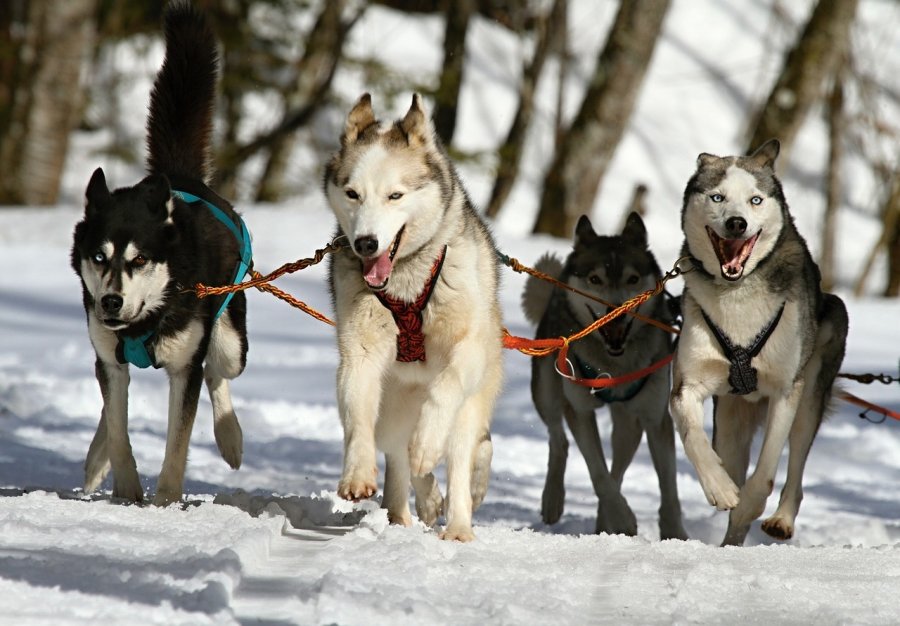 All the contributors who, over the years, have lent us originals, scanned their originals for us and even sent us money for the project are the backbone of what makes us successful.

This month we have some interesting new items. The Berns and Kunkels catalogs (below) are just wonderful windows into the 50s. Check the indexes Abby did for a big list. Well worth a gander.

The 1985 Holland and Holland 4 bore is a real oddity, to us, at least. Basically if you bought the gun you got a crate filled with rocks (OK, fossils) from different epochs and this monster shotgun that must kick like the proverbial mule. But wait, that's not all! It came engraved with an odd assortment of dinosaurs (I checked and Jurassic Park didn't come out until 1993).

I'm not certain what Holland was thinking around that time, or what they must have thought Americans, or Brits playing Cowboy, would buy, but in 1991 they dreamed up something bound to go out of fashion right away- the Dallas Gun:


The Union Watch Co. c1906 Guns, Watches, Accessories Catalog, formed around 1905 had a reputation for selling shoddy merchandise. They routinely overstated the number of jewels in the watch works and had loads of complaints about other products. In a way this is a catalog to read to see what to stay away from. They should have teamed up with this bunch (or maybe they did!) Evans Gaming Company 1909-1910 Cheating Equipment (Illinois)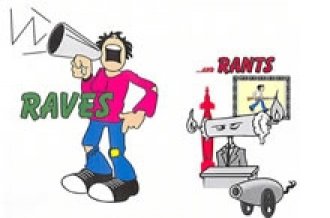 The only noteworthy things received this month were really stupid and I don't think I want to embarrass the poor fools who uttered them. Nuff said.

Readers: We understand the annual edition of AH is in the works but they are just slow this year. All we can say is sorry, but be patient, it will arrive! I just got a note from Dick Salzer saying as soon as the June issue of AH comes out he is going to get on it.

-----------------------------------

Read this and dozens of other terrific articles in Arms Heritage Magazine. A year subscription costs a mere $19 and you can have access to this year plus the last eight years!


************************************************



Hi Abby, Love you all's work. Hey, any guess when Volume 8 (2018) of Arms Heritage will come out in hard copy?
Thanks, Jeff Goodson

Hi Jeff, I haven't heard yet but it should be soon. It will appear at the website as soon as done and will be noted in the next newsletter after we get the print version. Cheers, Abby

**************************************

Hello Abby, I was told you have a copy of the manual for Marlin model 27s. I need directions for assembly and disassembly not just a parts list. Could you check and verify if this manual does have instructions? Thank you, Frederick

Dear Frederick, I'm sorry, we don't have such a manual and have never seen one. Best, Abby READERS??

**************************************

Dear Abby, I am looking for a catalog that will help me identify a U.S. Springfield rifle that is 50 caliber. It has a stamp on the cartouche that is 1863 and on the trapdoor 1869. The serial number is 19591. The barrel is about 20" plus long an appears original, but I wouldn't swear to that. Which catalog should I be looking to purchase to identify that will provide the history and diagram? Al

Dear Al, That is a tough one for me to answer. The 1868 manual is .50 cal and the M1874 manual is .45 cal. The action without studying looks to be the same. Neither gives what would be considered a history because the guns were new when the manual was published. Either of these publications would give you a starting point.

We do reprint a number of authored books from that era that may help too. If you do some digging around and zero in on any in particular and have a specific question I'll try to help but, honestly, we just don't have time to do research because of the number of questions we receive about our 6000 publications! To see all the Springfield publications we offer as well as those where "Springfield" is mentioned type the word "Springfield" into the search bar. That will also give you authored publications at the bottom. Or you can select authored publications (which would give some history) on the left drop-down and sort by year of publication. Whew, hope this helps! Best, Abby

**************************************

(Dear Abby) Can you give me postage costs to the UK. Thanks Dave

Dear Dave, I'm sorry we no longer ship overseas through our eBay account. You will have to go to our website for that service. Cheers, Rob for cornellpubs

**************************************

Hi- I've been looking at your Lyman 1935 catalog and see it contains something on Lyman 3x Stag scope. I have one of these scopes mounted in a Lyman side mount. Would this catalog happen to include instructions for sighting in a rifle using the Lyman side mount? I am including a couple of pictures to verify we are talking about the same type of mount. Darryl270 (ebay)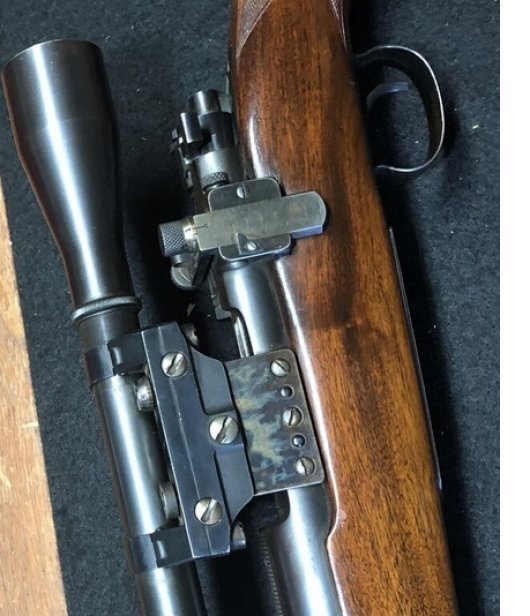 Hello Dary… The catalog has a 3x Stag and mount listed and described. The picture appears to be your exact rifle and scope Mount. There is some discussion about locking sleeves, windage and elevation. Elsewhere there is a discussion about the general methods of sighting a rifle. My feeling is that they assume some basic knowledge about sighting and so the catalog should not be considered a course in the technique. Hope this helps. Rob for cornellpubs

(Dear Rob) I have determined how the elevation and windage works but I need to know what role those 3 fairly large screws on the side play- they have to be loosened to move the elevation and windage but once you get zeroed in and ready to finish up and tighten those 3 screws it throws it off. I'm not sure they even have to be tightened. If I thought your book would help me solve this I'd be glad to buy it.

NOTE to Readers: When asking questions, it is really helpful to ask the entire question including specifics the first time around. We are so busy it is time wasting to search for and reopen the catalog to look again for follow-up questions. Can anyone answer his question?


**************************************
Ref: American Breech-Loading Small Arms 1872, Gatling Gun, Cartridges. Buyoncom (ebay) How many Gatling gun photos?

Dear buyo… Not knowing what you are looking for, yours is not an easy question to answer so I'll just say there are about 10 etchings in this book related to Gatling guns. We reprint eight or nine publications dedicated to Gatlings from 1872 to 1917 (the US Manual) and Gatlings are featured in a couple of dozen other publications we offer. I think a few of them are listed on eBay. Rob for cornellpubs (no response as is normal for ebay- people just ask idle questions)

**************************************
Hi, I'm interested in purchasing vintage ammunition catalogs from you but I can't find the price of shipping on your website. Could you let me know the shipping cost for a single catalog to Australia please? Thank you, Mike Cuthbert.

Hi Mike, I'm afraid our website is old and you can't see the shipping until you get into the shopping cart (we are working on a new site this summer). You don't have to complete the sale if you don't like the shipping but you have to start by placing the catalog in the cart and then saying where you live etc. Shipping overseas is expensive now and is based on weight and size so not knowing what you are looking at I can't quote you a price. Hope this helps, Cheers, Rob

**************************************
Hi, I'm researching my family history and specifically my grandfather William G Mereweather. He worked for Louis Le Personne possibly from the 1920s onwards until the 1970s. He was a director for many years. Your site came up as a link and I see that you have L. LePersonne and Co. 1925 Gun Catalogue (UK) available from that period. I wondered if his name appears anywhere, if so and I wanted a copy do you ship to England. Regards Bob Hedges

Dear Bob, I doubt his name is mentioned in the catalog, although there are a couple of pictures of the production floor featuring workers. There is a lot of text in the 159 pages and I regret I don't have time to read the whole thing on the off chance I might come across his name. If you want a copy of the catalog we sell, it can be purchased at our website- we ship loads of things to UK. Cheers, Rob

**************************************
Ref: Eley 1938 Sporting Ammunition (ICI). kaefernblattler: (ebay) Hello, is listing the 8 gauge shot shell ? Thanks, Alex (sic)

Dear Alex, Yes, there are references to the 8 ga. Rob for cornellpubs

Hello Rob, do you have informations of eley 8 gauge for shotshell velocity ? Please let me know. Alec (sic)

Alec, I don't believe I've ever seen Eley ballistics for shot shells. We sell over 25 Eley catalog years from 1880 to 1980 so I may be mistaken but I don't think that is available. Rob

Hello Bob (sic), can you check the years of 30's . Thank you very much, Alex

Dear Alex, No, I'm sorry, I don't think we have those on eBay and we don't do research through our eBay account, also we don't ship outside the US through ebay. Rob for cornellpubs

Hello Rob, no Problem, I pay also for a copy. you can send a email. Thanks, Alex

Dear Alex, When you asked about shotshell velocity, I assumed you meant muzzle velocity, something not normally mentioned about shot shells. If you were asking about the trade name "Velocity"- what Eley called one of their brand of shells, they are mentioned in the 30s but so far as I see only for 12 ga. Eley "Gastight" cartridges were offered in 4, 8, 10, 12 etc ga. The catalog I'm looking at is the 1935 Eley/Kynoch/Nobel/Curtis. Hope this helps, Rob

Hello Rob, yes I talk about the muzzle velocity !!! Alex

Alex, OK, I give up, Sorry Rob.... READERS???

**************************************

Hi Abby & Rob, To date I have not received the copies of the manuals, I note your later advice on 11th May 2019 (USPS) that the package was dispatched on 10th May 2019. Does it normally take this long for delivery? While I was checking for reasons for the delay, I noticed the original order states "..package of 2 items @ $8.95 each." And then shows a Quantity of 1. I am correct that this means that there is one package containing 2 X manuals? Thank you, Peter Reynolds

Hi Peter, The damn post is the reason we stopped shipping overseas at ebay. With the outrageously expensive shipping charges, we can only track as far as Chicago where it departs the US. From there it can take up to a month to arrive anywhere. Part of the problem, I think, is customs. With today's climate of the constant terrorist threat, I think customs pause when they see anything coming in that concerns weapons regardless of how old the weapon is. Anyway, I am afraid you must be patient and with a little luck the package of two items will show up any day. Cheers, Rob

Hi Rob, I have just now ordered/paid for via your website. Not sure how quick the transaction will take to appear on your side. Your company is a god send, well done. It's an excellent creation by both you and Abby. Thank you,
Peter Reynolds


**************************************

(Dear Abby) Hello: I am looking for a VL&A catalog from the 30s that advertises leather (or fibre) lantern cases. They should be located near any camping lanterns and/or stoves that are in the catalog. Can I please ask if you will take a look in your catalog and see if you can find the lantern cases? If the case(s) appear in your catalog I will buy it. Please send me a photo showing the page with the cases if you can find one. I very much appreciate your valuable time and I hope your catalog will have what I'm looking for so I can buy it. Take good care, Mike - wildwildwestdeals (ebay)

Dear Mike, The only one I can find is a folding canvass candle lantern case in the 1937 catalog. Cheers, Rob (no reply… you are welcome!)

**************************************

(Dear Abby), Hello I purchased a lightweight Browning shotgun manual I'm kinda new to the site. I called you mother's day an didn't realize it was mother's day. My screen name on gun broker is DutchBlitzed, I work nights so it's hard for me to call during the daytime. I will call you and finish the transaction for the book Tuesday morning sorry it's taken me so long to get back to you. Please dont down vote my account. Also I do want to say thank you for printing these books and the others you keep alive I will be buying more, but on my days off to finish the transactions in a timely manner. Thank you very much Joshua

Hi Joshua, I don't see an order from you but you can do it all at the website. Just choose what you want, add it to the cart and follow the directions- you don't have to stay up to talk to us, just pay at the website (everyone does- it is safe and OK). I think this is what you want:

Browning 1950c (circa) Automatic Shotgun

Manual



**************************************

Re: Sa VZ. 58 Sporter Rifle Manual (Czech- Text in English). (Dear Abby) Are these reprinted in english



Dear dthrone… Yes, the Text is in English. See title or if you double click on the image you can read bits of the text. Best, Abby


**************************************
Hi Rob/Abby, I have a 60's Hi-Standard Pistol Model 102 it has Flite King engraved on one side and it is chambered in .22 short with interchangeable barrels 4" & 6". Also, on the original box it has the model number written as Model 9221, serial number on the box matches the pistol. Do you carry a manual and/or brochure for this particular Model. I purchased a brochure for the Model 102 before though did not find a Flite King listed... Thank you and have a great day, Jimmy

Hi Jimmy, If you put the words "flite king" in the search box at the website you will get all the catalogs/manuals where the pistol appears in the index. Click "check contents" to see the actual index. Tell me if I can help more, Cheers, Rob

**************************************

How are you, I have been looking for a book by Robert Edwards called India's Enfields. Not sure how long ago it was published but no one seems to have it. I have a couple ISBN numbers, 10;0970123701 and 13;978-0970123701. If you have this book or are able to find it please let me know. Thank You Carl

Hi Carl, The best place for out of print books is addall. Addall searches all the used book sites (make sure you select used books before you search). Cheers, Abby

**************************************