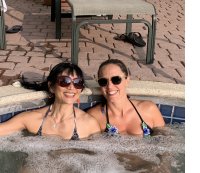 My June weekends were busy: one weekend leading a Catskills retreat, one weekend at Wanderlust Yoga Festival on Stratton Mountain, VT, and, this weekend, leading Yoga Nidra Teacher Training at Pure Yoga.

The contrasts of city and country, slow and fast, excited and calm, are among many pairs of dualities that we explore in Yoga Nidra meditation.

We explore opposites in the third kosha = layer or sheath of our bodies, what yogis call the manomaya kosha, the mental-emotional body.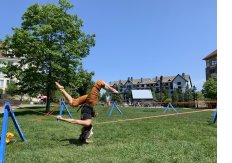 It's a fascinating step, one of 7 steps and 5 increasingly subtle sheaths /layers that lead us to our bliss body, our free, whole self, the place that can create lasting change in our ability to experience peace, power and freedom in living.

But don't get me wrong, we in our lives for the most part enjoy our journeys through the dualities. In Yoga Nidra, we also enjoy each step, like a slideshow of our magical trip through ourselves. Like a theme park ride, but the magic mountain is us.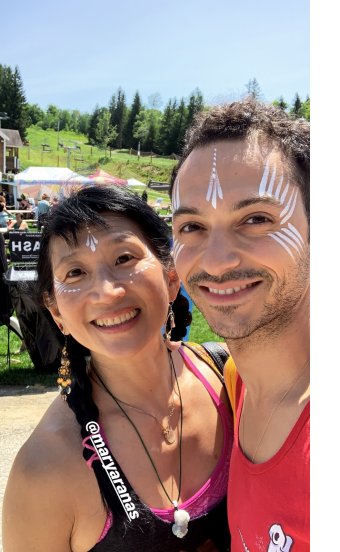 And we discover among other things, the pleasure and necessity of contrasts. New York City is more vibrant because of the Catskills birdsong and the Vermont mountains. My quiet reading nook is more precious because of the warmth of a house full of yogi family, all practicing life shares and Thai massage all weekend.

We are wired to explore the extremes and the opposites of our lives. And while we are also wired to note our preferences, there is that sweet spot when we may recognize and celebrate the richness of the contrast for itself. Vive la difference.

Enjoy the summer days! They allow for our enjoyment of cool breezes and crisp winter nights.

Weekly Classes This Summer

Weekly Classes New York City



Pure Yoga New York Weekly Yoga:
Pure Yoga Eastside - 203 E.86th St. (3rd Ave)
Monday: 10:30-12:00 Slow Flow Meditation
Monday: 12:30-1:30 Yoga Nidra Meditation
*Monday: 6:15-7:15PM Vinyasa L1/2 (7/22, 7/29, 8/5, 9/9)
Tuesday: 12:30-1:30 Restorative
Thursday: 12:30-1:30 Restorative

Pure Yoga Westside - 204 W.77th St. (Amsterdam Ave)
Friday: 12:15-1:30 Flow & Restore L1



Cosmic Fit Club Weekly AcroYoga
*Friday: 6PM-7PM AcroYoga Basics
*Friday: 7PM-8PM Thai Massage - All Levels

Trainings, Retreats, Events, Immersions

Festivals, Retreats, Workshops, Trainings, Immersions




*Aug 9-11: New York AcroFest, Chelsea Piers, NYC
"Thai Massage Body Tour" with Laura Ziegler Sunday 8/11


*Sept 13-15:

Wagging Tail Yoga Fall Retreat, Bethel, NY


with Ora Ramat, Wagging Tail Yoga Center owner & co-host




*2019 Holiday Restorative Treat:

Pure Yoga Eastside, date TBA


*Jan 4-11, 2020 reSOULutions retreat, venue TBA




*2020

100-Hour Mother Mary Restorative Teacher Training:
4 Levels of 25-Hour Weekend Modules,

2020 dates TBA




L1

Basics, L2 Intermediate, L3 Thai + Nidra, L4: Integration


*May 22-25, 2020: Therapeutic Lunar Immersion, 30 hours YACEP


with co-teacher Katie Capano,

Thai & Healing Flight,

Pure West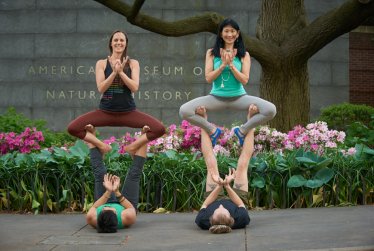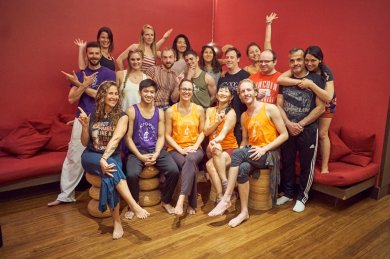 My 2019 Therapeutic Lunar Immersion over Memorial Day Weekend at Pure West was so delicious, my co-teacher Katie Capano and I are making it a repeat event next Memorial Day Weekend! Save the date! May 22-25, 2020, at the beauuuu-tiful Pure Yoga Westside! ~ with steam room! ~ as I always say to folks, because I'm so impressed!

Far more than Thai massage and Restorative Flying, though there is certainly plenty of that material, our Therapeutic Lunar Immersion is healing Yoga at a deep level for self, for all partners, for wider community. Here we are dancing it out!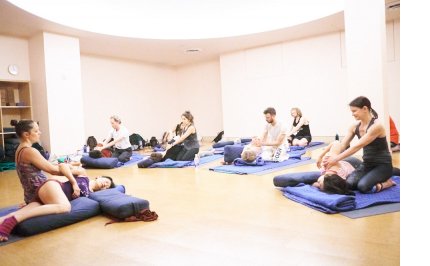 We explore self-care, meditation, communication, and playful and skilled tools for a magic weekend with the flying and the Thai massage skills being the ways we share the love. See our 2019 photo album by the awesome Derek Pashupa Goodwin.

Open to all levels including absolute beginners, with 4-day, 3-day, 2-day, 1-day, and single session options. No partners needed!

Stay tuned for registration, or pre-register by July 4th (Code: FREEDOM50) for an additional $50 off your pricing. That IS sweet.
Pre-register to: andrea.borrero@pureyoga.com.

I honor your privacy and do not share emails. Please feel free anytime to Reply, Forward, Subscribe, or Unsubscribe.

Om Shanti ~ peace~



Mary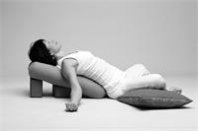 I am immersed this weekend in my Mother Mary Yoga Nidra Teacher Training 2019, a truly dreamy experience.

We learn far more than we'd expect, but we also dream, snooze, and rest, far deeper and more than probably in the past six months.

20 minutes meditation has been said to be equivalent to anywhere from 2 to 3-4 hours to 8 hours of restorative sleep - depending on your source.

Some claim more, others claim less. The refreshment however, is an easily felt real-time experience. And, who does not need that?

Read more; join us for the next one if it calls! Keep updated here.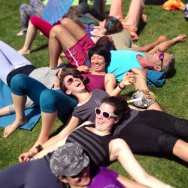 August 9-11 is the 7th annual summer AcroFest in New York. With levels from Beginner to Professional and all levels between, explore all kinds of fun with partner yoga, partner movement, and partner acrobatics, at Chelsea Piers, culminating in a huge Sunday Park Jam.

This year, a Friday 8/9 New York Scavenger Hunt makes it extra fun for AcroFest participants to playfully explore the city.


Sunday 8/11, join me in a
"Thai Massage Body Tour" workshop to ease sore muscles! For Festival tickets, see NYAcrofest.com and use mary10 for $10 off at checkout.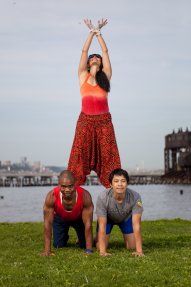 Contract is 90% final on the venue for reSOULutions retreat 2020 with me, Juan Gamboa, Esco Wilson, and our stellar SOUL squad 2020!

Save the dates: Jan. 4-11, 2020.



Be assured that this place is quite spectacular! The company and the faculty, will be amazing!

The Yoga styles, and yogis in attendance ~ they will make you want to block those dates on your calendar and start packing your swimsuits and yoga shorts right now! Stay tuned for updates!

Thanks for cover photo, Immersion and Katie photos to Derek Pashupa Goodwin.

Thanks also to Wanderlust, Pure Yoga, and Xinalani. Thanks to all the pals pictured, especially Katie, Bassam, Juan and Esco. Thanks for reSOULutions team photos by Lyan Lex Bernales.