Freedom ... Flow ... Vortex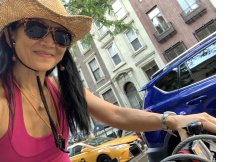 Stepping into your flow, or your vortex where your inner being is in alignment with your thoughts, feelings, and actions would look different for you than for me, for your friend, sister or brother. But it would also look the same in some key respects.

How it looks different: I might be on a bike or e-bike or e-scooter in 104 degree heat index in New York city streets, with my cowboy hat 🤠and a whistle and a Hydroflask of coolness, loving the breezes. For you it might be something else. How it looks the same for us all though: it is the aliveness and exuberance in the expressions on our faces.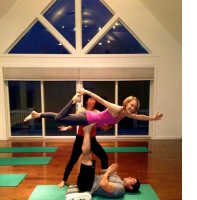 How we know we are in our vortex is when we are enjoying our own aliveness, our uniqueness, and the things we most value.

These may have variances, but for most of us they will include aspects of: independence, connection, freedom, space, movement, choice, and yes, challenge.

In this month that we celebrate independence, take gratitude for your freedom of choice in how you think and feel. And consider: Am I enjoying that freedom? Because when we do, we just might find, we are flowing ... we are in the freedom and flow of our vortex.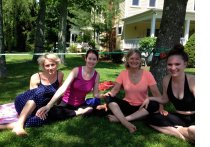 August 7th is our extended Early Bird deadline for our Sept 13-15 Wagging Tail Yoga Retreat. This is #14 of our collaborative, delicious, convivial weekend retreat on my retreat partner Ora Ramat's beautiful retreat center.

Wagging Tail Yoga is 100 acres of meadows, woods, firepit, hammocks, organic garden, pool, glorious house and yoga studio, in the rolling green hills of Bethel NY, in the Catskills, the birthplace of the 1969 Woodstock Music Festival.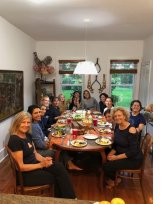 From Friday evening to Sunday noon, September 13th to 15th, retreat from our busy schedules, and spend some quality time with yourself and others, who appreciate laughter, delicious catered meals, yoga in several styles from Flow to Restorative to Meditation to Partner Yoga, hikes on the gorgeous grounds, and campfire or fireplace gatherings.

Plenty of peace and plenty of friendship are yours for the choosing, from porch decks, a la carte massages, and hammocks, to visiting the alpacas in the barn. Details here.

Schedule Update: Cosmic Fridays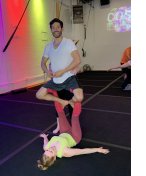 The newest addition to my weekly classes is a fun double-header early Friday evenings at friendly, welcoming Cosmic Fit Club just over the bridge at Court Square, Long Island City.

Both classes are truly beginner friendly.

The flows are customized to each week's students, for maximum pleasure and learning.

AcroYoga Basics at 6pm-7pm preps you with playful, powerful conditioning drills and skills that get you flying each other!



Thai Massage at 7pm-8pm teaches and guides you through the giving and receiving dance of Thai yoga bodywork to release tense muscles from the week's exertions.

A great weekend beginner by itself, or with the energizing AcroYoga class first!

Come solo, or bring friends!
All are welcome!

Trainings, Immersions, Retreats, Workshops

My 2020 Teacher Training dates and Lunar Immersion dates at Pure Yoga New York are set! See below! For early registrations (before online auto-registration opens), email Andrea Borrero.
Trainings, Immersions, Retreats, Workshops, Festivals

8/9-8/11/19 New York AcroFest, Chelsea Piers, NYC
Thai Massage class Sunday 8/11, with Laura Ziegler
9/13-9/15/19 Wagging Tail Yoga Fall Retreat Bethel, NY
with Ora Ramat, Wagging Tail Yoga owner, host & co-teacher
11/23/19 Thanksgiving Restorative ~

Pure Yoga East

, NYC
1/4-1/11/20 reSOULutions retreat w/Juan Gamboa, Venue TBA!
2/15/20 Valentine Restorative ~ 3-5pm,

Pure Yoga East

, NYC
100-Hour Mother Mary Restorative Teacher Training
March 7 - April 19, 2020 ~ Pure Yoga New York
4 Weekends, 4 Levels:
Level 1: Basics ~ March 7-8, 2020
Level 2: Intermediate ~ March 21-22, 2020
Level 3: Thai & Nidra in Restorative ~ April 4-5, 2020
Level 4: Thai, Nidra & Integration ~ April 18-19, 2020
For more information, email Mary or Andrea Borrero
5/2-5/3/20 25-Hour Yoga Nidra Teacher Training,

Pure Yoga

NYC
5/9/20 Mother's Day Restorative ~

Pure Yoga East

, NYC
5/22-5/25/20 Therapeutic Lunar Immersion ~

Pure Yoga West
with Katie Capano; 30 YACEP hours Restorative Yoga, Thai, Fly
Schedule Update: reSOULutions retreat 2020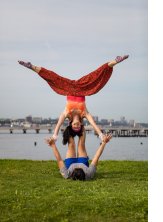 Mark your calendars for January 4-11, 2020 for my 3rd New Year's team adventure, reSOULutions retreat 2020!

We are destined for an amazing Costa Rica hideaway, where we will have the run of the entire deluxe venue. We'll have the best of town and country, with the jungle and beach at our doorstep and an easy walk to local fun spots.

As with reSOULutions 2019 in Xinalani, Mexico, our yoga curriculum will feature simultaneous class options for all levels, so everyone you want to retreat & vacation with will have options to suit their yoga experience and preference. There will be daily Vinyasa but there will also be Mellow Flow, Restorative Yoga, Yoga Nidra, AcroYoga and Thai Yoga. And daily meditation.

Launch date is Labor Day, but you may want to block your calendar now! And start setting aside your reSOULutions funds! For previous reSOULutions retreats, see Juan's retreat page! And stay posted here for updates and on my webpage.

I honor your email privacy and do not share lists. Please feel free anytime to Reply, Forward, Unsubscribe, or Subscribe if this was forwarded. It is my privilege to host this cyber-sangha, e-connection, via these monthly missives. I enjoy all your responses!

Matrika Shakti in Sanskrit means "the magical attracting power of language." It represents this principle: whether spoken or thought, words are powerful. Words are affirmations.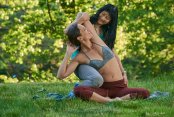 Listen to your words, listen to your thoughts. See if there's anything you'd like to rephrase, even just for yourself. Is there a story you'd like to write differently? This can be fun, as well as extremely powerful.

"Don't affirm the negative if you want a positive outcome." Louise Hay

It's Not Your Money: How To Live Fully From Divine Abundance Tosha Silver book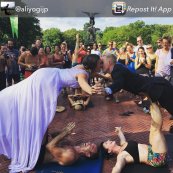 The 8th annual New York AcroFest in New York City takes place August 9-11 at Chelsea Piers, featuring 70+ teachers and 50+ classes, every level from beginner to professional, in multiple styles from trio and group play to standing acrobatics to Thai massage.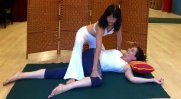 I will be teaching Thai Massage on Sunday with Laura Ziegler from Colorado, and playing all weekend alongside students, as all the teachers will do in each others' classes all weekend!

See the schedule, including Friday scavenger hunt, Saturday evening party, Sunday's outdoor park Jam! Use my code mary10 at checkout for a $10 discount.

Pure Yoga East
Mon 10:30 Slow Flow Meditation
Mon 12:30 Yoga Nidra
Mon 6:15PM Vinyasa
(8/5, 9/9)
Tues 12:30 Restorative
Thur 12:30 Restorative
Pure Yoga West
Fri 12:15 Flow & Restore
Cosmic Fit Club
Fri 6PM AcroYoga Basics
Fri 7PM Thai Massage
Photo thanks this issue: Derek Pashupa Goodwin for Katie & Mary pics including cover photo, Lyan'Lex Bernales for Juan & Mary's reSOULutions flying pic.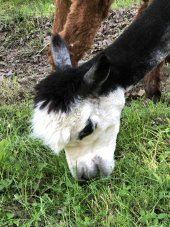 Additional photo thanks to: Wagging Tail Yoga, Cosmic Fit Club, NY AcroFest, Katie Capano, Rebecca Claes Roach, Chris Martucci, Ora Ramat, Gina Newlin, Juan Gamboa, and all the wonderful students at Cosmic Fit Club, Wagging Tail retreats like this sweet alpaca, and Related Buildings, like this happy rooftop crew in savasana on a baked Roosevelt Island rooftop in 100 degree July heat!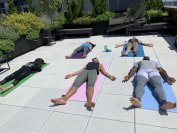 Have a freedom-loving, joyful, flowing, wonderful summer!



OMMMMMMary