On Tuesday night, John Derby from HOPE Partnership, and Rev. Courtney Stange-Tregear, Acting UCC Conference Director, led a two-hour congregational discussion.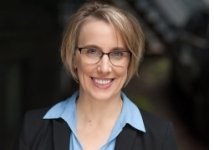 It was a rich time of memories and imagination. John drew a picture on the whiteboard depicting the life cycle of the church with vision, people, growth and programs on the rising side of the circle and decline, loss of members and financial strain on the falling side. There was some degree of consensus that Alki UCC is on the falling side.
Considering our time in history, our cultural milieu and our city's religious habits, this is not surprising. This was a key insight that will help bring into sharp focus our options as a 21st century community of faith. Climbing back to the church's "glory days" tends not to be a realistic way forward — however, exciting re-visioning and transforming are very much on the table.
When the full report comes back later this fall, there will be ample opportunity to read and discuss it both as a whole congregation and in small groups. In the meantime be thinking in your own mind about what
a mighty and brave future would look like.
When a congregation can take an honest look at its mission, membership and finances sooner rather than later, typically more options remain on the table. This past/present reflection is happening at a time when the membership is vibrant and will be able chart a bold course for the church.
Onward,
Pastor Kelly
8/14/19
On Tuesday night, 39 of us gathered in the parlor for "Future Discussions," an inspirational and engaging session with John Derby, a consultant from Hope Partnership. It was the first meeting for our congregation as we begin to work on determining where we're going and what we want to be.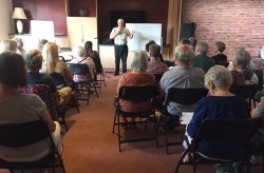 During this phase, the Hope team is gathering information about our finances, our church property, our neighborhood demographics and participants of our faith community. They're identifying our strengths, both in our programs and our mission; Tuesday's meeting was part of that process.

We were asked to share ways that our church has excelled in meeting spiritual, missional and relationship needs. These are the questions we were asked about Alki UCC, which are interesting and valuable to consider:
• What makes you feel most engaged, alive, and motivated?
• What has contributed most to your spiritual life?
• What are you most proud of in your association with this congregation?
• What is the single most life-changing aspect; at our best, what are we doing?
• What gifts, talents or skills do you have that don't get shared because the opportunity doesn't exist?
• What motivates you to come to worship at this church?
• What does leadership development at Alki UCC look like?
• What are ministry opportunities in this area that are begging for attention?


In a few weeks, we'll receive a comprehensive assessment report
from Hope Partnership. At that point, the real congregational work will begin. There will be information to share and conversations to have as we meet in small groups to discuss thoughts and plans for our future. It's an exciting journey for all of us who love Alki UCC, and everyone is encouraged to be part of it.
— Charlie Hinckley, Council Clerk
# # #
Note: If you have childcare receipts from Tuesday's meeting, please submit them to the Church Office for reimbursement.
Next steps: HOPE Partnership will put together an assessment of the congregation in a report that will be available to everyone in the fall, exact date TBD.
Any questions? Contact Emily Hitchens, Council Moderator.
On Sunday, August 11 Alki UCC celebrated our last day with Harry Richardson, accompanist extraordinaire. Harry has accepted a full-time music position in Cleveland, OH and will be moving there next week in advance of the school year.
Come back and visit any time Harry!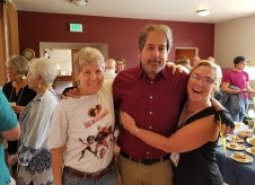 Kathy Herigstad, Harry and Kim Becklund
On August 6, Pastor Kelly was a faith-community representative at the Seattle Anti-War Coalition which meets the First Tuesday of each month from 11:00 am to 1:00 pm in front of the Federal Building on 2nd Ave in Downtown Seattle.
The demonstration protests endless U.S. wars and calls for peace. Find out more here.
Benefit Concert to Aid People Affected by Inhumane US Immigration Policies

Thursday, August 22, 7:30-9:30 pm
Queen Anne Presbyterian
414 W Howe St
Local talent, including our own Dan Kennedy, will be featured in a benefit concert to aid people affected by the crisis at our southern border and organizations working to reunite children separated from their families. Seattle Symphony violinist Kathy Boyer, harpist /vocalist/Julliard graduate Marg Davis and other local artists are performing.
Refreshments will be served; the event also includes a small silent auction! No tickets required; free will donation requested. Info: Marilyn Milano at 206.285.6584
The concert benefits
RAICES: The Refugee and Immigrant Center for Education and Legal Services is a 501(c)(3) nonprofit that promotes justice by providing free and low-cost legal services to underserved immigrant children, families and refugees in Central and South Texas.
NILC: The National Immigration Law Council is one of the leading organizations in the U.S. exclusively dedicated to defending and advancing the rights of immigrants with low income.
Prayers of Joy and Congratulations!
To Kim Becklund, who is travelling to Flathead Lake Montana for her marriage this Saturday, August 17 to Bob Conder. Happy Wedding!!
For those grieving the recent death of a loved one:
Larry Gill, the family and friends of Ruth Okada; family and friends of Shelley Webster, Kathy Herigstad and family, friends and family of Jeanne Anderson, Amy Young and family, friends and family of Eric Erickson, Lesa Henry, Charley Rosenberry
Recent hospitalization, illness and other concerns:
Bonita Corliss, Jim & Bev Connor, John Kinsman, Dayle Banks, Lois Constantine, Kathy Herigstad's sister Jackie, Don Peterson, Jan Cochran
For home bound members/friends of Alki UCC: Doris Colbert
Wider World:
Prayers for fewer guns and for all victims and those affected by gun violence; for all those affected by the increasingly cruel and inhumane US immigration policies imposed by the current administration; victims and survivors of extremist violence around the world; migrants seeking refuge around the world, and for those who are trying to help them. The rest of the missing schoolgirls kidnapped by Boko Haram, who remain in our hearts as long as they remain missing. The hungry and homeless, the ill and the addicted, the lost and the lonely; the unemployed.
Worship
This Sunday,
August 18
at 10:00 am

Life in Transition

Sermon Series

at Alki UCC

Scripture:
Colossians 3:9-11
Color: Green
Liturgist: Joe Mitter
Ministry Team Meetings this Sunday after
Worship
Ministry Teams

... You have a section in the newsletter! Send your announcements to the Church Office by Tuesday for Thursday publication.
Upcoming Team Meetings
Outreach
Wednesday, August 28
6:30 pm
Light dinner and conversation/planning on Cinda Stenger's patio
4118 19th Ave SW Seattle WA 98106
(206) 356-7559
* * * *

Alki UCC Council
Next meeting
Thursday, August 22
6:30 pm
Contact: Emily Hitchens
Council members:
Please submit written reports and any important voting items to office@alkiucc.org by Tuesday, August 20 at noon.

Big Thanks to everyone who helped fill the first two barrels with donations to our Summer Food Drive with Admiral Church.
Your donations have already fed hungry children via the West Seattle Food Bank ... but the big barrel is hungry for more!!
Alki Beach Pride Event
Sunday,
August 25

Alki UCC will be an enthusiastic presence at this year's Alki Beach Pride now scheduled for Sunday, August 25.
The official Seattle Pride event runs from 11:00 am to 7:00 pm near the Bathhouse (Alki Ave SW & 59th).
Volunteers still needed at 10:30 am to help with setup and about 7:00 pm to help with cleanup.
Contact: Julia Peeler
Big thanks to everyone who signed up to staff the table.
Admiral Neighborhood
Community Event
Sunday,
August 25
4:00 to 7:00 pm
Location??
"Neighborhood Churches" is the theme for this month's gathering, so stop by to represent!
Help protect SNAP benefits for vulnerable families,
The Trump administration is working to end SNAP benefits for three million people by restricting eligibility.
This policy would cause more hunger in our communities, especially for working families, children, and senior citizens.
We have 60 days to provide comments. Let your voice be heard!
Access the comment site here.

Click on the big, blue donate button above to learn how to donate by check or a secure online credit card donation.