Bolchazy-Carducci Publishers provides eTextbooks on a variety of eBook platforms. Bolchazy-Carducci textbooks are available through VitalSource,

GooglePlay

,

Chegg

, RedShelf, Adams Book, Follett,

MBSDirect Digital

, and ESCO. Each eBook platform offers a variety of tools to enhance the learning process. eBooks have the same content as our traditional books in print.
You can read eBooks on a Mac, PC, iPhone, iPad, Android, or a variety of eReaders. Review the eBook providers specifications.
Bolchazy-Carducci Publishers is proud to have brought William Sanders Scarborough's First Lessons in Greek back in print. This affirmation of Scarborough's pioneering role in classics in America has received much attention.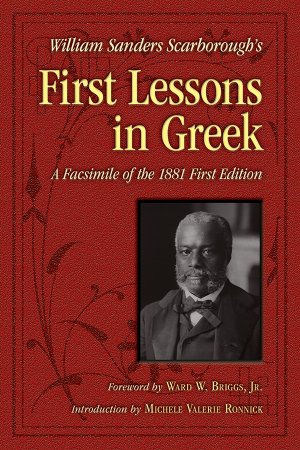 The Oberlin College Alumni Magazine features an interview with Michele Ronnick about Scarborough, an alumnus of Oberlin College, and his Greek text.

The Society for Classical Studies blog includes a variation on this interview along with some additional illustrations.

Illinois Classical Conference


Annual Meeting
October 11–13, 2019
Augustana College
Rock Island, IL
Representative:

Amelia Wallace



Classical Association of the Atlantic States


Fall 2019 Meeting
October 10–12, 2019
Sheraton Silver Spring
Silver Spring, MD
Representative: Donald Sprague
Jesuit High School Latin Teachers
St. Xavier High School
Cincinnati, OH
November 7–9, 2019
Representative:
Donald Sprague
ACTFL—American Council on the Teaching of Foreign Language


2019 Annual Convention and World Languages Expo
November 22–24, 2019
Walter E. Washington Convention Center
Washington, DC
Representative:
Donald Sprague
SCS/AIA—Society for Classical Studies/Archaeological Institute of America


2020 Annual Meeting
January 2–5, 2020
Marriott Marquis
Washington, DC
Representatives:

Bridget Dean and Donald Sprague



CANE—Classical Association of New England


March 13–14, 2020
Trinity College
Hartford, CT
Representative: Donald Sprague



CAMWS—Classical Association of the Middle West and South


116th Annual Meeting of the Classical Association of the Middle West and South
March 25–28, 2020
Hyatt Regency Birmingham--The Wynfrey Hotel
Birmingham, Alabama
at the invitation of

Samford University
Representatives:

Donald Sprague and Amelia Wallace



The 53rd International Congress on Medieval Studies


May 7–10, 2020
Western Michigan University
Kalamazoo, MI
Representatives: Adam Velez and Laurel Draper


ACL—The American Classical League

72nd Annual Institute
June 25–27, 2020
College of Charleston
Charleston, SC
Representatives:
Laurel Draper and Donald Sprague
NJCL—National Junior Classical League
Annual Convention
July 24–29, 2020
University of Richmond
Richmond, VA
Representatives: Donald Sprague and Amelia Wallace
Registration is OPEN! Reserve your space for this special program NOW!
To celebrate the American Classical League Centennial, ACL is pleased to sponsor
ROMA2020—Rome through the Ages, a customized study tour of Rome and neighboring sites and an optional "after party" tour to Campania.

ACL Technology Chair Cindy Caltagirone joins forces with B-C editor Don Sprague as leaders for the tour. Together they bring decades of experience leading study tours and especially tours of Rome.

The Rome portion is scheduled to begin July 6 and run through July 16. Those choosing the optional tour (July 16–21) to Campania will spend four nights in Sorrento and a final night in Rome.

So, plan to join us for ROMA2020-ACL100.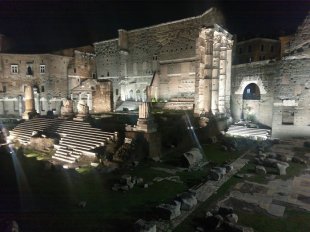 Bolchazy-Carducci Publishers is pleased to provide complimentary webinars on a variety of subjects, especially pedagogical, of interest to classicists. Some webinars are geared to the Latin for the New Millennium program and to topics generated by the AP* Latin curriculum.

Read eLitterae or follow us on Facebook and Twitter for the announcement of our fall series of free webinars.

Please note: The Bolchazy-Carducci Publishers Webinar Program is intended to be a live interactive endeavor in which presenter and attendees ask questions, make comments, seek clarification, share examples, etc. Thus, by design and in order to protect the presenter's intellectual property, B-C does not make recordings available to non-attendees. B-C encourages those interested in a given topic or presenter to plan to attend the live webinar.

If you have suggestions for webinars, please contact Don Sprague.

---
What Equipment Do I Need for B-C Webinars?
To participate in Bolchazy-Carducci Publishers sponsored webinars you will need high-speed internet access, computer speakers/headphones, current web browser, and the link to the webinar virtual meeting space, which is provided in your webinar invitation.
Webinars Make for User-Friendly Professional Development
Participation is free. All webinars provide opportunity for participants to ask questions. Learn lots—attend as many presentations as you can. Bolchazy-Carducci Publishers provides documentation for your participation. You can share this with your supervisors. Many webinar presenters provide handouts, etc.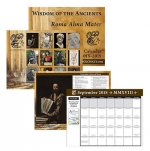 The 2019-2020 Roman Calendar has been mailed. It is also available as a download. If you would like to be included in the 2020-2021 Roman Calendar mailing please submit your request.
Preview Bolchazy-Carducci Titles

Preview Bolchazy-Carducci titles before you purchase using Google Preview.
---

Downloadable Products
iPodius - Bolchazy-Carducci Publishers online shop for: audio, software, video, and a treasure trove of teacher-created materials in the Agora.
---
BCP Facebook Fan Page
Become a FAN of Bolchazy-Carducci Publishers, visit our Facebook Fan page for the latest news from BCP.
---
BCP Blog
Visit the BCPublishers Blog for B-C news and information.
---
BCPublishers on Twitter
Follow us on Twitter

---
AP® is a trademark registered and/or owned by the College Board, which was not involved in the production of, and does not endorse, this site.
These products have been developed independently from and are not endorsed by the International Baccalaureate (IB).
Here we are in late August already! Tempus fugit never feels more real than when the summer break begins to skid to a sudden halt in August.





The summer months at Bolchazy-Carducci Publishers are always busy ones as we fill book orders, prepare reprints, and work on projects in anticipation of the start of school.





Each summer, we enjoy attending the American Classical League Institute and the National Junior Classical League convention. Check out the reports in this issue of eLitterae from our experiences in the Big Apple and Fargo, ND.





A special event each summer for the B-C family is the celebration of

Founder's Day

. We gather for a special lunch—our director of finance, David Fiedelman, shares his barbecue skills and serves up a delicious meat dish and a veggie specialty. The rest of the meal is potluck with a range of appetizers, sides, and desserts. Following the meal, David emcees a program that builds camaraderie and honors our founder, Dr. Ladislaus (Lou) Bolchazy. A round of B-C trivia and a coffee toast to Lou helped this year's luncheon, the VIIth, successfully build community and duly honor our beloved Lou.




All of us at Bolchazy-Carducci wish you and your students a spectacular school year! We're excited to launch LUMINA, an interactive learning tool, for Latin for the New Millennium and a beta version for Artes Latinae. We look forward to sharing LUMINA success stories with you during the school year.





We're in the process of finalizing our roster of webinars for the fall. If you should have a recommendation, please let me know.





Always remember that we're here to help you. We enjoy the opportunity to interact with you. Bolchazy-Carducci Publishers is proud of its editors and their classics training and teaching experience. So, feel free to zap us an email with your queries.



All best,

Don Sprague
Editor
don@bolchazy.com

This month, I decided to reflect on all the tools that I have written about over the past few years and identify those that help me most as the academic year kicks off. Here are my favorite four tools for the start of the year along with how I like to use them.





Best for getting to know students - Flipgrid


Flipgrid is a site that allows teachers to post discussion questions to which students respond by using their device to record a short video of themselves. The students click on the prompt to add their recorded response and view the responses of their classmates. At the start of the school year, I love this tool for a virtual ice-breaker activity. It allows students to continue to get to know each other and supplements what we do to this end in class. To check it out, visit

www.flipgrid.com.




Best for a fun, high energy activity - Goosechase


GooseChase is an app that leverages technology to run a scavenger hunt. On the GooseChase web platform, the teacher creates tasks, called "missions" for the students to complete. Choose from four different types of missions: photo missions, video missions, text based missions, and GPS missions. I used a combination of all four types to keep interest high. To participate in the scavenger hunt, students need the GooseChase iOS app downloaded to an iPhone or iPad. It's an excellent tool for creating a very engaging and active review session. To learn more, visit

www.goosechase.com.




Best for reviewing forms and grammar - Magistrula


Magistrula.com is an excellent tool for review at the beginning of the year. I particularly like that, as the teacher, I can limit the practice to the specific forms or constructions that we are working on in class. If my students haven't yet been introduced to a particular tense, mood, conjugation, etc., I can eliminate those from the practice. Lots of different types of activities are beneficial either in class or as independent practice. The "lacunae" are a fun mad-lib style activity to use as a bell-ringer or warm-up. There are also cartoons that can be used to promote both oral and written skills. To get started, go to

www.magistrula.com

.




Best for presenting at Back to School Night - Animoto


Animoto is a fun and easy way to create a video. It is very simple to use! It's really three steps: pick from one of the pre-made templates, upload your images, and add some text. Then, Animoto compiles the images and text to produce the final video. During the first days and weeks of school, I take photos of student work, class materials, and students learning. I also record students offering their own description of the course and explaining how their grades are calculated. Of course, I always acquire the appropriate permissions. Then, I put all my media into Animoto, add brief explanatory text, and let Animoto do the hard work. What results is a great video to show at parent night. Try it at

www.animoto.com

.


Lynne West
Consultant


Sunodia Educational Consulting



National Junior Classical League 2019 66th Convention Report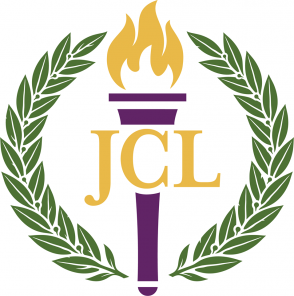 Fargo, North Dakota, drew swarms of middle and high school Latin students from across the country to the campus of North Dakota State University for the annual
NJCL
convention. The campus and especially Memorial Union with its Student Center overflowed with energy, enthusiasm, and industry. Indeed, the student attendees proved the truth of the convention theme:
apes non sunt solitaria natura
(Bees are not of a solitary nature, Varro,
De Agri Cultura
3.16)! Fargo's—local newspaper, The
Forum of Fargo-Moorhead,
certainly took note of the NJCL "invasion" with a terrific set of photos from the Roman Procession from campus to the Fargodome published in the online
InFORum
.
Editors Don Sprague and Amelia Wallace staffed the Bolchazy-Carducci Publishers display set up in the Learning and Teaching Materials Exhibit wisely located in the midst of the action in the Student Center. A steady flow of students, teachers, and parents checked out the B-C materials, respectively eager to find a book for their learning pleasure, to check out possible classroom adoptions, and to secure a suitable resource for their sons and daughters. As is the custom, the translations of popular children's stories like
Ubi Fera Sunt
and
Arbor Alma
caught attendees' attention. B-C's new titles,
The Latin of Science
, Scarborough's
First Lessons in Greek
, and
They Said It First
, offered as prizes in the B-C book drawing, attracted lots of interest as well.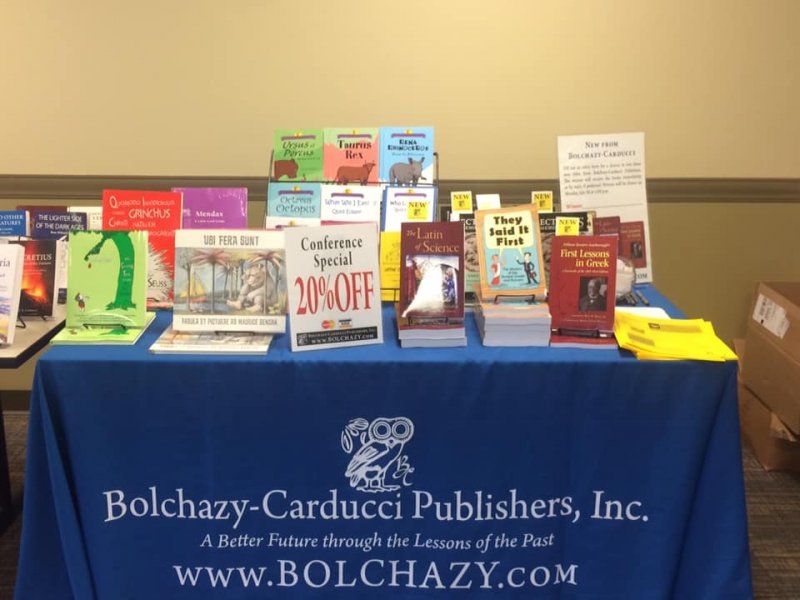 One of the six tables that displayed B-C's array of learning materials.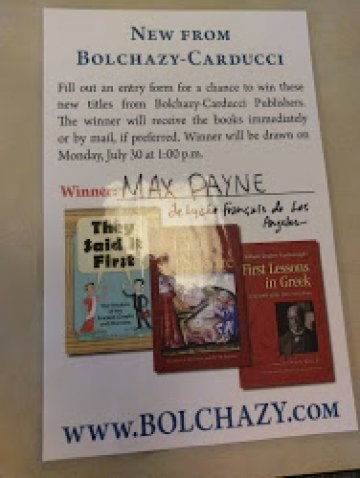 New book drawing winner Max Payne of the Lycée Francais de Los Angeles had already headed home when his winning entry was drawn.
Experiencing firsthand the palpable zeal these students have for their Latin studies always inspires the B-C editors. They especially enjoy interacting with students who are annual visitors to the company's exhibit. And, of course, it's always a pleasure to visit with returning teachers.

By tradition, the Learning and Teaching Materials Exhibit is open three days of the convention. On the second day, the display closes midday, affording exhibitors an opportunity to explore the local area. So, Monday afternoon, Amelia and Don ventured across the river to Fargo's neighbor, Moorhead, Minnesota.
The Historical & Cultural Society of Clay County
and its local museum kept their interest for the afternoon.
They enjoyed two replicas, testament to the area's Norwegian heritage, a Viking ship and a stave church. They so immersed themselves in the museum's special exhibit "War, Fear, and Flu," an exploration of the impact of World War I and the influenza epidemic on the local area, that they lost track of time and ended up leaving the complex with the last employee on staff that day!

The editors were pleased to represent B-C at NJCL 2019 and to visit North Dakota, a new state for both of them.

The Hjemkomst Viking Ship replica that successfully sailed from Minnesota to Norway.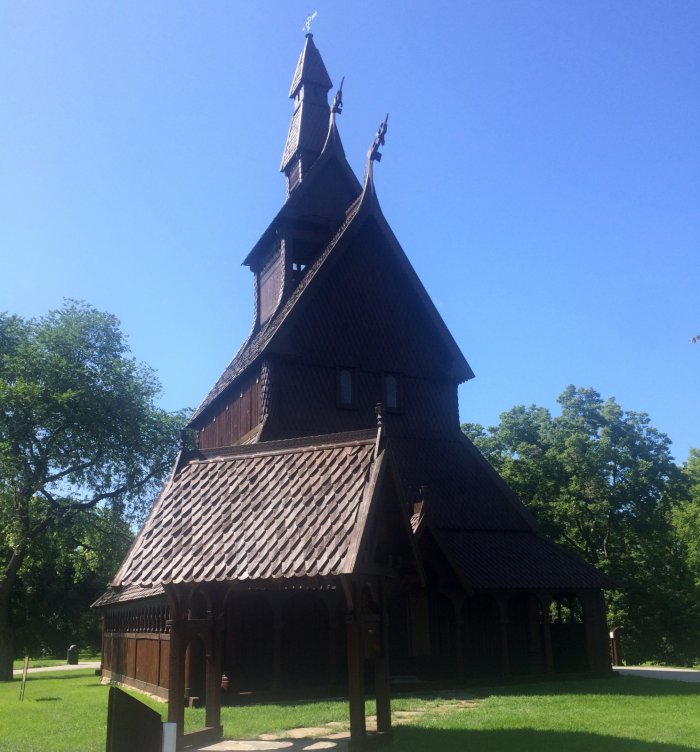 The Hopperstad Stave Church, a replica of the original in Vik, Norway.
The American Classical League 72nd Annual Institute Report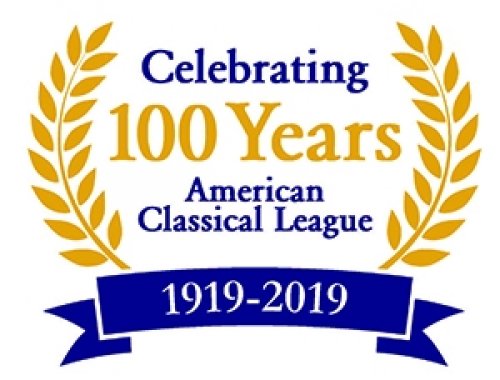 The celebration of the
American Classical League's
centennial drew a record number of attendees, some 460+, to the organization's birthplace, New York City. The Midtown Hilton Hotel hosted the milestone institute that was designed to maximize participants' appreciation of the Big Apple. A set of pre-institute excursions explored various classics-inspired city itineraries and a schedule that limited evening activities to the banquet made it easy for attendees to take advantage of Broadway, world-class restaurants, evening hours at the museums, and the magnificent skyline.
Bolchazy-Carducci Publishers dispatched president Bridget Dean, PhD, and editors Laurel Draper and Don Sprague to this special gathering. The Wednesday prior to the grand opening of the exhibit hall, the trio took advantage of the opportunity to attend a performance of the celebrated and award-winning
Hadestown
—the perfect musical for a group of classicists!
On Thursday, they proudly exhibited B-C texts and other pedagogy materials and welcomed longtime collaborators as well as teachers new to the company. The institute drew a record number of exhibitors. The exhibit hall hosted the morning and afternoon breaks and the buzz of participants catching up with old friends and making new ones. The editors enjoyed reconnecting with a number of B-C authors including the likes of Marianthe Colakis, Sheila Dickison, Ed DeHoratius, Judith Peller Hallett, Ken Kitchell, Willie Major, and David Pellegrino.

The B-C staffers found the institute with its excited buzz of pride and special energy from the exhibit hall to the banquet an energizing and inspiring experience. Kudos to ACL executive director Sherwin Little and his many collaborators on a fitting tribute to the ACL Centennial!

Bolchazy-Carducci Publishers president Bridget Dean and editor Laurel Draper indulge editor Don Sprague and pose before two of Jim Dine's sculptures of Venus de Milo along Sixth Avenue.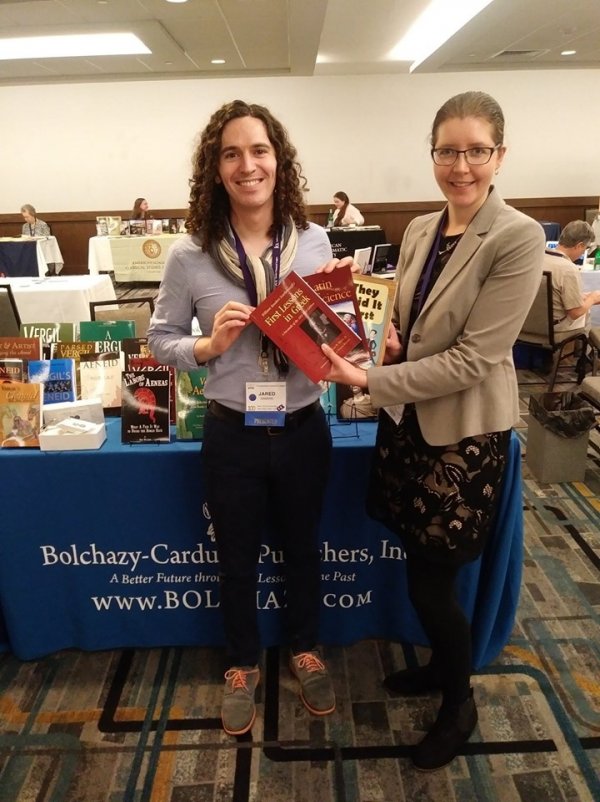 B-C American Classical League book drawing winner Jared Simard with B-C's new titles: The Latin of Science, Scarborough's First Lessons in Greek, and They Said It First.

B-C Proudly Launches Lumina!




Lumina: Online Guided Practice to Accompany LNM


The interactive guided Language Fact sections provide immediate feedback to students as they preview or review each chapter of Latin for the New Millennium Level 1 or Level 2. Mouse-over vocabulary lists allow a new format for vocabulary mastery. Infinitely replayable crossword puzzles engage students in derivative work. Automatically graded quizzes free up student-teacher interaction time for translation, oral/aural work, discussion, and other learning activities.



For a brief overview of the program, check out this video.

Visit our website product pages for information.
Lumina: Latin for the New Millennium Level 1
• Classroom Option
• Individual User Option

Lumina: Latin for the New Millennium Level 2
• Classroom Option
• Individual User Option




Artes Latinae: A Self-Teaching, Self-Paced Interactive Latin Program


Lumina offers a revamped Artes Latinae. This fully interactive online program teaches all of Latin grammar in two courses. Purchase the program at a special discounted price of 30% off!





For a brief overview of the program, check out this video.

Visit our website product pages for information.
• Lumina: Artes Latinae Level 1
• Lumina: Artes Latinae Level 2



Based on the program developed by Dr. Waldo E. Sweet of the University of Michigan for Encyclopedia Britannica, Lumina: Artes Latinae is an easy-to-follow course that includes all the tools a student needs to achieve a firm command of Latin. The course was carefully crafted and refined to suit the needs and abilities of a broad spectrum of students. Lumina: Artes Latinae meets existing foreign language requirements for high school graduation.





Watch B-C announcements for

Lumina

webinars on both the

Latin for the New Millennium

and the

Artes Latinae

programs this fall. Contact us for an individual consultation:

bridget@bolchazy.com

.
Teaching Tips & Resources

► Latin's Literary Legacy
● The power of the tricolon
● It's "all Greek to me"—the history of the phrase
● Princeton's honorary degree citations and Latin
● Carpe Diem—Lost in Translation?
► Rome in the Media
● Italian television series on Rome's founding
● Another film from the late legendary filmmaker Ray Harryhausen?
● Thirty-year legacy of Latin news ends
● Hebdomada Papae: the Pope's week in review
● HBO launches Circe series
● Opera on Hadrian
► Archaeological Discoveries about Res Romanae
● Roman luxury at its finest—the Villa of the Papyri
● Roman sorcerer's goods found in Pompeii?
● The power of perfume—Cleopatra's reconstructed
● Lost Roman town and major road found in Kent
● Libraries in the ancient world
● Building site unearths Roman joke
● Roman prosthetics
● Roman dock workers and their diet
● Magnificent myth mosaic found in Spain
● Roman glass mystery solved
● Early Christian handwriting
● Roman valuables flushed down the toilet
● Roman stonemason marks key to reconstruction
►

The World of Ancient Greece
● 4,600-year-old complex discovered in the Aegean
● The price of philosophy: exile
● Interactive map of Odysseus's journey
►

Updates on Ancient Sites and Special Exhibits
● Check out the tunnels beneath the Baths of Caracalla
● Mithras in London
● Iron Age warrior's remains on display in Chichester
● Fendi to fund restoration of Temple of Venus and Rome
● Roman dinner delights like dormouse at the Ashmolean
● British Museum mounts its first Troy exhibit since the city's discovery!
● New Acropolis Museum celebrates a decade with look at daily life
►

Intersections between the Classics and Science
● The Greeks and a round world
● The extent and diversity of the Roman plague
● The recipe for ancient Roman concrete?
● Pompeii's archaeologists draw ire of vulcanologists
● DNA reveals wine-making history
● Roman amphitheaters and seismic activity
►

The Value of the Classics and Liberal Arts
● Tech students praise the value of the arts
● Exploring the diversity of the classics and pursuing inclusiveness
● Greek myths meet Latinx culture
● Latin and its Catholic legacy
Basketball Player Proud of Greek Heritage

Milwaukee Bucks basketball player Giannis Antetokounmpo commissions wardrobe with ancient Greek images.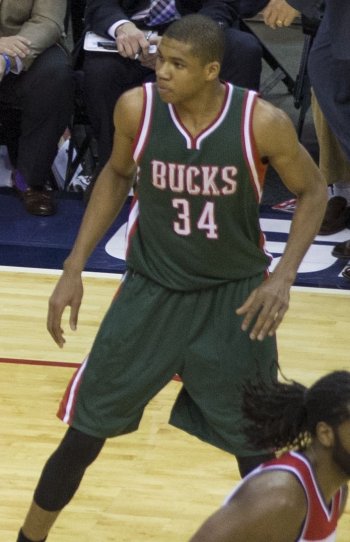 Photo of Giannis Antetokounmpo courtesy of Creative Commons 2.0
---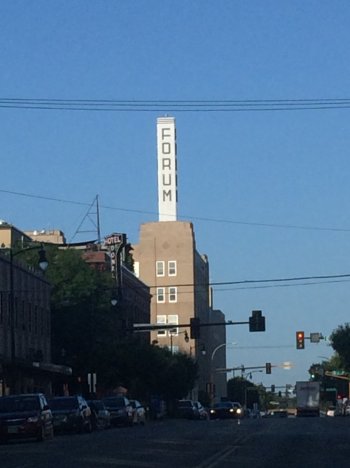 The Forum of Fargo-Moorhead has kept the citizens of the two communities informed since the nineteenth century.

---
Requiescat in Pace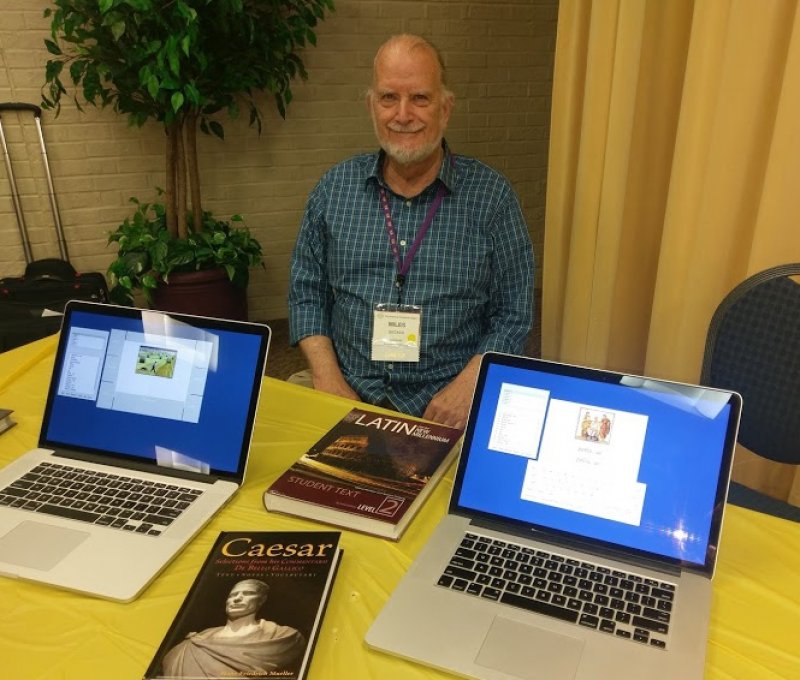 Miles Becker exhibiting eyeVocab at the American Classical League 2017 Institute at Grand Valley State University in Grand Rapids, MI.

Bolchazy-Carducci Publishers learned earlier this summer that Miles Becker, the creator of eyeVocab had passed after a brief illness. All of us at B-C, join you in mourning the loss of this brilliant teacher and language acquisition innovator.

Miles Becker began his pursuit of world languages studying Russian at Reed College. He travelled widely and spent a year in Spain. Later, he developed a model outdoor education program for the Athenian School in Danville, California. Returning to U.C. Berkeley, he earned undergraduate and graduate degrees in Spanish. His language background includes a fellowship at the U.C. Berkeley Language Center and the study of Arabic at the University of Texas. He taught Spanish at U.C. Berkeley and independent schools in the San Francisco Bay Area, where he produced the first version of eyeVocab.

Bolchazy-Carducci Publishers promoted eyeVocab but its distribution and maintenance were handled by Mr. Becker. At present and for the foreseeable future, eyeVocab is not available. Should there be a change, we will make an announcement.

eLitterae Subscribers Special Discount

William Sanders Scarborough's
First Lessons in Greek
A Facsimile of the 1881 First Edition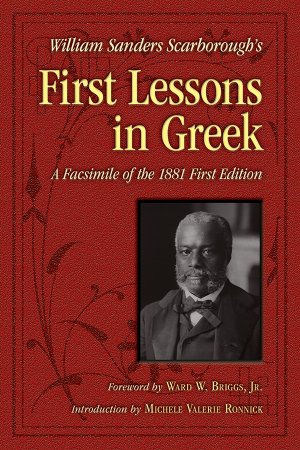 William Sanders Scarborough's First Lessons in Greek
A Facsimile of the 1881 First Edition
This offer is valid for up to ten (10) copies of this book, prepaid, no returns.
Discount is not available to distributors.
This offer expires 09/15/19.

Enter coupon code eLit0815 on the payment page.
The special offer pricing will be charged at checkout.

(Please note that there will be no adjustments on previous purchases.
Offer is nontransferable and subject to change without notice.)