It looks like, as if on cue, fall has arrived. Even though the weather is still warm, red leaves, yellow busses and orange pumpkins have emerged throughout the neighborhood.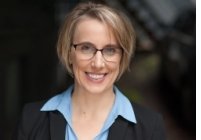 Many blessings to the students among us who are headed back into their classrooms. May your education this fall be both engaging and fruitful!
To kick off September, we will take a look at The Future Church through the lens of Jeremiah. Jeremiah was assisting the faith community of his day to look imaginatively and bravely at the kind of sacred work that was taking place among them and it was not what they had expected.
We are in something of a lull with our Hope Partnership project. In August we submitted our demographic, historical and financial information. We also hosted a series of in-person conversations on August 13. Now we wait for our consultant to pull it all together into a 30-page report.
We will receive the written assessment in late fall (date unknown) and then there will be a series of House Meeting to digest and discuss it.
In the mean time, the Revised Common Lectionary has us in the Old Testament book of Jeremiah which is the perfect opportunity to peer into the big picture, envisioning what Alki UCC might bring to fruition in it's next season of life.
Ever onward,
Pastor Kelly
Fall Choir Workshop This Saturday, Sept 7

9:45 am to 3:00 pm with a potluck lunch
Home of Verona Ryan

Interested in joining this dynamic, energetic, loving, diverse group of folks who love to sing? No prior experience nor music-reading capability needed.

Please contact Marshan Goodwin-Moultry (our Minister of Music) or Cindy Ogasawara (choir president) with any questions.
Alki UCC Welcomes New Accompanist/Pianist
Betsy Stelzer during Worship this Sunday

Since mid-August, Pastor Kelly Wadsworth and Minister of Music Marshan Goodwin-Moultry have been working together to bring a new accompanist to Alki UCC. We circulated the job description and explored a number of different candidates.
We are thrilled to announce that we have hired a wonderful and engaging accompanist, Betsy Stelzer. Come meet her at worship this Sunday, September 8.
A professional accompanist and choral director from Dallas, Texas, Elizabeth (Betsy) recently moved to Washington, and says she is very excited to be living in this beautiful state.
She received her Masters Degree in Music Education from the University of Texas at Arlington, and has been directing and accompanying choirs in schools, churches and community organization for the past 10 years.
In her free time, she enjoys yoga, reading and listening to jazz. She is very excited to be a part of this music ministry!
Our Wider Community:
Getting Out and About

Flyering at West Seattle Farmers Market
Sunday, September 8, Noon to 1:00 pm
Join West Seattle Neighbors for Peace and Justice at the Farmers Market at the Junction to share flyers about nuclear weapons, peace and hold signs. More info on their Facebook page.
Bear Witness: Injustice at the Border
Presentation by photographer/writer David Lynch
Sunday, September 15 at 7:00 pm
University Congregational UCC, 4515 16th Ave NE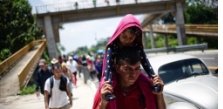 David's presentation is based on his recently published book, "Before the Border, the Caravan Series, A Work in Progress from the Migration Project."
David notes: "Thousands of people from Central America have walked away from their homes, some desperately seeking asylum and safety in the US, others searching for economic opportunity. Together they march toward an uncertain future."
Seattle Climate Strike
Friday, September 20 at 9:00 am
Cal Anderson Park in Seattle
Youth around the world have been striking for their right to a healthy future, and they are calling on all of us to join them. Be a part of the global Climate Strike/Walkout Day, led by young people everywhere.
Details here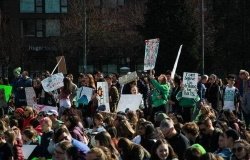 Seattle International Day for Just Peace
Saturday, September 21
3:00 to 5:00 pm: Madrona Playfield
5:30 to 8:30 pm:
Madrona Grace Presbyterian Church
832 32nd Ave in Seattle
A community event and educational pan on militarism in communities at home and abroad, featuring experts from impacted and oppressed communities Details here
People's Town Hall on Nuclear Weapons
Sunday, September 29 at 2:00 pm
The Great Hall
1119 Eighth Avenue in Seattle
Details here
The Immorality of Family Separation ...
How You Can
Help:
The separation of immigrant families at the border, and more recently through the ICE raids in Mississippi, is immoral. If your faith calls you to take action and you would like to help the affected Mississippi families, please consider the following:
Mississippi Center for Justice
The Center's rapid response legal team
helps community members locate detained loved ones

provides immigration legal assistance to those now facing removal, and

ensures the care of children whose parents or guardians have been imprisoned.
Here's their website.
ACLU of Mississippi
The state chapter is working with its Mississippi partners in a coordinated effort. Contact: 1-800-222-8000, www.aclu.org
Mississippi Immigrants Rights Alliance
The Jackson-based nonprofit has helped immigrants in Mississippi for almost two decades.
Make online donations here.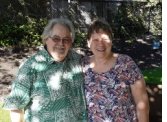 Happy Trails and Blessings to Davney and Bob Stahley, moving to Milwaukee WI to be with family including an elderly mother, sister and sons.

New address: 2987 South Clement Avenue, Milwaukee WI 53207
Email addresses and phone numbers remain the same.



We will miss all of our Alki UCC friends and have wonderful memories of all the good times we've had and good work we've done together.



We'll miss you, too, Davney and Bob! Thank you for the inimitable spirit, dedication and joy you've brought to our community.

For those grieving the recent death of a loved one:


Larry Gill, the family and friends of Ruth Okada; family and friends of Shelley Webster, Kathy Herigstad and family, friends and family of Jeanne Anderson, Amy Young and family, friends and family of Eric Erickson, Lesa Henry



Recent hospitalization, illness and other concerns:


Jim & Bev Connor, John Kinsman, Dayle Banks, Lois Constantine, Kathy Herigstad's sister Jackie, Don Peterson, Jan Cochran

For home bound members/friends of Alki UCC: Doris Colbert


Wider World:


Prayers for all those affected by Hurricane Dorian, especially those in the Bahamas who suffered incredible devastation; prayers for fewer guns, for all victims and those affected by gun violence; for all those affected by the increasingly cruel and inhumane US immigration policies imposed by the current administration; victims and survivors of extremist violence around the world; migrants seeking refuge around the world, and for those who are trying to help them. The rest of the missing schoolgirls kidnapped by Boko Haram, who remain in our hearts as long as they remain missing. The hungry and homeless, the ill and the addicted, the lost and the lonely; the unemployed.
Worship
This Sunday,
September 8
at 10:00 am

The 13th Sunday
after Pentecost
Scripture: Jeremiah 1:4-10
Color: Green
Liturgist: Vicky Smith
Hospitality Hour Hosts Needed
... beginning next Sunday and into the Fall.

Contact the Church Office to sign up!
Ministry Teams

... You have a section in the newsletter! Send your announcements to the Church Office by Tuesday for Thursday publication.
Team reports, discussion items, and motions due to the Council Chair via the Church Office by Wednesday, Sept 11.
Music & Worship
Sunday, September 8
after Worship
Worship & Logistics
Sunday, September 8
after Worship
Faith Formation
Sunday, September 15 after Worship
Caring Community/ Fellowship
Monday, September 16
at 6:30 pm
Verona Ryan Home
Stewardship
Sunday, September 29 after worship
Hunger is one of the greatest injustices facing our world today, but it doesn't have to be… you can help feed our neighbors here and around the world!
Join the Alki UCC Team on Sunday, October 6 for the Seattle CROP Hunger Walk ... which begins and ends right at our front door!

Let's make a showing! You'll enjoy a fun, family-friendly walk along Alki Beach to raise funds and awareness. Register online here to join the Alki's UCC team.
Can't walk on October 6th? No problem ... You can be a team sponsor and support our team from the comfort of your own home. Every donation helps end hunger and save lives! Donate here.
With four weeks to go before the CROP Hunger Walk, our congregation has ONE (me) Walker signed up. Help us reach our goal of 25 walkers and $2,000 raised!
Questions: Shannon Peterson at shannonpete@yahoo.com or (206) 351-3452. (talk or text)

We're sending the barrel back next week, so please bring in your donations on Friday.
Big Thanks to everyone who helped fill the first two barrels with donations to our Summer Food Drive with Admiral Church.
Your donations feed hungry children via the West Seattle Food Bank.
Items of Interest from Around the Internet

Click on the big, blue donate button above to learn how to donate by check or a secure online credit card donation.